LABEL PROFILE
Archival Label Recital Shines a Spotlight On Music That Once Lived in the Dark
By Shy Thompson · October 06, 2020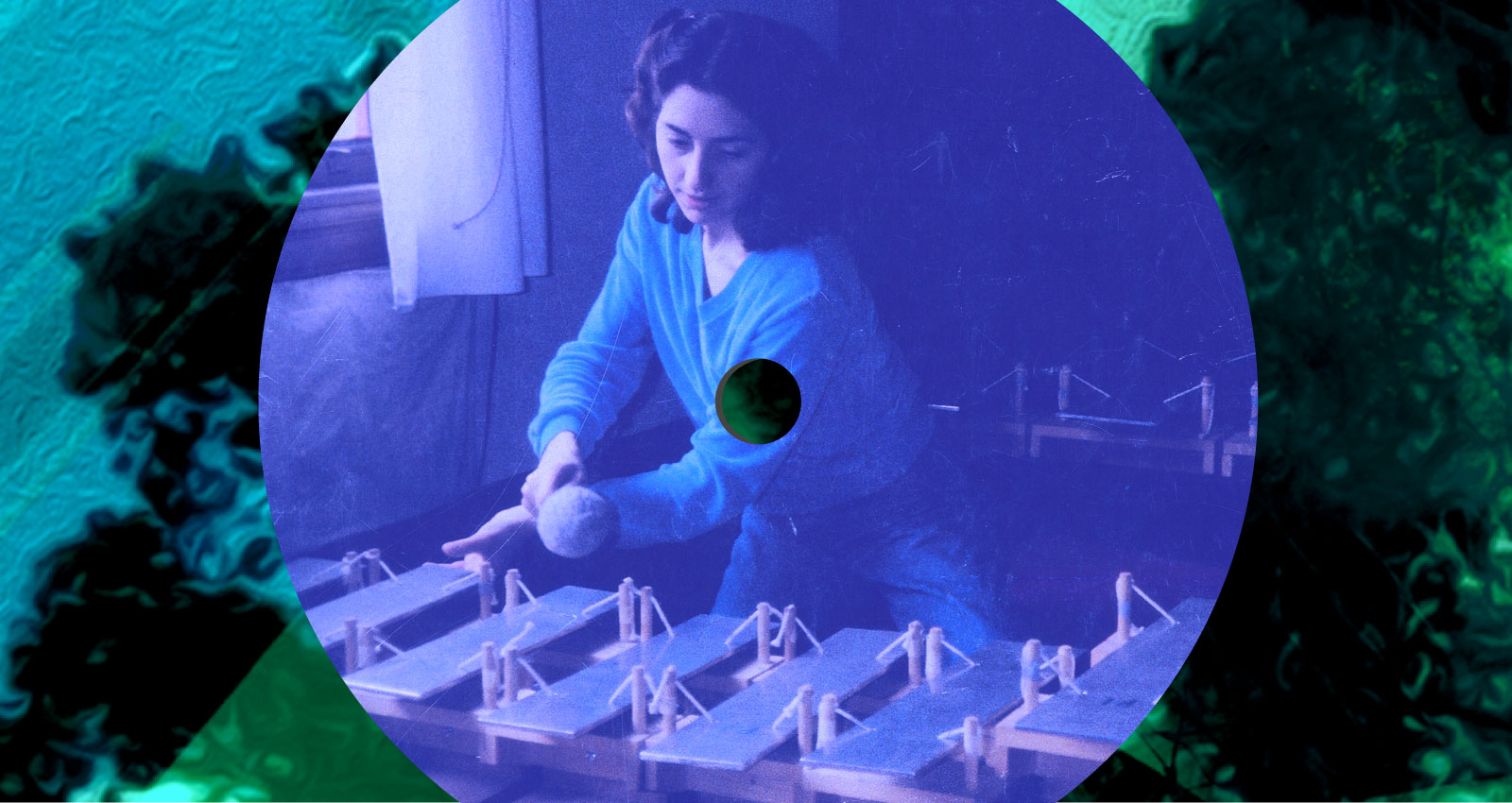 Experimental music label Recital is home to many essential documents from the Fluxus movement— sound poetry, contemporary classical, and more—shining a theatre-grade spotlight on beautiful music that once lived in the dark. But it didn't quite start that way. 
"From 2007-2012 I had recorded and released 30 or 40 cassettes, CD-Rs, or LPs of my music. I felt embarrassed about my music," explains label curator, musician, and composer Sean McCann. "I needed to put a harness on myself, an ornate harness. So I began designing a saddle."
Recital would become the harness that helped McCann become comfortable with his art and link up with other like-minded individuals, and the label grew as much to fit his whims as he rose to model what it has ultimately become. "After connecting with other peers who excited my tastes, I began reaching out to artists from the '60s and '70s who I admired. I was elated by the open arms I was welcomed with," he continues. Starting a label allowed McCann to reappraise his priorities and re-contextualize the lens through which he could engage with his music. "[It's] a way for me to spend most of my time working on other people's music… curating, editing, and designing. That way, when I went to work on my own music, it would be out of desire, not compulsion."
Archival labels like Recital provide an invaluable window into the past by helping listeners to understand the arc that music has followed to get to where it has currently landed. Generally, we don't care what the window looks like as long as we can see through it; the goal is providing a document from the past to appraise those living in the present. It's an admirable goal, but McCann has chosen to do things a little differently. Every release on Recital is a reflection of his vision, whether he performed on them or not.
"I wanted to concoct a unique flavor with Recital. A long piece of string baked inside each release, tethering them," McCann says. Archival releases from Fluxus figures like Dick Higgins and Geoffrey Hendricks stand alongside modern experimental music by McCann and his friends, presented with equal importance. A uniformity of presentation ties every release together in an elegant bow—each one features the keen eye of McCann's design sense and comes packaged with supplemental materials and carefully written essays that treat each release with the reverence it deserves. "Even though some are sweet, some are sour, and some are inedible… they should all feel like siblings."
What is most unique and inspiring about Recital is how McCann's own vision is part of everything from the music, to the imagery, to the choice of collaborators. Every archival label results from human vision; these stories are told again because someone thought it necessary to tell them—why hide the storyteller from view? 
"It seems selfish of me," McCann says, "but I feel it is all for me anyways. If anyone ends up liking the releases other than myself and the artist, that is a beautiful benefit, but not the reason." McCann works with his favorite people, collaborates with his closest friends, and strives to imbue every Recital release with something that, in his words, "resonates an unexplainable beauty." There's nothing wrong with being a little selfish, anyway—loving what you do is the sincerest form of care.
Below are seven releases that paint a picture of Sean McCann's vision for Recital, with valuable insight from the curator himself. Whether archival or modern, these releases are all connected by the same thread and tell a unique piece of Recital's history, as well as the story of experimental music.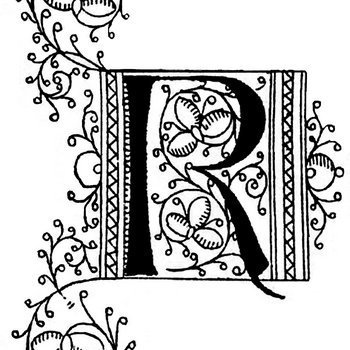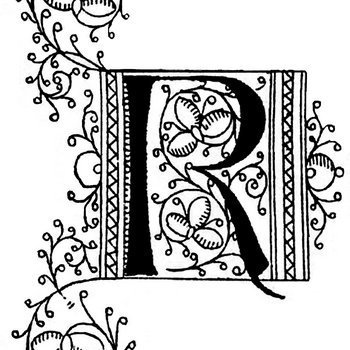 Merch for this release:
Vinyl LP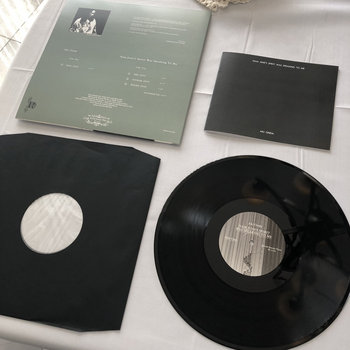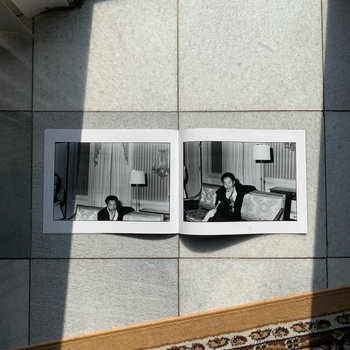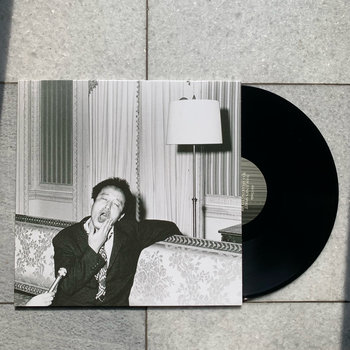 In 2020, while spending four days at the Nam June Paik Art Center in South Korea for a series of performances, interdisciplinary artist and composer Aki Onda felt that he made an otherworldly contact with Fluxus member and pioneering video artist Nam June Paik himself. "It was that night I made the first contact, via a hand-held radio in a hotel room in Seoul," Onda says. "Scanning through the stations, I stumbled upon what sounded like a submerged voice and I began to record it in fascination. I concluded this was Paik's spirit reaching out to me." Onda continued to record on the same radio as he traveled the globe, making recordings in Germany, Poland, and the United States. The likely explanation is that the audio comes from anonymous radio stations intended for secret broadcasts, and Onda understands this. Paik was associated closely with shamanism, and this was a way for Onda to explore the kinship he always felt with Paik as an artist—besides, a ghost story is no fun if you don't try to believe it at least a little.
Merch for this release:
Vinyl LP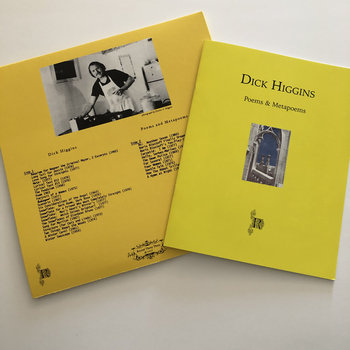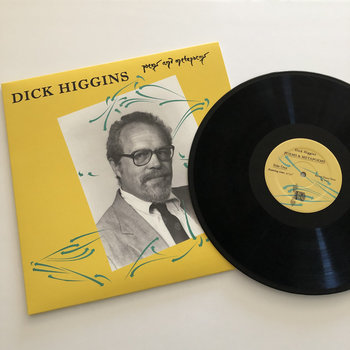 "Since the beginning of Recital, I have been trying to publish the work of Dick Higgins," says McCann. "He is a chief figure in my artistic world, a hero of mine." Higgins, considered a key player in Fluxus' beginnings, is credited with coining the term intermedia, which describes the intersection of different disciplines to create new genres of expression between existing ones. Higgins combined spoken poetry with manipulations of voice to create what would become known as "sound poetry." Originally released on Charlie Morrow's New Wilderness Audiographics label in 1982, Poems & Metapoems now has a home among its newfound siblings at Recital.
Merch for this release:
Vinyl LP
This release by composer and archivist Charlie Morrow features compositions that range from 1970 to 2014. It primarily shines a spotlight on his Wave Music series, a group of pieces composed for large arrays of the same or similar instruments. This release proved to be pivotal in shaping the direction Recital would go in the future. "After working together on Dick Higgins' Poems & Metapoems, and his own Toot! Too LPs, [Morrow] opened his archive up to me," McCann says. Morrow and McCann are now close friends, and work together on new releases. "It is fascinating working on archival projects," he says. "The skill and wisdom of artists who have been active for 50 years is truly affirming."
Daniel Schmidt
In My Arms, Many Flowers
Merch for this release:
Compact Disc (CD)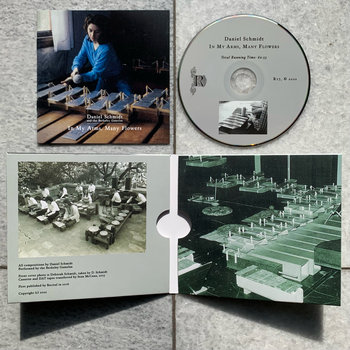 This first-ever document of American gamelan composer Daniel Schmidt was compiled directly from his personal cassette archive. Active since the 1970's, Schmidt is an important, though under-recognized, figure in the development of American gamelan, working alongside more recognized composers like Lou Harrison and Paul Dresher. Equal parts inspired by traditional gamelan and American minimalism, Recital gives this type of American experimental music a much-needed spotlight. A second release, Abies Firma, follows the second phase of Schmidt's career and shows his evolution as a composer. "As we moved into the 1980's, I moved away from Javanese traditional formalism completely," Schmidt says.
Merch for this release:
Vinyl LP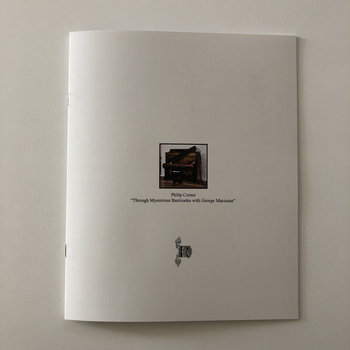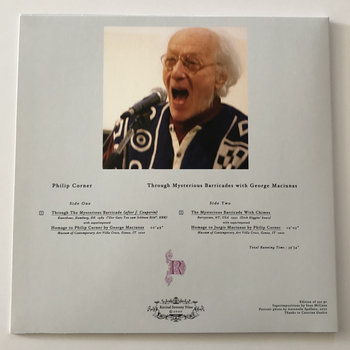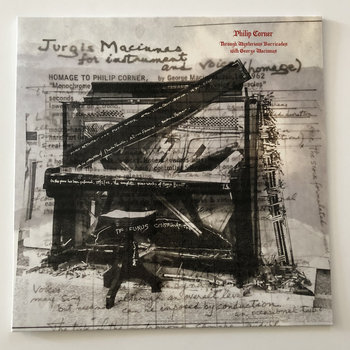 In the booklet accompanying this release, composer Philip Corner writes that as he improvised on his piano as a private spiritual practice, he would often play François Couperin's Les Barricades Mystérieuses to help get him in the proper state of mind. "I am convinced that he knew he was onto a mystical truth there." Superimposed over Corner's piano warm-ups are vocal exercises from a concert in Italy in early 2020—an homage to Philip Corner scored by Fluxus founder George Maciunas on side A, and an homage to Maciunas by Corner on side B. In much the same way as Rip Hayman's Dreams of India & China—part archival recording and part new composition, assembled from Charlie Morrow's archives by McCann—this release blurs the line between curator and composer; Sean McCann has as much to do with how this record sounds as Philip Corner does.
This is the first archival document of Fluxus artist Geoffrey Hendricks, who passed away in 2018. Though he exhibited his works for over 60 years, there were scant few opportunities to record despite being approached by Charlie Morrow to do so in 1970. They finally linked up in 2014, and the charming "Rock Music" is the result—music literally made with stones handled gently, meticulously, and carefully. The third track, "Music for Sky Slate Wall," was discovered in Hendricks' archives after his passing—a recording of his good friend Philip Corner performing alongside one of his art installations with his voice, prongs, cymbals, and a shoe. It's a precious performance that shows the playfulness of their friendship.
Simple Affections embodies Recital's collaborative spirit better than perhaps any other release on the label, and Sean McCann agrees. Described as the dream album he would want to listen to, Simple Affections features an all-star cast of McCann's friends contributing in whatever way they want, with McCann as the arranger. "I often work best as an editor or producer, and those projects have allowed me that freedom," he says of his collaborative records like this one, Music for Public Ensemble, and Saturday Night. "I look forward to working on more projects of the Simple Affections nature," McCann says. "Kind of a baseless beautiful free-for-all, which I consider to be the epitome of a Recital LP."