LABEL PROFILE
Noa Records Makes an Alternative Space for Māori and Pasifika Musicians
By Jess Fu · May 14, 2020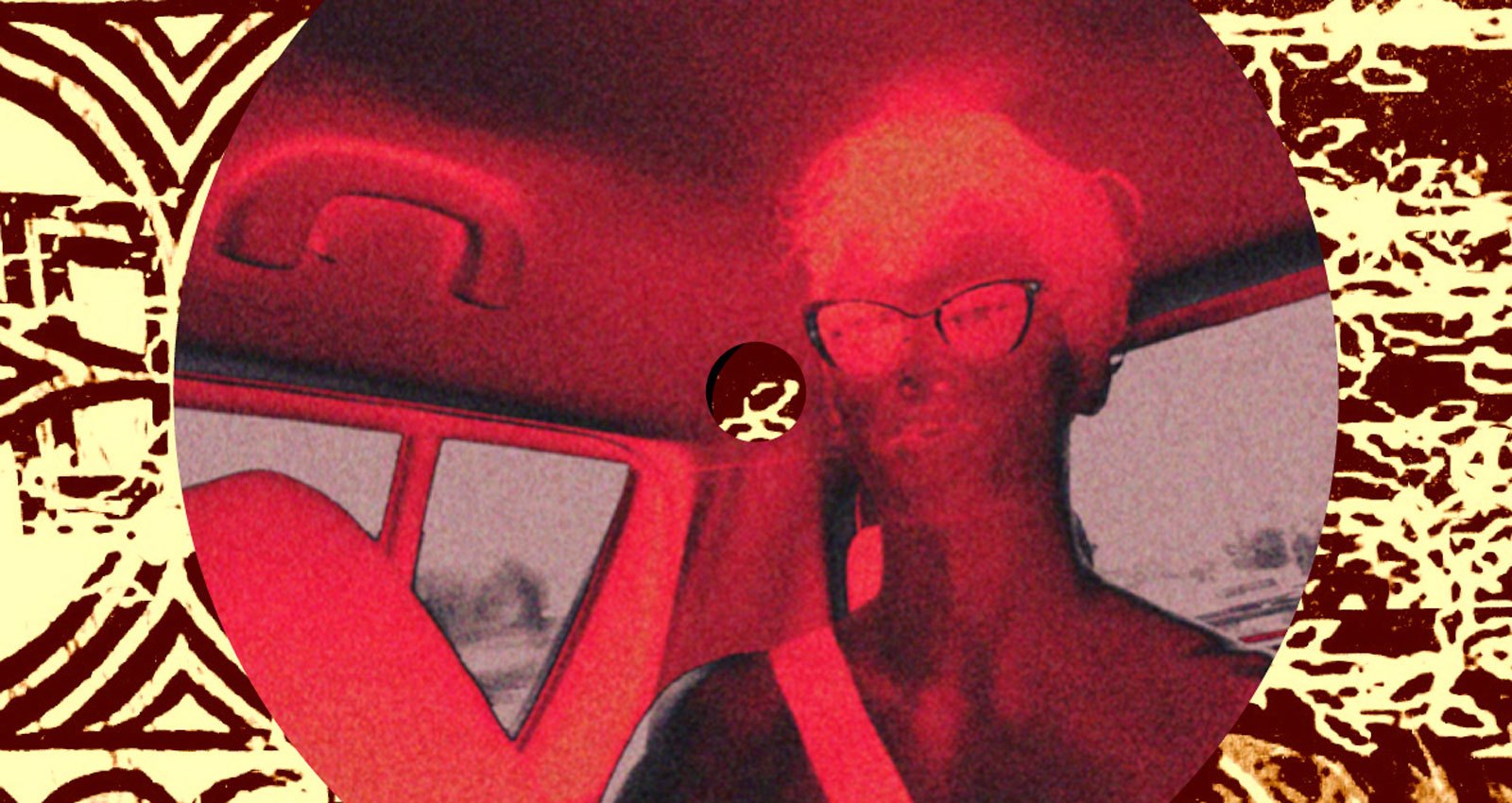 "What's unique about being in Aotearoa [the Māori name for New Zealand]? What spaces are there to nurture?" Those were the questions Larsen Taylor was faced with when he was starting Noa Records, a label focused on spotlighting alternative music from Pasifika and indigenous Māori musicians. He'd been previously involved with The Grow Room, an Auckland-based collective and label, which he he left in 2018 to follow his own path and start Noa.
His questions caused him to connect more deeply with his indigenous heritage and te ao Māori (the Māori world view). As his understanding of his culture grew, it helped to lay the foundations for Noa Records and its mission. One concept that had particular resonance for Taylor was the idea of noa, which he says means something like an "open space and potentiality."
In order to understand the concept of noa, you need to understand the Māori concept of tapu (sacred). Taylor explains tapu as something "you put limitations around… to preserve the sanctity of the thing." He uses the example of jazz: "Jazz is tapu, because there are a lot of parameters that say what this form of jazz is, while free jazz is noa because it's like 'Fuck all the rules.'"
Noa Records was initially focused on Māori musicians; it wasn't until Taylor met Samoan-New Zealand musician David Feauai-Afaese that he started to "see the bigger picture in terms of the Pan-Pacific." Feauai-Afaese, who makes music as Leao, says that noa is a concept that transcends across the Pacific islands: "Within Samoan concepts, noa is very much the idea of space and equilibrium. Being in noa with yourself is to be in equilibrium with your own identity."
In New Zealand, Māori and Pasifika music is often associated with hip-hop or reggae; artists from these communities are underrepresented in genres like indie rock, post-punk, and experimental music. Feauai-Afaese believes there are a series of different reasons for this this: "From a standpoint of cultural similarities, it makes sense that the initial music point of reference, that has become so prominent, is hip-hop and R&B, which is being reflected from black culture in America," they say. However, there's also a contradictory sense of "traditionalism" in Māori and Pasifika communities. Feauai-Afaese says, "Say someone that wants to listen to punk or black metal—there's not a space provided for that, because it's just so outside of, not just musical norms, but cultural norms." With Noa Records, Māori and Pasifika people now have another outlet to express themselves and listen to music "they've been wanting to hear for a long time," Feauai-Afaese says. "We are providing a space for ourselves."
Merch for this release:
Cassette
Noa Records's first release was this improv jazz album, which truly embodies the spirit of noa. The compilation 151 K Road (short for Karangahape Road) refers to an underground space where local musicians would gather together and have improv sessions. The space was closed down due to gentrification, eventually becoming luxury apartments. The 151 K Road jazz musicians were still a community and eager to keep making music although the space no longer existed. While Larsen was part of The Grow Room, they welcomed the musicians in and began hosting the improv nights at their own rented space.
The album encourages the listener to be open to the unexpected. Some of the musicians featured here were studying jazz at university, while others had no or very limited jazz experience—yet they were all able to play and create together. Larsen believes they all eventually "equalize;" on tracks like "Dirty Hands Make The Sweetest Wine," you can almost feel the moment they click into the same pulse.
Merch for this release:
Cassette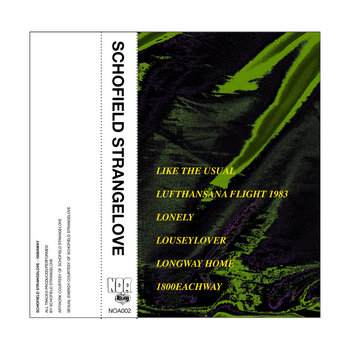 Schofield Strangelove's debut release, 1800EACHWAY, is a sensual mix of heartfelt love songs about a loved one moving far away. Listing lounge music as an influence, Strangelove creates a seductive atmosphere, blending funk, R&B, and lo-fi beats.
1800EACHWAY feels like it's being played underwater in the warm South Pacific ocean, with its lo-fi muffled sound. This aquatic atmosphere is particularly strong in the opening track, "Like The Usual," which sets the tone. Among the washes of static and wavy guitar lines, "Like The Usual" features gentle, warbling vocals and synths that almost mimic water bubbling. Feauai-Afaese describes the sound of their fellow musician as a mix of "Michael Seyer and Nesian Mystik" but with "an intense dialing up of romanticism."
Blending their Samoan heritage with lo-fi indie-rock, Leao's GHOST ROADS captures the duality of being a Samoan-New Zealander. Feauai-Afaese incorporates traditional Samoan dialect into their lyrics, switching back and forth with English. Listening to their parents' music allowed him to immerse himself in '60s and '70s Samoan pop, like the family outfit The Five Stars, who they say "laid the bed of what people think of in Samoan pop music"—danceable and upbeat, with lots of harmonies. He says that The Five Stars also set "a foundation for all the post-punk [and] alternative ideas that got laid on top for GHOST ROADS."
During the making of this album, Leao learnt to embrace the "beauty in flaws." He drew inspiration from the imperfect lo-fi recordings of Ariel Pink and The Cleaners From Venus. Each track on the album is the first take. Feauai-Afaese believes when he re-records new ideas, they "lose the initial energy." The outcome is an earnest take on both traditional Samoan music and modern dream pop/indie rock.
Electronic producer Whyfi embarks on a journey through genres with this sequel to his 2017 mixtape Mixed Trash. TRASH 2: THE MOVIE is a colorful whirlpool of funk, hip-hop, new wave, '50s pop, and jazz. Whyfi says he has always intended to "branch out into all these musical communities" by combining a wide range of genres into one album, even enlisting Auckland jazz saxophonist JY Lee (Yoko-Zuna), on a couple tracks. He's also incorporated an improvisational approach—letting his subconscious run free, Whyfi doesn't write lyrics, instead singing whatever he feels in the moment when he records.
After a tough break-up, Whyfi coped with the heartbreak while making TRASH 2: THE MOVIE. His post-break-up thoughts are expressed on tracks like the new wave-influenced "Falling Rain," where he has an inner dialogue with himself, singing "I should just forget her," and then shouting repeatedly, "Look at yourself!," as if urging himself to get on with life. Although the album has several songs in this vein, it is by no means a tearjerker. "A lot of my music is a bit tongue-and-cheek and doesn't take things too seriously," Whyfi says. (It's hard not to chuckle when you hear him rap, "Rub a dub dub like a fucking duck," in "Can I Help You?") TRASH 2: THE MOVIE is a fun and playful album, but with a lot of integrity and heart.
Merch for this release:
Vinyl LP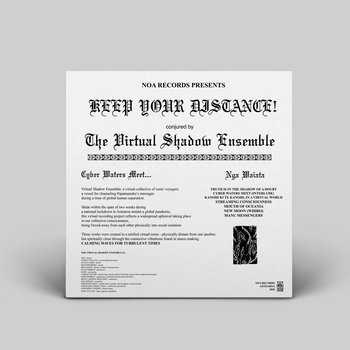 Virtual Shadow Ensemble arose after Aotearoa went into lockdown due to Covid-19, when 15 South Pacific creatives kept their spirits high and came together online to create KEEP YOUR DISTANCE! The album is as soothing as experimental music gets, and features moments of spoken-word poetry.
Throughout KEEP YOUR DISTANCE!, despite the range of artists featured, there are some ongoing themes—soft percussion, subdued basslines, and wobbly guitars, which contribute to the overall relaxing atmosphere. However, "Manu Messengers," the closing track, contrasts with the album's general gentleness. This free-experimental track creates an air of looming uncertainty and unpredictability with dissonance and shifting tempos, mirroring the ongoing worries of dealing with an unprecedented crisis. Despite the murky future we all face, Virtual Shadow Ensemble have used creative collaboration as a way to heal together while being physically apart.