LABEL PROFILE
Navigating the Depths of D.C. Label Atlantic Rhythms
By Erin Margaret Day · February 23, 2021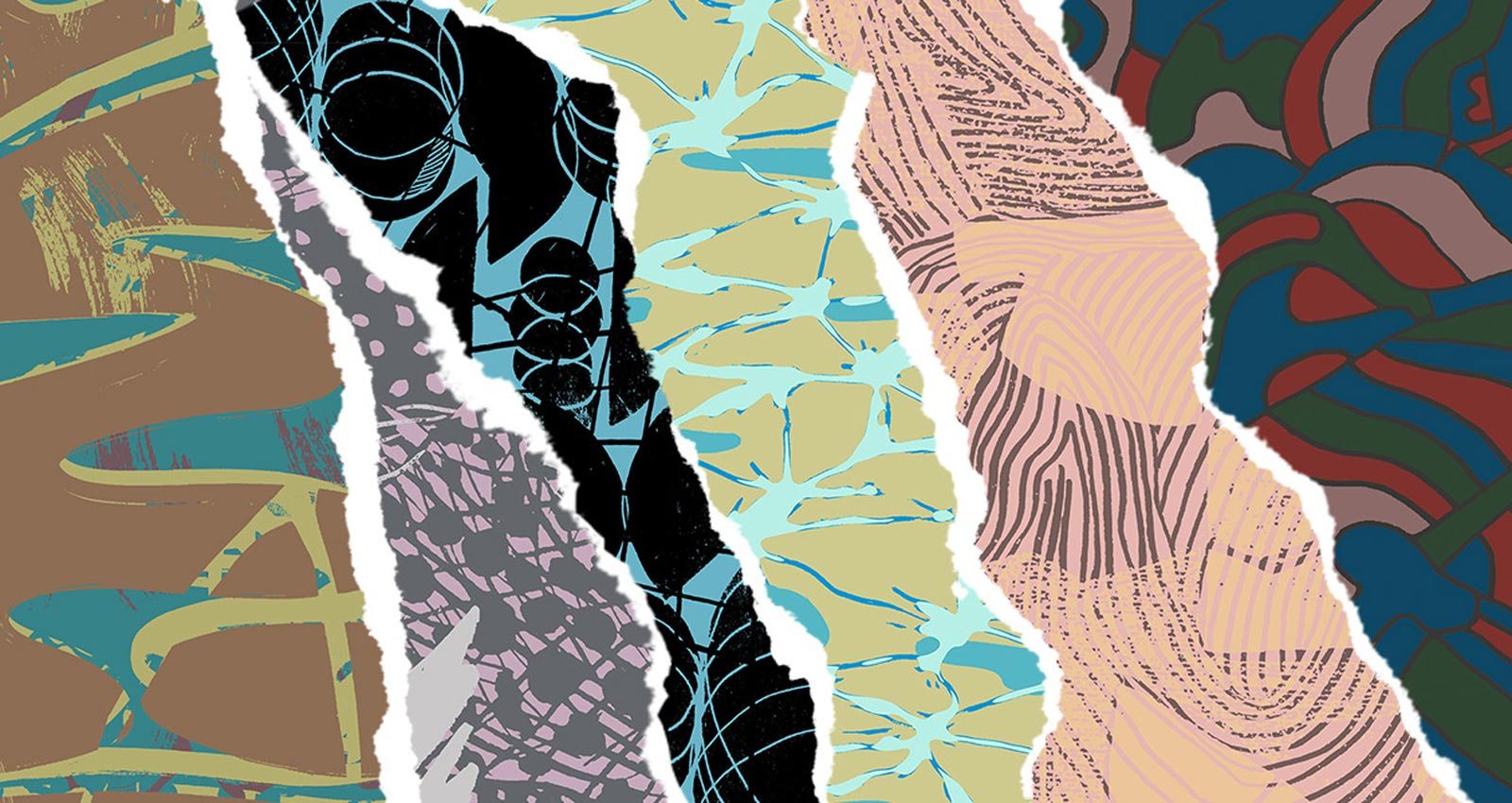 When Sean Peoples' experimental pop label, Sockets Records, shut down in early 2013, he was eager to take a break. The reprieve ended up being short-lived, however, as a confluence of personal and professional realizations led him to start laying the groundwork for what would become his next label, D.C.-based Atlantic Rhythms.
The first was that Peoples had begun to listen to music differently. Having just lost both of his parents to cancer, Peoples wanted to submerge himself in healing music; the idea of sound healing and tuning the mind and body for repair held a very strong resonance. He also really wanted to collaborate with his friend, Nick Apice, "to build something that could explore patterns, color, and graphic identity." With a renewed sense of purpose and an interest in continuing to support the work of the collaborative community of independent artists he'd met through Sockets, Peoples founded Atlantic Rhythms in 2015.
While the label is headquartered in DC, the name comes from coastal New Jersey, a setting that made a deep impression on Peoples growing up. "The ocean, to me, is a place that envelops the senses: sight, sound, smell, touch," he says. "The rhythms of the tide and the life that depends on the natural balance of those rhythms is fascinating. Plus, salt water has healing properties—it serves as an anti-infective and can decrease inflammation, so it made sense to me to find a way to capture that."
What music is released on Atlantic Rhythms is not only determined by Peoples and Apice's listening habits, but also by its listeners—many artists on the label submit their work as a result of hearing something released on the label. "We're always listening to new music, and that's the best," Peoples says. "There's so much music! Luckily, we have so many long standing relationships with artists and musicians and building a community around that is a huge part of how we determine releasing music."
One such artist is Luke Stewart. Early on in his work as an active musician in DC, he met Peoples at one of the first Sonic Circuits festivals he attended. "He was playing guitar with a laptop and I loved his music and sensibility," Stewart recalls. "At the time, I was so enamored by the idea that there was a deep and thriving community of experimental musicians in DC, and Sean's music was one I remember gravitating towards, [but] he soon identified more as a person who wanted to help facilitate the music [through running a] record label."
"For DC [in that era], Sockets was definitely a movement that included some of the most cutting-edge music in DC, coalesced around a specific community of left-leaning listeners," says Stewart, whose band, Laughing Man, released a cassette on Sockets. "Not just DC either; he also released early material for [many] key musical outfits in the experimental indie underground in general."
Stewart feels strongly that Sockets was successful in amplifying "some specific frequencies of indie movements at the time that have had important implications on subsequent movements in DIY music culture," particularly in respect to genre-free forms of music. Despite Sockets' focus on a wide swath of experimental music, Peoples still felt confined by genre and frustrated when attempting to define new sounds as they emerged. Atlantic Rhythms moves beyond this obstacle by focusing on what music does rather than what music is. "Instead of focusing on genre, which feels very prescriptive, I wanted to explore the connective tissue in the music I loved, which was an ineffable deepness," says Peoples. "My interest in the work of Pauline Oliveros, namely her 'Sonic Meditations' and ideas around deep listening, can't be overstated."
Sustainability is another consideration for Atlantic Rhythms, where the validation conferred by physical media is balanced with the knowledge that they are producing work for smaller audiences, which is why the label mainly releases music digitally and on cassette. Doing limited editions helps them lessen their environmental impact and avoid putting more copies into the world than necessary. Fortunately for listeners, Atlantic Rhythms will often reissue releases when demand exceeds expectation. "Vinyl is prohibitively expensive if your audience is small," says Peoples. "[But] there's a thriving cassette underground and the enthusiasm of that is vital to building independent musical communities. In so many ways, the medium is the message to tap and connect with that spirit."
Ultimately, Atlantic Rhythms exists to support and affirm the deep connection between underground artists and the people who listen to them. As ambient composer Amy Reid puts it: "Listening to independent music and being an independent musician is intentional on both ends…and amplifies the uniqueness that you carry as a creator. It's easy to compare yourself to other artists, and it's important to be reminded that not fitting into an easily described box is alright. Understanding that, throughout my music-making lifetime, I've been motivated to hold space for other independent artists."
Peoples agrees. "We're only here because of our artists," he says. "Full stop. Without them, we would be an idea. I'm truly grateful for their trust and art. I'm proud that we've worked with so many amazing people."
Below, the artists of Atlantic Rhythms walk us through the inspirations and methods behind their notable releases.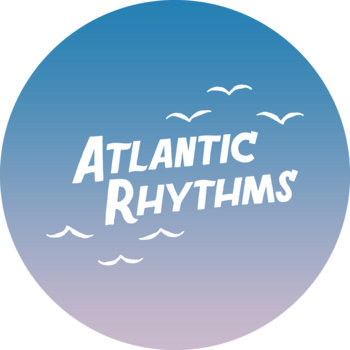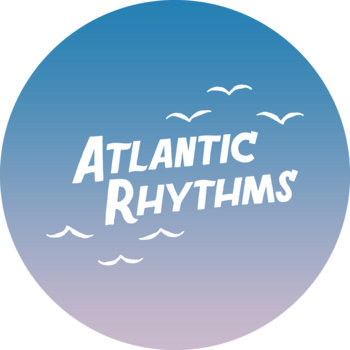 Merch for this release:
Cassette
A central consideration for Luke Stewart of Blacks' Myths is "pushing the music forward." As an improviser he believes there is a "powerful opportunity to connect the dots of culture and legacy," in communication with both peers and elders. The wide net he casts for his creative focus has resulted in many approaches to music, something clearly communicated in this collaborative project with Warren G. "Trae" Crudup III, which exists somewhere in the outer limits of free jazz, noise, and post-hardcore. Blacks' Myths conjure the noise of a haunted past, while also communicating a living, smoldering eternity—an innovation in sound which is also an innovation in humanity, illustrating Stewart's belief that "a focused approach to improvisation is singularly poised to take us to the next level."
Merch for this release:
Cassette
Atlantic Rhythms reached out to Amy Reid about making an ambient album right as she was embarking on a new chapter in her life, living in a dorm on an island off the coast of Maine. She knew she wanted to make an album, but one that wouldn't be as vocal-heavy as her first record, Hirsuit. "Hiking became a huge part of my daily routine in connecting with the island and I started taking field recordings of different places: shores, the forest, small concerts in the cafe, and interacting with people," Amy details. "I started combining these field recordings with compositions I would make when I got off of work from waiting tables. The album became a way to cope with missing everyone I knew, feeling isolated, and finding new hope and beginnings." Amy Reid engages music as both a listener and as a composer as a calming force with which to locate a center-point, a slowness encompassing enough to arrest the endless loop of anxiety momentarily.
Landon Caldwell
Unity
Merch for this release:
Cassette
Landon Caldwell considers even his solo works collaborations. "No one lives in a vacuum," he says. "Collaboration has this way of exponentially increasing the possibilities." As a composer, he wants to communicate the possibility of a better world, and that world, he says, is "only possible through collaboration." Unity is the first piece Caldwall composed for piano, an instrument he never played until about five years ago, when he moved back to Indiana from LA with his wife, and acquired an heirloom piano. Caldwell began poking around on it for a couple of years before hitting upon a riff and figuring out how to improvise by playing the same six notes up and down the keyboard. He performed Unity at most of the shows he played for about two years, so there are some bits of live performance included in the final recording, forged from a number of performances cut-up and recomposed. "The idea is that this piece can bring all your different selves throughout space and time together into one, by means of that meditative flow state," says Caldwell.
Merch for this release:
Vinyl LP
George Cory Todd was first introduced to ambient music by (now labelmate) Sean Mullins while on tour in 2016 with And Their Refinement of the Decline by Stars of the Lid. It became a rabbit hole he has never crawled out of. After working on solo music for a few years, he began the search for label support in order to engage with a wider community of listeners. Originally from the DC area, Todd had heard about Atlantic Rhythms from Evan Zierk, who had recently released Drifting/Bending on the label. Todd explores the chaotic darkness and lights it up with the highest frequencies of synth salvation on his debut, That Dark Electric. Todd identifies strongly with the core values of Atlantic Rhythms. "I think we all have an innate desire to create things—to engage creatively with ourselves and one another" he explains, "doing so without the motivations of a market-society agenda is difficult, enriching, important work."
Janel Leppin, Susan Alcorn, Meghan Habibzai
Sister Mirror
Merch for this release:
Cassette
Janel Leppin had a recording of "Bachianas Brasilieres No. 5" that she had made with Meghan Habibzai sitting on the shelf for years. Leppin wasn't sure what to do with it until quarantine hit, and she felt like the record's transportive quality might be enjoyable for people stuck at home. The B-side is a live show from the 2640 in Baltimore with pedal steel guitar player, Susan Alcorn. "The 2640 is a massive church that has been used for creative music shows for a long time," Leppin says. "The recording captured birds in the rafters and sirens outside. It was a special concert and it includes some of each of our original works as well as 'O Sacrum Convivium!' by Messiaen. We weave through these pieces and add improvisation as we like. The recording has a soothing and airy quality which is also why I thought people would enjoy hearing it right now." Leppin likes to interweave original compositions with improvisation, as she does in her groups Janel and Anthony and Ensemble Volcanic Ash.
Jeff Zeigler & Dash Lewis
Eraserhood
Merch for this release:
Cassette
Jeff Zeigler and Dash Lewis' collaborative Eraserhood came about when Zeigler asked Lewis, who would crash with him whenever he was in Philadelphia, if he wanted to visit intentionally to jam. Initial sessions were just the two of them playing in a live room with very compatible musical sensibilities—synths, hazy textures, a keen sense of the melodic—bolstered greatly by Zeigler being a highly skilled multi-instrumentalist and engineer/producer, who captured a lot of what we hear in Eraserhood from room mics. Zeigler eventually shared the record with Atlantic Rhythms' designer Nick Apice. "Both Nick and Sean were really psyched on the music, so I think their clear passion and excellent curation helped us decide that AR would be a perfect home for Eraserhood," Lewis says.
Merch for this release:
Cassette
Mattson Ogg was already familiar with Peoples and Atlantic Rhythms prior to joining the roster, primarily through mixing and recording Luke Stewart and Blacks' Myths. At the release show for the second Blacks' Myths record, Ogg and Peoples talked about the label putting out some of the Dura material. "I guess I got into some 'deep, contemporary' [listening] via absorbing whatever was just going around and coming through DC and then appreciating how Sean put his finger right on it via Atlantic Rhythms," says Ogg. He seeks some of those deeper, mellower sounds on side A of Mercury, and then goes "for the same zones but now with a focus on galaxy-ed out guitar picking and processing" on side B. "More than any other material I've put together this one's continued to resonate stronger with me since I finished it: the backdrop of these are field recordings made in some of the ornate public spaces DC has to offer. Obviously recorded pre-pandemic, now I hope they can be a nice sanctuary or escape for the listener to remind us of what things in the world can sound and feel like. The track names are another nice little temporal marker: the quoted bits reference some of my favorite Dave Berman-isms which hit me a little harder than expected while I was putting the finishing touches on this."
Merch for this release:
Cassette
Jackson Ryland had already been following Atlantic Rhythms releases and knew a few people on the label before he submitted his work for consideration. "It feels like joining a makeshift family in that sense," he says. "Trevor Keen's tape is still so awesome to go back and listen to, as well as Iku Sakan's. I picked up both those tapes from the Future Times record shop while it was operating in Mt. Pleasant. At that time, Sean was working in the studio space some days during the week and we met, said 'What's up' a handful of times. I respected the consistency and focus of the label, keeping it mostly local and kept Sean in mind if I ever had an 'outside-the-box' idea to approach him for a release." Ryland recorded these compositions between 2016-19, compiling a short list of his more experimental one-take recordings in an experimental techno zone.