LABEL PROFILE
Muzai Records Enters its Second Decade Still Committed to Punk and Community
By Nick Fulton · March 20, 2020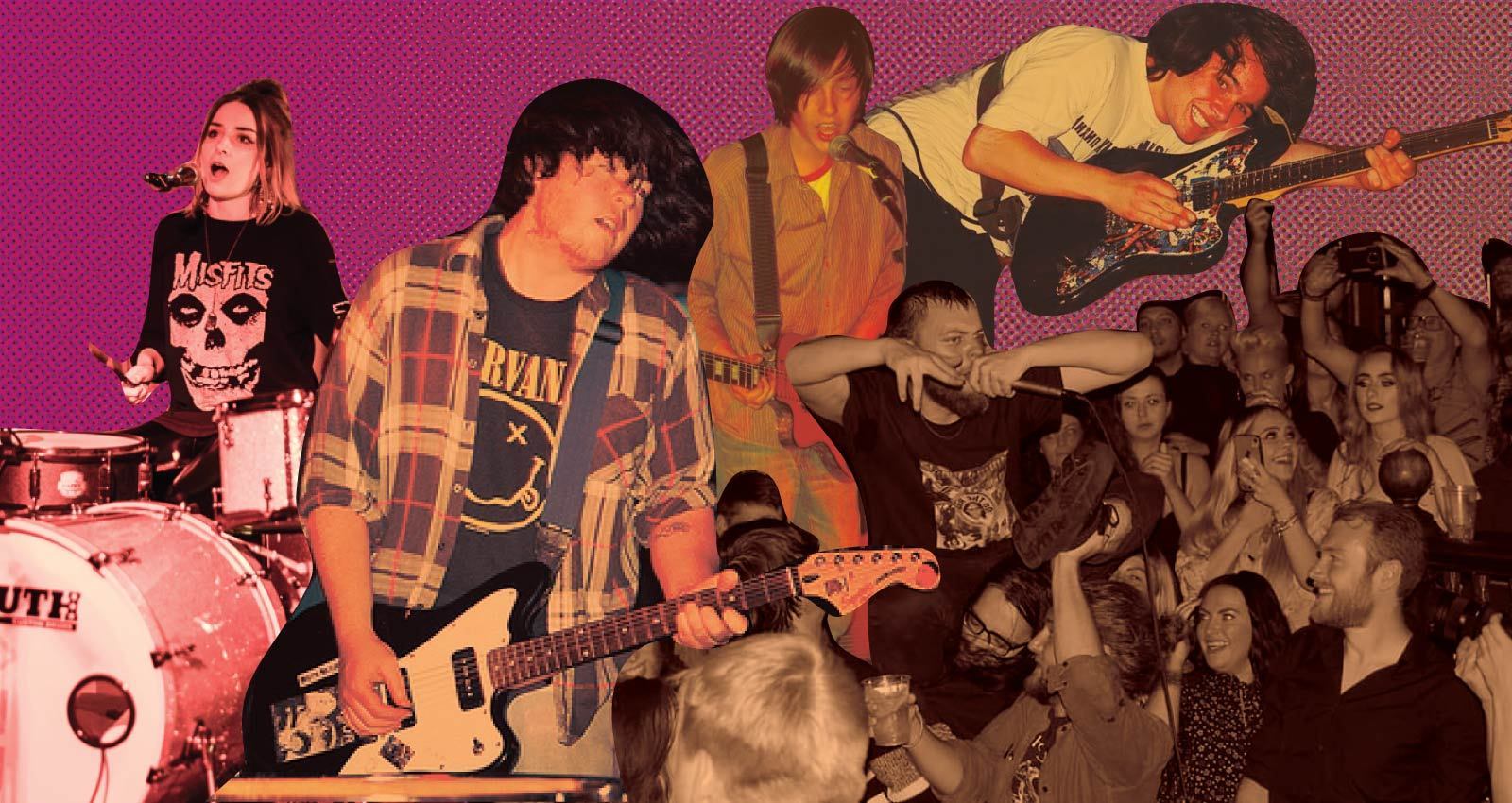 It's no secret that it's sometimes hard to participate in a music scene when you're young, due to the fact that so many events happen in bars and clubs that serve alcohol. That was certainly the case in New Zealand in 2009 when Benjii Jackson started Muzai Records—almost every local music venue was off limits to anyone under the age of 18. But Jackson didn't let the fact that most of the bands he liked were still in high school hinder his plans to start a record label.
While Jackson thought of himself as a novice—it's somewhat contradictory that New Zealand's music and arts scene is inherently DIY, yet those with confidence are viewed with skepticism—his experience working as a freelance music journalist, event publicist, and low-frequency radio presenter made him the ideal candidate to uplift a scene that had no real home in Auckland. Finding a venue to host all-ages shows was tricky, but through his network Jackson found a small, discrete theatre in the CBD named The Basement that opened onto a car park behind the city's main street, with a theater license which allowed those under the age of 18 in. For a brief period the venue was a defacto home to the Auckland all-ages scene, known colloquially as the Muzai scene.
Muzai's defining characteristics—all-ages, independent, punk—and its underdog status all came directly from Jackson. The label succeeded because his community rallied behind him. Jackson describes this community as "people who went to school with the bands or fraternized amongst those groups, people in their mid-20s who were part of the [punk] scene, and some older people—parents, people who remember gigs back in the day." Jackson credits Iona Winter, whose son Reuben (Bandicoot, FATANGRYMAN, Kitsunegari) was a wunderkind of late-2000's Kiwi punk, for helping him to create a safe, inclusive space. "We owe Iona a lot, because she helped us understand the perspective of a mother letting her child go to, or perform at, these shows," he says. "It was a perspective that we really benefited from. I certainly benefited from it."
The label also succeeded because of all the excitement generated by the first wave of bands. This included Bandicoot, a fiery punk band whose members all attended Western Springs College in Auckland's inner suburbs, Nice Birds, a sturdy post-punk band from the North Shore, FATANGRYMAN, a punk trio whose best-known song contains a line about Laura Palmer, and Sherpa, a psychedelic rock group whose lead songwriter is now a member of the British art-pop band Superorganism. "My A&R consisted of 'Would younger Benjii have gone to the ends of the earth to follow this band? He would? Work with them,'" Jackson says of his overall strategy. Asking teenagers to sign record deals was risky, though, and after one EP each, three of the four bands dissolved and formed new ones. Kitsunegari, with members of Bandicoot and FATANGRYMAN, was the only one that remained with Muzai.
Soon, more established artists who'd watched Bandicoot become a local force under Jackson's stewardship started partnering with Muzai, instead of self-releasing their material, which was the main alternative. Some of the strongest Muzai releases surfaced during this time, including The All Seeing Hand's Mechatronics, Girls Pissing on Girls Pissing's Scrying in Infirmary Architecture, and Wilberforces' Paradise Beach. But by the middle of the decade Jackson was beginning to burn out. "It grew into this monster and started to become less fun because there were expectations about what we should do. We were an all-ages label, a DIY label, we released leftf ield music—we were being pigeonholed into all these different categories and expectations far outweighed the realities of what I could do… it got pretty lonely," he admits.
In 2015 Jackson decided to move back to the UK, where he was born. He calls this the disintegration phase of Muzai. "I questioned everything I did at one stage when I moved to the UK, because it felt like no one cared anymore," he says. The move was triggered partly by a suggestion that he could break into the European market, however when he arrived he found the environment to be vastly different to the one he'd operated under in New Zealand. "I was very fortunate that in a lot of places in New Zealand you could be very hands on when approaching media. I had a good rapport with radio and print, perhaps because I was involved in radio and print before Muzai took off…here in the UK, there is a huge reliance on PR teams and radio pluggers. In fact, one of the first pieces of advice I was given was to hire a plugger. I'm a small label battling it out with other smaller labels to get centimeters in a magazine or a blog. That money can go towards funding a physical run."
People in New Zealand (and a handful of people in the UK) still valued his perspective, though, and he continued to work diligently to support a small number of artists who recognized what Muzai could do for them. Now, after half a decade in Northern England, he's found a group of like-minded individuals interested in building a community like the one he first had in New Zealand. "I think that's an important aspect of running the label now," Jackson says. "Going back to curating things I enjoy, that other people are into."
Here are six seminal releases from Muzai Records' extensive catalog.
Nice Birds weren't doing anything particularly groundbreaking—guitarist Michael Macdonald plugged straight into the amp—but they were all still in high school, so it didn't really matter. The band was more of a launching pad; bassist Amelia Berry went on to form the jangle-pop band Polyester and is now one half of the electro-pop duo Fimo. Drummer Alexander Grant became the vocalist and guitarist in the band Trust Punks. Swirly was the only EP Nice Birds recorded; sticking to a known formula, as teenagers tend to, they planned for it to sound like The Jesus and Mary Chain's PsychoCandy, with tons of reverb and heavy, stone cold drums. But they made a mistake and originally asked the engineer who recorded them to make it sound like Joy Division's Unknown Pleasures. As a result, they ended up with a mix of distorted guitar riffs, crunchy bass (a signature of 80s post-punk), clattering drums, and vocals that sound like they were sung through a tailpipe.
Named after a Minutemen song, God Bows To Math are one of the most critically overlooked New Zealand punk bands of the last decade. They started out as a Muzai band and remained loyal to the label until they went on an indefinite hiatus in 2016. Jackson remained loyal, too, he named Muzai's 10th anniversary sampler, Slow Decline—Muzai at 10, after the first song on GBTM's debut album. They were a fierce, tireless rock n' roll band that never tried to please anyone other than themselves. This made their music raw, unpretentious, and cathartic. Songs like "Yr Kids Aren't Special But I Am" and "How to Beat Your Dad At Chess" are now part of the nation's punk rock lexicon. Singer and guitarist Martin Phillips and drummer Tom Morrison's former rental down by the railway tracks in Auckland's plush Parnell neighborhood also hosted some of the best Muzai-aligned house parties.
In the mid '90s, New Zealand's Flying Nun Records signed a rock band from Dunedin whose sonic palette worked with soaring atmospheric arrangements and towering post-rock. The band was named High Dependency Unit (HDU) and they were a favorite of John Peel and Steve Albini. The band's influence inevitably seeped into Muzai; several bands, particularly those from outside of Auckland like The Postures from Wellington and Ipswich from Christchurch, adopted some of HDU's elemental features. Sunken Seas also dwelled in that space, blending psych, space and math rock—every drumbeat and bass note was performed with razorlike precision. Wellington, the band's hometown, lies on a faultline, and Null Hour has a seismic sensibility to it that mimics the back-and-forth of an earthquake.
Merch for this release:
Poster/Print
Casey Latimer's strident, frenzied guitar sound is a crucial part of his world-building—first as a member of the highly regarded post-punk band Sharpie Crows, then in the Brit-pop-influenced rock band Hussies. But Girls Pissing on Girls Pissing, an ensemble from Auckland, has a different kind of venom. Their music is dark, dissonant and dour at its very core. Latimer's voice is a rough growl, while the band's other lead vocalist Aki Bukkake (also on keys) has a sweet, wistful tone. Drums, keys and horns provide each song with a steady pulse and occasionally form a layer of psychedelia that recalls some of Brian Eno's more crooked pieces. Scrying in Infirmary Architecture is the band's third album (their second for Muzai Records), but it's where fans first started to become enveloped in GPOGP's unique paradoxical world.
Faux Machismo
EP
Merch for this release:
Cassette, Button/Pin/Patch,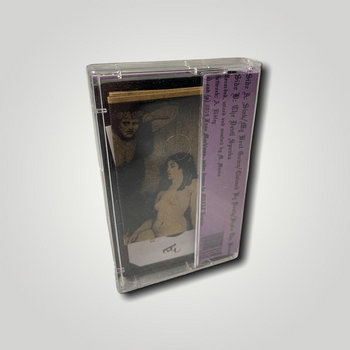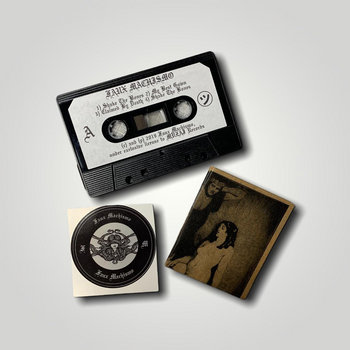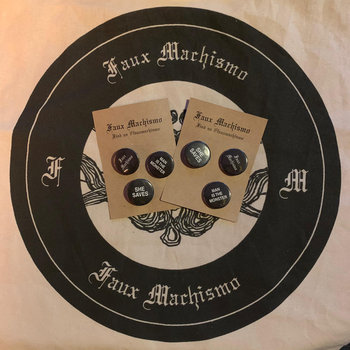 "Man is the monster I'm most afraid of in this world," sings Maeve Munro on "Sink," the lead track on UK duo Faux Machismo's debut EP. Apart from having big stoner rock energy, the band also has a tendency to flavor their music with a pinch of pop. Faux Machismo's swirling rhythms are deeply entrenched in the '70s—the spirit of Black Sabbath certainly haunts here, as does the '90s metal band Sleep. But there's also something deliciously pure to the way Munro curls her voice around the pings and cardboard beats coming from drummer Anna Ridley's kit. Faux Machismo is not Munro's first band to ride with Muzai. Her former band, a scuzzy psych rock duo named Cat Venom, joined the label in 2009 and was a fixture at some of Muzai's first all-ages shows at The Basement. She also had a synth-gaze project named Young Hellions.
Merch for this release:
Cassette
Jackson evangelizes everything on the Muzai roster, but Flogging A Dead One Horse Town is one of his personal favorites. "I legitimately think their music is fantastic," he says. As the label has started to drift further away from New Zealand and become more centralized in the UK, the duo from Tauranga, in New Zealand's northeast, is one the few Kiwi bands that Jackson still feels truly connected to. FADOHT has self-released nine EPs and an album via Muzai of robust, heavily distorted noise rock. In November 2019 Jackson severed six tracks from their back catalog and released a limited run of cassette tapes. For those who have followed Muzai from the beginning, FADOHT will bring back memories of Bandicoot's explosive debut Jurassic Warfare. A decade deep, it's all a little sharper now.