LABEL PROFILE
Art & Design Meet on Bruce Licher's Independent Project Records
By Ned Raggett · October 27, 2021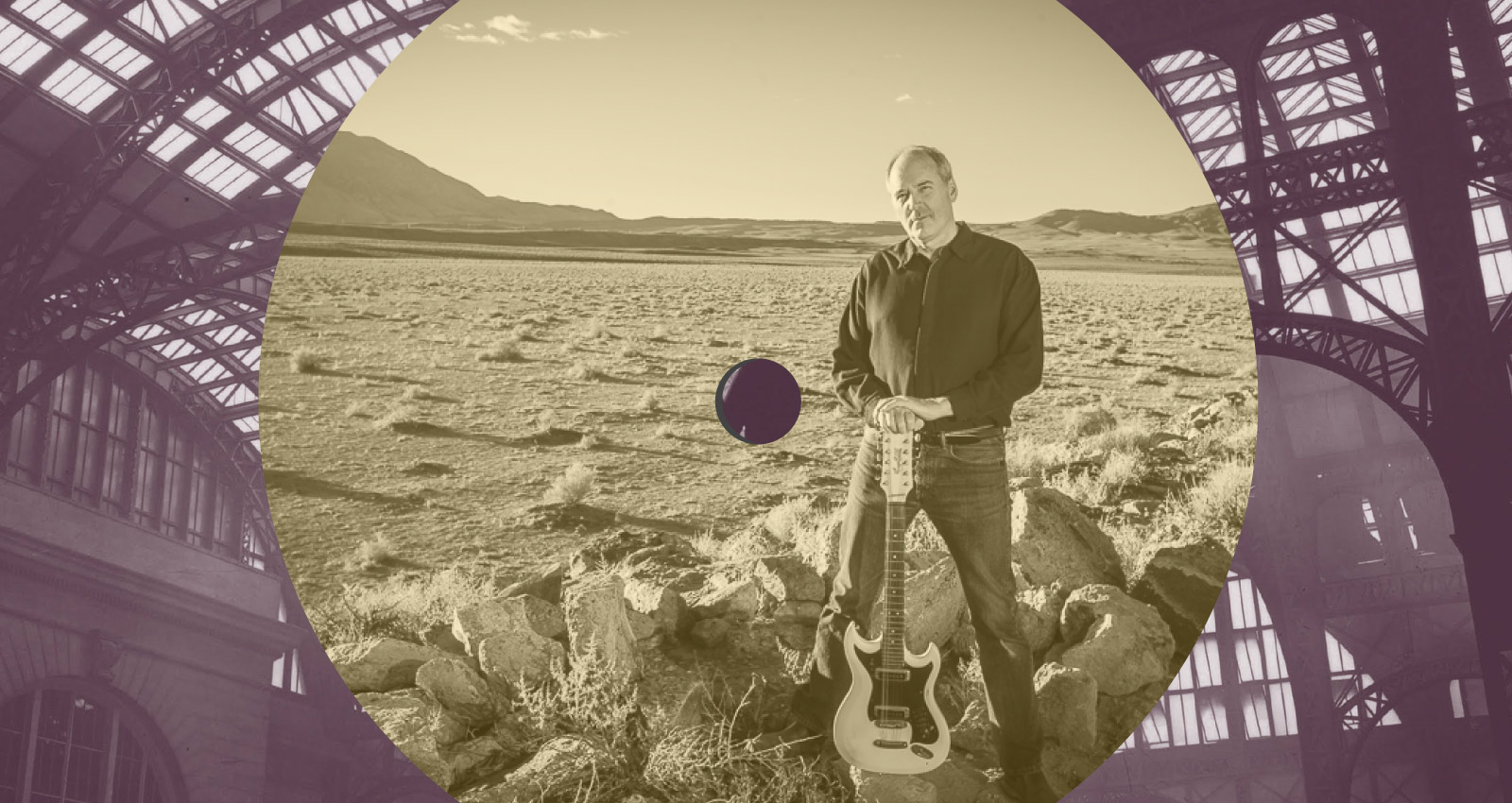 Bruce Licher has had over four decades of experience as a musician, a record label owner and, perhaps most famously, as an artist and graphic designer. But rather than each of those being separate enterprises they've all been part and parcel of a single creative journey, all deriving from the same source of inspiration as he moved towards finishing his art degree at UCLA in the very early '80s.
"I started the label as a way to put my own music out," recalls Licher by phone from his home in rural Bishop, California, "which wasn't really anything that I could imagine anybody else wanting to put out. I loved the physical object. I had been learning a lot of art techniques at UCLA, but there was something too dry about just making prints that you would sell and people would put on their walls."
That led to the founding of Independent Project Records, as well as a related effort for his graphic work in general, Independent Project Press. To this day, what remains most distinctive about Licher's work, and what has made so many of the IPR releases in particular valued collectors' items, is in the combination of two elements for the sleeves: letterpress printing and using chipboard rather than plain or glossy jackets. The result is literally tactile, a combination of elements that conveys meaning as much through touch as through listening.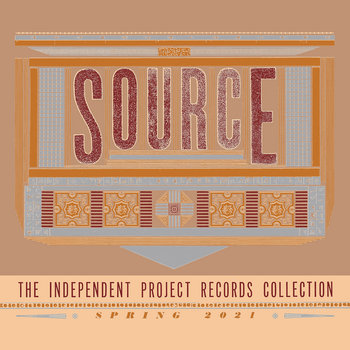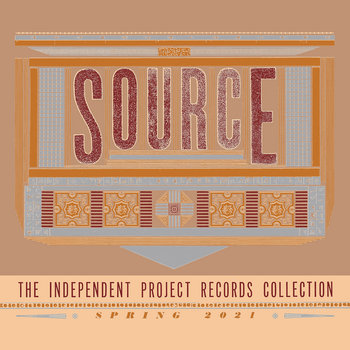 Merch for this release:
Compact Disc (CD)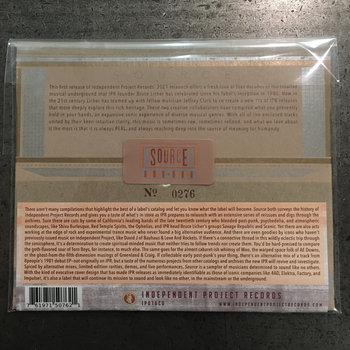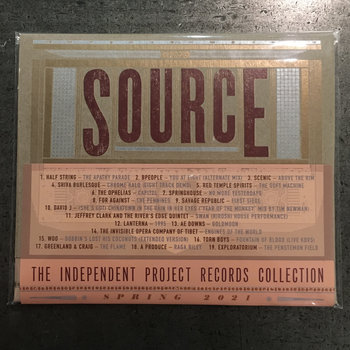 "I just really liked the idea of somebody going to a record store," Licher says, "perusing the bins and finding something really beautiful, pulling it out and going, 'Wow, what is this? Where did this come from?' and deciding that they wanted to take a chance on it, because they just got a feel from it that this could be good."
Thanks to the dramatic power of the most well-known of his bands, Savage Republic, and their series of releases and live events throughout the '80s, Licher steadily built up a remarkable roster for IPR, with an increasing number of acts drawing from both fellow Los Angeles locals like Red Temple Spirits and Kommunity FK and simpatico performers elsewhere such Camper van Beethoven and For Against. In the '90s, following Savage Republic's initial breakup, Licher shifted gears, founding a new act, Scenic, finding further ways to explore combinations of psychedelic and post-punk-adjacent guitar music, while continuing to release more bands on IPR.
At the same time, Licher's own distinctive style had led to further commissions not only in the world of music—he designed a number of covers for Camper van Beethoven during their original run, to pick one example—but wider design and art work in general. (This writer still remembers years ago suddenly being startled to recognize Licher's distinct design approach on the cover of a newly published John le Carre novel.) What would for other bands and designers be more generic efforts—press or concert announcements, flyers posted up on telephone poles—in Licher's hands became distinct works of art themselves.
In recent years, Licher has taken the time to both look back and reengage with his own legacy. 2019 saw the release of Savage Impressions, a remarkable book showcasing his wide artistic and graphic creations, as well as providing selections from his own extensive musical archive, Tape Excavation. And after an initial revival of the label in the mid '10s for some Red Temple Spirits reissues, Independent Project Records has returned in full, with various releases and other reissues planned in the wake of a striking new label overview, Source: The Independent Project Records Collection.
Merch for this release:
Compact Disc (CD)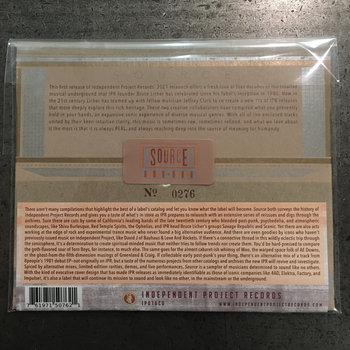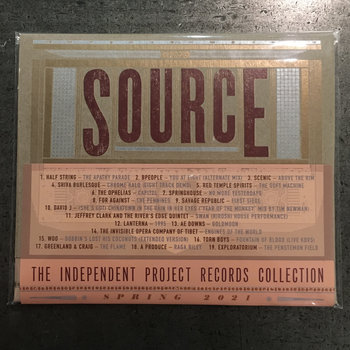 "We wanted to just make a statement that this is what the label's about," notes Licher. "About one-third of the tracks on Source are existing catalog, about a third of them are things from upcoming releases, and then about a third of them are pieces that are unique to the compilation. They won't be appearing anywhere else. It's also a mission statement in the sense that it's saying, 'Hey, not only are there some bands that you may be familiar with if you're familiar with IPR, but here are some other artists that we're going to be working with.'"
Independent Project's approach on Bandcamp has been to honor both sides of Licher's work, in that there's not only the music to explore, but also selections from the wide range of graphic work he's done for himself and for others. Licher took the time to discuss four examples from each part of this creative legacy, a scratching of the surface in terms of what's on offer.
The selection of pieces in this collection—postcards that served as announcements for tours, performances, record releases and the like—are perfect demonstrations of Licher's talents. His eye for specifics in terms of band logos and visual identities, as well as for fonts, how to design and layout information, are all on display, something which photos can demonstrate but the actual presence and literal feel of makes all the more remarkable.
"As soon as I got my hands on a letterpress," explained Licher, "I realized the potential there. I just thought, 'Well, I'm not making flyers anymore. I'm making postcards.' There was another reason, because you could mail it out for 10 cents instead of 18 cents for a letter or whatever it was at the time. I've heard over the years from all sorts of people saying, 'I saved every envelope I ever got from you. I have a drawer full of your stuff.' It's nice, basically giving people something they can collect, and for the most part, they got it for free."
Savage Republic were among the key bands who participated in Southern California desert events celebrated in the recent documentary Desolation Center (2018). (Licher offers various pieces related to the film, including reproductions of the original tickets he created, via Bandcamp as well.) But in L.A. itself, as the police-harassed punk scene was driven further underground and the Sunset Strip became the focus of major label attention and money, the Anticlub was one of a small number of venues who'd welcome left-of-the-mainstream acts during the '80s. Licher had known one of their bookers, Jack Marquette, from an earlier club called the Brave Dog: "[Jack] and Russell Jessum—Jim Van Tyne was the third guy—got together to book shows at the Anticlub. It was a really great experience at that time."
One of many such club night postcards offered from what became a monthly IPR label night at the venue, this particular night captures a very mid-'80s moment with the then-Santa Cruz-based Camper van Beethoven, who released their debut on IPR later that year, and the Davis-originated Thin White Rope making the trip from Northern California. "This may have been their first L.A. show—or it was one of their first L.A. shows—and they were still calling themselves Camper Van Beethoven and the Border Patrol," Licher says. "Then somebody else I knew heard about the gig and said, 'Oh, this band Thin White Rope I'm working with wants to come down and play.' I said, 'Sure, why not?' I hadn't really been familiar with them before. They were just like, 'Let's put them on the bill at the last moment,' and they were great. I believe it was like a year later, Savage Republic ended up doing a gig in Davis, in somebody's backyard by a swimming pool."
The Anticlub cards all have individual images featured in the designs in turn, making them even more unique artifacts. "I liked the idea of having aspects of them that are similar," Licher explains, "so you can tell that they're all part of a series, but then I don't want them all to look too much alike. This one, I had found that little printing plate of the globe and I just thought, 'Okay, I've got bands coming from all over. The globe works.'"
With the expansion of both the label and the growth in reputation of its design aesthetic, this postcard announcing a tour by For Against to support their still remarkable full-length debut Echelons was a signal as to how far the reach of IPR had grown. For Against themselves were from the Midwest, while the tour dates were exclusively in that region and the East Coast, with no visit to the IPR homebase. As Licher describes it, it was part of the process that led him to think more about what exactly IPR was in those years.
"For Against was one of those bands where they sent me the tape of their first album, and I listened to it. I thought, 'Well this is really cool, but does it really fit on IPR?'" Licher recalls. "But the more I listened, the more I thought, 'This is good. This needs to come out. If I can help it, then I will,'" he says. "Whenever I hear a new song of theirs, and this has pretty much been the case for almost their entire existence, I'll go, 'Wow, that's nice,' but it doesn't really grab me usually. And then I'll listen to it again and I'll go, 'Yeah, that's pretty good.' Usually by the third or fourth listen, I'm like, 'Oh man, this is great.'"
The wheat image on the card, which also features on the cover of Echelons itself, was both a knowing nod to the band's Midwest origins as well as the inadvertent source of, as Licher drily puts it, an "entertaining" problem, detailed in full in the Savage Impressions book. "My wife and I had gone down to Mexico for a little weekend getaway," summarizes Licher. "We went into this little store down there, and I saw this bundle of wheat stalks hanging from the ceiling. I was like, 'Oh, we can put a wheat stalk in every record.' So I bought the bundle of wheat stalks, and brought it back and we did that. And then there was a whole problem, because moths started hatching out of the wheat."
The 1990s resulted in a perfect meeting of the minds when Licher approached Tim Gane of Stereolab after a show by Gane's band in Arizona, following Licher's relocation to the state. Stereolab's interest in design was evident from the get-go and maintained throughout their series of many album and single releases; but beyond that, Licher describes them as "my favorite band throughout the '90s," as striking a fusion of disparate sources as Savage Republic itself had been. This set of stamps associated with the single release of The In Sound has its own story.
"I introduced myself," Licher says of that initial encounter. "[Gane]'s like, 'Oh, IPR. Yeah, I love IPR. You know, we should do something together,'" he recalls. "It took a couple of years, he put me in touch with Martin, their manager, and he sent me a DAT tape with a couple of songs on it. By the time that I got around to doing it, they had changed the names of the songs, and I had already printed the covers with the old song titles on!"
"Design-wise," he continues, "they pretty much gave me carte blanche to do whatever I wanted on this. Basically, the single sleeve was my interpretation of a mid-'60s jazz album on the Verve label called The In Sound by Gary McFarland. Then I thought, 'Oh, we need stamps.' I just did a simple stamp design, I wasn't planning to do different colors. I was just going to do yellow, because that was the color scheme that the McFarland album was. When we got it on press, we started printing and I suddenly realized: 'I don't have enough of this card stock to do the whole run. And in order for me to buy more of this, I would literally have to go buy two tons of it, and I don't have the money to do that right now. So maybe I just use up some other stock that I've got sitting on the shelf.' That's how the four different colors came along. I didn't plan any of this out. It was just like, 'Jump in, find yourself up against something that is potentially a problem, and then just twist, pivot, and kind of go okay, let's be creative here. Let's make this more fun.'"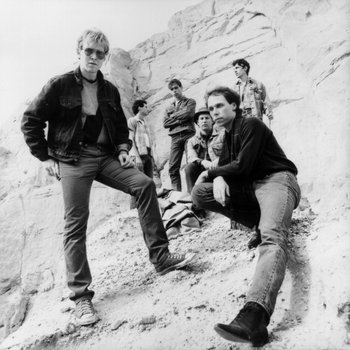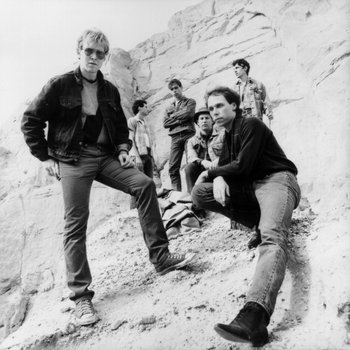 Merch for this release:
Poster/Print, Compact Disc (CD)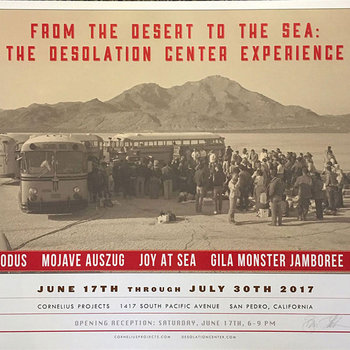 While Licher has not been part of the band since the '80s, other selections from Savage Republic's continuing career can be found elsewhere on Bandcamp, while Independent Project itself showcases the CD version of an archival release that originally surfaced on vinyl in 1992. Recordings From Live Performance captures the early years of the band from around the time of their stunning 1982 debut album Tragic Figures, and given the intense lyrical and instrumental edge of that album—once summed up memorably by a friend of this writer as "if Joy Division grew up the desert"—it says something that this collection itself is arguably even more wired and extreme. Like the majority of IPR CDs over the years, the physical release eschews the usual plastic case in favor of an elaborately folded card stock, in keeping with the label's aesthetic.
Licher notes the origins of the band lay in jam sessions that took place in utility tunnels at UCLA where he'd planned to go with a friend, Mark Erskine, to "just see what kind of noise we could make." Philip Drucker—aka Jackson del Rey, a friend of Licher's from another band they'd been in—asked if he could bring another friend, Jeff Long, and the core quartet was born. Soon after, Licher saw the debut West Coast performance of Glenn Branca, and the exultant, open-ended minimalism that Branca embraced for guitar music thoroughly rearranged Licher's mind. "I was hearing sounds that I couldn't see anybody playing," he says. "After the gig, I went up and said, 'Wow, that was just amazing.' I realized how they had tuned some of their guitars with all the same strings tuned to the same note. On the drive home, I was like, 'I'm doing that.'"
"Realistically," Licher continues, "the first Savage Republic was two people who knew how to play their instruments and two people who didn't, and I was one of the ones who didn't. There's something really interesting that happens when you can all click together, and you've got a couple of people that can really keep it together, and then a couple people that can take it out to a new place. We had so many things that we were interested in, so many types of music we were interested in listening to. It was surf music, psychedelia, industrial music, post-punk music, Greek music, Middle Eastern music. As Ethan Port, who joined the band later, said, 'We threw it all on a blender, and this is what came out.'"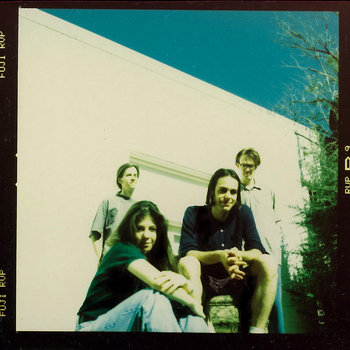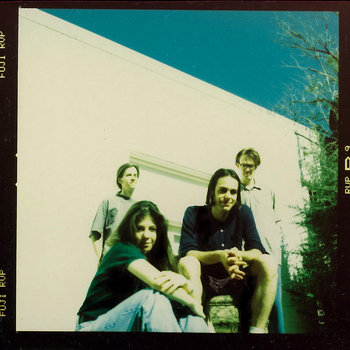 Merch for this release:
Compact Disc (CD), 2 x Vinyl LP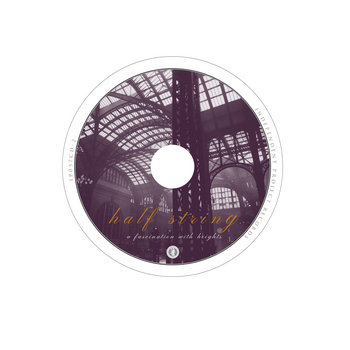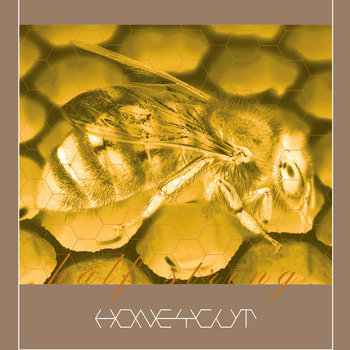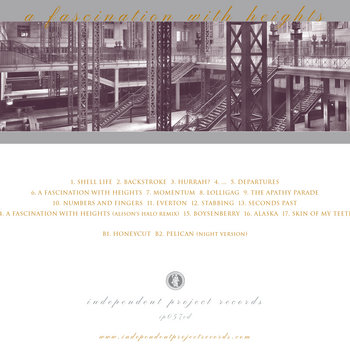 One of the first expanded reissues IPR has released is for Arizona's Half String. One of a number of bands at the center of an incredibly creative variation on shoegaze in the state in the early '90s, Half String are a classic example of a band that should have been a lot bigger than they were, with a clutch of strong releases and standout songs in their catalog. While there was an archival effort some years back on Captured Tracks, the expanded version of their sole full-length, 1996's A Fascination With Heights, concentrates on the end of the band's original run, with a bonus single drawing on tracks from their early '10s reunion.
It took a prompt from one of the bands that Licher had signed to IPR for him to start exploring shoegaze to start with. "I have to thank Jeffrey Runnings from For Against, because he was working at a record store at the time in Lincoln, Nebraska and he just started sending me records in the mail," Licher says. "He was like, 'Bruce, you got to hear these guys.' He'd send me the Pale Saints and Lush and some of that stuff, then I started seeing Slowdive records in the stores in L.A. I'd already been a huge fan of Creation Records, and so anything that was on Creation, I thought, 'Okay, I have to pay attention to this.'
Licher's mother had moved to Sedona back in the early '80s and knew the mother of Kimber Lanning, who would become Half String's drummer, via art world connections. She suggested to Licher that he visit Lanning at her record store in Phoenix—which he did. "At the time she had some cassette tapes that [Half String founder] Brandon Capps had recorded in his bedroom and said, 'Oh, you should listen to this guy. He's doing some interesting stuff,'" Licher recalls. A later visit by both Lanning and Capps to L.A. in 1992 soon after led first to the "Eclipse" single in 1993, followed by a series of other releases that eventually culminated in A Fascination With Heights.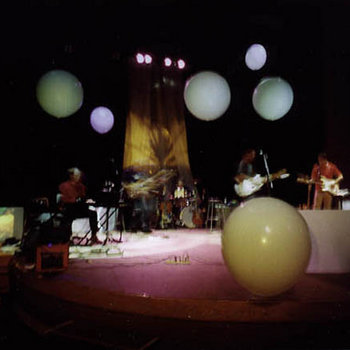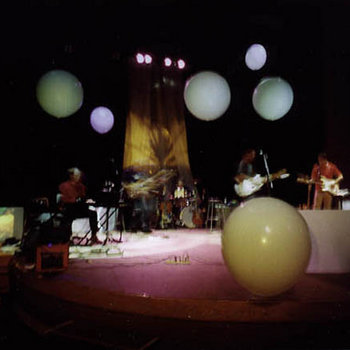 Merch for this release:
Compact Disc (CD), 2 x Vinyl LP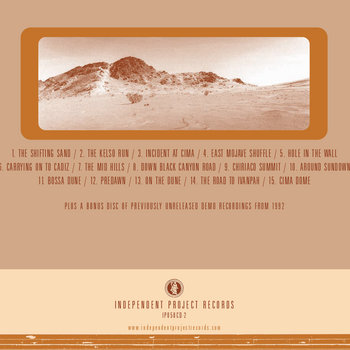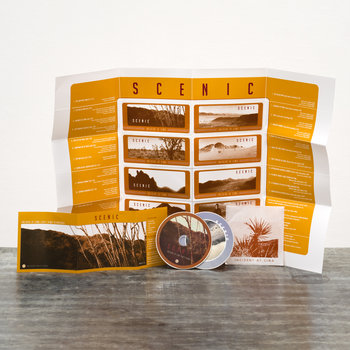 Half String's Capps was also the coordinator of the Beautiful Noise festival in Arizona, which began in 1993, with one of the performers being a new resident of the state: Licher himself. In the wake of Savage Republic's late 1980s breakup, he had decided to form a new band with colleagues in L.A. before he and his wife, the artist Karen Nielsen Licher, made what they thought was a "let's-see-what-happens move" to Sedona that turned into a 17-year stay. On Scenic's debut Incident at Cima, the trio of Licher, Shiva Burlesque veteran James Brenner on bass, and Brock Wirtz on drums, create instrumental music that had roots in Savage Republic's fusions, but aimed for a more contemplative, majestic sound that would evolve further over the band's next few releases.
While Incident was one of the earliest releases on the relocated-to-Sedona IPR in 1995, Licher notes it's not really an "Arizona album"; Cima itself is located in the eastern Mojave Desert in California, and the album grows out of a series of photographs that Licher took there during various visits in the late '80s and early '90s, reproduced on an insert with the original release. "I just loved how desolate it was and how beautiful it was," Licher remembers. "And I had discovered this little point-and-shoot panoramic camera that I could put my own film in. And so I was putting black-and-white film in it and I would go out there. Literally, it's a $12 camera with a plastic lens. You don't focus. You don't do anything. You just point it in the direction you want to take a picture and click the button."
The reissue of Incident at Cima features a clutch of full band tracks as well as solo demos, which Licher regards with a slightly bemused feeling: "Most of them are embarrassing, to be quite honest, because I don't have a singing voice," he says. "But I found five of them that I felt like, 'Okay, even though these are extremely rough, at the same time, there's something special about them. Why not let people hear them?' Two of those songs got developed into songs on Incident at Cima, three of them never got developed into anything from there on out, but I think they're really good. Who knows, maybe I'll go back and do something with them!"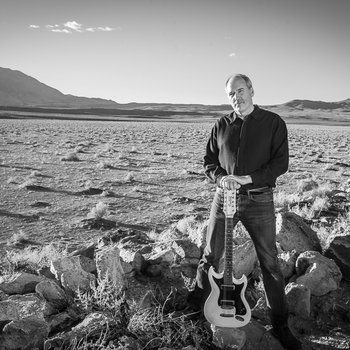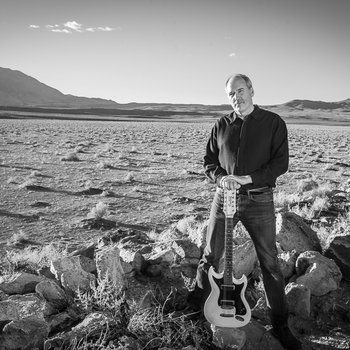 Merch for this release:
Compact Disc (CD)
Licher and his wife Karen relocated to Bishop—they also have their own musical project, SR2—and one of Licher's more recent releases reflects both their continuing partnership as well as Licher's general interest in both design and music. Owens Valley Driving Music, released in 2018 is, in strict musical terms, simply two solo guitar pieces by Licher. But as a full physical release, it is something else: An elegant stand-up miniature art piece, with the CD—and the way it is mounted—part of the overall effect. It's a quietly impressive reflection of the continuing power of Licher's art in multiple fields, as well as his refusal to rest on his laurels.
"I try to find new ways of doing things and interesting ways of doing things," explains Licher. "We had bought this little solar-powered suitcase, and I have an Akai 12-track hard disc recorder that I bought to record demos on back in the '90s. My wife wanted to go out and do plein air painting in the Owens Valley, so I thought, 'Well, I'll come do some plein air recording.' I didn't have any idea what I was going to do. The idea was, go to the location and see what comes out, get inspired by being there.
"The first time I did this, I just started doing this drone and I just played it for 10 minutes," he says. "Then I stopped and thought, '10 minutes is enough,' and I started layering on top of that. So whatever I did on that day, that was the piece, and then I would take it and mix it. Then I thought, 'How am I going to release this? It's not something I want to press up as a replicated CD. It just needs to be this little artifact that I can create in my office.' That photograph was from one of the locations that I recorded, the Lower Rock Creek Road. I just thought, 'Okay, let's do something where I can do a really high-quality image, then I'll do some letterpress on it too.' I liked the idea of creating this little folding thing that will just stand up and be a display piece of art. It's a piece of artwork, so I signed it on the back. I don't know how many I've made. I've probably made probably 150 of them or so, so far. It is what it is. And who knows? Maybe at some point I'll record more of these plein air pieces and have a whole album's worth. We'll see!"