LABEL PROFILE
Gatitx Discos, South America's Noise Pop Home
By Brady Gerber · December 04, 2017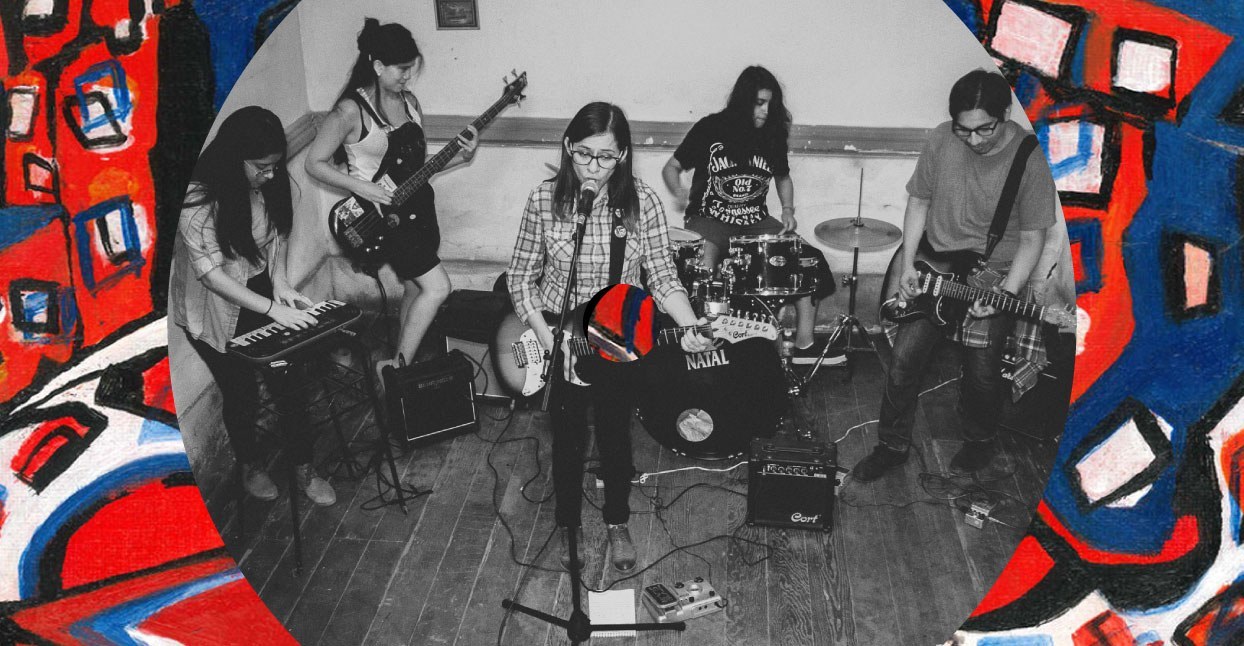 Want to know what My Bloody Valentine would sound like if they were Spanish majors in college playing house shows buzzed on both PBR and friendship? Do you want validation that twee guitar rock can, in fact, rock? Do you want to listen to a band that has the nerve to write a song called "Husker Du" and—even moreso—have the nerve to sound as good as Hüsker Dü? Gatitx Discos has got your back.
Gatitx Discos is a young indie label based in Lima, Peru that highlights the best DIY noise pop around Peru, as well as nearby Chile and Argentina. The label has been steadily releasing excellent fuzzy alternative, indie punk, straight-up shoegaze, and twee for over a year now. Any Gatitx Discos release, whether fast and in-your-face or soft and welcoming, creates a warm, sunny feeling as loving and innocent as the label's cat mascot.
The label has its roots in Gatxs Monteses, a Lima band that was based in the city's dangerous but culturally rich La Polvora-Santo Domingo area. Inspired by Peruvian punk and American lo-fi bands like Beat Happening, Hüsker Dü, and early Yo La Tengo, the band sought to create and release music with a do-it-yourself attitude.
"We don't want to talk about ideology, but I don't trust rich people," says one of the members of Gatxs Monteses via email. "Rich people have control of music, they play music as a hobby or [to get] attention…[we want to] make the music real, nothing more." The label is designed and curated with fans in mind—regardless of where those fans happen to be located. "I don't think that Americans are people that just live in the United States. [They] live in South America and Central America, too. We also want our music to be heard by people in Asia and Europe, too."
While the label releases music by bands hailing from a wide variety of South American countries, what unites all of them is their similar DIY spirit. If there is an unspoken ideology that powers Gatitx Discos, it is this: Anywhere you go, there's an underground scene to be discovered.
"Something that influenced us a lot was the indie scene that is forming here in Santiago," says Juan Fernando Rubilar of Medio Hermano, based in Chile. "[This] allowed us to expand our vision of music and take it to a more political side, where music is a channel to meet people who have a vision in common." According to Fernando, popular music in Santiago like cumbia and reggaeton still dominate traditional media; everyone else has to rely on indie labels and the Internet to get their music heard.
"Here in South America, everything is more hidden," says Francisco Heredia of Poder Fantasma. "Normal people don't go to gigs. You have to find where they are. Usually, the places where we and other bands play are illegal—it could be a house, could be a local spot, so being in a band here in Peru or Chile is a big political statement." Though it's difficult to pick up on any explicit political themes in these pretty songs, just the act of releasing music in South America is a political statement in itself; Gatitx Discos a champion of underground, generally unheard voices.
This past summer, Gatitx Discos celebrated its first year with Uno, a compilation highlighting some of the label's bands. The album bio translates as, "A kind of homage to friendship without borders," acknowledging their friends all across South America who have kept the label busy. Uno is a smorgasbord of sounds, a portrait both of the local Peruvian scene (Gatxs Monteses, Kawaiimaster420, Hombre del Espacio, and Verano del 83) and friends from Chile (Poder Fantasma, Medio Hermano, and Paracaidistas) and Argentina (Ice Cream Ü). Camila Falcucci's album artwork encompasses the music's, and label's, playful and colorful spirit.
Below are highlights from Gatitx Discos' first year.
Note: Quotes have been edited for translation and clarity.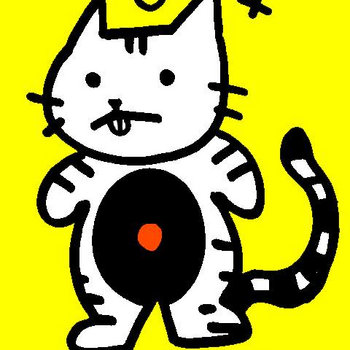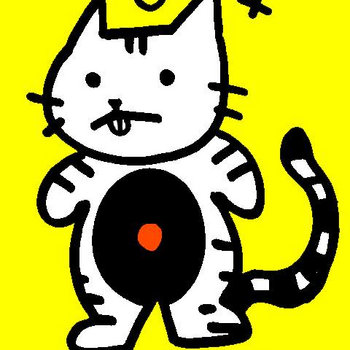 Gatxs Monteses' contribution to Uno is a song called "Husker Du," a track that names one of their key influences outright. But unlike the American rock band, Gatxs Monteses' fuzz isn't especially harsh; the volume is offset by a beautiful, early R.E.M.-like jangle. Last summer, Gatxs Monteses released their Santo Domingo EP, a collection of lo-fi acoustic demos that shows off the band's range, and their ability to write strong melodies regardless of how massive they are in sound.
"I started the band alone here in Santiago, Chile, like a bedroom project," says Heredia, who leads this techno-punk outfit, making music that's heavy on blossoming, layered synths. "Then friends started to play with me. That helps me a lot on the stage, because I don't have to do everything." Last summer, Gatitx Discos released Poder Fantasma's self-titled EP, and you can hear more of their work via the group's own Bandcamp. All of the releases are interesting in their own way, painting a portrait of an artist who's continuously evolving his sound. "The goal one day [is] to conquer the world with our music," says Heredia. We believe him.
"El retorno de la Hydra" is one of Uno's more straightforward guitar-rock songs—and good on Hombre del Espacio for writing dependably great straightforward rock and making it sound fresh. Their latest single "La Navidad de Raúl Armas" can easily hang with the likes of Car Seat Headrest and Cloud Nothings.

Medio Hermano rose from the ashes of La Reina Morsa, when two of the members recorded new songs together that further honed their former band's upbeat, post-punk sound. Three drummers and one keyboardist later, Medio Hermano have put their love of David Bowie and Talking Heads to good use, writing driving indie-pop that disregards language barriers. The band's latest release, last year's Lucha Libre, is a dream.

When talking about KawaiiMaster420 and his unpronounceable and catchy Uno contribution "す み れ 色 pt 2 (Nuts)," El Comercio uses the word "kawaiicore." The rough translation is "pretty hardcore," and it works; it's easy to imagine Fugazi writing a ballad like "す み れ 色 pt 2 (Nuts)." KawaiiMaster's latest single, "Things Will Change Someday," is more frantic, but still pretty—like staring out at the sunset from a beach on fire. Give You (Don't) Neet Me a listen and you'll also hear some excellent, Dinosaur Jr.-worthy riffs, especially on "Perfect Date."
"Jardinería del Mar" is the slowest song on Uno, with haunting keys laid atop a sort of twee '80s-high-school-prom shuffle and Paracaidistas' dueling vocals. Gatitx Discos also released the band's self-titled EP last summer, which includes "Jardinería del Mar," as well as the most beautiful song we've heard about a McDonald's.
Verano del 83 have actually been active since 2011, but have just released their debut LP via Mexican label Emma's House Records. "Our plans for the future is that people continue to love us," says one of the band members via email. "Record a couple of albums, experiment with sounds, travel around the world, and prove that in Peru there are people [who are] twee pop and dream-teen-pop. It would be great to know that our music is listened [to around the world] and at least make someone dream and to feel identified." Based on "Amor de Verano," they've got a bright future ahead of them.
Hailing from around the Patagonia region, Ice Cream Ü brings Uno full circle with a loud distorted sendoff. The band's latest LP, Un Espacio Entre Portales, like everything else released by Gatitx Discos, is weird and colorful in all the right moments and dares you to try to be your true twee self. Special shout-out to "Patio," which might be my favorite song by any of the Uno artists.
-Brady Gerber