LABEL PROFILE
Japan's Galaxy Train Label Bridged Generations of DIY Culture 
By Jude Noel · May 30, 2023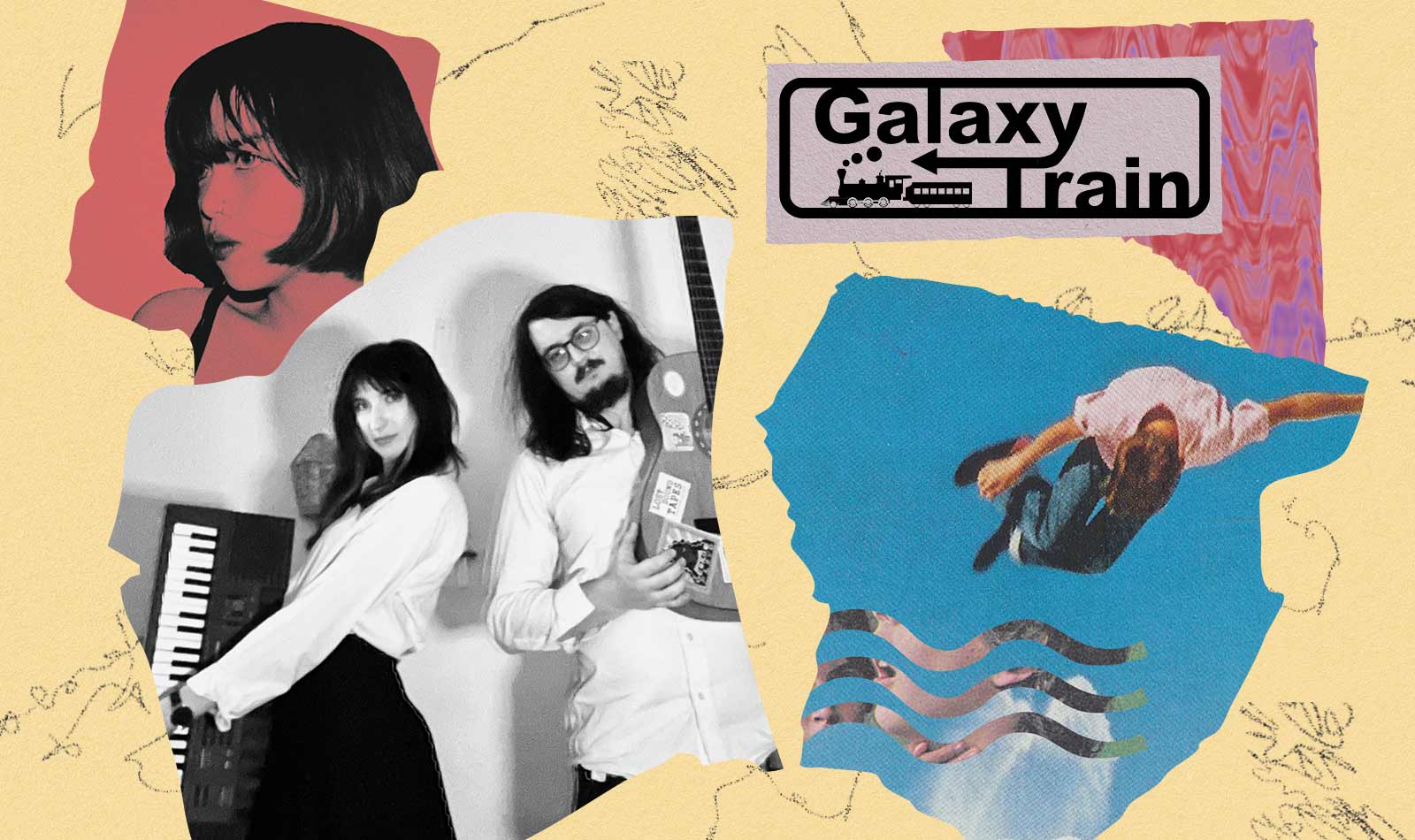 Nagoya-based label Galaxy Train may not lay claim to the same amount of name recognition as K, Sarah, or Slumberland within the indie pop pantheon, but its sprawling and diverse catalog rivals those of the greats. Founded in June 1998 by Umeki Toru, Galaxy Train has evolved from its humble roots as a local 7-inch imprint and event series to an international twee pop institution whose output reflects the full breadth of music released under the genre's wide umbrella.
Over the past 25 years, Galaxy Train has remained firmly committed to its DIY ethos, even as the inner workings of underground culture have shifted. Between 1998 and 2004, the label largely followed in the footsteps of its popkid predecessors, focusing on pressing small runs of vinyl EPs, CDs, and cassette compilations with doodled cover art. After a decade-long hiatus spurred by the unsustainable cost of producing physical releases, the re-emergence of cassette culture in the early 2010s inspired Umeki to bring Galaxy Train back to life as a tape label. Since then, Galaxy Train has been more active than ever, putting out more than 70 new releases by bands both domestic and abroad. From jangle pop to chamber folk and synth-infused bedroom pop, the label covers all of indie pop's aesthetic bases. Here's a handy guide to exploring their lo-fi universe.
---
Galaxy Train: Act I
Merch for this release:
7" Vinyl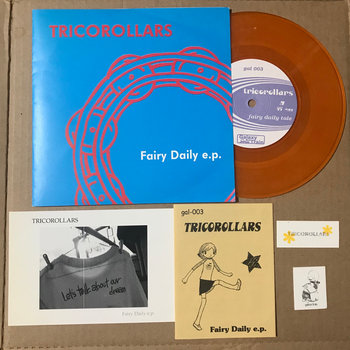 After launching in 1998 with three-track EPs by Red Go-Cart and 800 Cherries, Galaxy Train would press the first and only release by Nagoya quartet Tricorollars, the Fairy Daily EP, the following year, offering a more polished and poised take on Red Go-Cart's jangly punk. It's laden with '60s girl-group harmonies and flourishes of melodica, an instrument that's a constant presence on this three-track EP, and mirrors the mod-pop kitsch of early Belle & Sebastian singles like "Legal Man" and "Jonathan David." Sandwiched in the middle of the EP, "What We Look For" is the sleeper hit here, delving into haunting minor chords in its twisty chorus.
Merch for this release:
Vinyl LP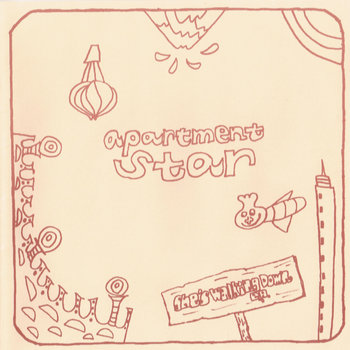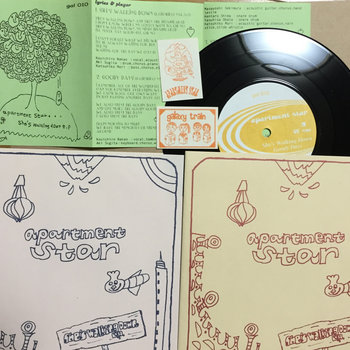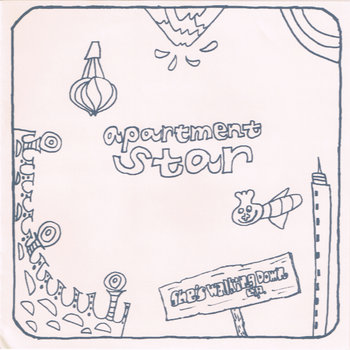 The first wave of Galaxy Train records felt uniformly inspired by the indie pop that K and Sarah were pressing a decade earlier, though there were some notable exceptions to the trend. Tokyo's Apartment Star, for example, took their creative cues from their contemporaries in the Southern United States, emulating the whimsical orchestration of The Ladybug Transistor and of Montreal. Their second EP opens with its title track, which sounds more demonstrably rock 'n' roll than anything the label had previously put out. Frontman Kouichiro Nakao coos beneath a shuffling acoustic chord progression while Aki Sugita does double duty as drummer and pianist, sliding bluesy phrases and glissandos into the mix. "Stranger In December" is the record's best tune, though, bounding along on psych-pop organ and Beach Boys-esque harmonies.
Mushroom Cloud
AOIKUUKI (2004)
Merch for this release:
Compact Disc (CD)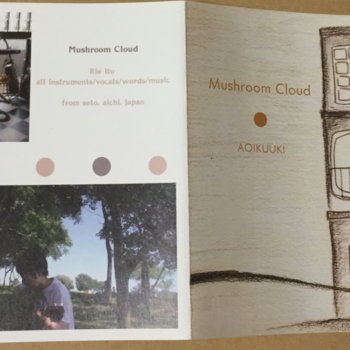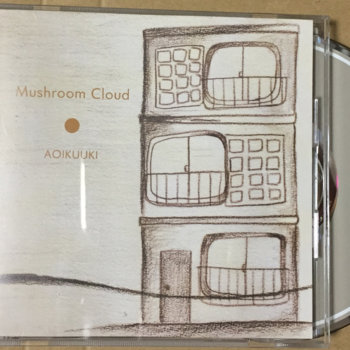 Mushroom Cloud, the solo project of Kotolis's Rie Ito, was one of Galaxy Train's most prolific early acts, releasing a 2001 tape of ragged neo-acoustic sketches, a brief companion CD-R of folk pieces that sound like the incidental music from Animal Crossing, and a final album of cleanly-recorded chamber pop that would turn out to be the label's last release for nine years. Even if it were the last we'd ever hear from Galaxy Train, AOIKUUKI would have been a good note to go out on. The album is delicate, but still produced with the endearingly clumsy aesthetic the label had made its calling card. Droning strings, buzzy melodica, and the occasional spot of clattering percussion lend some rustic allure to Ito's bossa-inflected guitaristry, making for a cozy listen front to back.
---
Galaxy Train: Act II
Merch for this release:
Cassette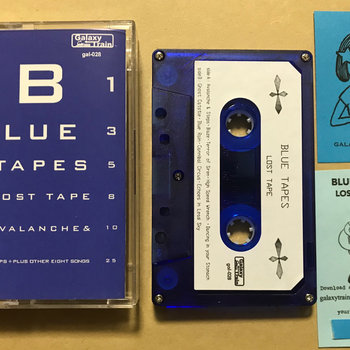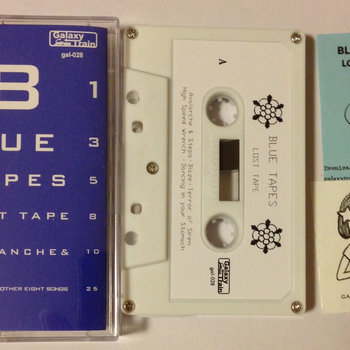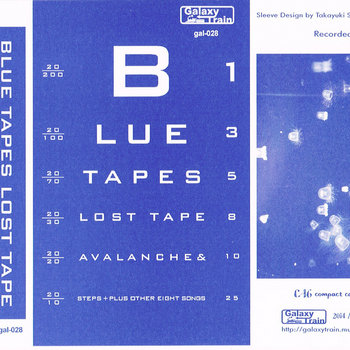 After a nearly 10-year hiatus, Galaxy Train reopened for business in 2013 with a streak of tape releases by Takeshi Endo, Pepe&Prima, and Los Angeles's The Memories. Nagoya trio Blue Tapes were among this new generation, though their sophomore project Lost Tape was recorded earlier, in 2009. It's a noisy, abstract affair that sometimes sounds like a Sonic Youth bootleg, with peals of feedback springing forth from chaotic garage rock vamping.
Merch for this release:
Cassette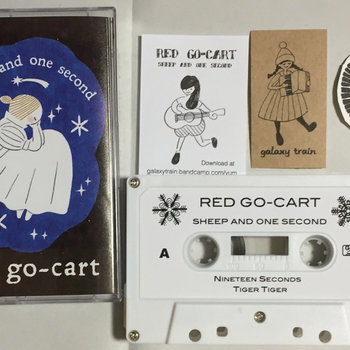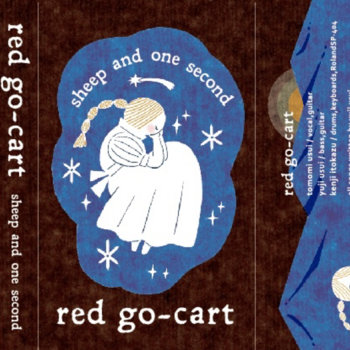 With the return of Galaxy Train came a second wind for Nagoya's Red Go-Cart, who were the first band on the label back in its original incarnation and who have released two tapes and two 7-inch singles over the past decade. The first of the new batch was 2014's sheep and one second, which marked a shift from the ramshackle bedroom pop of their earliest work to slow-burning shoegaze. Tracks like "Nineteen Seconds" and "Merry Go-Round" could even scan as post-rock, constructed around punchy, loud-quiet dynamics and atmospheric instrumental breaks. "Tiger Tiger" is the best pop tune of the bunch, led by an antsy bassline that slices through murmuring guitars. Miki Hirose of Smokebees and Girl President has since joined the ranks of founding members Tomomi and Yuji Usui, and their most recent output has grown to sound more like early New Order thanks to additional instrumentation.
Merch for this release:
Cassette
Before Yusuke Oshima, Hiroki Niwa, and Kito Yuya founded glitchy post-rock outfit ALL OF THE WORLD in the early '00s they spent their teenage years huddled over tape recorders, hashing out their instrumental sound as Helicopter. The trio cite American DIY heroes Lou Barlow and Half Japanese as major influences on their work, which is certainly apparent in its threadbare sound quality and plunking riffs of the earliest entries on Pan and Ping Pong (1993–1999), but at their best, Helicopter resembled a puerile, punky version of Chicago's Tortoise. The tape is front-loaded with the later jams, with their droning chords and overdriven basslines, and things get progressively weirder on the flip side, where the band thrashes out dissonant grunge tracks like "Picking Giant" and Live at LEEDS."
Girl President
Found You! (2018)
Merch for this release:
Cassette
Featuring members of Red Go-Cart, Smilelove, and CAUCUS, the sole release by long-running quartet Girl President is a snack-sized slice of indie pop that leans into the band's goofiest instincts. Opener "Bookmark Melon" is an eclectic experiment with dubby guitar effects anchored by charming multi-part harmonies, while "64th Wonder" and "Frappe" return to the shambolic punk stylings of the members' other projects. The EP peaks with its final cut, though, covering a song by former Smilelove labelmates The Notes without the original version's heavy jacket of reverb.
Merch for this release:
Cassette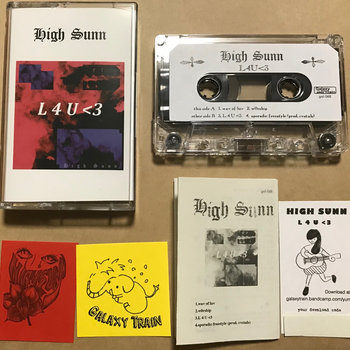 High Sunn, the long-running bedroom pop project fronted by San Francisco's Justin Cheromiah, is one of the many international acts who have dropped music with Galaxy Train over the past few years. His L 4 U <3 is a bit of an outlier within the label's catalog despite its jangly guitar tone, fusing the indie surf toplines of Beach Fossils with the blog-trap palette of Lil Peep.
Merch for this release:
Cassette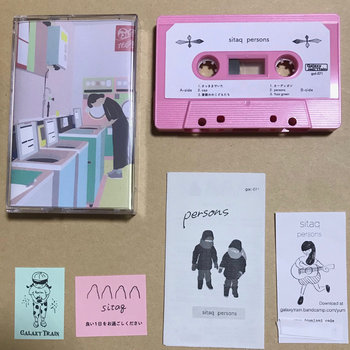 Nagoya's sitaq bring a sparkling refinement to the Galaxy Train catalog, approaching the rhythmic complexity and hooky songcraft of more mainstream J-rock bands like Homecomings and JYCHO with a profound gentleness. The title track of their debut cassette, persons, is driven forward by twinkly emo guitar riffs that drift between headphone speakers, yet the song sounds more comfy than heart-wrenching. Even when they switch on the fuzzbox for the chorus, sitaq remain cool and composed, trading subtle guitar phrases and turning on the mic with ease. "Cap," with its creaky synths and backdrop of wah-pedal noodling, is also excellent, culminating in slow dance between twin guitar solos.
Merch for this release:
Cassette
Initially called Peatmos, Tokyo slowcore outfit pervenche were a fixture on the short-lived Clover Records imprint during the late '90s, turning in a handful of EPs, compilation appearances, and a debut album before they (and the label) dissolved. Twenty years later, the band returned with their long-overdue sophomore LP, Quite Small Happiness, which picks up right where the quartet left off. Self-described as a "folk rock band where kindness co-exists," pervenche build songs out of simple elements: steady arpeggios, clean tones, and hummable melodies. Their subdued cover of Peter Ivers's "Miraculous Weekend" is a highlight, mellowing out the original without sacrificing its playful finesse.
ミレーの枕子バンド(Milet no Makurako Band)
FIRST AID (2022)
Merch for this release:
Cassette
Milet no Makurako (Milet's Pillow) got her start on YouTube, uploading acoustic covers of songs by Kaneko Ayano and andymori, before cutting her teeth on original songwriting with her debut album Shinme, which came out in 2021 (and later received a Galaxy Train tape issue). FIRST AID quickly followed in 2022, upgrading her solo recordings with a full backing band. The EP is thoroughly upbeat, full of handclaps, rattling tambourine, and rollicking folk rock arrangements that prize fun over all else. The longest selection, "新芽(sprout)" is an aural trip to the countryside, seasoned with twangy acoustic leads and country-adjacent chord progressions, while final cut "Children of Green" quite literally takes things outdoors, temporarily replacing her bandmates with birdcalls and windy wooshing.
Merch for this release:
Cassette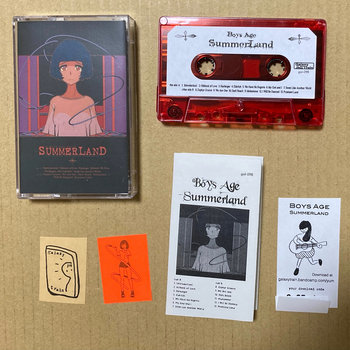 Kazunary Mutoh—aka Boys Age—has crammed multiple lifetimes' worth of artistic development into his 11-year songwriting career. Since emerging from Bandcamp's tape label scene in the early 2010s, dropping albums on an international array of imprints like Paisley Shirt, Plastic Response, and (of course) Galaxy Train, the bedroom project has produced more than 30 full-length releases. He's not just cranking the music out mindlessly, mind you. Mutoh is a master of home-recording, joining the crackling production of '70s funk, the maximalism of anime theme music, and the noisy experimentation of his beloved Yo La Tengo in a way that's unmistakably his own. Summerland is his sixth and most recent Galaxy Train outing, and one of his best tapes to date. After opening with a tropical Vocaloid fakeout ("Oilshock of Love"), Mutoh perfects his tried-and-true formula of jazzy chord progressions, warped synth melodies, and skull-rattling bass, all while mumbling beneath the surface as if divulging a secret.
Merch for this release:
Vinyl LP, Cassette, Vinyl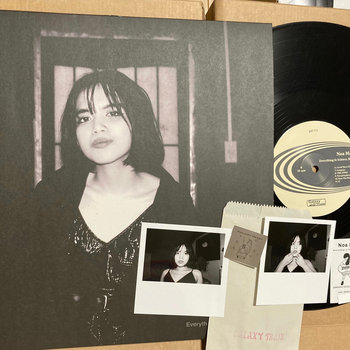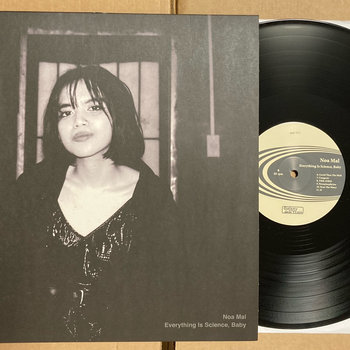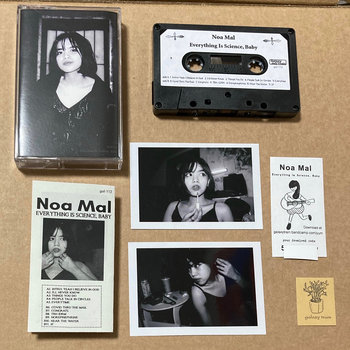 Similarly prolific, but more of a recent upstart, Filipino singer-songwriter Noa Mal has been a constant fixture in the Galaxy Train tape-ography since 2021, specializing in deadpan grunge pop cloaked in fuzz. Everything Is Science, Baby is the most recent of her five releases with the label, exemplifying the tape-warped intimacy of her songcraft. Songs like "Things You Do" and "People Talk in Circles" hearken back to the crunchy, dissonant slacker rock of early '90s acts like Heavens to Betsy and Sebadoh, though the presence of rudimentary electronic production on "Near the Water" and "Everytime" adds an intriguing layer of texture to the recordings.