LABEL PROFILE
Gaining Weight — The Rise of Fat Wreck Chords As One Of The Last Great Punk Indies
By Lorne Behrman · August 04, 2015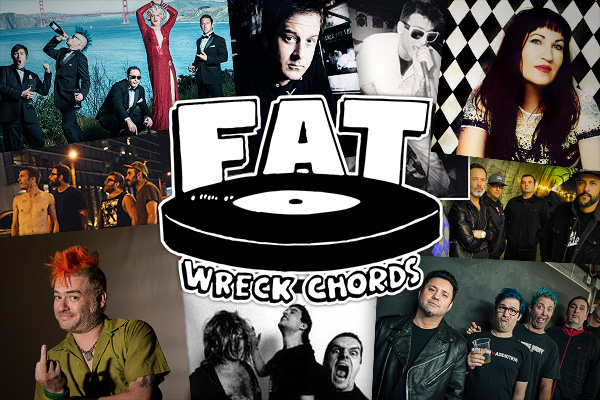 "I want Fat to be pure. I want people who got Fat tattoos in the '90s to still be proud of that tattoo in 2020." — Fat Mike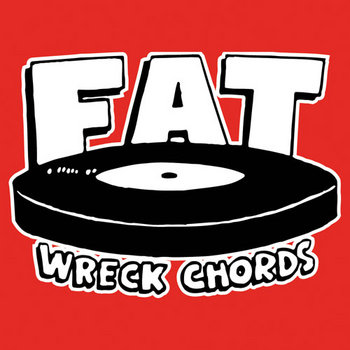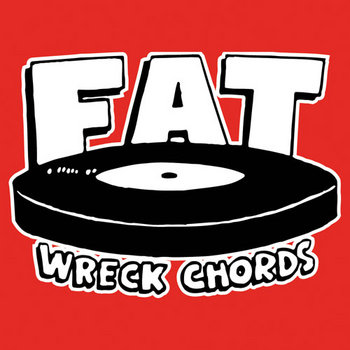 Twenty-five years ago, NOFX lead vocalist/bassist Fat Mike and his then girlfriend, Erin Burkett, founded the fiercely independent Fat Wreck Chords. To this day, Fat Mike and Erin, though now divorced, still own and run the label. The San Francisco-based label epitomizes many of the intriguing dichotomies inherent within the life and work of its conceptualistic beacon, Fat Mike. Since its inception, Fat has released over 157 studio albums. Catalog highlights include releases by such iconic bands as NOFX, Good Riddance, Descendents, Me First and the Gimme Gimmes, The Loved Ones, Screeching Weasel, Propagandhi, Rise Against, Lagwagon, Strung Out, No Use for a Name, Less Than Jake, Against Me! and Anti-Flag. The label has also built a very respected reputation as a discovery conduit with its signature compilations. In honor of this landmark anniversary, Fat has curated a compilation exclusively for Bandcamp, Fat Music Vol. 8: Going Nowhere Fat.
NOFX was one of the cornerstones of 1990s punk rock, highly regarded by fans and critics alike for well-crafted pop songcraft, barbed wit, pristine production, and accomplished musicianship. The band's fresh and polished approach to what has been considered a lo-fi genre, and its bold decision to resist signing with a major label during the 1990s punk rock gold rush, garnered the quartet a dedicated fanbase and fostered a new era of punk.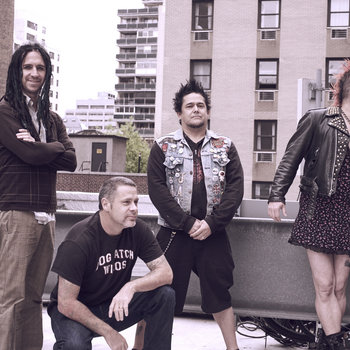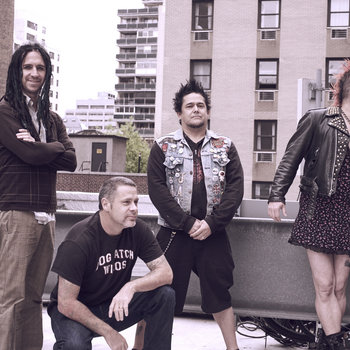 photo by Ben Garcia
Technical aptitude and a brash, anthemic sound are the hallmarks of the NOFX and Fat Wreck Chords style. The label has been able to earn an engaged following for its consistency and its dedication to its foundational ethos and music sensibility. In these revealing and exclusive interviews for Bandcamp, trusted employee and Fat recording artist Jason Hall of Western Addiction interviews cofounder Erin Burkett, and new Fat signees Night Birds frontman Brian Gorsegner chats with Fat Mike. The two cofounders discuss the label's storied history and milestone anniversary with wryness and warm candor.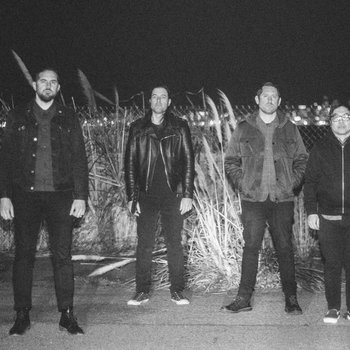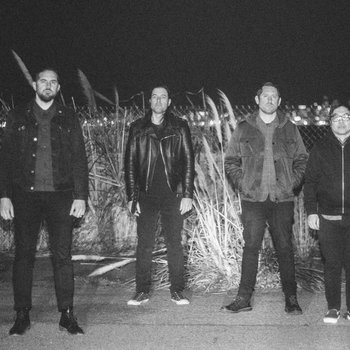 Interview One: Jason Hall with Erin Burkett
photo by Kristen Wright
Jason: In your words, what is Fat known for?
Erin: I hope we are best known for treating our bands like family. For the most part, we sign our bands to one-record deals, treat them fairly and honestly, and keep our promises. For my part, I have tried to cultivate a feeling of mutual respect between the bands and the label. I've said it before, but these bands are truly family to me. I try to have an emotional investment with everyone on our label. Oh, yeah, and music. We're known for putting out consistently good punk tunes.
Jason: At what point did you realize you were doing something special and it could turn into a life versus a hobby?
Erin: This is an interesting question. There are times when I still think I might have to go get a real job. The first few years, I kept my day job at a public relations firm because I thought there was no way we would be able to pay our rent and expenses on label income. When I finally quit, I figured it would be a few years, and I'd have to go back to work. I still can't believe it's been 25 years, and we are still going strong. I feel like this last year has been one of our best ever.
Jason: What release(s) are you most proud of?
Erin: I have an emotional attachment to almost everything we put out on Fat; however, I am most proud of the Tony Sly tribute album. Tony's passing was a tragic and devastating blow to all of us, but obviously more so for his family. To be able to do something to help his family grieve and secure their future at the same time was huge. I was blown away by the response we received when we started that project. I felt such a sense of community and family. The number of bands that were willing to donate their time and artistry in honor of Tony was overwhelming. The day Brigitte Sly called me in tears after receiving her first royalty check and told me that the money will put her girls through college was the moment I felt most proud of my amazing Fat family.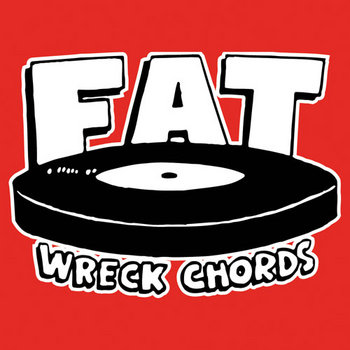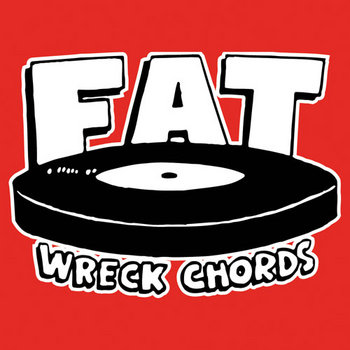 Jason: What are some of your most cherished memories of the label?
Erin: Over the years we have had some awesome experiences. Fat's 13-year anniversary party was an epic moment in our label history. We rented out the Great American Music Hall and threw a big party with NOFX, Lagwagon, NUFAN, and Propagandhi. Joey asked me on stage to sing "E Dagger" and it was the only time I've ever sung in public (other than Karaoke). I was so nervous up there… I just wanted it to be over so I could run off stage. It was such an awesome night. I can't wait for our 25-year anniversary bash!
Jason: How is running a label like being a parent?
Erin: Before I had Darla, I would have said it was exactly like being a parent in every way. My bands are my children, and I feel directly responsible for the well being of all of them. I give them advances on their allowance. I advise them if I think they are making poor decisions, but ultimately let them choose their own paths. I bail them out of jail if they are arrested and pay for their rehab if needed. Now that I am a parent, though, I can tell you that being a parent is a hundred times harder than running a label.
Jason: What does it take nowadays for a band to get your attention? What was the last band that made you go, "Ok, now this is different, this is good"?
Erin: I don't think much has changed in the last 25 years in terms of what bands we sign at Fat. We sign bands with music that we want to listen to, with members that we want to hang out with. Of course, in addition to that, we need the band to be hard-working and willing to tour. The last band that made me stop in my tracks was Pears. They're the first band that I can remember signing without having met, which breaks all of our rules. However, I heard the record and I just felt this surge of adrenaline rush through me. It made me feel 15 years old again, and angry, and I loved it. Then I saw them live, and I can't remember the last time I was so impressed with a new band. They are insane.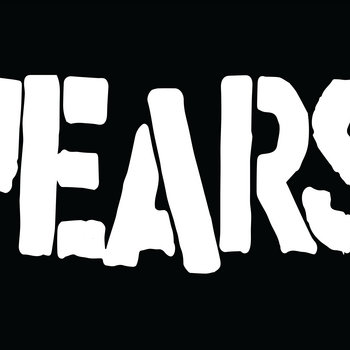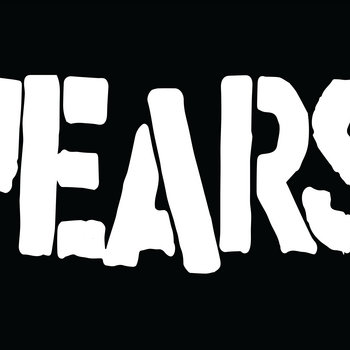 Jason: Where do you see music going? Are streaming services going to "save music?"
Erin: Well, I definitely see music going in the direction of more and more streaming services; however, I'm not sure I would say it's going to save music. I don't think music needs to be saved. I think there will always be a fan base for musical art, and there will always be advances in technology and new ways of turning a profit on that art for both the musician and the label. Fat has definitely seen its ups and downs, but one thing remains the same: punk rock fans are loyal, and they enjoy turning other people onto "their" band.
Jason: What would you say to your daughter if she told you she wanted to date a musician?
Erin: Ugh, I dread the day. I would tell her to follow her heart. I married for love, and even though Mike and I are divorced, we had twenty, sometimes-awesome, sometimes-not, but always interesting, years together. We built Fat, created Darla, and we both have an amazing life cultivated by that initial relationship. I would want the same thing for my daughter.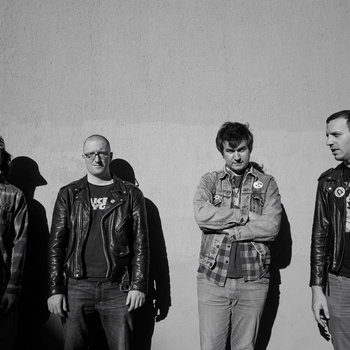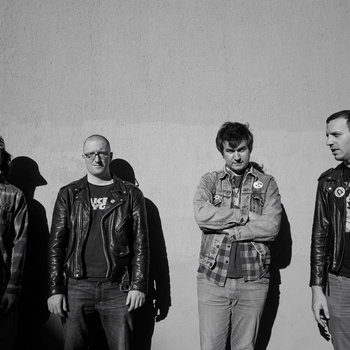 photo by Keith Marlowe
Interview Two: Brian Gorsegner with Fat Mike
photo by Alan Snodgrass
Brian: What was the last day job you held before being full-time NOFX and full-time Fat Wreck Chords?
Fat Mike: I worked in the back of a couple of women's shoe stores,'cause that was my Dad's business, and for a pharmacy delivering drugs. Before that, it was McDonald's. Shit, it all makes sense now—I'm a drug-using fat guy that loves to wear high heels! Nurture wins over nature!
Brian: You created Fat Wreck Chords with your onetime girlfriend, then wife, and now ex-wife, Erin… Which one of you came up with the idea to start the label? Were you running it together from day one?
Fat Mike: It was my idea, and I always signed all the bands. Before we had an office, Erin would fill orders and handle mail order when I was on tour. Then, in about 1993, we got an office and ran it together. She did all the accounting and I signed the bands. These days I hardly go in anymore. I sign bands and go to the weekly meeting, but she runs the place.
Brian: How the hell did Fat weather the virtual crash of the music industry? I mean, you're still a viable operation where majors are shedding people left and right and trying to reinvent themselves. What do you see as the biggest changes between the early 2000s and now?
Fat Mike: We had to shed stuff too. We had four offices around the world and 18 employees in the '90s because we were selling between a million and two million records a year. It was insane! Tilt sold 60 thousand records! The reinventing thing never happened. I wouldn't do that to our fans. I started Fat Wreck Chords to be a label that represented me. I only signed bands that I liked and that had similar beliefs as mine. I wanted punk bands that were drunks and drug users that cared about playing music and having a good time more than they cared about becoming a success. There was no way I was gonna sign one of those emo/metal bands with kids that got their bodies covered in tattoos in three months and never tried drugs, but told everyone they did. No bands that sang about God or anything—that was against what I believed in. I signed MXPX but told them I would not put out their record if they sung about God or Jesus. There was no way I was gonna put out music just because it was popular at the time. I want Fat to be pure. I want people who got Fat tattoos in the '90s to still be proud of that tattoo in 2020.
Brian: As previously mentioned, you and Erin were dating at the early incarnation of Fat, then got married, split up, but remained partners at the label. Kudos for being able to maintain a work relationship. Can you tell me about the dynamic of running the label with your ex?
Fat Mike: Well, since we share the same kid, we decided early on in our divorce that we would not become enemies. We were gonna be good parents that never talked shit about each other. Totally unlike the divorced families that we grew up in. Same thing went for the label. We maintain a very professional work relationship and any issues we have with each other (and there have been plenty) do not come into Fat. I think all the bands and staff really appreciate that. I mean we fought like pit bulls when we were at work and married. Everyone there was witness to huge fucking arguments all the time. Now there's nothing. Our divorce worked out pretty good for Fat, strangely enough. Erin is at the label everyday and I'm there for two hours twice a month. Works out pretty good.
Brian: Who is your daughter Darla's favorite Fat Wreck Chords band?
Fat Mike: By far, Darla's favorite band is Masked Intruder.
Brian: What is the best Fat album to make sweet love to?
Fat Mike: If you can make it through The Decline [a NOFX EP featuring one epic 18-minute composition] your lady is stoked!
Brian: Thanks Mike, congrats on 25 years of Fat Wreck; we're looking forward to joining the party. Last question, what's your favorite Seinfeld episode?
Fat Mike: The one where George called his aunt a "beloved cunt."