LABEL PROFILE
Six Essential Releases From Thailand's Retro Revivalist Zudrangma Records
By Carl Dixon · March 17, 2021
Nattapon "Nat" Siangsukon's love affair with molam—the electrically-charged roots music of Northeastern Thailand—started mostly out of necessity. After seven years living in London and DJing up and down Portobello Road, he found himself back home in Bangkok in 2007, and broke. Unable to justify the hefty price of importing wax from abroad, he began scouring the dusty record stores of Chinatown for time-warped gems.
"There was so much music and so little information, so I'd go around with my portable record player and listen to everything as the sleeves all looked so damn cool," the DJ, who records and performs as Maft Sai, recalls with a laugh. "My first reaction was, 'How? Why? What's going on?!'"
Early molam consisted of a singer accompanied only by khaen, a bamboo mouth organ, reciting poems of unrequited love or the difficulties of rural life. However, the tracks that lit Siangsukon's imagination came from the late '60s and early '70s, when the folk tradition opened up to extra instrumentation and external influences.
"You have to recognize that there are so many regional variations of what comes under molam. Different cities in Isaan [northeastern Thailand] would employ different rhythms and dialects to set them totally apart, and many old phin [a three-stringed lute] or khaen melodies are meant to reflect acts of nature or everyday movement," Siangsukon says. "Later molam I compare to reggae music in the sense [that] each band was working with the same rhythm, but with different instrumentation."
This love for molam, as well as luk thung ("songs of the countryside"), luk krung ("songs of the city"), and other vintage sounds, only grew. With his business partner Chris Menist, he launched the Paradise Bangkok club night and then came Zudrangma, a record label and shop devoted to dusting off '60s and '70s curios and presenting them as sumptuous reissues.
As curators, Siangsukon and Menist's fingerprints are all over cult-favorite compilations like Sound of Siam Vol. 1 and 2 (released on Soundway Records in 2011 and 2014) and Thai? Dai! — The Heavier Side of Luk Thung (Finders Keepers circa 2011), the hypnotic grooves, fuzzy guitars, and clattering percussion of which turned many Western ears onto Thailand's technicolor sounds.
Punch-drunk listeners quickly drew parallels with psychedelic rock, soul, and funk, helped along by a Carlos Santana lick here or a Black Sabbath riff there—in pursuit of a hit, nothing was off limits. By Siangsukon's own admission, his compilations are not intended as objective historical documents; they're selected more with personal taste—and dancefloors—in mind. Genres bleed together and artists are plucked without regard for convention. "There were a lot of DIY private pressings. The music came out on 45 RPM singles first, and artists were either incredibly prolific or released one or two things and then disappeared altogether," he says.
Zudrangma continues to share Thailand's forgotten musical legacy through its compilations and 7″ reissue series. Licensing poses a big obstacle, whether it's record companies demanding huge advances, or simply having to solve the mystery of who owns the copyrights. "It's important for us that money finds its way into the right hands, even if there can be many versions of the truth."
For Paradise Bangkok anniversary parties, he traveled upcountry to persuade '70s icons like Kwanjit Sriprajan and Angkanang Khunchai they could pull a crowd in Bangkok, where molam has endured a torrid reputation. "Early on people would shout at me, 'Go back to the countryside, this music is shit!' For many years, even the artists didn't imagine that anyone would want to hear that music again. But it's honest music, and I'm glad people all around the world now accept it for its true self," he says.
Today, Siangsukon is focused increasingly on new music. Paradise Bangkok International Molam Band, the group he co-founded, are finalizing a "punk-inspired" third album. Studio Lam, his tiny club located meters from Zudrangma HQ in downtown Bangkok, hosts a new generation of musicians like Toomturn Molam Group and Rattanakosin Breaking Crew, whose recordings could soon see release.
Here are records that showcase Zudrangma's world of sound, new and old.
Merch for this release:
Vinyl LP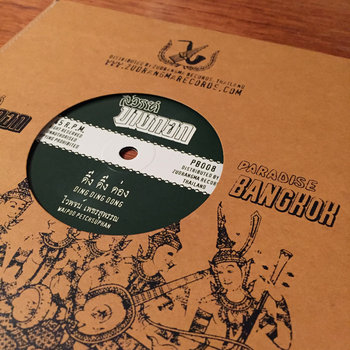 One of Thai funk's best-known songs is a salacious earworm devoted to the finer pleasures in life. This early '70s riff on the theme to an obscure Italian stone-age sex comedy found a global audience thanks to the Sound of Siam Vol. 1 compilation, and Zudrangma also reissued it as a 7″ in 2017, complete with silk-screen cover and hand-stamped labels. Waipod—a Thai music legend now in his eighth decade with thousands of releases to his name—started out singing lae music, better known for its righteous Buddhist messages.
Merch for this release:
Vinyl LP
For a musical form traditionally associated with temple ceremonies and fairs, lae sure takes a free and funky direction on Kwanjit Sriprajan's handful of LPs and 45s from the '70s. This compilation gathers the singer's tracks recorded with Porn Pirom, a key lae producer, and a military brass backing band. Lyrically, the songs draw from the five precepts of Buddhist living—somewhat at odds with the swinging, Latin-tinged sound. "While this is purely temple music, it almost reminds me of rap the way every line rhymes," Siangsukon says. A decade ago, he tracked the singer down to her home in Suphan Buri to have her sign some LPs. Their relationship blossomed and eventually Kwanjit came to play at a Paradise Bangkok party, where she performed these tracks for the first time in decades. Says Siangsukon: "It was surreal to have her sing about the sin of drinking while people were dancing in a nightclub!"
Merch for this release:
Vinyl LP
When discotheques threatened demand for his concerts, molam producer Soonthorn Chairatanachot took matters into his own hands. A pioneer in the molam glone tradition (vocals accompanied by khaen), he self-released a short run of strangely spaced-out 45s backed up only by members of his family. These experimental recordings spin a lysergic web of tape echo, delayed guitar, and distorted beats. "The 7″s were a promotional tool for Soonthorn to make more gigs," Siangsukon says. "Sadly, he passed away a few years ago, but I interviewed a bunch of people in connection to unravel the story behind these recordings, which still sound like nothing else out there."
Merch for this release:
Compact Disc (CD)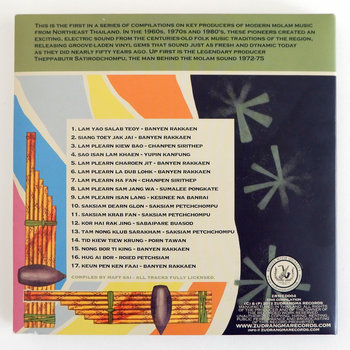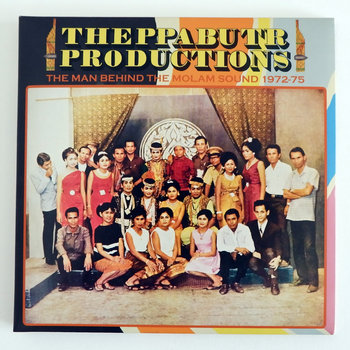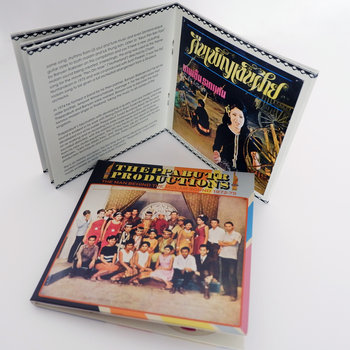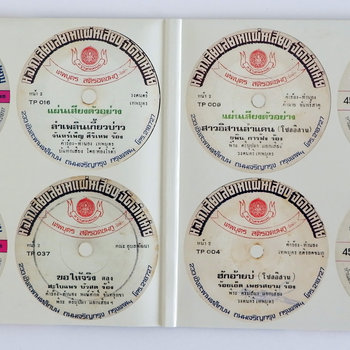 Often dubbed the creator of the modern molam sound for fusing brass with traditional Thai instrumentation, Theppabutr Satirodchompu is said to have signed or recorded more than 200 molam acts dating back to the late '60s. This compilation gathers groove-laden gems forged at Theppabutr's studio in Maha Sarakham, featuring heavyweights like Saksiam Petchchompu, Chanpen Sirithep, and Banyen Rakkaen—Theppabutr's wife. "Each track reminds me of a different Paradise Bangkok night, and each sounds just as fresh and exciting today as it did half a century ago," Siangsukon says.
The Paradise Bangkok Molam International Band
21st Century Molam
Merch for this release:
Vinyl LP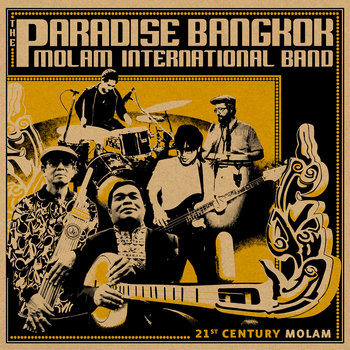 Originally envisioned as a backing band for Paradise Bangkok party nights, this instrumental supergroup has become a touring sensation in its own right. Just like how the band membership spans multiple generations—veteran performers Kammao Perdtanon (phin, a Thai lute) and Sawai Kaewsombat (khaen) are in their 50's and 80's, respectively—the sound bridges genres to provide a modern update on molam. After delivering a debut album laced with pulsating rhythms and driving riffs, the band went on to light up Glastonbury Festival and Boiler Room TV. "People often ask us why we don't have a vocalist or say we aren't real molam without a singer," Siangsukon, who is also a percussionist with the group, says. "For me, molam is not something that should be rigid. Besides, vocals are like durian: you love them or you hate them!"
Merch for this release:
Vinyl LP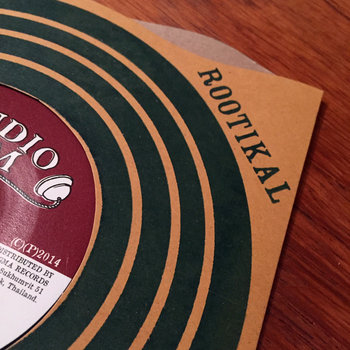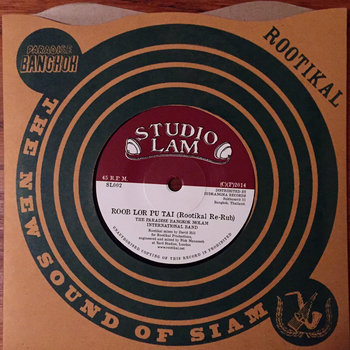 Molam's growing reach can be measured by the calibre of Zudrangma's international collaborators, who are helping take the genre in new and invigorating directions. While Beatrice Dillon brings a pulsing, minimalist touch to her Low Visibility Mix of Paradise Bangkok Molam International Band's "Exit Planet Lam," David Hill, of reggae-loving London collective Rootikal, strips things back and slows things down in his duo of cosmic dub reworks. The future is molam.