LABEL PROFILE
FMP Records' Free Jazz Legacy is Alive and Well at Destination: OUT
By Marc Masters · June 07, 2017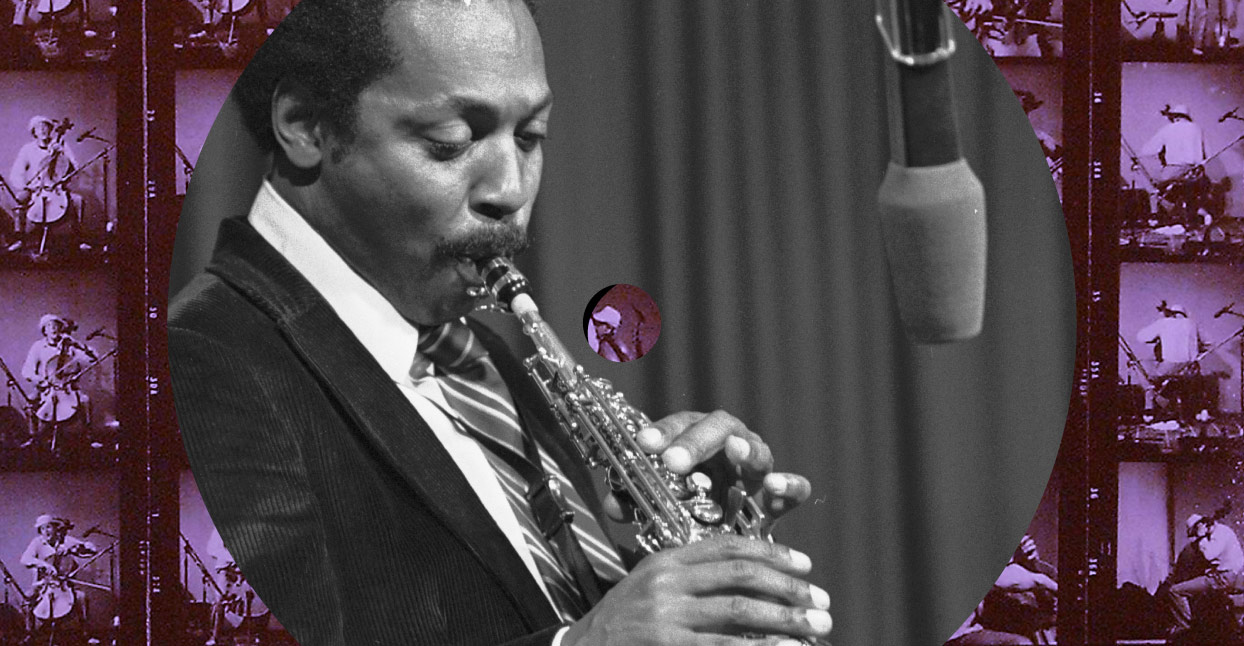 When Jeff Golick and Jeff Jackson started the blog destination: OUT in the mid '00s, they hoped to show that "free jazz" doesn't automatically mean "difficult." "We felt that the most accessible and exciting free jazz albums were unfortunately some of the least known," says Jackson. "For a lot of music genres that's not true; the most popular, easy-to-find records tend to be good gateways. But sometimes a free jazz album printed in a run of 200 is more likely to turn you into a fan than something on Impulse or Blue Note."
After almost eight years of posting free jazz gems, Golick and Jackson stopped updating their blog in 2014, concentrating on their companion radio show on New Jersey's WFMU. But they wanted to continue their mission to spread free jazz, so they started a Destination: OUT digital reissue page on Bandcamp. The labels they approached at first showed little interest, but then a huge opportunity emerged.
"We randomly sent a query to Jost Gebers at [German label] FMP, not expecting he would agree," recalls Jackson. "He immediately did and was enthusiastic. We were bowled over by it." With good reason: FMP, aka Free Music Production, is one of the most iconic and vital imprints in the history of free jazz and improv. Beginning in the late 1960s, FMP released reams of pioneering records by titans including pianist Cecil Taylor and saxophonists Peter Brötzmann, Evan Parker, and Steve Lacy.
"It's sort of the Blue Note of European free improv," says Jackson. Golick agrees: "If you took FMP away, the whole history of that music would be practically empty." "And they're the label that encouraged cross pollination between American jazz musicians and European free improvisers," adds Jackson, citing Tangens as an example, a collaboration between American horn player Sam Rivers and German pianist Alexander von Schlippenbach. "They did a great job of bringing that idea to a wider audience."
FMP stopped producing new titles in the early '00s, but Gebers still maintained the label's archive, much of which existed only on LP. That archive is so vast that Golick and Jackson stopped pursuing other labels and dedicated Destination: OUT's Bandcamp page solely to the exclusive digital distribution of FMP's catalogue. In return, Gebers has remastered many older LP-only titles for them.
As they continue to upload releases, Jackson and Golick remain thrilled about championing free jazz and improv. "For anyone interested in music, one of the most beautiful things is to be surprised," says Golick. "I feel like this music is constantly delivering surprises of the most amazing kind."
"I think now, when so much music is available and feels disposable, there's something incredibly immersive about free jazz and free improv," explains Jackson. "It's music that can make time disappear, can turn you inside out, can add new color to your day. It requires a bit of a commitment, but it repays it many times over, and that's an increasingly rare thing these days."
The pair also remain firm in the idea that free jazz is accessible to a wide range of listeners. "I don't think any of these musicians are trying to be obscure for obscurity's sake," says Golick. "You just have to be open enough to the experience to take the music on its own terms. It delivers if you're open to it." "There's no secret decoder ring that you need," adds Jackson. "There's nothing that's over your head. It's all there. You just need to trust your ears and give yourself over to the music."
The sheer volume of FMP titles on Destination: OUT's page can be daunting so we asked Jackson and Golick for recommendations from the discographies of some of the label's best artists.
Peter Brötzmann
German horn player Brötzmann is perhaps the key figure in the history of European free improv. His adventurous playing is so influential that even former President Bill Clinton is a fan. "14 Love Poems is a beautiful, melodic record with bite-sized offerings that show many different sides of his playing," says Jackson. "On the other end of the spectrum, I love Live in Berlin '71, a fire-breathing, scorched-earth performance of epic proportions. It's noisy and absolutely kinetic. It'll grab you by the throat until you're seeing stars."
Cecil Taylor

American pianist Taylor is one of the world's most famous free jazz musicians, and FMP put out one of his most epic works: the 13-disc box The Complete Cecil Taylor in Berlin '88, which Destination: OUT sells only as a complete set. But there are many single-album Taylor releases on FMP that are worth procuring.
"I'd recommend anything by his group The Feel Trio," says Golick. "Celebrated Blazons and the two volumes of Looking are all amazing. It's a trio with [American bassist] William Parker and [British drummer] Tony Oxley, and it's on the more accessible side of Cecil, given his whole output. I think it's a high point in his career."
Globe Unity Orchestra
The Globe Unity Orchestra is a rotating ensemble active since the mid '60s. They've utilized the talents of a dizzying array of free jazz greats, including Brötzmann, Lacy, Parker, and many other artists mentioned here.
"On Pearls, Globe Unity Orchestra sound kind of like a traditional big band, but then they're also full-on improv in a European way," explains Golick. "Anthony Braxton is on it, and they cover Thelonious Monk. Also, FMP made singles for a while, and they released a Globe Unity single that's lovely and strange, including a cover of [American composer] Gordon Jenkins.
"I would pick Live in Wuppertal from 1973," says Jackson. "It's a fun, high energy record. They open with a Jelly Roll Morton cover, and the album's short pieces showcase the group in a way that a newcomer won't be too overwhelmed."
Peter Kowald

German bassist Kowald was incredibly active over three decades starting in the late '70s before sadly passing away from a heart attack in 2002. He collaborated with a who's who of free jazz, and generated a long list of releases for FMP.
"The one I always love is The Complete Duos," says Jackson. "He did two duo albums originally and we sell them as a set. It's such a great showcase of how flexible he was, and how he was able to play with so many different people. I love the sheer dynamic range of it."
Adds Golick, "Among the jewels in FMP's catalogue are the trio records he did with trumpeter Wadada Leo Smith and percussionist Gunter Sommer. Those are completely peerless, they're just so beautiful."
Alexander von Schlippenbach
German pianist and composer von Schlippenbach, founder of the Globe Unity Orchestra, is one of the most uncategorizable artists on FMP, pursuing an unpredictable array of styles and forms since the 1950s.
"I would pick one we just put up recently, Piano Solo '77," says Golick. "He was between apartments at the time, so they set up a baby grand in the basement of a community center and he would hole up down there and play. It was an intense time for him, and he covered a lot of what he could do."
"One I like a lot is Schlippenbach Trio's Swinging the BIM," says Jackson. "It has such telepathic interplay between him, Evan Parker, and drummer Paul Lovens. He's one of these players who has so many dimensions, and different collaborators bring different ones out of him."
Rüdiger Carl
German composer and multi-instrumentalist Carl is prolific in many ways, but particularly as a collaborator, playing with numerous groups across his four-decade career. "One we both really love is Two Compositions by Rüdiger Carl by his Zwei Quintette," says Jackson. "I'm not sure how to describe it. It sounds more like something on Brian Eno's Obscure label that something you'd hear on FMP. It's ambient and hypnotic. It has elements that could be in a Morricone score, but it's also electronic and trippy."
Noah Howard
American saxophonist Noah Howard was a key figure in 1960s free jazz. His many achievements included playing in the Sun Ra Arkestra and recording albums for the country's most pioneering free jazz label, ESP-Disk'.
"We've always had a soft spot for Schizophrenic Blues," says Golick. "This was on a subsidiary of FMP called SAJ [run by Swedish drummer/composer Sven-Åke Johansson]. It's an amazing look at where jazz could've gone in the '70s. It's very international, with American, French, and Japanese players. They do some gospel, some blues. A great group captured on a great night."
—Marc Masters