LABEL PROFILE
L.A.'s Curation Records Wants to Raise Your Vibration
By Mariana Timony · February 19, 2021
Brent Rademaker loves talking about music—all kinds of music, but especially rock 'n' roll. It is, he says, his "number one thing. I love bands and records and books about bands and films about music and making records and all that."
In particular, Rademaker loves talking about all the bands that have come out of Los Angeles, where he's lived for 33 years and where his label, Curation Records, is headquartered. He's played in a few notable L.A. bands himself, starting in the '90s with indie rock band Further, and, his most high profile project, the Byrds and Burrito Brothers-inspired group Beachwood Sparks, in the early '00s. More recently he's played in folk-rock outfit GospelbeacH; his brother Darren's band, The Tyde; and Los Hermanos Cosmico with Chris Robinson of the Black Crowes, formed last year. This is in addition to helming various DJ nights, booking shows, and everything else that goes along with being a lifelong music person in a storied music city. "Southern California has a myth and mystique—it's impossible not to be tapped into that," Rademaker says. "When people look at Curation, I want them to know that we're living it. It's not some phony thing."
Founded in 2019, Curation Records is true to its "California curated cool" tag line, with releases drawing thus far from the relationships Rademaker has made over the decades in the L.A. music scene. Listeners can find everything from the "full-on, pot-smoking California surfer lo-fi" of Further; to the '70s singer-songwriter sound of Trevor Beld Jimenez; and a vinyl reissue of Beachwood Sparks's long out-of-print first album. The Curation Records roster also includes galactic psychedelia from Rademaker's Beachwood Sparks bandmate, "Farmer" Dave Scher's Wizards of the West, and a first release from young L.A. band, Pacific Range, whose High Upon The Mountain is so soaked in authentic Southern California '60s atmosphere it's practically wearing bell-bottoms and hanging around the Laurel Canyon Country Store.
But Curation is also about a way of doing business that seems quaintly old-fashioned in an era when musicians are encouraged to be so DIY as to handle everything themselves, from production to distribution to promotion to, let's not forget, making the music in the first place. This, Rademaker says, puts a lot of unnecessary pressure on the artist. For him, the ideal situation is much simpler: the band should be the band and the label should be the label.
"If you do everything, when are you going to have time to write a song? That was the dream that I always had as an artist: that there was somebody in my corner, selling the record, just getting my music out there," Rademaker says. "I want to be that guy. I really do. I love it."
He's had enough experience on both sides to know the value of a good artist-label relationship. Not only has Rademaker consistently played in bands since he was a teenager, he ran his own label in the '90s called Christmas Records (later X-Mas Records.) They released music by Emily's Sassy Lime, Mia Doi Todd, and Comet Gain—all bands who ended up signing to bigger labels later on. "It was super fun," he remembers. "We had a little P.O. box and and people would mail order our records from all over the world. We didn't have contracts. We'd find a friend's band and then put out the single."
Still, Rademaker says, "I think most of my experience doesn't come from Christmas Records. It comes from being in bands and being signed to a label."
Further were signed to Geffen, an experience that Rademaker describes as "horrible." "But it wasn't because they were horrible," he clarifies. "It's because we didn't let them be the label and we weren't the band. It was a constant fight, and the label always wins when you're on a bigger label. So when I had a second chance, when Beachwood Sparks got signed to Sub Pop, I listened to them. And we were fucking successful because I trusted them to be the label. We didn't need to say, 'Oh, that purple should be darker on the cover' or, you know, 'What's your distribution like?'"
There's no reason, he says, that the label-band relationship should be adversarial if their goals are aligned. "You put your whole life into music, [the label] is putting their whole reputation and their life into your music," says Rademaker. "That's not to be taken lightly. There's got to be some respect there. Because it doesn't matter if you sold a bunch of records or if things are going great, one misunderstanding, one miscommunication, one moment of confusion, can set the whole thing off. But it's when you're able to repair it and feel that you want to repair it, is it worth it? If you're in it for the right reasons and the music is real, the answer is always 'Yes.'"
For Curation, that means looking for artists who trust Rademaker to have good intentions and good instincts. "When artists come to me, I always say, 'Just trust me because I've been doing this for so long.' I have a lot of friends. I try to have a decent reputation and anything I might have done that's kind of fucked, it's only been to myself. And I actually take great pleasure in helping people."
He names Factory Records, Creation Records, and—"going back to a different time and a different scale altogether"—Asylum Records as examples of how a label headed by someone with a strong vision and connections can serve artists. "David Geffen [of Asylum] was just nurturing artists," he says. "Oh, we've got Jackson Browne and J.D. Souther. Oh, cool, J.D. is doing Longbranch Pennywhistle with Glen Frey. Oh shoot, they have another band, they're the Eagles now. The next thing you know, it's Joni and it's so many others. That's what you can't do on your own, if you're on your own."
Rademaker also calls Chris Hillman of his favorite band, The Byrds—"Pretty much everything to do with Curation or Beachwood Sparks has something to do with the Byrds"—a personal hero for the way Hillman unselfishly helped out fellow musicians, causing ripple effects that changed the course of rock history—whether that be creating country-rock by bringing Gram Parsons into the Byrds after meeting him in a bank or getting Buffalo Springfield their first gig at the Whiskey a Go Go. "He also brought a bunch of people to see them once they got there," Rademaker says. "And look what happened. It was always so rad to me that people in bands would help other people in bands. I really related to that."
He praises Mike Sniper of Captured Tracks for building what he calls a "quintessential Brooklyn label" and hopes that Curation can do something similar for L.A. In fact, it was Sniper who convinced Rademaker there might still be interest in the old Beachwood Sparks albums by asking about reissuing their self-titled release. Though Sub Pop declined that offer, they did grant Rademaker permission to do it on vinyl through Curation (they retained the digital rights) and the release has been the label's biggest seller.
Rademaker points out that L.A. has consistently been home to a vibrant music scene, starting in the '60s with the Laurel Canyon scene and the singer-songwriter heyday of the 1970s, followed by the Decline of Western Civilization and Paisley Underground years in the '80s, an all-ages scene centered around venues like the Jabberjaw and The Smell in the '90s, and the Gram Parsons-inspired alt-country revival the in the late '90s and early 2000s. He sees Curation as having the potential to help write a new chapter in that story.
"Curation is definitely striving to try to make another flourishing scene that has color and vibe and is spiritual, but in the 2021 way," he says. "Anything you do that's nice is spiritual to me, when the whole world is like a big giant fucking episode of ridiculousness. I want to share that vibe with, not just the world, but with the artists that are going to come along. The goal, if there is one, would eventually be for some younger artists to come into our scene naturally and be able to help them share their music. We're so new right now but, I swear to God, it's so cool to be in my 50's and still feel like the world is our oyster. It's so cool to think that there's somewhere to go."
Below, Rademaker walks us through a list of current Curation releases guaranteed to raise your vibration, no matter where in the world you're listening from
Merch for this release:
2 x Vinyl LP, Compact Disc (CD), T-Shirt/Apparel,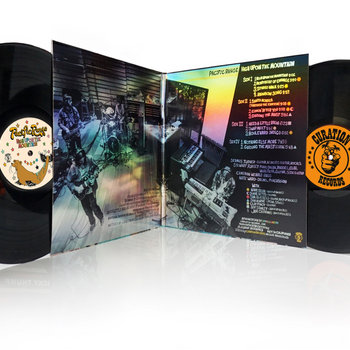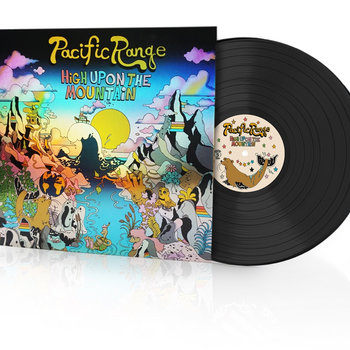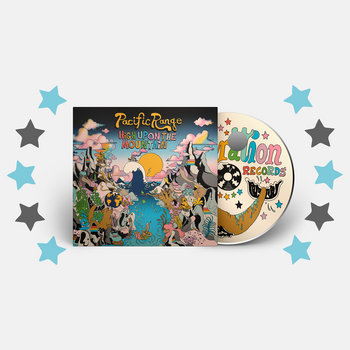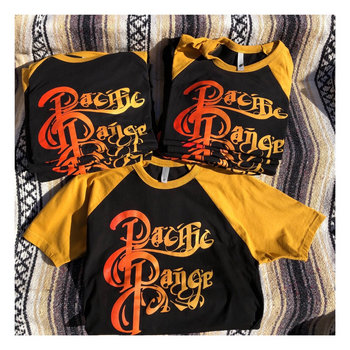 "This is a cool story and it involves what I think is kind of the basis of Curation, which is the L.A. scene. There's some other records that we may do down the line, but right now, it's like our friends that play at the clubs—well, not now, but that were playing at the clubs that we went to and hanging out in the scene that we had here. Pacific Range happened to be on the fringe of that.
"Five years ago, I was doing a DJ night in Echo Park at a place called The Lost Knight and I met these kids in a band called Mapache. They were fans of Beachwood Sparks and GospelbeacH. I'd seen them at shows and they asked me if they could bring some records and their guitars one night, and they did and they were great. One of the guys is actually related to Chris Gunst from Beachwood Sparks, so we became fast friends. We holed up in that club for like six months, every Wednesday, playing records to each other and playing our songs. People started coming, but it never really took off. But one of the guys that they brought in was this kid Seamus. And Seamus had a band: Pacific Range.
"Right when Curation started to become a reality, I went to the guys in Mapache and I said, 'Hey, I'm starting a record label, I want to sign you.' And they're like, 'We've already started talking to another label, but have you seen Pacific Range lately?' They were playing the next day at The Echo and they blew me away! Then I went to see them for the next three or four months, I went to all their shows to see if they were the real deal, and they were. They always raised the vibrations in the room. Then they told me that they had already recorded an album with my friend Dan Horne. And it was just wonderful. It might not be groundbreaking and it's not even really psychedelic at all. But it's really instant. You hear everything right away, you hear the songs, you kind of know what it's about. And that instant, if you do relate to that kind of music, that instant feeling, that instant vibe, is there
"Pacific Range is a real band. They're playing every fish fry, wineries, watering holes, art fairs. They love to play, you can't even shut them off. One time I booked them on a show that we put on in the desert and the whole time we were setting up the PA and the gear, they were just jamming on the floor and on some acoustic piano that was there. Their spirit really got things going. It was the perfect way to start the label."
Merch for this release:
Compact Disc (CD), Poster/Print
"I knew that the Beachwood Sparks 20th anniversary vinyl reissue was going to draw a bunch of attention that we hadn't gotten yet. The first album is out of print and I don't like people having to spend 60 bucks for a dog-eared copy that's scratched. Sub Pop was so kind to let Curation not only remaster and reissue the first album that they originally released in 2000, but all the bonus tracks from their Sub Pop Singles Club and the some of the bonus tracks that were on CD and some of the demos and recordings that we made while we were in the process of getting signed—those got to all come out, too. So what you get with the Beachwood Sparks 20th Anniversary vinyl edition isn't just the album remastered and then a bunch of shit that didn't make the album.
"If I have a legacy at all, it's the bands that came in the wake of Beachwood Sparks that are still out there now and the relationships that we made and Curation… It really has everything to do with the fact that we sat around one day, high as shit on speed, I think, and said: 'We love The Byrds. Why are we doing indie music? Why don't we try to sound like The Byrds or at least the bands that sound like The Byrds?'
"Beachwood Sparks was originally a five-piece. It was me, Chris Gunst, Farmer Dave, Aaron Sperske, and Josh Schwartz. Josh was in Further and he was involved with all the Christmas Records stuff. He was just like a brother, like a family member. That version of Beachwood Sparks was around L.A., kicking ass, selling out everywhere. We recorded a ton of stuff as a five-piece with Michael Deming, who produced the first album. The Beachwood Deluxe EP is like a real album, all recorded in a real studio on tape, so the songs sound way better than even I remembered.
"After Josh left, we went down to a four-piece. Josh was also a writer and a singer, so it was kind of like The Byrds in the fact that you had multiple songwriters and singers—not that I'm comparing us to them in any way. I'm just making the analogy that like we weren't a band with just one frontman. Josh wrote a lot of the more rock songs and and putting them on the Deluxe EP really makes it come alive because you can hear the band go from this Paisley Underground jangle sound where you can tell we were playing live in the clubs all the time, to the country, kind of psychedelic record that we ended up making. Some of the songs are ones that people know from Beachwood Sparks albums, but they haven't heard the versions with two guitars or the one with Josh doing the vocal.
"I sent a couple of copies [of Beachwood Deluxe] to Josh's mom. He passed away a couple of years ago of ALS. She loved hearing his voice and she didn't know these recordings existed. She was just blown away. I felt like if Curation can do something, it can bring that back into people's consciousness. I also sent some to Sub Pop, and Tony Kiewel told me that it was the first time that he, Jonathan Poneman, Megan Jasper, and Mark Arm had all been together since the pandemic, when he brought them the records.
"I swear, revisiting this 20 years later, it's blown me away. I mean, we're already on how many color pressings? And it's not about the amount that we've sold. You can't equate it in record sales as much as you can just equate it in love, you know? I personally think that having this music out—not just the Beachwood Sparks records, but the GospelbeacH and The Tyde and Pacific Range and Farmer Dave—I think what we do can have an effect. We're not going to change the world by any means. But we definitely can have an effect on other artists, young artists coming up, because we did it once and I think we can do it again."
Merch for this release:
Compact Disc (CD), Vinyl LP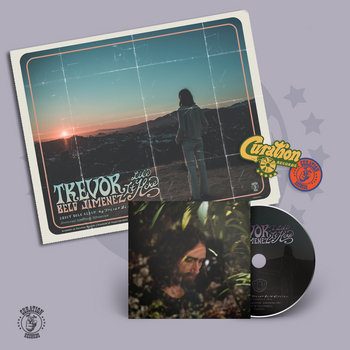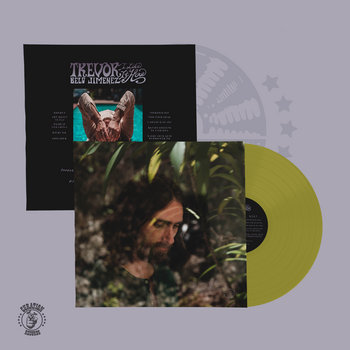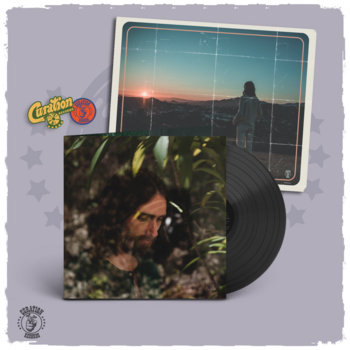 "Trevor is from my band GospelbeacH. He played drums on a few of the albums, but he co-wrote a lot of the songs with me and he's one of my favorite songwriters. This record is absolutely amazing. It's my favorite record from last year. 
"Trevor is the perfect example of somebody who came to me and said, 'I trust you, Brent.'
"Everything from the artwork to the mixes to when and how it was released. He really just did the music and then we did the record, and we're still working on it. We didn't want to follow the whole video, blog post premiere, do another one, and then you're done. So I said, Let's put it out and then let's do a single, let's do a couple singles. But let's do a thing where we don't do a proper video until the record has been out for like four or five months. Let's let people find it and live it, because it's such a '70s-sounding record. It's so classic. Let's really just let people discover it. We'll do some real low-key promotion and I'll send it to some writers that I know, things like that. Starting next month, we're going to release the first proper video from it and give people a chance to hear it."
Farmer Dave and the Wizards of the West
S/T
Merch for this release:
Vinyl LP, T-Shirt/Apparel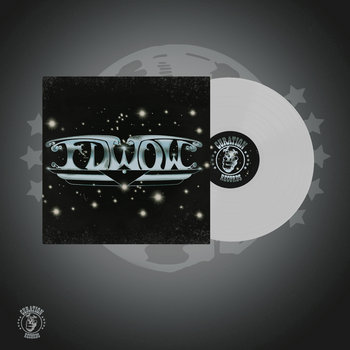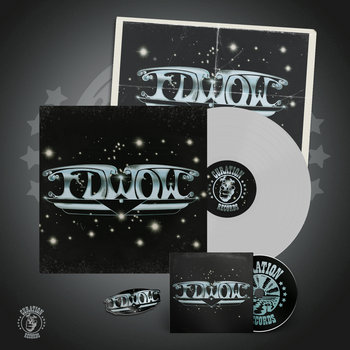 "This record is a co-release with a label called Big Potato in England, which is Neil Halstead from Slowdive and his friends. The band recorded this album before I even had Curation, which is kind of why I wanted to put it out with another label. It's got incredible songs on it that deserve so much more than what they got because it's not like it's lo-fi, but you've really got to get in there and listen. It's kind of challenging. I listened to it a ton because I put it out and one day I just went, fuck, this is amazing. But took me three months to get to where I could hear everything. I told them, I want to do a record with you from scratch, because I know you have so much more going on. So they went up to this studio where Tom Waits made Bone Machine, Prairie Sun Recording Studio in Cotati, California. Tomorrow's the last day of recording the new album, but they're talking about doing a full-on studio masterpiece with layers and different sounds. I'm excited about it. Another whole thing about Curation is really trying to get artists to really use the studio. They also recently changed their line-up and brought in two women, which makes me really happy because we didn't have any women on the label. And they've expanded to a six or seven-piece band."
Merch for this release:
Compact Disc (CD)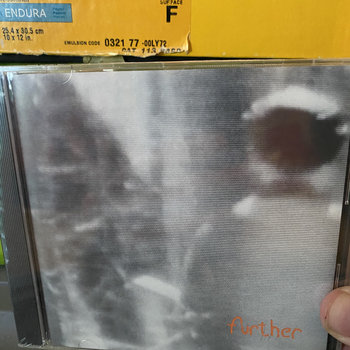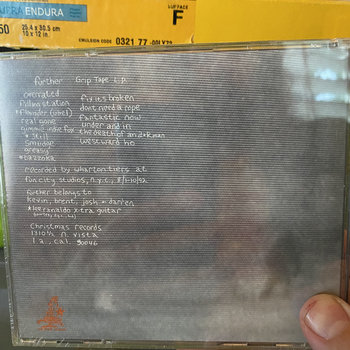 "Further was kind of a cool band because we weren't very popular, even though we did a Peel Session and we toured with Sebadoh and Pavement, and we had our little moment in the sun. But years later, a bunch of newer bands came to my brother and I, and said that they were really influenced by Further. Vans use the song 'California Bummer' for the opening in this little surf TV show that they have.
"A couple of years ago, I found two boxes of records of the Further album Grip Tape. I had 60 custom covers printed up and I made a booklet for it and sold it on Bandcamp. It was when I needed money. I was working at IKEA or something, I wasn't doing that well. And I sold them all. That's a funny thing about selling records. It's not about the money because you're never going to make enough money to drive a Tesla or something. But that fact that you can turn nothing into something is really cool. We're going to do a whole Curation vault, which is going to have Further vinyl and a couple of digital releases. Bandcamp is the only place you can get Further stuff at all."