LABEL PROFILE
Consolidate Records and the Thriving Electronic Scene in Bangalore
By Casey Jarman · March 07, 2018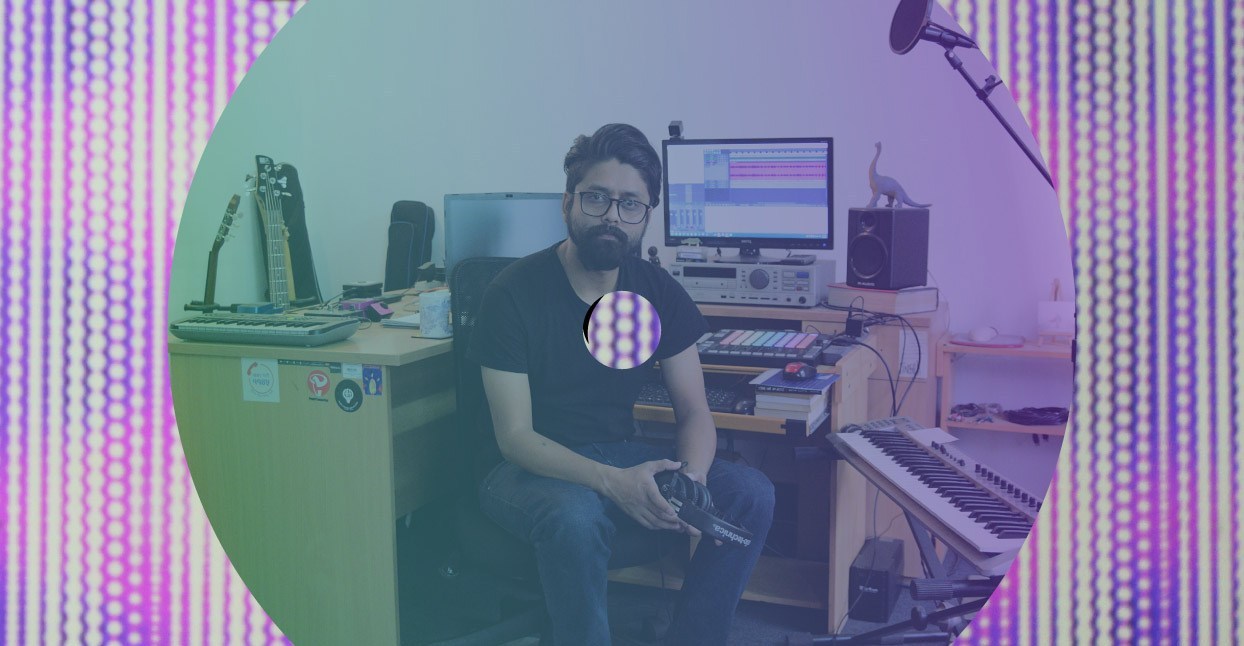 Consolidate Records is a fitting name for the Bangalore, India-based imprint that 35-year-old Rahul Giri and 24-year-old Aniruddh Menon founded in 2015. The plan has always been to find strength in numbers and unite far-fetched experimental and electronic music from Bangalore and beyond (officially, the city changed its name to Bengaluru in 2014; we are using "Bangalore" here in keeping with Giri's preference). The label's precursor was a Facebook group Giri started in 2013 to share his latest discoveries. "This was basically triggered by some really cool music coming out of the city," Giri says. "Especially from younger artists. I basically wanted more people to hear the music."
Giri, a DJ and producer originally hailing from Nepal who has called Bangalore home for the past decade, eventually evolved the group into a Tumblr page where he'd share mixes. The logical next step was producing live events, which helped connect the dots of a burgeoning community of artists (among them the funky and ethereal band Machli and the percussive, autotune-strewn producer Disco Puppet). By 2015, Giri says, "Consolidate felt like a collective. It was a bunch of like-minded artists with mutual respect for each other, who were excited to work together." A label was born.
The thriving Bangalore music scene has produced a number of regionally popular funk, rock, and even metal bands. And while Giri says there is also a strong DJ culture, there's a disconnect between local artists and the popular dance clubs. While artists like Praveen Achary, Oceantide, and The Sine Painter are putting the city on the electronic music map, Consolidate's artists tend to reside in a more experimental space. They've found sympathetic talent buyers at local clubs in a city with a Nashville-esque reputation for live music. "Some of the best venues in the country are in Bangalore," Giri says. "Importantly, they're run by people who are really passionate about music—who try very hard to maintain a balance between footfall and supporting the local scene, new fringe sound. They have played a very important role in the success of Consolidate and its roster, even though our sound doesn't really fit into club-friendly category."
In curating Consolidate Records' sound, Giri says he looks for artists with a "sense of freedom and exploration," and enjoys music that's "slightly rough around the edges." Bangalore, he says, is a perfect home for that aesthetic. "The beauty of being based in Bangalore is that we are away from the industry—so there is enough breathing room for all kinds of sounds and acts to develop and grow. We don't have to deal with an overbearing sense of how things should be done—something that I can definitely feel in cities like Delhi and Bombay."
Consolidate's releases—which have been digital-only to date, though physical releases and merch are in the planning stages—include collections of head-nodding, hip-hop-influenced audio collages to otherworldly ambient soundscapes. Giri says that bringing that music to live venues in Bangalore has been essential to helping artists grow. But it's also a challenge. "While [Bangalore audiences] are really appreciative/supportive of most sincere endeavors, at the same time they are not afraid of calling out bullshit," he says. "It's this weird mixture of optimism and cynicism that I really love about the city. It can be tough, at times, to get people to engage in our music and gigs. But we all live for that chase."
There is, of course, an audience for Consolidate's music far beyond Bangalore and India. And as much as the regional music scene has played a part in shaping these artists, global influences abound here, too. Below we examine a handful of the label's releases, which are inventive and diverse enough to influence the world right back.
Skippy x Maitreya Mer x Musharraf Shaikh x Pardafash x Disco Puppet x Aniruddh Menon
"Peach Tea Since July"
A  soulful cut with multiple vocalists, acoustic guitar, and skittering production. There's a whimsy to the track, with its "la la la" chorus and playful synth lines. "This was the track that triggered label formation," Giri says. "Me and Aniruddh Menon had been talking about starting a label for a while. But it was mostly talk until he sent me this track. It was a gorgeous collaborative piece which more or less convinced me to take the plunge. Aniruddh was game as well, and the rest is history."
"This was an extension of a mixtape I had made for Consolidate, which basically introduced the country to a lot of new artists and sounds from the city," Giri says, though artists from Delhi and Dubai also appear on the eight-song comp. "It was probably the first time our scene took notice. This one got us some serious attention—we were featured on Thump as well as Resident Advisor. So it was a proud, defining moment."
A collection of disjointed, almost industrial future-R&B songs mixed in with kaleidoscopic instrumentals, Consolidate's first full-length remains one of its best. Whether Worms' Cottage is getting psychedelic on "Brown Clouds That Hold Rain" or applying shades of Tricky on the hypnotic and sensual jam "Prey Predator," these aren't just pretty sounds, they're cohesive songs on an album with a real presence of its own. Giri appreciates Worms' "unique sonic identity, with a vocabulary that touches upon love, lust, mundane daily musings."
The Spring EP is full of hyperactive, soulful, bulbous tracks with mile-a-minute melodies and tasteful vocal interjections from the most buoyant producer on the Consolidate roster. Shoumik Biswas makes music that sounds like a classic Japanese video game soundtrack by way of house music and Blade Runner. "This guy makes music for breakfast, and if it were up to him would probably put out a full-length every month," Giri says. "I think in this EP he found his voice, which is playful and contemplative at the same time."
A collaboration-heavy collection of moody, distinctly late-night jams that feel built for slow-motion travel. "I really like the way he works with samples," Giri says. "Especially the ones sourced from film music. You can almost feel the respect he has towards the original source—there is some level of tenderness with which he uses and manipulates them."
"Cinematic hip-hop, some people even call it folk electronica," Giri says of the debut full-length from Joe Panicker, who collaborates with visual artist Naquash to form Aerate Sound. Sonically, it features fitful, mercilessly chopped samples and more languishing sonic elements over loping percussion popularized by the L.A. beat scene in recent years. "A lot of field recordings make it to the album, even some folk elements," Giri adds. "Overall a gorgeous, multi-layered album you keep digging into for more details."
Releasing the album was "a really a proud moment for me personally," Giri says, "because I was putting out a Nepali artist. My favorite track on the EP is 'Kusume Rumal,' a really beautiful song sung in Nepali with electronic elements that just do enough to support the vocals."
A far-flung collection featuring polyrhythmic synth-jazz beats to crackling, confessional Auto-Tune-led sonic journeys. "Mainstream elements such as Auto-Tune, 808s, and fringe elements such as noise and lo-fi production all made its way to the album while [producer Shoumik Biswas] was trying to make sense of a recent break-up and growing older."
-Casey Jarman