LABEL PROFILE
A Guide to Coalmine Records' Gritty, '90s Revivalist Hip-Hop
By Phillip Mlynar · October 19, 2018
When Matt Diamond was fired from his first two jobs after college, he said to hell with the corporate grind and decided to launch a hip-hop label. At the time, the Brooklyn-based Diamond admits he had no music industry experience—"No internship, apprenticeship, job, career, nothing; I didn't even work at the local record store after school!" He was putting faith in his psychology degree "preparing me well to deal with rappers and various forms of industry bullshit." In 2005, he founded Coalmine Records and released the venture's first project in April of that year.
Titled "The Raw," the label's inaugural 12-inch single featured the Wu-Tang Clan's Inspectah Deck, the rapper Saigon, and the horrorcore-influenced MC Bekay over a moody piano-laden beat by Street Orchestra. (A remix of the track by Illmind rounded out the package.) The song set the template for the style of hip-hop with which Coalmine would become associated—"'90s revivalist or East Coast boom-bap," according to Diamond. But beyond regional pigeonholing, the heart of Coalmine has been about attracting artists with a shared belief that hip-hop beats should have a rugged funk appeal, and that a rapper's lyrics are always delivered with a razor-sharp precision. On that basis, it's no surprise the label has compiled a discography that includes tracks starring MC luminaries like Talib Kweli, Pharoahe Monch, and Kool G Rap, and has successfully teamed up rapper and producer combos like Blu and Nottz, Planet Asia and DJ Concept, and the late Sean Price with South Philly's Small Professor.
Celebrating Coalmine's appearance on Bandcamp earlier this summer, here are seven key picks to get you started digging through the label's vault.
Merch for this release:
Vinyl LP
Few rappers brought the same gargantuan presence to a track as Sean Price before he passed away in 2015. Over production crafted by Melbourne's M-Phazes, Land Of The Crooks showcases the raw appeal of the Brownsville MC's charismatic baritone voice and brilliantly uncouth sense of humor. "Dump In The Gut" backs Price's punchlines with swaggering brass riffs, while the cracking drums of "Land Of The Crooks" herald a Brooklyn borough salute that co-stars the equally weighty verbals of M.O.P.'s Billy Danze. Bonus trivia: According to label lore, the opening song, "Bag Of Shit," was at one point on track to shoot a video featuring Michael Rapaport reciting Sean P's second verse.
Merch for this release:
Vinyl LP
Gods In The Spirit, Titans In The Flesh skillfully splices together two previously released collaborative EPs from L.A. word wizard Blu and Virginia beatmaker Nottz and resequences the songs into a seamless sounding album. The breezy "Atlantis" opens the project with Blu dropping witticisms about the everyday world around him, before a run of tracks co-starring Nitty Scott, Homeboy Sandman, Torae, and Skyzoo tips the balance toward braggadocio. Key to the listening experience is the way the album returns to a reflective tone in its closing moments; on the previously unreleased "Yesterday," Blu seeks out "peace and happiness enriched in my family tree."
Joey Bada$$ may have become the world-famous face of Brooklyn's Pro Era camp, but the rest of the clique's roster is also brimming with talent. Formerly known as A La $ole, Aaron Rose dropped this accomplished EP back in 2016. The Audible Doctor and J57 from the Brown Bag AllStars handle the bulk of the production duties, delivering the sort of modern twist on the dusty '90s boom-bap template that Bada$$ made his name on. Check the quietly ominous, piano-laced "Parkside Ave" on which Rose delivers an evocative account of the shadier nooks of his native Flatbush, Brooklyn neighborhood. In their early days, Pro Era were often compared to L.A.'s equally oversized Odd Future collective; Rose connects those dots by hooking up with Domo Genesis to trade worldviews on the deep-bass-driven "Break It Down."
Beyond full-length album projects, Diamond prides himself on a continuous run one-off singles that feature some of the most revered artists in hip-hop. Rounding up the best of these loosies, Unearthed was released as a 10-year anniversary collection showcasing 20 sure shots in the spirit of Rawkus's Soundbombing compilations. Standout picks include Pharoahe Monch unleashing advanced-level syllables over a rousing funk backdrop on "Get Down"; Large Professor, Big Noyd, and Kool G Rap turning the Ayatollah-produced "Naturally Born" into a Queens Day celebration; and Royce Da 5'9″, Skillz, and Diamond D sparring to the punchy boom-bap of "One For The Money." (Unearthed is also available as a slickly mixed version commandeered by DJ Revolution.)
Guilty Simpson & Small Professor
Highway Robbery
Originally released in 2013, Detroit's gruff-voiced Guilty Simpson runs with the concept of spitting bars about his day-to-day survival in a post-apocalyptic home city over brawny beats courtesy of Small Professor. The results are, as you might guess, grimy. Guest verses come from the heavyweight presence of Simpson's Detroit ally Boldy James, and A.G. from the legendary Diggin' In The Crates crew, while DJ Revolution's dextrous cutting and scratching adds a jagged edge to the deep funk of "On The Run."
The guest list to aggressive spitter Bekay's 2009 debut reads like an underground rap roll call: R.A. The Rugged Man, Masta Ace, Inspectah Deck, Heltah Skeltah, and Dilated Peoples bless the project with viciously executed verses, while the roster of producers includes the Alchemist, Marco Polo, Illmind, and J.R. Rotem, who by that point had provided beats for Rick Ross, Lil' Kim, and 50 Cent. Much of the album is brash and boisterous, but the real standout is the low-key "Brooklyn Bridge," where Bekay and Ace salute their favorite borough over a back-in-the-day piano-based beat that inspires verses about "some of the best parties you ever seen" on the corner of Decatur and Evergreen in Bushwick.
Merch for this release:
Vinyl LP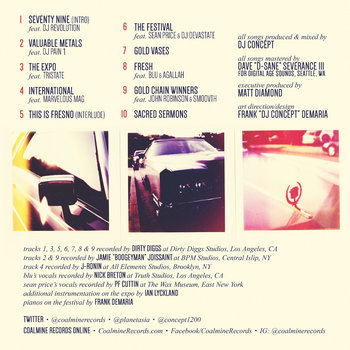 Branching out from Coalmine's New York City roots, 2016's Seventy Nine stars veteran Californian spitter Planet Asia. Teaming the former Interscope Records signing with crunching beats crafted by DJ Concept, the 10-track project takes shape around the idea of cruising in a '79 Seville, using the sound of a turning radio dial as a way to segue between songs. As the journey progresses, tales of police brutality ("The Festival," featuring Sean Price) line up alongside summer jams ("Fresh" with Blu and Agallah). The ride concludes with the ominous "Sacred Sermons," where, over elegiac synths, Planet Asia references deities and psychological theories before signing off, "The most merciful overlord, don't get it distorted / Just cut the check and watch me get it recorded."