LABEL PROFILE
Brazilian Invasion
By Andrew Jervis · July 23, 2013
"This is the current sound of the streets of Brazil, where chaos feeds creativity and the lack of structure has a good side. Once you don't have nothing, you don't have nothing to lose – so you're free to try new ways of making and spreading music."
Merch for this release:
Compact Disc (CD)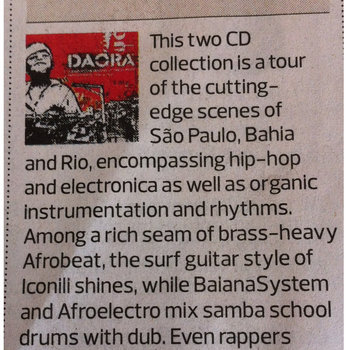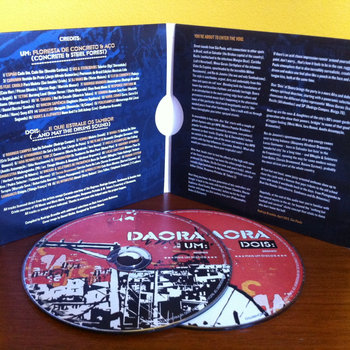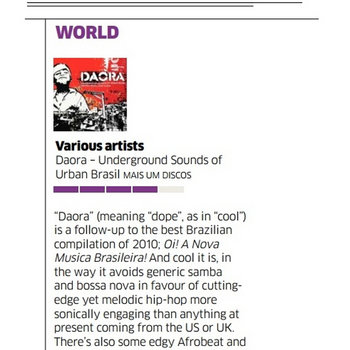 A gringo and a Braseilero are conspiring to give the rest of the world a taste of the latest music from the streets of São Paolo and the beaches of Salvador, Bahia. Londoner Lewis Robinson founded the Mais Um Discos label in 2010 and subsequently teamed up with Brazilian music expert Rodrigo Brandao. Together, they curate the cutting edge of Brazilian hip hop, dub, Afro beat, soul, funk, folk, jazz, pop and beyond. Their latest compilation, a 32 track monster, features artists mining and re-purposing their cultural heritage to create exciting new styles. They aren't interested in trying to rap like Americans, or make beats that could have come from an underground London club. This is their sound; this is Daora – a São Paulo colloquialism for something that's dope. "There's a big left field hip hop and beats scene in São Paolo," explains Robinson. "But we also included a lot of tracks from Bahia – particularly Salvador, where dub is more present – along with African influences that mirror the history of that area."
Merch for this release:
Compact Disc (CD)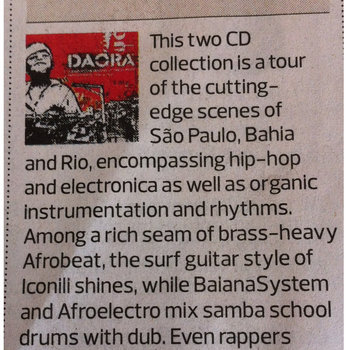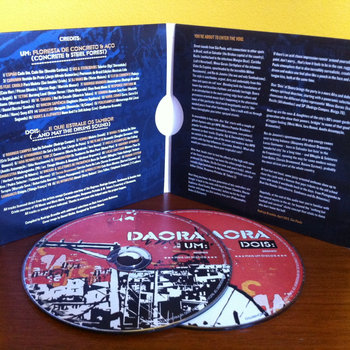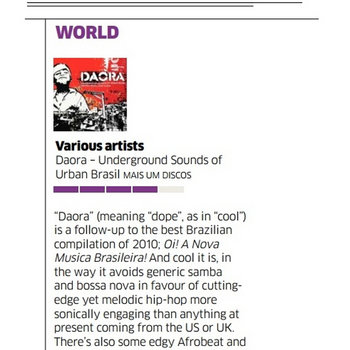 São Paolo resident Brandao is a walking compendium of musical contacts, a cross-cultural connector as qualified as anyone to pull together artists for Daora. As an MC, he juggles four different musical projects that have him recording alongside Beans (Anti Pop Consortium), Ladybug Mecca (Digable Planets), Del The Funky Homosapien (Deltron 3030), and producers Prince Paul (De La Soul), and Preservation (Mos Def). His latest project, Ekundayo, involves Mike Ladd (Big Dada), cornet player Rob Mazurek (Chicago Underground Duo), producer Scotty Hard (Medeski, Martin & Wood) and Brazilian jazz legend Naná Vasconcelos. As a promoter and performer, he has also collaborated with members of The Roots and one-time Fela Kuti drummer Tony Allen. For Daora, his focus was on pooling raw domestic talent in order to mold a compilation that captured the vibrant micro-scenes throughout his homeland. "This is the current sound of the streets of Brazil, where chaos feeds creativity and the lack of structure has a good side," he says. "Once you don't have nothing, you don't have nothing to lose – so you're free to try new ways of making and spreading music. The possibilities are infinite and there's a raw element that I feel is gone in some first world recordings," he adds.
Merch for this release:
Compact Disc (CD)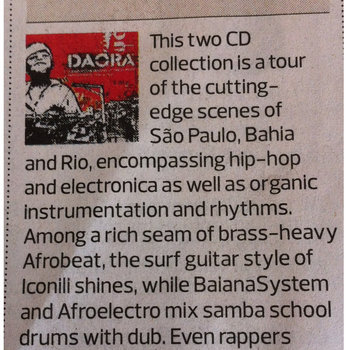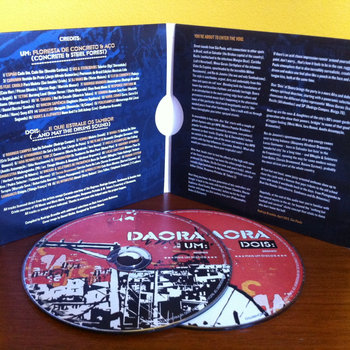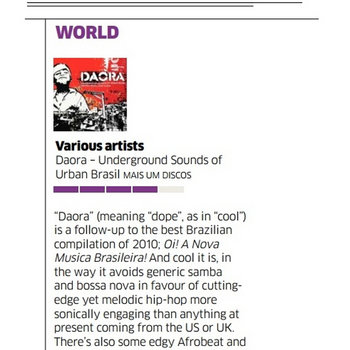 Several artists from Brandao's selection hail from his hometown. Rap group Elo Da Corrente combine samples and percussion to create a bed of soupy MPB funk for their Portuguese rhymes (MPB is shorthand for Música Popular Brasileira – the sound of the broad-reaching musical movement that came to prominence after bossa nova, and fused traditional Brazilian music with genres like folk, psyche, rock, pop and jazz). The group is also working on an album with Brazilian soul jazz legends Arthur Verocai and Celia. Metá Metá mix equal parts samba funk and post punk into a mélange of fuzzy guitar, persuasive bass lines, and loud horns. It's a rough and ready brew that places the band in the same frame as acts like UK-based Melt Yourself Down. Responsible for some of the more edgy tracks on Daora are Bodes and Elefantes, M. Takara 3, and Response Pirituba, all solo projects of the musicians behind instrumental sextet Hurtmold. If that wasn't enough to stay on top of, members of these acts are also in bands like Ekundayo, São Paulo Underground http://cuneiformrecords.bandcamp.com/album/beija-flors-velho-e-sujo, and Exploding Star Orchestra, and have worked with US-based producer Prefuse 73, and local pop icon Marcelo Camelo.
Merch for this release:
Compact Disc (CD)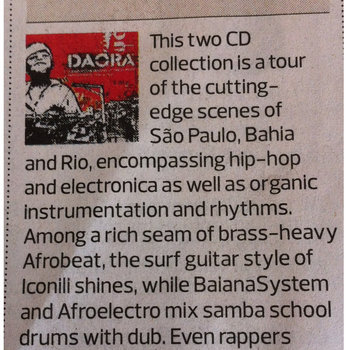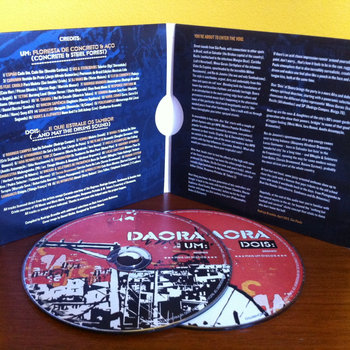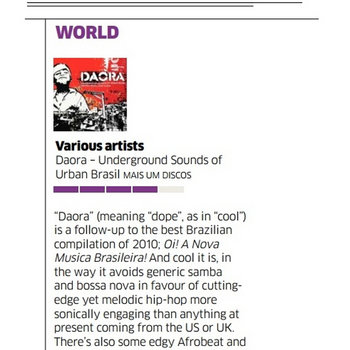 Beyond the shores of Brazil, the most popular artist on Daora is probably Rio-based Lucas Santtana, whose sophisticated and cosmopolitan style has caught the ears of tastemaker Gilles Peterson, made French national radio and TV, and landed him a guest spot on the latest Richard Dorfmeister-produced Tosca album. Also, Luciano Nakata Albuquerque, aka Curumin, has released music on Quannum (the long running San Francisco hip hop label) and has worked with guitar-wielding skater Tommy Guerrero and UK-based Shawn Lee.
Merch for this release:
Compact Disc (CD)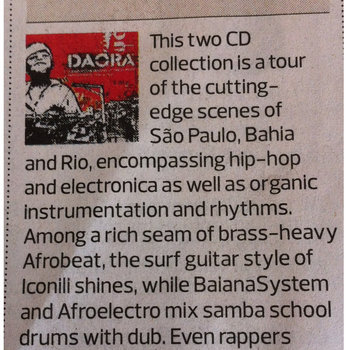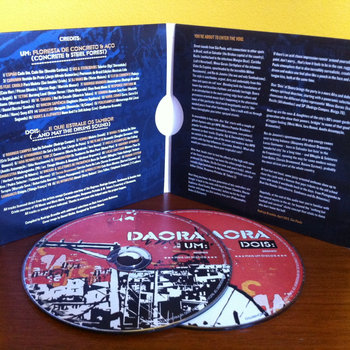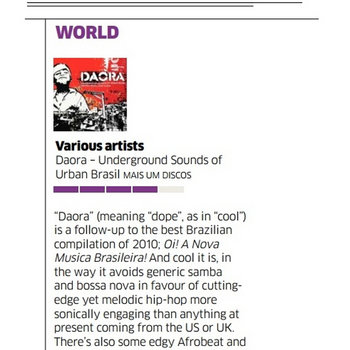 Prior to starting up Mais Um Discos, Robinson learned the independent label ropes at Far Out Recordings, a British company run by Brazilian music aficionado Joe Davis. "It definitely widened my horizons on what Brazilian music was about – I heard so much stuff through Joe," he says. After a five-year stint, Robinson left to release contemporary Brazilian music via his own imprint, which he founded in 2010. Compilations Oi! A Nova Musica Brasileira' and Oi! A Nova Musica Tropicalia!, along with the rest-of-world release of Lucas Santanna's Sem Nostalgia, launched his label with a bang. After sending his first few releases to Brandao, the pair quickly agreed that they could dig deeper to expose what was happening with genres like hip hop and Afrobeat (which is going through a resurgence in Brazil). "Rodrigo started hustling musicians he knew for tracks with a Brazilian swing to them – a heavy Brazilian influence with samples and musicians from Brazil," says Robinson.
(above – Rodrigo Brandao)
The Mais Um Discos ascent has not been without a learning curve, and Robinson has had to navigate the peculiar ways of the domestic music industry. It's typical for Brazilian bands to make new albums available for free download on their own websites, and to utilize the media hype that this creates to book long cross country tours. "It's a big market, you can tour there for a year and never have to leave. You make your money with gig fees and selling the physical version of the album while on tour," he explains. "It's so expensive to leave Brazil and tour the US or Europe, and because the Brazilian economy has grown over the last decade, bands can make better money domestically." However, this strategy of giving up albums for free is problematic for a label presenting music to the buying public outside of Brazil. To combat the issue Robinson and Brandao are creating unique and in-depth compilations like the Oi Musica series, and now Daora. To Robinson's surprise, the positive initial reception has not been limited to the UK, USA, and Europe – he also caught the attention of music fans back in Brazil. "People wanted to know who this gringo was who had put out great compilations of Brazilian artists – some of which, even the locals had not heard of," he laughs