LABEL PROFILE
The Bifronte Label Focuses on the Fringes of Latin American Electronic and Pop
By Daniel Montesinos-Donaghy · August 07, 2017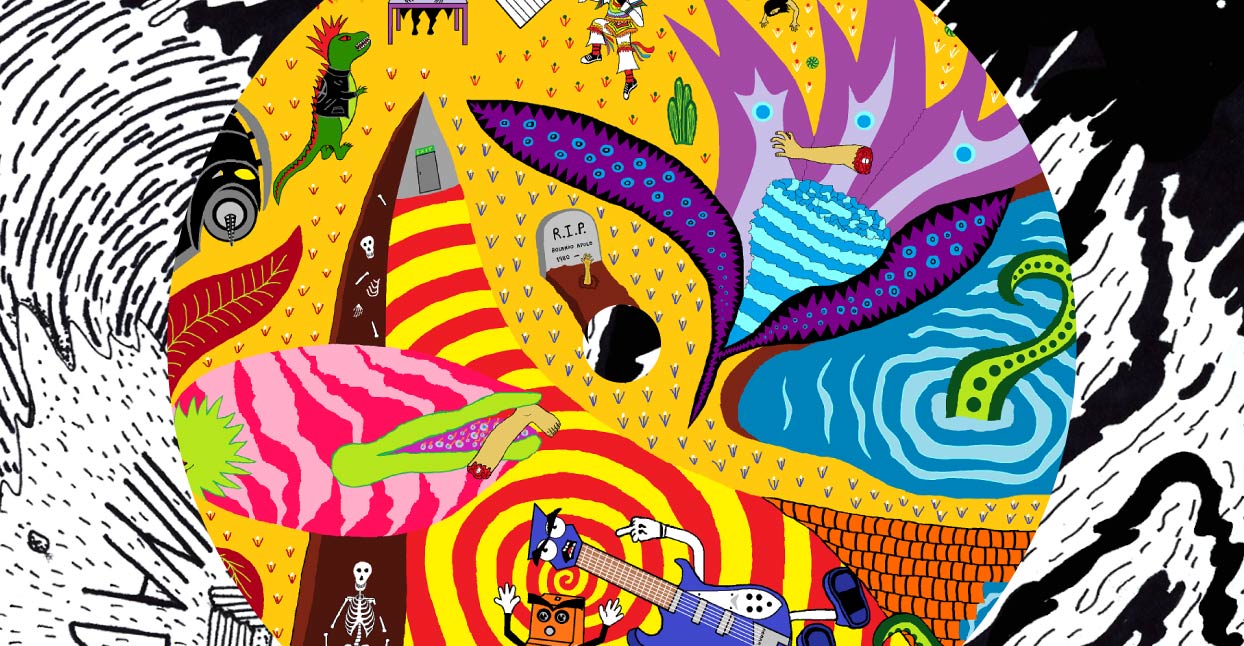 It's a Friday afternoon in Morelia, a student-heavy city in Mexico's state of Michoacán, and label founders Juan Mariano Paul Aguilar and Katya Tovar speak from the airy building that serves as the base for Bifronte Records. Tovar and Aguilar swerve in and out of each other's sentences, the way people often do when they've known each other for years. The two share a deep relationship, one that serves as the backbone for the electronic collective they dedicate what little free time they have to building.
Bifronte, which literally translates to mean "two-faced," was founded in 2009, and Tovar and Aguilar wasted no time in booking live shows and workshops around the city, pulling together a number of like-minded musicians from a fragmented local scene. "It was like an adventure," Aguilar tells me in Spanish over a Skype call. "It was also a decision for us to communicate with other people."
The label is dedicated to shining a light on a traditionally underrepresented group: people making underground art across the Latin American diaspora, no matter the country. From early mixes of musique concrète and warped drum & bass, with appropriate #cinematic tags (Parkingsong's The Waited Album) to re-releases of modern psychedelia (Rolando Apolo's Orza de Avante), and a lifetime's worth of electronic experiments, minimalist compositions, and occasional pop songs in between, the label's roster is best described as adventurous.
Over the course of the last year, the 10-person collective have communicated with musicians all over the world, making connections within the electronic and experimental scenes in Mexico's underground while also drawing in Latin American musicians and sound artists from across Europe and both South and North America. They have released four compilations over the past seven months, and by the end of the year there will be at least two more, continuing the label's focus on showcasing largely unheard-of artists performing experiment-heavy electronic music.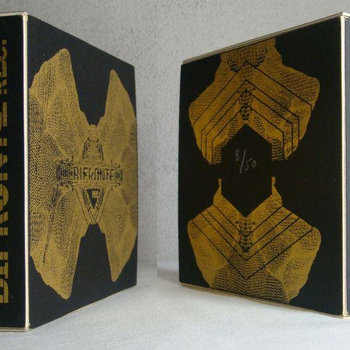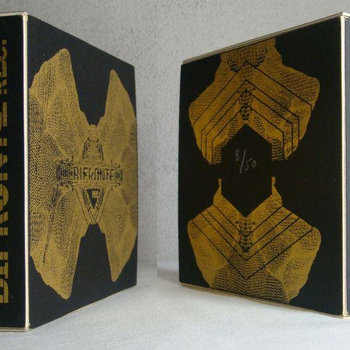 Though there is a decided emphasis on delivering music by hand (the very first Bifronte compilation was handed out at early shows), Bifronte's online presence stretches back to a pre-Bandcamp music hub, which served as a meeting point for musicians across Michoacán. It is a makeshift family of artists, one that formed gradually with the help of the Internet. "The Internet was the first place we connected," Tovar says, pointing to popular social networks as well as the rising blog circuits of the time (in particular, she and Aguilar both point to Mas Ruido Fino, a blog whose name translates to "More Fancy Noise").
After Bifronte's 2009 formation, growth has been slow but gradual, its 10 members eventually gaining recognition both in and out of Michoacán via their growing web presence. Particularly visible members of the collective include Rolando Apolo, a former member of cult Peruvian rock band Puna, who is responsible for building live visuals for Bifronte shows; Kissel Bravo, an audio-visual artist with a penchant for pinching audio-concrete into his moody beats; and Amy Landa, a whimsical, early-'90s chilled-dance revivalist.
With 10 functioning members, Bifronte's sound is often driven by the interests of its representatives. "Cocteau Twins are the band that have had the biggest effect on me," Tovar says, citing the band's influence on the dreamy music Tovar has released on the label under the name Minadedrama. And for his part, Aguilar repeatedly mentions his passion for ambient and glitch-heavy IDM. Each of their inspirations turns up throughout the releases on the label, creating a unified sound as you work through the discography. Despite the wide variety of sounds, Aguilar says that Bifronte's DNA—their codigo—is rooted in electronic music.
Their compilations from this year contain not only elements of the sounds described above, but also demonstrate the collective's proficiency at utilizing technology to make music. One project, Radicante, is focused on artists from Michoacán who have access to music-making software, while both Tarinakuy and Bifrontal have a more global approach, showcasing artists from Peru, France, and Mexico. It is a lot of dizzying and ambitious music—Tarinakuy alone is 39 tracks deep—but label's mission to give an outlet to a variety of musicians from so many parts of the world is admirable.
On a local level, Bifronte's boundary-pushing aesthetic has challenged Morelia's music scene. As Tovar puts it, while Morelia has a reputation for experimental music, it comes mostly from an academic standpoint, led by the Mexican Centre for Music and Sound Arts (CMMAS), an organization which was established to further Mexico's reputation in avant-garde sound art through education and training. "At first, we did ambient music in part because we wanted to break the stereotypes of music and concerts in our city," Aguilar says. "The production formats of cultural institutions are very closed-off. The public are interested in experimental music, but perhaps for an approach that is more intuitive or impressionistic. I think we have changed that, because more people have started having events."
Despite Bifronte's local breakthrough, Aguilar says that the electronic scene is still quite fragmented, with an emphasis on DJ culture (as evidenced by the events held by local promoters Greenhouse MX and label's like Simetriks Records or Fun Factory), and not enough spaces dedicated to the performance and the exploration of sound. "I think that we have always had a philosophy that, when we do events, we need to find spaces that are suited to the sound, and to the things that we want the people to walk away with. There is another scene, but it is more institutional because of its ties to the government," he says. [The CMMAS and their sound art festival Visiones Sonoras is sponsored by the Michoacán and Mexican cultural ministries —ed.] Bifronte maintains its appeal mainly because of their insistence to stick with the DIY aesthetic that has gotten them to this point. "We've always wanted to maintain more independence than is possible," Aguilar says.
That independent spirit is in part due to the members' limited financial means. Multiple times during our conversation, both Aguilar and Tovar mention the fact that they do all of these things despite low income. When they talk about the advantages of technology, it's more than just its creative upside—for economically-challenged Mexican artists, working night and day to receive what Tovar calls a "Third World salary," it is the only way to make the type of art they want to. "You can make music in the privacy of your own bedroom without having to talk with other musicians and fight for your ideas; you can do what you want," she explains.
Aguilar and Tovar also hold Bifronte-run workshops across Morelia, which are usually attended by children and teenagers "producing noise" (ruido, if you will—a racket). Before Bifronte, there were few outlets available to cater to their take on DIY electronic experimentalism. Now, with a gradually developing profile, they are making sure that a new generation can build on their work, and create music that continues to challenge the status quo. "We teach these kids that you can produce music with just what you have in your hands. You can do anything."
The second edition of the label's compilation series is a fine introduction to the roster, featuring Minadedrama's bedroom indietronica, Everybody's Howl's spirited genre-hopping, and Aguilar's gloriously-named "Fucked Up Laptop"'s glitch onslaught. On a local level, the release coincided with a growing audience at Bifronte events and, with a developing fanbase, a newfound confidence to showcase more music. "It started to show people the possibility of making experimental and electronic music over the Internet," Aguilar reflects.
An example of Bifronte's online reach, the suite-style µcells-I EP is the work of Grenoble-based electronic chameleon David Furodet, who has recorded countless projects for a swathe of labels under the name Ullapul. An integral collaborator on 2012's Panorama project, which challenged its contributors to create a minute-long track, µcells-I finds Furodet building on his short donations to that collaboration. Over the course of the EP's 20-minute running time, Ullapul layers micro-compositions atop one another, turning snippets of melodies into motifs and subtly shifting from a minimalist sound to a living, breathing barrage of piano melodies and Game Boy sounds, tempered with euphoric blasts of keyboard and Barack Obama samples.
The four years between µcells-I and this release brought a steady stream of music from the label's close circle, including another Bifronte compilation. During that time, Rolando Apolo was busy curating one of the label's most ambitious projects to date. The result was Tarinakuy, a record that spans both time and space to showcase a sprawling cast of Peruvian musicians, both townies and ex-pats. As a member of Puna, a cult act in South American post-rock and shoegaze circuits, Apolo built on his knowledge of the Peruvian underground, creating an album that swerves from retro-style IDM to abrasive noise, finding room for some blissful dreampop and bedroom soul on the way. "The idea [with Tarinakuy] was to share a musical culture that was very similar [to ours], and that's what we wanted to showcase," says Aguilar.
This year's Bifrontal compilation carries on the ethos of the label's global explorations in sound. The Bandcamp notes for the release speak of the intention to unite artists who are experimenting under the umbrella of electronic music and the many directions they're taking. It also makes explicit mention of the collective's projects being built for altoparlante (loudspeakers), which is a reminder that, for all their aesthetically-minded projects rooted in the lineage of electronic "listening music," the power of "people-moving music" comes first. Bifrontal knocks unlike any compilation they've released thus far, mixing screwed-up digital cumbia, retro darkwave, and rubbery techno with in-house collaborations such as Minadedrama and Rolando Apolo, who close the compilation with a summery chillwave song.
The ethos of this ambient and sound art-heavy compilation lies in its title, a somewhat misused and neglected word that refers to a growing plant spreading its roots in the process. It is a metaphor that not only suits Bifronte's growth, but also speaks to the music within, building on Tarinakuy by establishing a meeting of minds from across both the Peruvian and Mexican underground scenes, with curation assisted by the Peruvian label Chip Musik. It feels more personally aligned to the latter, judging by Aguilar's intentions: "Radicante works to re-contextualize the sound of the city."
After releasing a trio of Electrónica Simultánea compilations, which celebrated women making electronically-minded music across the Latin diaspora, Bifronte put out full-length works from allies and frequent collaborators like Minadedrama and Rolando Apolo. A new addition to that list of recurring artists is José A. Rodríguez. A former member of the aforementioned Puna alongside Apolo, he appeared on this year's Tarinakuy, a precursor to his debut solo release. Recording under the name Aloysius Acker (a nod to a poem by Martín Adán), Rodriguez's EP is simultaneously clipped and glitchy, emotionally charged and eerily calm. It's a release that will surely be remembered as the first stage of his development with the label. Acker's piece feels familiar in a way that recalls other records in the Bifronte back catalogue. "Acker was born in 1978, so the music of his formative years was from the '90s," Tovar explains. "Cocteau Twins, Silvania [an influential Peruvian shoegaze band]…" You can hear it loud and clear—it's the Bifronte codigo at work again.
—Daniel Montesinos-Donaghy