LABEL PROFILE
A Guide to Arhoolie Records' Sixty Years of Down-home Sounds
By Maria Barrios · February 24, 2021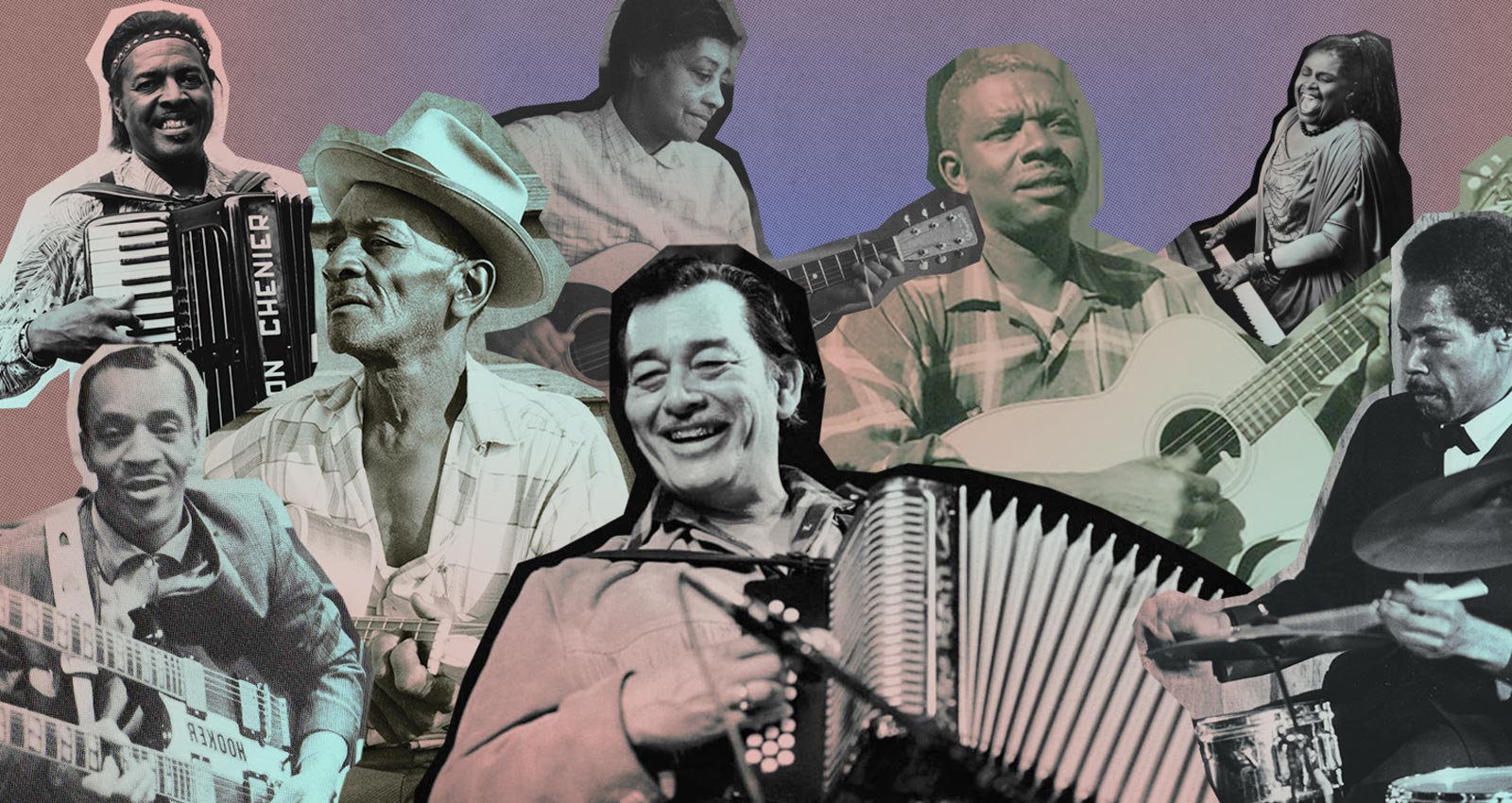 Chris Strachwitz of Arhoolie Records clearly recalls the event that inspired his lifelong love of American vernacular music. "One day a friend of mine asked me to go see a movie. It was called New Orleans. I came away from that absolutely mesmerized. It features not only Louis Armstrong, but also the whole Kid Ory Creole Jazz Band that was backing him up. It was real New Orleans beat, powerful rhythm-driven jazz. I was really enamored by the music that Louie played, and fell in love with New Orleans jazz," the now-89-year-old Strachwitz says.
The music of the film, along with radio broadcasts that played "hillbilly music," gospel, and legendary artists such as Hank Williams, led Strachwitz, a German immigrant, to become an avid collector of 78s. "It bugged the other kids in school, when they were listening to their schmaltzy music like Doris Day and Frank Sinatra, all that wimpy stuff," he says with a laugh.
Arhoolie Records was founded in California in 1960, after Strachwitz embarked on a pilgrimage to Texas in search of blues singer Lightnin' Hopkins. Though his search proved unsuccessful, Strachwitz asked locals if they knew any other blues musicians. A hot tip led Strachwitz to the small town of Navasota, where he landed in the home of blues guitarist Mance Lipscomb. The recording he made that day of Lipscomb in his living room became Arhoolie Records' first release: Mance Lipscomb, Texas Sharecropper and Songster.
Over the next 60 years, Strachwitz turned Arhoolie Records into a powerhouse and an invaluable historical resource for vernacular music of the United States and Mexico through his tireless work reissuing albums and compiling field recordings of artists such as K.C. Douglas and preacher Reverend Louis Overstreet. Strachwitz also became part of the 1960s folk revival and many of Arhoolie's artists, including Mance Lipscomb, played at the Berkeley Music Festival, which gave these musicians a chance to perform in front of larger audiences. After recording his favorite country, Cajun, bluegrass, and devotional artists, Strachwitz expanded Arhoolie's reach into Latin music, recording legends of Norteño and Tejano music such as Flaco Jiménez and Los Pingüinos del Norte. Eventually, his massive collection of Latino 78s was compiled into the Frontera Collection, which contains nearly 170,000 recordings made between 1905 and the 1990s.
Through his incessant curiosity and heartfelt appreciation for American vernacular music, Strachwitz built a catalog that not only documented a myriad of previously unheard-of artists, but preserved their legacies for new audiences. Here are eight records that represent Arhoolie's down-home sound, with recollections from Strachwitz about their recording.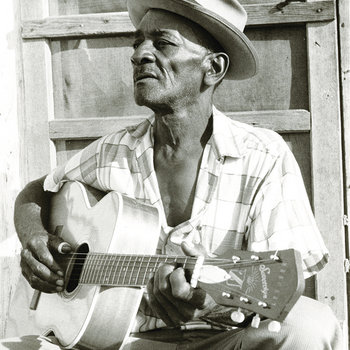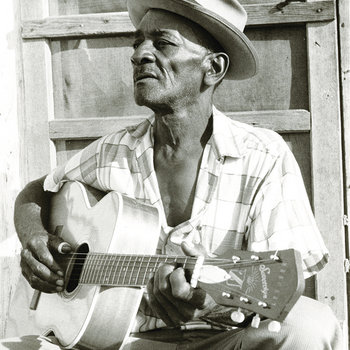 "He had a brilliant mind," Strachwitz says of Mance Lipscomb, whose guitar rags and ability to "hear a song and instantly learn it" earns him a place as one of the most original Texas bluesmen. "Tom Moore's Farm" is a song Lipscomb co-wrote about a ruthless plantation owner known to everyone in Navasota who conned and exploited sharecroppers. While Lipscomb wasn't the author of the verses, he played a version that Strachwitz describes as a "powerful Black protest song."
Reverend Willie Eason was born in Georgia in 1921. In the 1930s, he introduced the playing of steel guitar into the praise music of the African American Holiness Pentecostal church. "This fellow, Bob Stone, a wonderful musician and folklorist from Florida, sent me a cassette called Sacred Steel," says Strachwtiz. "And when I put that on I said, 'Oh my god, this is like Elmore James gone to heaven!'" Moved by the music on the tape, Strachwitz went to Florida and recorded notable players Sonny Treadway and Aubrey Ghent, as well as live Pentecostal services. Eason's track "Franklin D. Roosevelt, a Poor Man's Friend" not only exemplifies Eason's masterful steel guitar playing, it also features his powerful singing and poetry on emancipation.
Like many other rural artists, country bluesman K.C. Douglas, from Jackson, Mississippi, got his start at local picnics and dances. He recorded his best-known song "Mercury Blues" in 1948. Originally titled "Mercury Boogie," it subsequently appeared in a Ford commercial. Douglas's boogie-infused style is on display in Arhoolie's compilation, comprised of recordings Strachwitz made between 1960 and 1974. Far from being the only gem on the album, "Mercury Blues" remains one of those perfect songs that makes you immediately want to move your feet and nod your head in complete agreement.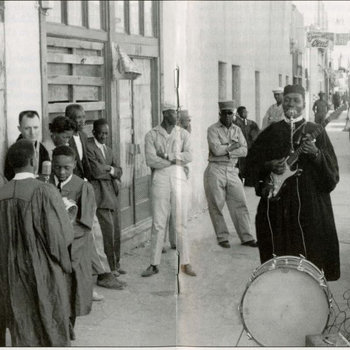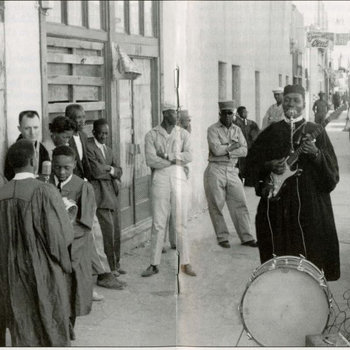 "That was another adventure," remembers Strachwitz of how he came to record Reverend Louis Overstreet. "I was in Louisiana in '61. I was only hip to the fact that sometimes a black DJ would know some other blues artists, so I went to this radio station in Baton Rouge and met this guy who took me around." Although their original intention was to find a local beer joint where musicians played, "What we saw in the street was this preacher, preaching away with an amplifier on top of his car, and his four boys around a microphone," says Strachwitz. "I was absolutely fascinated by him." The result of this chance meeting would be a recording made in 1962 in Phoenix, Arizona, where Overstreet and his family had founded a church. In the seven minute song "I'm Working On A Building," Strachwitz captured the voices of the congregation joining Reverend Louis Overstreet and his sons in their own unique form of electric guitar-fueled gospel music.
Arhoolie's first recording of Mexican music took place in Piedras Negras, a city in the state of Coahuila, Mexico. "I was told by a young lawyer who was working for the farmers union that I had to go hear Los Pingüinos del Norte," says Strachwitz. Along with a friend, he went to a bar where the group played. In line with Mexican fashion, Los Pingüinos were fully decked in matching black and white outfits that made them look, well, like penguins. From their style came the group's moniker, which translates to "The Penguins of The North." "I flipped," says Strachwitz. "I knew I had to record them." Equipped with his Magnecord, microphones, and mixer, the band and Sctrachwitz moved to another bar and, in a nonstop session, churned out fourteen tracks of corridos in their purest form.
With her powerful presence, mastery of the 12-string guitar, and proto-feminist lyrics about shitty men and not wanting to be tied down, it isn't hard to understand why American singer Lydia Mendoza was known as "The Queen of Tejano Music." Her impeccable musical legacy and 60-year career, which produced over 200 songs and 50 albums, was nothing less than extraordinary. A selection of Mendoza's recordings from the 1930s are collected on Mal Hombre, a compilation that's part of Arhoolie's Frontera Collection. While Mendoza's undisputed hit was the tango-influenced "Mal Hombre," her bird-like crooning in "Pero Hay Que Triste" sounds as fresh as it was when it was recorded nearly 90 years ago.
Through his working relationship with Lightnin' Hopkins (whom he would finally record and even tour with), Strachwitz met Louisiana musician Clifton Chenier. "Lightnin' and I went to Frenchtown in the southeastern part of Houston and, in this tiny beer joint, there was this tall lanky Black man with a huge piano accordion, only accompanied by a drummer, singing in this weird French patois," remembers Strachwitz. Chenier immediately picked up that Strachwitz was "a record man," so he offered to make an album for Arhoolie. Strachwitz agreed. "Clifton knew that he had to make commercial records," Strachwitz says. "But I didn't care that much, I just wanted to hear that amazing French music." Encouraged by the possibility of honoring his roots in Creole music, Chenier recorded the hit "Zydeco Sont Pas Sale." "That eventually made him the king of zydeco because most people have never even heard of that stuff," says Strachwitz. Chenier's recordings, influenced in equal parts by Cajun, Creole, and blues rhythms, put zydeco on the map, and even won the artist a Grammy award in 1983.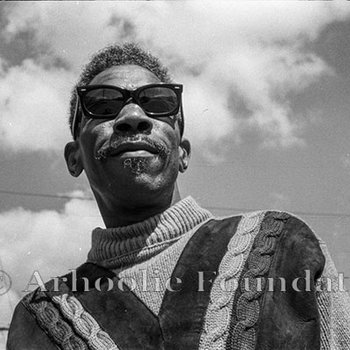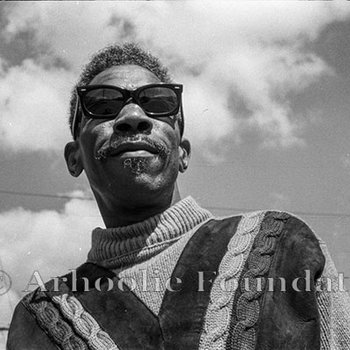 Recorded in 1969, Smiley Etc. was the only record Oakland drummer William "Smiley" Winters made for Arhoolie Records. The album is a hidden treasure of insane free jazz filled with vocalizations, bursting horns, whistles, and percussion layered over Winters's frantic playing. On the track "Love is Enlightenment," Winters's inventive playing is accompanied by trumpeter Barbara Donald, another unsung hero of the West Coast scene. The end result is pure, cacophonous bliss.