HIGH SCORES
High Scores: Douglas Holmquist on His Mobile Game Soundtracks for "Smash Hit" and "PinOut"
By Casey Jarman · April 03, 2017
Before I interviewed Douglas Holmquist, I typed "Malmo" into Google Maps and dropped Google's little yellow figure down onto the streets of the city where the 35-year-old composer works and lives. I clicked around town while listening to Holmquist's pristine soundtrack for the shimmery mobile game Smash Hit, then crawled my way out across the long ocean bridge to nearby Copenhagen. It all looked so crisp and clean—at least, compared to my native Portland, Oregon—that I thought I might be gaining some insight into Holmquist's creative process. After all, while his soundtracks vary greatly in style and approach, there's something orderly and smooth about them. Maybe it's in the genes: Holmquist grew up with a musician mother and an engineer father, which seems like an almost impossible background for a game music composer.
Holmquist's orderly aesthetic and subtle writing touch came together with the release of his PinOut soundtrack last year. It's a gripping, bold, and downright sexy collection of retro-futuristic tunes that recalls both Giorgio Moroder and the perfect sonic symmetry of early Daft Punk. With or without the Tron-like visuals of the addictive mobile game that spawned it, PinOut is something special, and a work that should secure Holmquist a steady stream of new projects for the foreseeable future. For now, he says he's preparing to write the music for a secretive new game "that deals with pretty sensitive and unusual issues." Oh, and he's happy, too. "If I can continue to work on interesting projects and put food on the table," Holmquist says, "I'm super satisfied with life!" That's it, I'm moving to Malmo.
Merch for this release:
Cassette, Vinyl LP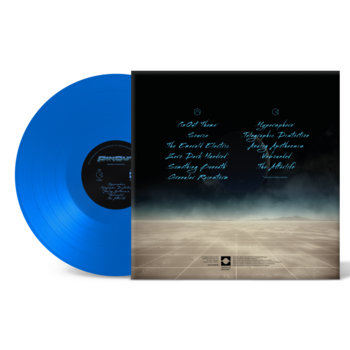 Tell me a little about yourself.
I was born in Stockholm in 1981. I have a wife named Kristina, a 4-year old-daughter named Lea and another kid on the way in about a month. We live in Malmo, in the south of Sweden.
What kind of music did you listen to as a kid?
My earliest musical influences—that I was aware of at the time—were probably ABBA and the Beatles. I was maybe 6 or 7. I remember looking at album covers, learning through the lyrics, and so on. I even remember learning or memorizing what note the next song would start on, on certain albums. A few years later, I got my brother's old radio, and I started listening to the local station and recording my favorite songs on the cassette deck. I remember really liking songs by The Pet Shop Boys, the KLF, Neneh Cherry, Snap, Technotronic—that kind of stuff. And then it all evolved into Euro dance, and then Guns 'N' Roses, then Nirvana and so on.
But on a more subconscious level, I was most likely influenced by the classical music that my mother often played in the house. She also brought me to rehearsals for different amateur orchestras she played in, and took me to concerts. She played the guitar, so she played and sang a lot of American folk music that she loved when she was a teenager: Bob Dylan, Peter, Paul and Mary, the Kingston Trio. I guess that had an impact on me as well.
Did you fall in love with music or video games first? 
Hard to say. Probably music, but video games didn't come long after. My dad is an engineer, so we had computers in the house pretty early on. I remember seeing a bunch of games he copied from his co-workers on Ericsson's first laptop computer in the mid '80s. It wasn't called a laptop at the time, though, and it was about 15 centimeters thick and heavy as hell. We had Donkey Kong, Pit Stop, Paratrooper, Tapper, Frogger, stuff like that. So I played those games, and I played NES and Commodore 64 at friends' houses. But I really fell in love with games a few years later when I discovered adventure games like King's Quest, Space Quest and Monkey Island. That's still my favorite genre of games. Those early adventure games pioneered so much of what I still love about video games: beautiful artwork, strong narratives and memorable soundtracks.
Can you tell me a little about your early life as a musician? Did you play in bands? 
My mom taught me the basics of playing chords on piano and guitar when I was 12. I also took lessons on both instruments, but I wasn't into the sheet music/classical way of playing, so that didn't last long. When I was 13, I started playing in a bunch of bands, and that just kept going. We moved from Stockholm to Ystad [a small town near Malmo—ed.] when I was 15, but it didn't take long before I joined one band and then started several more. When I was 17, one of those bands got to release a 7″ single on an indie label, and we were on a few compilations. When I was 18, I moved to Malmo and another one of my bands—called Dr. Higgins, which played instrumental but very upbeat melodic, electronic music—released a single and a full-length, and we started touring the rest of Sweden as much as we could. The band split in 2004, but from then until about 2009, I kept on playing a lot, but in more loose, experimental constellations. In 2009, I started making a living from music—commercials and film music—and my need to be in bands and play live started decreasing. I'm still a member of a band called Testbild, though, which I've been in since 2005. We usually release an album every other year, but we rarely play live.
What is the music community like in Malmo, where you live? It looks lovely.
It's not a beautiful city per se, like Stockholm, but it's a great place to live and work: small enough that you can walk or ride your bike to most places, but big enough that you can go to really great concerts, clubs, galleries, bars, restaurants, etc. And there's a good scene for start-ups and game companies. I'm not as involved in the music scene as I used to be, but during the years I was the most active, it was pretty great. Lots of interesting things happening around the electronic label Kontra Musik, for example. And a nice little neo-psychedelic scene surrounding the band Ved. But I'm more involved in the indie game scene than the music scene nowadays.
The ambitiously named Smash Hit is one of my favorite mobile games, its soundtrack that stands on its own particularly well. It sounds like it was a pretty collaborative experience—you built these small electronic pieces—really cool, smart dance music—at 120 beats per minute, then the designers helped you decide on which pieces should be combined in different combinations. What did you learn from that experience?
Smash Hit was certainly inspired by a lot of dance music, but the minimal kind rather than the bombastic stuff coming out of Sweden in recent years—like the '00s German minimal techno of the Kompakt label; American '80s and '90s house and techno (like Mr. Fingers and Carl Craig); and British IDM and electronica, like Aphex Twin, Autechre, and Boards of Canada. Plus, some other influences, like italo disco and dub. Most of these influences were pretty subconscious, though: it's just the kind of electronic music I happen to enjoy.
It was built at 120 bpm for two main reasons: the first is that it's easy to implement, since you end up with even seconds for the different loops, whether they're four or 64 bars. But, also, 120 bpm is a pace that can sound quite intense and stressful when it's four-to-the-floor and hi-hats in 16th notes and so on, and it can also be made to sound pretty chilled out in half-tempo. And then we also added in some almost rubato, ambient parts with no beats, some in 6/8 and so on.
We decided on 36-second parts, where the first two seconds was a short intro, usually something percussive to avoid too much tonal clashing, and the last two seconds was usually just a reverb/delay tail. One thing we talked about was that it should feel like a DJ set of very short songs. It was an interesting way of working, but it was a bit scary initially to leave the sequencing of the parts to the developers. I deliberately didn't plan what keys the different parts should be in, because we wanted to have pretty unexpected changes between the different sections of the game. So some changes are perhaps a bit weird musically, but it adds to the feeling of "Wow, this room has a completely different vibe than the last one."
It was a great experience for me to realize that things could become more interesting if I let go of some of the control. Another cool feature that differentiates the feeling of the rooms and levels in Smash Hit from each other is the fact that Dennis (Gustafsson, the programmer at Mediocre) decided quite early on in the development that the music controls the speed of the player's movement, rather than the other way around. That way, they could make some levels go really fast by just making them longer, and others really slow by making them shorter.
Is it more difficult to differentiate your music from the pack when you're working exclusively with a digital toolbox, like Logic, for something like Smash Hit? On one hand the possibilities are endless, but on the other, the tools are sort of universally available.
In a way, it could be easier to make something unique if you record with a live instrument in a room, but at the same time, there are so many cliches that you can fall into there, and also you might not get the exact sound you're looking for—and you might have to settle for it because of time and budget constraints. Whereas, working in a Digital Audio Workstation, you can really shape the sounds. It certainly depends on your genre, though. With Smash Hit, I decided on a rather limited palette pretty early on, to set it apart from other things, and to not fall into the trap of just browsing through samples all day long—because that's a downside of the endless possibilities with DAWs. So I picked out a couple of kick drums, a couple of snares, a couple of bass sounds and so on and, for the most part, stuck to them. I also used a bit of outboard gear: a Moog Voyager and a Korg Volca Beats. I think limiting yourself in certain ways, and having a vision, is the way to make your music stand out. That's how it works for me with the limited sound palette, at least. That way I need to put more emphasis on melodies and harmonies than on endless samples.
The mobile game PinOut seems to take some of the lessons you learned with Smash Hit, and even some of the aesthetic ideas, but stretch them to be more cinematic and organic. It has more of everything, and it's a very full-sounding record—a little psychedelic, even. What were you aiming for with that one, and what sets it apart from some of your other work?
The process was quite different from Smash Hit. We decided early on that we wanted the music to be more like tracks on a real album, with verses and choruses. What we did bring from Smash Hit, perhaps not in a conscious way, is the way we start with a really ambient track and then build up to something more rhythmic and almost catchy. Then we take it down again a couple of times during the ride.
The vocals obviously set PinOut apart from what I've done before in games. That was a lot of fun. Susanna Lundgren, who sang on four tracks in the game, brought so much to the overall sound of the album. It felt like a bit of risk to have vocals in a game like PinOut, which is pretty much an arcade game. We didn't want it to take too much focus from the gameplay, and we didn't want the players to become annoyed with it, since the music loops. But the fact that the songs are pretty long, and that fact that she's a damn good singer helps a lot!
What's an underrated game—big or small, on any platform—that you're totally obsessed with right now?
I seem to usually like the kind of games that get good reviews but don't necessarily sell a lot! Just finished a beautiful Norwegian point-and-click game called Milkmaid of the Milky Way, so I urge everybody to check that out! Another recent favorite of mine is Night In the Woods.
I ask everyone this question: If you could rework one classic game soundtrack—not because the current score is bad, but because you've got an idea for it or would just love to try working on it—what game would you choose and why?
It would be really fun to write a new score for Space Quest 3… The original one is great, and was very ahead of its time, but doing something with lush synth sounds, heavily processed drum sounds and nice ambient textures would be awesome.
—Casey Jarman