HIDDEN GEMS
Inokasira Rangers Patrol the Intersection of Punk and Reggae
By Shy Thompson · Illustration by Diana Ejaita · February 08, 2022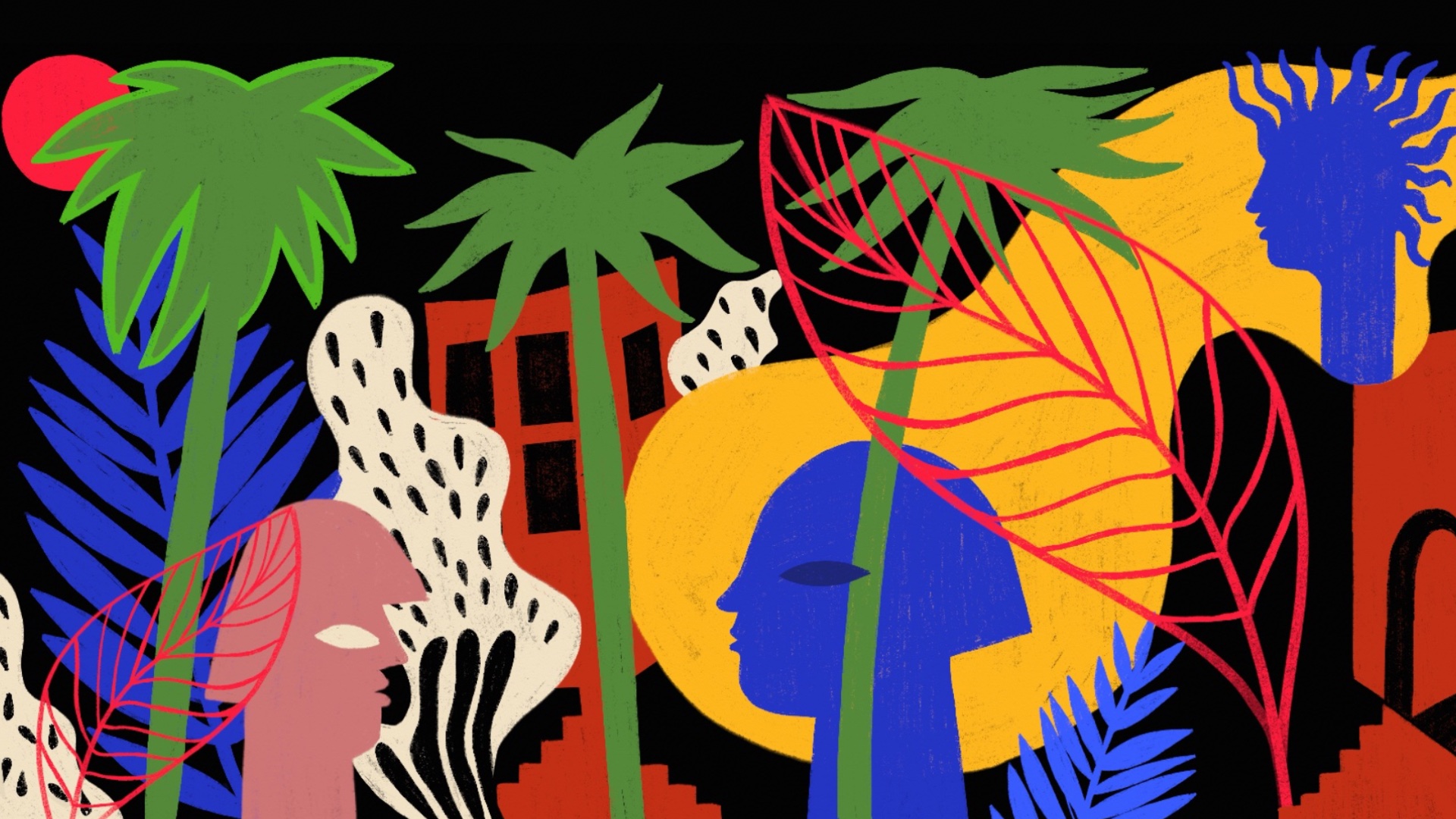 For nearly the last 10 years, Inokasira Rangers have been putting their own unique spin on reggae. The Japanese band, formed in the spring of 2013, is named for Tokyo's stunningly beautiful Inokashira Park, where the four core members—bassist Fujimura MyoJo, drummer Satō Menchi, guitarist Mansukebashi Wataru, and keyboardist Iseya Yamitarou—first decided to play together as a group. They specialize in covering popular songs from a wide spectrum of styles, mutating everything from New Order's club anthem "Blue Monday" to Prince's funk-pop masterpiece "Kiss" into ska-tinged slow-burners, but they're far from a one-note novelty act. The Rangers studiously buckled down and honed their craft, familiarizing themselves with the genre's deepest roots.
.
00:10 / 00:58
2016's Rangers Patrol 1977​~​1982 UK! seemed like an album the Rangers were destined to make, one which explores the formative period when reggae first started to mingle with other styles of music in a major way. With one notable exception, they've deliberately chosen songs most recognizable as "pure" punk and new wave, making the transformative aspect significantly more pronounced. You can still identify the Rangers's versions of Sham 69's "If the Kids Are United" or The Sex Pistols's "The Great Rock 'n' Roll Swindle" by their tunes, but now they bear the distinctive hallmarks of two-tone ska: a more leisurely tempo, reverberating drums, and vocal melodies replaced with soaring organ. These songs have also been rejoined with a piece of historical context often vitally overlooked: London's demographics were changing as rapidly as its political climate in the late 1970s and early 1980s, and that was driving a change in music. The budding, normally slight influence of reggae in many of these tracks is given more room to fully blossom.
Citing Jamaican-Canadian keyboardist and musical director of the legendary Studio One label Jackie Mittoo—who was known for his own unlikely renditions of popular songs from Frank Sinatra and the Bee Gees—as one of his primary influences, keyboardist Iseya takes up Mittoo's weapon of choice, the Hammond B3 organ, as his own. The Hammond B3 is the traditional instrument for keyboard fills in reggae music, but the Rangers's use of it as a substitute for vocal toplines in these covers is unique. The Clash's "(White Man) In Hammersmith Palais," which wears its reggae influence on its sleeve more than any other source material on Rangers Patrol, almost sounds like a long-lost rocksteady classic with this treatment.
.
00:10 / 00:58
The initial explosion of reggae's popularity in Japan can generally be pinpointed to Bob Marley & The Wailers's visit to the country in 1979 for their Far East tour. While there, Marley met accomplished session percussionist Hashida "Pecker" Masahito and became fast friends, organizing two collaborative records with a lineup of Japanese and Jamaican musicians the following year. These two recordings—Pecker Power and Instant Rasta—would establish the tone of Japan's relationship with the music of their fellow island nation: adventurous curiosity coupled with careful respect. Inokasira Rangers are proof that the spirit hasn't faded at all.