HIDDEN GEMS
Hidden Gems: Illmac, "Only & Ill 2"
By Casey Jarman · August 27, 2018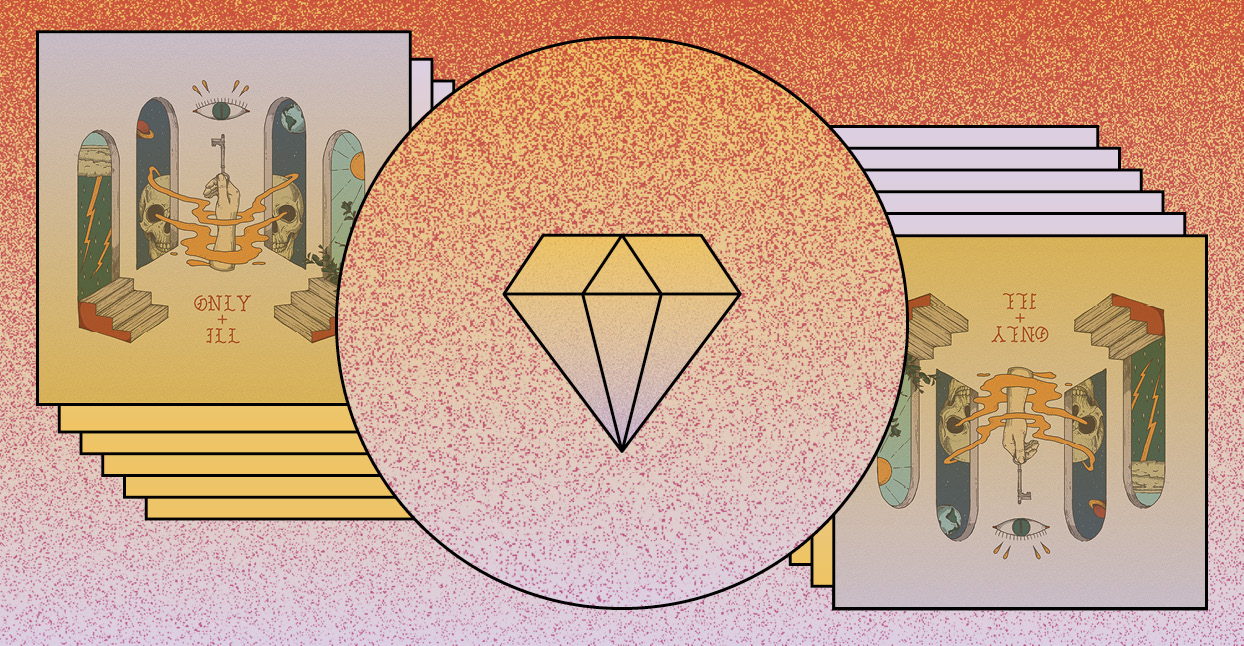 In our new series Hidden Gems, writers share their favorite Bandcamp discoveries.
.
00:10 / 00:58
Greg Poe introduced himself to the rap world in 2004, at the hugely influential annual hip-hop celebration Scribble Jam, where underground MCs like Eyedea and Sage Francis had previously been crowned champions of the festival's MC battle. Poe's boss wouldn't give him the vacation time to travel from his hometown of Portland to the festival in Cincinnati, so he quit his job. Battling under the name Illmaculate, Poe was an unknown at the competition but he ran the table, facing Mac Lethal in the final round and beating him. Poe was just 17 years old. With his diminutive stature and wispy facial hair, he looked more like 13.
Back home in Portland, where the hip-hop scene operates in the shadow of indie rock and is under fire by local authorities, Illmaculate struggled for an already small spotlight. He recorded and performed with a sprawling crew called Sandpeople. Known primarily for decimating his battle-rap opponents with inventive and complex rhyme schemes, his own records found the battle-rap bravado clashing with seemingly incompatible emotional depth and lyrical vulnerability. But that's Poe's great trick: he makes it work. As early as 2012's Skrill Talk, he was showcasing soul, self-awareness, and storytelling ability beyond his years. These are not traits often associated with battle rappers. But the tension between tough-as-nails delivery and deeply revealing, often self-effacing lyricism (you can hear him struggling with self-esteem on "Oscar Nominee" from Still Standing) is part of the joy of following Greg Poe's career. He puts his life into his records, the good, the bad, and the ugly.
If the relentless self-analysis that Illmac—who has shortened his stage name and relocated to Los Angeles in recent years—engages in on record isn't fascinating enough, he also delves into the political, the spiritual, and the psychedelic. His Raising The Bar series of YouTube videos, which find him alone in a dark room with a microphone delivering endless and intricate verses, are perhaps the best peek yet into the messy mind of a gifted MC who never seems content just spitting rhymes. But Illmac is nothing if not versatile; the recent Only & Ill 2 finds him collaborating, on the harder side, with his Sandpeople crewmate Onlyone, whereas his recent absurdist "Ketchup vs. Mustard" animated rap battle video (he plays Mustard, but wrote and conceived the project) currently sits at 350,000 views.
Illmac is probably still best known for rap battles, but hip-hop fans who delve into his album catalog will be rewarded with not just bars—and there are plenty of bars—but a thoughtful MC who runs the gamut from introspective to explosive.