HIDDEN GEMS
Gallo Lester is a Mambo Metal Troublemaker in a Rooster Mask
By Richard Villegas · Illustration by Diana Ejaita · January 13, 2022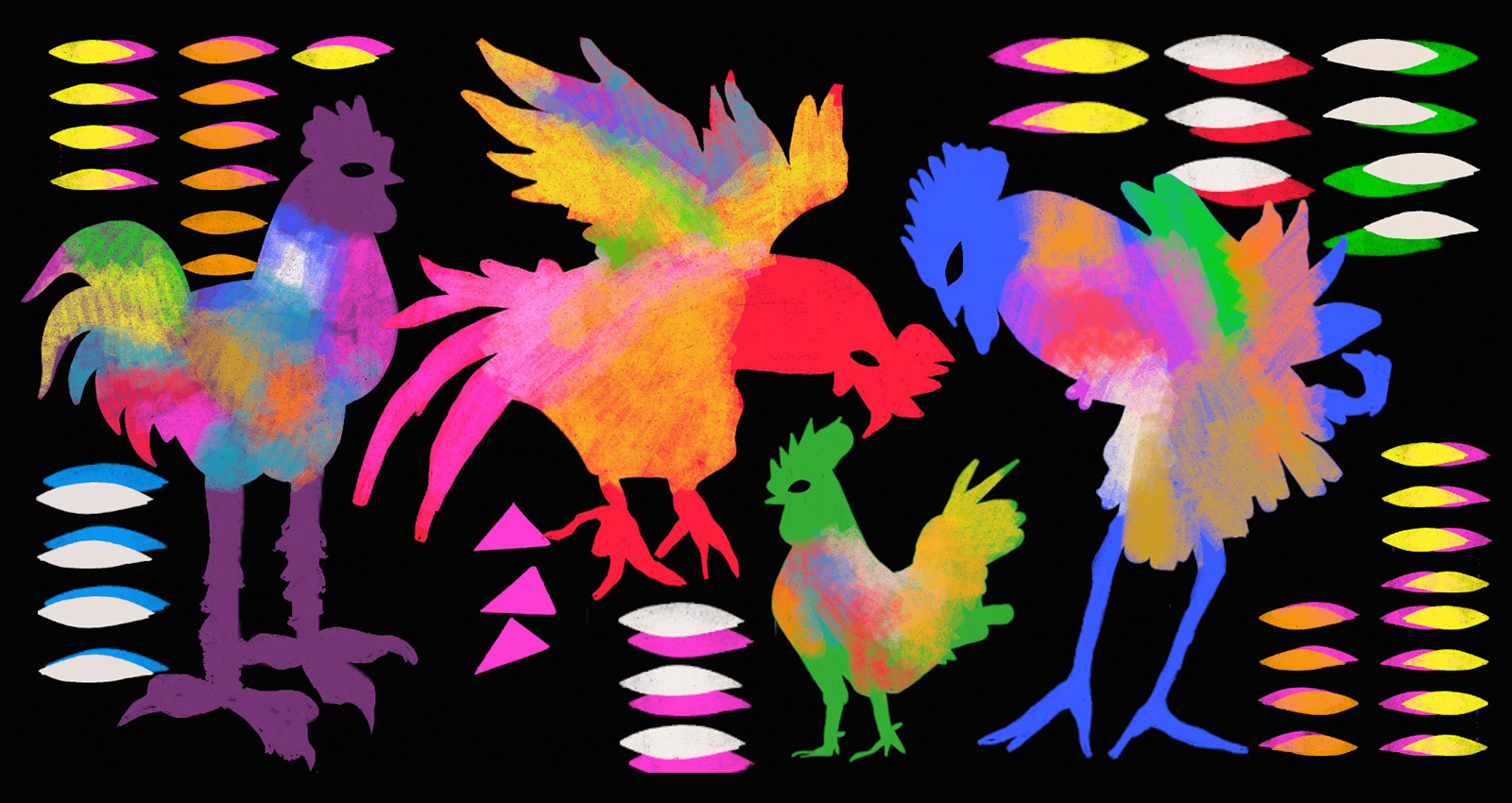 Mambo metal? Goth merengue? Afro-Caribbean drum-powered epics destined to become anime theme songs? All of these at once? Of course. Anything is possible in the imagination of Gallo Lester.
.
00:10 / 00:58
Throughout the 2010s, the avian alter ego of multi-instrumentalist, producer, actor, and radio personality Raymond Jáquez agitated the Dominican Republic's musical establishment with a combination of metal riffs, traditional percussion, and cartoonish cadence—not to mention the unsettling rooster mask that became his trademark. A surreal pop culture phenomenon turned acerbic socio-political commentator, Gallo Lester captivated audiences with vivid folk imagery on "La Comparsa," shared sobering stories of island and diasporic realities with "Mamajuana," and delivered a hefty dose of camp alongside Mexican meme queen La Elvira on "Charly Charly." But while many have dismissed Jáquez's work as little more than novelty, the artist behind the feathers keeps charting new musical courses, even in his parallel projects Hiamu, Trilogy8, and RayMorgana.
In 2018, Gallo Lester unleashed his ambitious third LP, Mambo Metal La 2da Venida, an album that elevated his previous jolts of lo-fi genius into a polished, cohesive body of work. On Mambo Metal, Jáquez is backed by his band Los Caballeros de La Creta, as well as sidekick/hook diva Yuriseibi, who is portrayed by Jáquez's real-life partner Jeimy Morgana. The album unfolds in a series of fantastical chapters, casting Gallo Lester as an Eastwood-esque gunslinger on "Odiobretch" and a Kung Fu rumbler on "Alefú," the latter of which feels like an amalgamation of Cardi B, Rasputin, and merengue trailblazer Fefita La Grande. References to fantasy, anime, and comic books abound, with Lester repeatedly describing his acolytes as mutants, and dedicating the anthemic "Friki" to otakus bullied for creating and inhabiting their own alternate realities—a plight our red-crested hero knows all too well.
.
00:10 / 00:58
Never far from biting social criticism, Gallo Lester takes aim at virtue signaling on "Lo Pere," offering a bird's eye view of addiction, queerphobia, and religious hypocrisy. Bachata guitars contrast with grimy trap beats, while Yuriseibi crows, "Truth dies in a world of lies." Uproarious industrial-merengue "Lo 30" centers around the monthly uptick in payday muggings, its lyrics conjuring demonic imagery and assembling rhymes about thong-wearing gang members and talking cockroaches. And while the song is hilarious—fueled by a delicious combo of spooky synths and Dominican tambora—the blood-boiling frustration of having to constantly look over your shoulder remains front and center, culminating in a dark ritual in which Lester banishes all criminals to the shadow realm.
Mambo Metal La 2da Venida was conceived as a pseudo-farewell album for Gallo Lester; not quite final, but allowing Jáquez a hiatus to explore creative avenues that don't require masks and otherworldly vocals. Album closer "Dancin In De Pari" is an open-ended trip-hop cliffhanger where Gallo Lester gets into a mysterious accident in which his consciousness is transferred to a robotic body. It's a preposterous yet strangely appropriate sign off for the oddball tour de force. Jáquez has promised his beloved barnyard phoenix will rise again when the world needs him most.