GALLERY
Raiding Quantic's Instrument Collection
By Andy Beta · Photos by Elyssa Goodman · June 15, 2016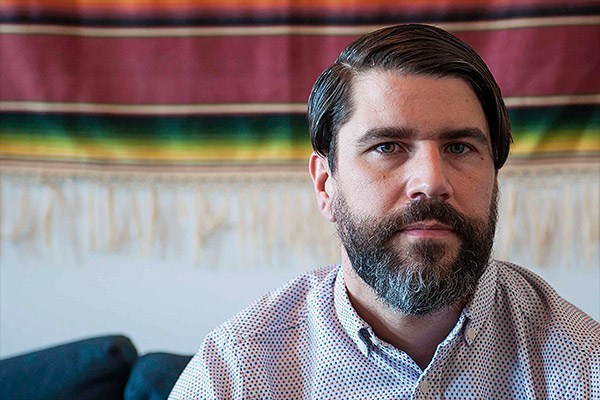 "My sisters picked up more instruments like piano. I was trying to go against the grain, getting into metal."
—Will "Quantic" Holland
When England's Will Holland released his first album under the name Quantic in 2001, it scanned as downtempo. Its songs had the requisite lackadaisical drum loops, jazz-tinged keys, and tasteful psychedelic flourishes. But with each subsequent album, beguiling elements of Latin music, reggae and Brazilian bossa nova became the focus rather than the flavoring. It became clear that Quantic wasn't just dabbling in world beats, he was deeply exploring these regions. Whether he was releasing albums as the Quantic Soul Orchestra, Quantic and his Combo Bárbaro, Los Miticos del Ritmo or The Limp Twins, Holland has dug deep into the rhythms of cumbia, pacifico, soul, reggae, downtempo and more, blending them all together into an intoxicating, hip-swaying stew.
In May, Quantic revived one of his more curious fusions, the South American-tinged dub reggae project Flowering Inferno. With the crackling first single, "A Life Worth Living," Quantic utilizes the vocal talents of longtime collaborator Alice Russell and the toasting talents of U-Roy. He's not the only reggae legend who makes an appearance. The album relies heavily on the solid foundation of drummer Carlton "Santa" Davis, the man behind innumerable reggae riddims as a member of Soul Syndicate, Roots Radics and the Aggrovators, to name just a few. (That's his hi-hat that producer Bunny "Striker" Lee magically transformed into the famous "flying cymbal" sound.)
After spending the past seven years living in Colombia and touring throughout South America, Holland recently relocated to New York City. In advance of the release of 1000 Watts, Holland opened up the door to his Brooklyn apartment and showcased a few of the musical instruments he's collected during his world travels, explaining how they've been deployed on his albums.
The 45 Record Box
This is my first 45 box. Or rather, the first 45 box that's made it after all these years. I got this at Mister Tee's One Stop Rock Shop in the West Midlands. I would go when I was in college, and they sold costumes and fancy dress, witch hats. But you could also buy records. I was into rock and heavy metal. West Midlands has a big heavy metal culture. At that time it was Anthrax, Metallica, Iron Maiden. You also had loads of 45s, and the owner was into Northern Soul. I went from being into rock and metal to getting hip to 45s and Northern Soul. What Northern Soul enthusiasts are casting off generally has fuzz guitar and funk instrumentals, stuff that doesn't fit the "soul" category. So I bought stuff from that era, but it was 45s full of local dance crazes or vocal group b-sides, stuff that wasn't hitting it on the head. I picked up records that fell outside of that.
The Thumb Piano
I bought this in a Brighton percussion shop, an African store there back in 2002. I was told it was a mbira. I've recorded it a lot. It's featured on "Father" off of the 2007 The Quantic Soul Orchestra's Tropidélico. I recently pulled it back out as we started playing that song live again. I've traveled with it a lot. It's like the Fender Rhodes, which also uses tines. Tines are really unique, and you get some good harmonic distortion with this. I changed this a little by putting a spring inside the box. You're always looking for instruments that bridge the electronic and folk music world, but the thumb piano melts the two together. I'm big into Konono No.1 and also Baloji, the Belgian rapper [who also uses the mbira].
It's big in Earth Wind and Fire, too. Right?
It figures into a lot of Afrocentric jazz like Phil Cohran, too. I love those recordings, especially that African Skies record.
The Accordion
This is a Hohner Tres Corona accordion that I got in Bogota. Hohner were super-smart, but they marketed different accordions to different parts of South America and this one was marketed towards Colombians. The Erica is smaller, and it was marketed to the Dominican Republic, and there's a different make that's popular in Brazil. This one is popular because it has "three voices."
It didn't take too much to be into the accordion in the '30s and '40s, because it was the most popular instrument. You could buy music for accordion, and it was encouraged in households. The Tres Coronas have to be loud, because they play with percussionists. For Tex-Mex, it has a lot less tremolo and is a lot drier. Someone like Esteban Jordan, the way he plays is very dry and he uses lots of jazz chords and effects, whereas the Colombian is diatonic. This one is from the '50s, with this Mother of Pearl inlay, and it looks like a Cadillac with the grill and all that.
Did you play instruments growing up?
I learned to play guitar. My sisters picked up more instruments like piano. I was trying to go against the grain, getting into metal. But we had a harmonium in the house and piano, ukuleles and all that. I picked up the accordion when I lived in Colombia because I really enjoyed the music from there. I wanted to learn the songs. The nice thing is that the format for cumbias is two percussionists and the accordion so it's easy to learn. I just learned with the records. I lived there for seven years before moving here.
The Guitar
This is used on Flowering Inferno?
This is a Kay Guitar, but Kay is what we would call in England, "a supermarket guitar," like a Tesco. It's like the guitar you could get at 7-Eleven. It's a semi-hollow body. I bought this from a friend in Los Angeles, who also made me a hybrid electric banjo- Cuban tres.
Woah, where's that instrument?
[Laughs] People talk about mojo and whatnot, but when you're writing, there is an essence to an instrument—especially a hollow body instrument—that contains a spirit or good luck.
What does this one contain?
This guitar's got song in it. It has this vibe, and it presents nice ideas when you play it. It's weird for a hollow body that there's no slit for it, but it has resonance.
The Tape Echo Unit
I use this on the new album. It has this King Tubby's style of effects to it. Usually when I'm mixing, I have one channel that has tape echo on it. The nice thing about old-style tape echo, it has this drift to it, multiplying and changing depending on how long it runs, getting more distorted or trebly and the harmonics come out of it. That's what's really special about using real echo units.
The new album is based on Jamaican dub and that kind of sound. Is Flowering Inferno rooted in that sound?
For the new album, I wanted it to be a meeting place of Anglo-Caribbean vibes with the Spanish Caribbean side of it. It's like reggae versions of Colombian standards, but also it's reversed, with Colombian versions of reggae songs. But on this new record, I had never done a straight-ahead roots thing. That's the nature of this with a traditional reggae rhythm section. One of the main reasons for that is because I worked with Santa Davis, who has drummed with Tubby and was in the Aggrovators. In some ways it's more traditional reggae. I wanted to do something more in that zone because I'm getting more into sound, more into how things are recorded and mixed and I wanted to take time to not just do pastiche, but do it properly, recording to tape, working with Santa, etc. I really like leftfield dub, where it's a version of something different or an interesting take. That's what I tried to do with this album, rather than a Marley tribute.
The Marimba
Where did you pick this up?
I used to tour a lot as Quantic and his Combo Bárbaro, and we did a few records with Alice Russell. During that time, we were into pacifico music, music from the Pacific Coast of Colombia. Currulao, Bunde—stylistically, these rhythms are very specific to that coast. We had this portable marimba made for touring that you can take apart. This is a bamboo resonator and chonta wood, which is very resonant. The nice thing is that it all detaches and folds up. It's 'inflatable.' I use marimba quite a lot in my recordings. It's similar to the mbira in that it distorts very well and you can make it sound electronic quite easily.
I was invited in 2014 to be a judge at this big marimba contest in Calle, Colombia, called the Festival de Música del Pacífico Petronio Alvarez. It's a three-day event that's really fun. It's a stadium full of people playing marimba. It's becoming more and more popular on a national scale.
—Andy Beta
—Photos by Elyssa Goodman