FEATURES
Breaking Down the Kinetic Funk of ZuluZuluu
By Mosi Reeves · July 12, 2016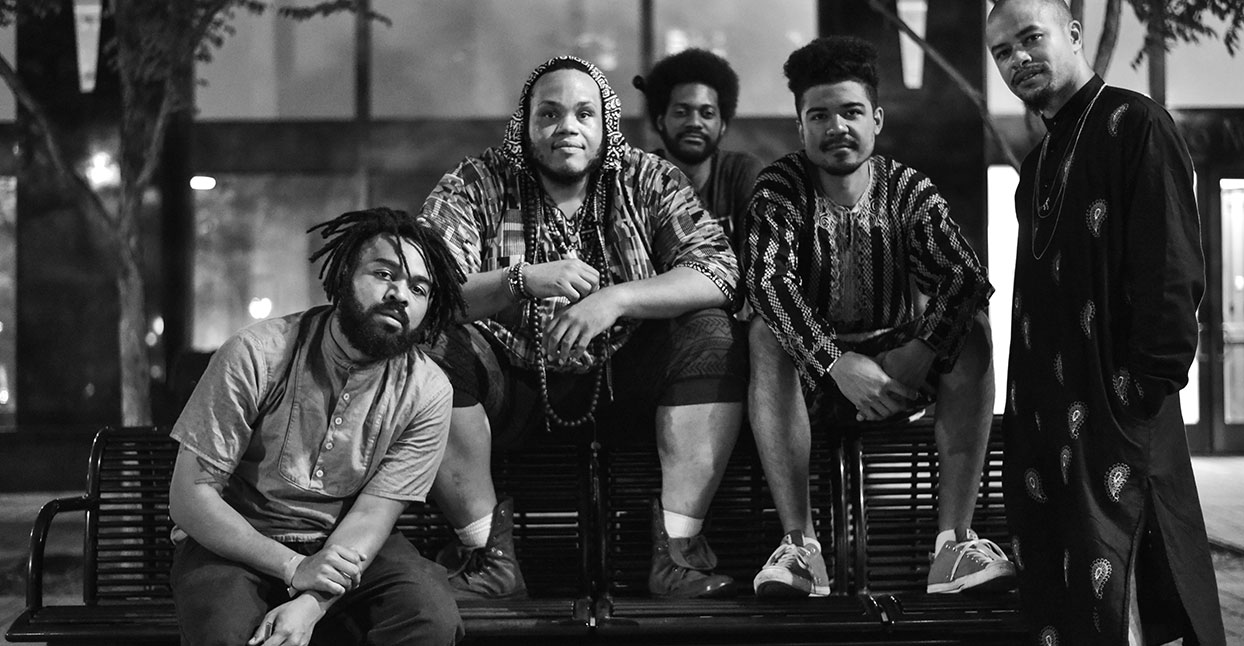 The six multi-instrumentalists that comprise the Minneapolis band ZuluZuluu–rapper Greg Grease, Proper-T, Myk, Trelly Mo, DJ Just 9, and ΔRT PΔRTE–are well-known in a city famous for its soul, funk and hip-hop scenes. Since forming in 2013, they've performed concerts with Femi Kuti, Busdriver, Dam-Funk and other touring artists, and have earned a reputation as an exuberant live act. The collective's debut, What's the Price?, fulfills that promise with a startling and imaginative suite of fuzzy synth-funk, from the impassioned title track's indictment of police brutality—which seems particularly timely in light of the recent shooting of Philando Castile by St. Anthony, MN law enforcement on July 6—to sensuous electro-love crushes like "On Our Way" and "Bicycle Seat." It's a sign that the group may be destined to become more than local heroes, while reflecting their Afrofuturistic ideals and lineage as the latest manifestation of the Minneapolis sound.
.
00:10 / 00:58
When did ZuluZuluu form?
Greg Grease: We formed ZuluZuluu in 2013.
Myk: It really just happened over time. It was a culmination of us making music together. Individually, I met Greg first through doing some production for him as well as some video production work for him. We'd jam and do music together. Then I met the rest of the guys through Greg. We all met and were intermingling through doing music. I think Greg had the idea of having the band—he was the one who was, like, "We may as well just do this."
Greg: Me and Just Nine, we connected through a group that we were in in 2005 called the Usual Suspects. It was a rap group that we were in with three other guys. So we were doing that for a while. When we stopped, I started doing my own solo thing, and Just Nine stayed on as my DJ. So we always had a connection. [During my solo career is] when Myk came into play. Me and Proper-T are cousins, so we would always make music together. As Myk was saying, it's just a culmination of us coming together after many years of making music together, and deciding that we would team up.
Judging by ZuluZuluu's music and visuals, it seems like you have a specific aesthetic you want to communicate.
Proper-T: It's interesting you say that. We're all super different, but one thing we share in common is love for the music and love for the studio work as well. When we get into the studio together, it feels like something super thick and deep.
ΔRT PΔRTE: Also, the love for the tradition of music, and tradition in general.
Greg: I would also have to say that me and [ΔRT PΔRTE] played in a funk band several years ago. For me, that was a major influence on this project. It was us coming back together in a new, updated version. I think that had a lot to do with the aesthetic and the overall art direction of what we're doing.
Myk: And at the same time, we're black artists. Our aesthetic is a reflection of us as black artists. Our perspective comes from that, and a focus for us is Afrofuturism and uplifting black folks in the music.
On the album artwork, all of you are wearing colorful African-inspired clothing, and many of you are adorned with facial jewelry.
Greg: That's our style. That's how we dress most commonly. When we were thinking of the art direction for this project, we wanted to show our personal style, and bring a different flavor than what's going on currently in music.  
How did you discover "Black Maybe," the Syreeta Wright track that you cover?
Greg: DJ Just Nine, he's a digger. We're all diggers and beat makers individually. So it's a part of record digging, paying homage and reflecting on where we come from.
Myk: Growing up, all of our parents were heavy into music, and they all had records and whatnot. We all just got indoctrinated into soul and funk music as youth. We've done other covers that we haven't recorded. We definitely appreciate the ancestors and those who did this music thing before us, so ["Black Maybe"] was us paying tribute to that. The subject matter of the song still resonates even in 2016, so it was like, 'Why don't we do this song, now since it's still so potent.' It's really just about the struggle that black folks go through, in terms of oppression and racism. You know, kinda keeping your head up as you go through this—not succumbing to the struggle, but rather getting stronger from the struggle.
Greg: It's non-religious uplift music.
Proper-T: Our music is deeply spiritual. It's something that we stand by. But I think what Greg means by 'not religious' is that it's a little unorthodox, and it's also all-encompassing. Personally, I'm influenced by and have relationships with people from all different walks of life. All of us do. I think the term "religious" is a little limiting. But when you listen to it, you do feel a spiritual dimension.
.
00:10 / 00:58
How did you come up with the name ZuluZuluu?
Greg: ZuluZuluu was just the idea of black power stacked on top of black power. It's like Greg Greg, even though my name is Greg. [laughs] And we're just on some future, you know? We're all linguists, we like to play with words. We talk about wizardry a lot. We're all wizards. It's all just a play on words and paying homage.
So how do you make music? Trelly Mo lives in North Carolina, Art Parte lives in Oakland, and everyone else lives in Minneapolis.
ΔRT PΔRTE: I moved out to the Bay after we had come up with many of these songs, and I would fly back [to Minneapolis] periodically to play shows. Being in tune with everybody is instrumental in my being and who I am.
Myk: The core group, we usually just get together and record together. Once we have that foundation, we'll send that foundation off to the remote folks. Or vice versa, where ΔRT PΔRTE has sent us an idea that we developed, and then we further develop his idea.
Greg: ΔRT PΔRTE played the guitar and bass guitar on some tracks. And Trelly Mo, being a producer, played some synth and some percussion work. We send some stuff over to him, and he's a wizard, so he'll play stuff and send it back to us. I believe "Fall Behind" came about from ΔRT PΔRTE sending us something.
So you've been together for three years. Have you been working on What's the Price? that entire time?
Greg: We wrote some of the songs a couple of years ago. Then we took a hiatus. Everyone also does solo work, so we were working on other things. Then at the top of [2016] we just buckled down, and decided we needed to stop messing around and put some music together.
Myk: We had some songs that we've been performing for a while before we actually decided to lay the record down. We had a few songs that we already had been doing, and some covers. But it really wasn't until the end of last year and the beginning of this year that we got in the studio and started actually putting things to record, like recording and stuff. We wrote over half the record since December.
One song that stood out to me is the title track. How did you come up with "What's the Price?"
Greg Grease: I had bought a talkbox, so me and Myk were messing around with it. Myk is a synth wizard, so he synthesizes with the Moog and the Korg. So we're just messing around with it, figuring out how to speak words on the talkbox, and we came up with that chorus. From there we created and built the entire track.
Myk: The feel of the song definitely came from the atmosphere and the climate of what's been happening with police brutality. The mortality rate of black men is crazy at it is. So were feeling this energy, and we channeled the energy that everyone in our community has been feeling into the song. It was a cosmic thing.
On the Bandcamp site, you tagged What's the Price? as "Minneapolis Sound." When I think of that phrase, I think of a very specific funk sound that was popular in the 1980s. How is ZuluZuluu connected to that?
Proper-T: The Minneapolis Sound is much more than a sound. It's the foundation of this city, in terms of art. Dating back to when Prince was doing his thing, this city has always been what it is now: so many different artists doing so many different things. Granted, there were a lot more bands back then. Affiliating ourselves with the Minneapolis sound is, again, just paying homage to the culture in Minneapolis—which is historically groundbreaking, and always will be.
Greg: We're trying to pay homage to those artists from the '80s that really were on a national market, that we really liked when we were kids. We're hinting at that a bit, but we're trying to do something new. It's trying to carry the torch. and bring it to the next level—the 2016 and 2020 level.
Why do you call yourself wizards?
Proper-T: Because we're all scientists, man. We're in the science of life.
Myk: Music is magic, man. Frequencies…it's all magic. For us to be producing music is for us to be making magic.
Proper-T: It's really why I'm inspired by these guys. The concept of a wizard is that you take a thing and turn it into another bigger thing. We really channel a lot of our experiences and inner being into our music.
Greg: One of the originators of the wizard [concept] is a very good and dear friend of all of ours who has passed away. His name is Free-One (Abdulle Elmi), he's a rapper. We're carrying on his legacy with the wizardry.
—Mosi Reeves