FEATURES
Cherry Nishida of Zouo and S∵H∴I on a Lifetime of Punk, Horror, and the Occult
By Alex Deller · April 23, 2021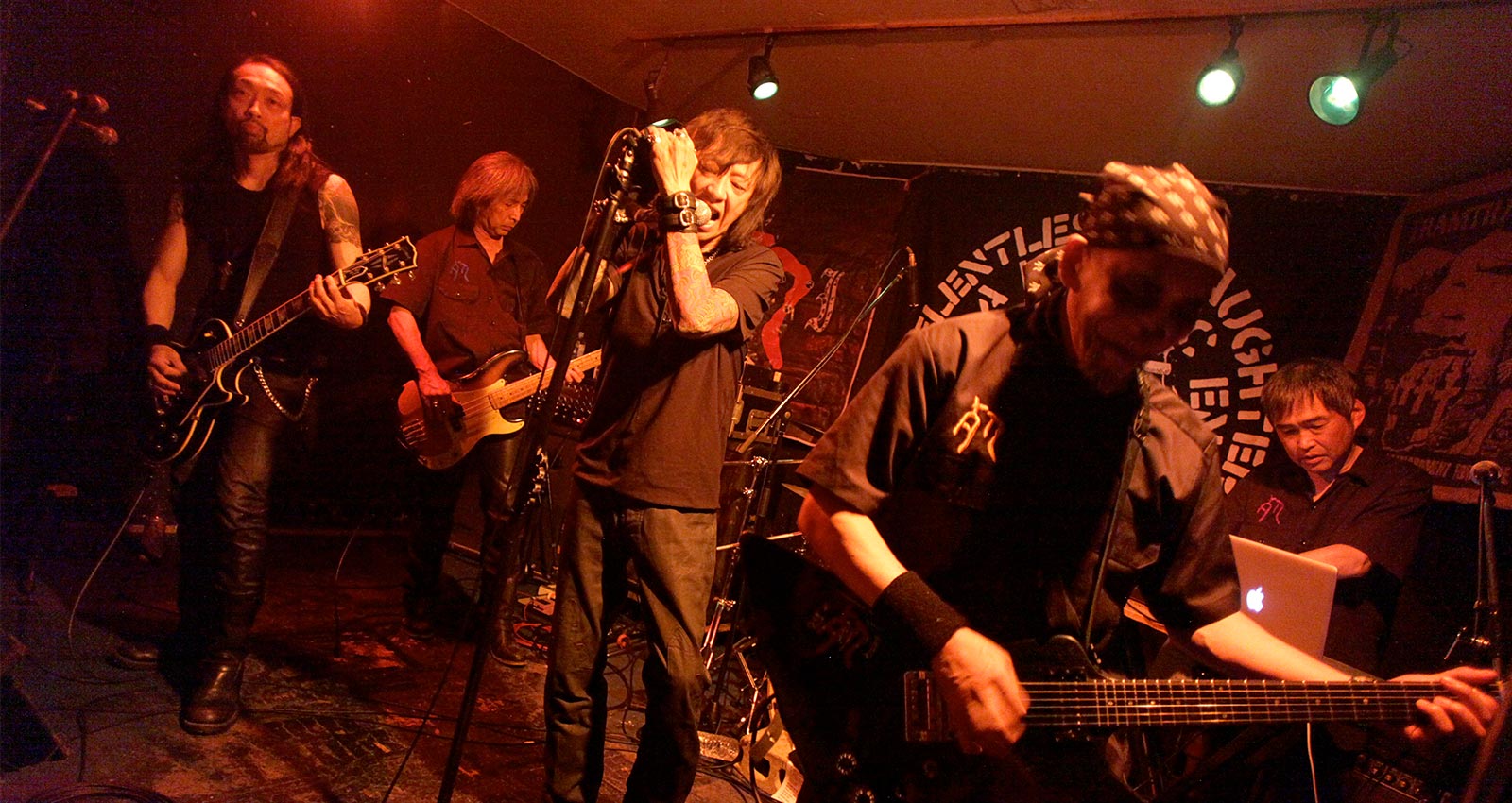 Despite being globally feted by fans of extreme punk rock, language barriers and the scarcity of both information and physical products have lent the Japanese hardcore scene a sense of mystery and insularity to foreign fans. It has historically required a combination of time, patience, and cold hard cash to fully unpack. While much of the music is more accessible than it has ever been, trying to get one's head around the context within which these bands, labels, and individuals operated isn't always easy, especially since many of the scene's figureheads—GISM's Sakevi, The Stalin's Michiro Endo, Kawakami of Disclose—have either passed away, or remain cloaked in legend.
Merch for this release:
Vinyl LP, T-Shirt/Apparel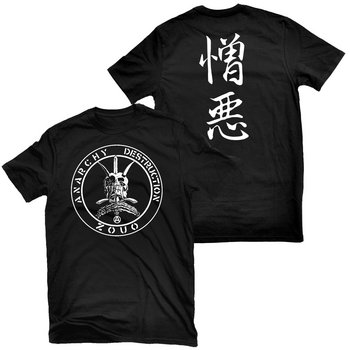 While they might not have had the reach, longevity, or genre-spawning legacy of bands like Death Side or Disclose, Osaka's Zouo and their frontman Cherry Nishida have been the source of no small amount of fan conjecture. An outsider oddity who released just six songs in their lifetime, Zouo owed a debt to GISM in terms of their genre-bending strangeness and perverse outlook, while also sharing a sense of musical connection with European metal acts like Hellhammer, Sodom, and Bathory (all of whom also released visceral, boundary-altering work in 1984). The band's malevolent influence can be heard in modern acts such as Integrity, Devil Master and GAME, and with surging collector prices, it's heartening that Relapse Records have brought Zouo's work back into wider circulation, along with the latest album by Cherry's most recent project, industrial-smashed experimentalists Struggling Harsh Immortals (aka S∴H∵I).
"Zouo was originally a skateboard team, but the skate park got closed so we started a band," says Nishida of the band's rather workaday origins, which effectively saw one rebellious activity traded in for another. "After about two months of starting to play our instruments, we were suddenly asked to play a show. As there were no hardcore punk bands in Osaka, we decided to play our own and show people how."
Drawing from the likes of Crass and Discharge, as well as homegrown acts like Memai and Nashi, the band roared to life in 1981, developing a sound that dripped with feral menace. "We were inspired by satanic metal bands," says Nishida. "We took that and mixed it with hardcore punk. Most information about hardcore punk came to Japan through various filters and direct information was pretty rare, so Japanese artists filled the lack of information with their own imagination." Accompanying the off-the-hook music was a similarly wild look, topped, in Nishida's case, with a signature magenta mohawk. "That was mainly inspired by imported zines," says Nishida, with a laugh, of the band's aesthetic. "Many were surprised and laughed at how I looked. There were many gangs in the city, so we spent many nights fighting."
Merch for this release:
Vinyl LP, T-Shirt/Apparel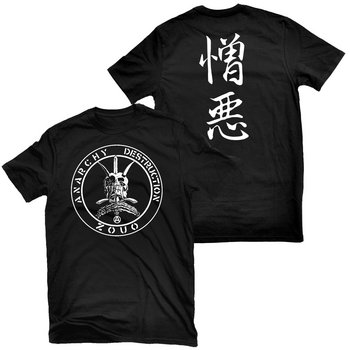 Such violence wasn't relegated to street fights with biker gangs and hoodlums, but spilled over into the band's performances. "We were always followed by the Zouo army [aka the Zouo Zombies, who featured S.O.B. singer Tottsuan as their leader] who'd be violent at the shows," he says, describing incidents where venues were shut down and attendees carted off to jail. Despite the chaos, the band had a diligent work ethic, somehow managing to play five or six shows a month and sharing stages with many of the Japanese scene's early trailblazers, from GISM and The Execute to fellow Osaka punks—even inspiring Nishida's younger brother, Butcher, to join a fledgling Outo along the way. "I suggested he should leave small local gang life," says Cherry. "Telling him to look for better things to do…to play his own music."
Despite making an impact live, Zouo took their sweet time committing their chaos to tape, and the results, while electric, were sparse. Two songs appeared on the Hardcore Unlawful Assembly compilation and four on the legendary The Final Agony EP, both released by AA Records, the label owned and operated by long-running Osaka punks Laughin' Nose. "It was our first recording experience, so everything was impressive," says Nishida of recording The Final Agony. "Our bass player [Happy, also of Cobra] brought the ideas at first, and then arranged them with the other members. It was recorded on 8-track, and took six hours for recording and four for mixing. We had to do it low-cost because we had no money. We also didn't have enough time for rehearsing, so everything was done with pure momentum." The results possess a dark, urgent energy, with tracks like "Making Love With Devil" and "Bloody Master" loaded with glowering demonic imagery.
Nishida suggests the record sums up the "irritation of suppressed, unaccepted beings" and was the result of "antipathy to the smooth, fake, bright world." Horror, too, played an obvious role, and Cherry mentions The Texas Chainsaw Massacre, Night Of The Living Dead, and the work of H.P. Lovecraft as influences. "From childhood, I had sympathy for the villain rather than the hero," he says. "Since I was a kid I liked horror movies, and when I became a teenager I started searching the library for those kinds of books, unconsciously becoming devoted to horror and the occult."
The Final Agony still stands as a raw, unique slice of hardcore, beloved by fans old and new. Its lasting impact, of course, was entirely unforeseen at the time, and by the end of 1984 the band was already starting to break up. "I started to feel like there was not much hope for musical progress," says Nishida. "I also started to feel disgusted by the scene—as it became bigger, some bands started to sell out and use our scene as a stepping stone."
Merch for this release:
Vinyl LP, T-Shirt/Apparel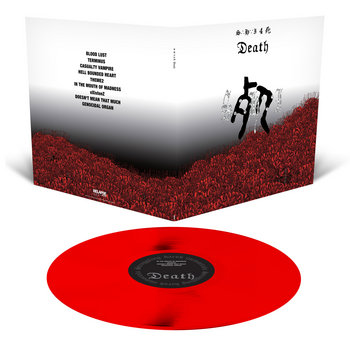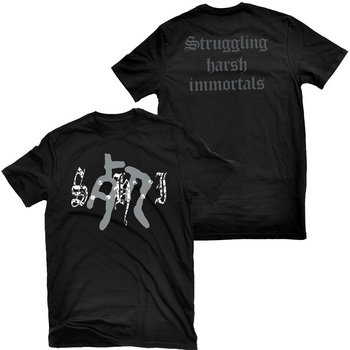 Thankfully, this weariness and disdain didn't mark the end of Nishida's musical journey: He contributed vocals to one-shot oddity, Nankai Hawkwind (alongside past/future members of Acid Mothers Temple, Hijokaidan, SS, and Boredoms), while an overseas jaunt saw him temporarily join forces with Pittsburgh's Half Life. He returned to Japan reinvigorated, cajoling former Zouo Zombies into joining Danse Macabre—a dour, Samhain-influenced horror punk act that Nishida wielded like a spirit board to further channel his fascination with the occult. When asked why Danse Macabre called it quits, Nishida's response is matter-of-fact but surprising: "Oh, well, because I was arrested and went to jail." He doesn't divulge any further information beyond the fact that he was effectively out of commission for a decade: "Japanese jail is strict," he says. "No free life inside, no music."
This brings us to S∴H∵I, a vastly different entity from any of Nishida's prior bands, drawing from industrial, hardcore, and thrash to forge a wall of thumping, theremin-infused electronic metal that somehow brings to mind Godflesh, Terminal Cheesecake, Grave New World, and White Zombie. "After a few days out of jail I went to meet an old mate," says Nishida of the project's inception. "He said to me, 'You must sing or you will just go back to jail.' So I decided to do a band."
Merch for this release:
Vinyl LP, T-Shirt/Apparel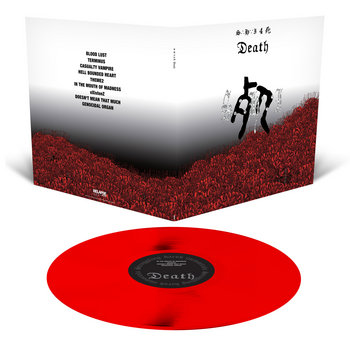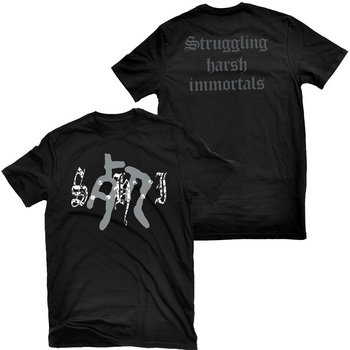 Nishida mentions Nashi's Koshi and Keigo of The Stalin as the linchpins who helped him kickstart the project, and the list of additional collaborators reads like a rolodex of Japanese punk history, with other members of Zouo, Outo, Danse Macabre, The Rude Boys, 1 Minute, Poikkeus, and Dororo all playing a part. After releasing two EPs with the ever-reliable Crust War (who also reissued Zouo material back in 2011) and a CD via Black Lodge, the band find themselves working with Relapse, thanks, Nishida says, to the assistance of Integrity's Dwid Hellion.
Musically, of course, S∴H∵I is pulling from a very different place than his previous projects, but Nishida doesn't particularly differentiate and certainly doesn't see himself consciously pulling away from the hardcore scene that formed him—nor does he think he ever will. "I have an omnivorous musical taste and everything comes from the same source," he says. "For me, hardcore is a mental thing—something that's always running ahead and breaking out from stereotypes. I should have changed through various experiences but yet I know my core hasn't changed. Sometimes I do imagine how it would be if I haven't lived this life as an outsider…but I think I'll be an outsider until the time I die."