FEATURES
Zackey Force Funk Makes Music For Lowriders
By Max Bell · August 23, 2018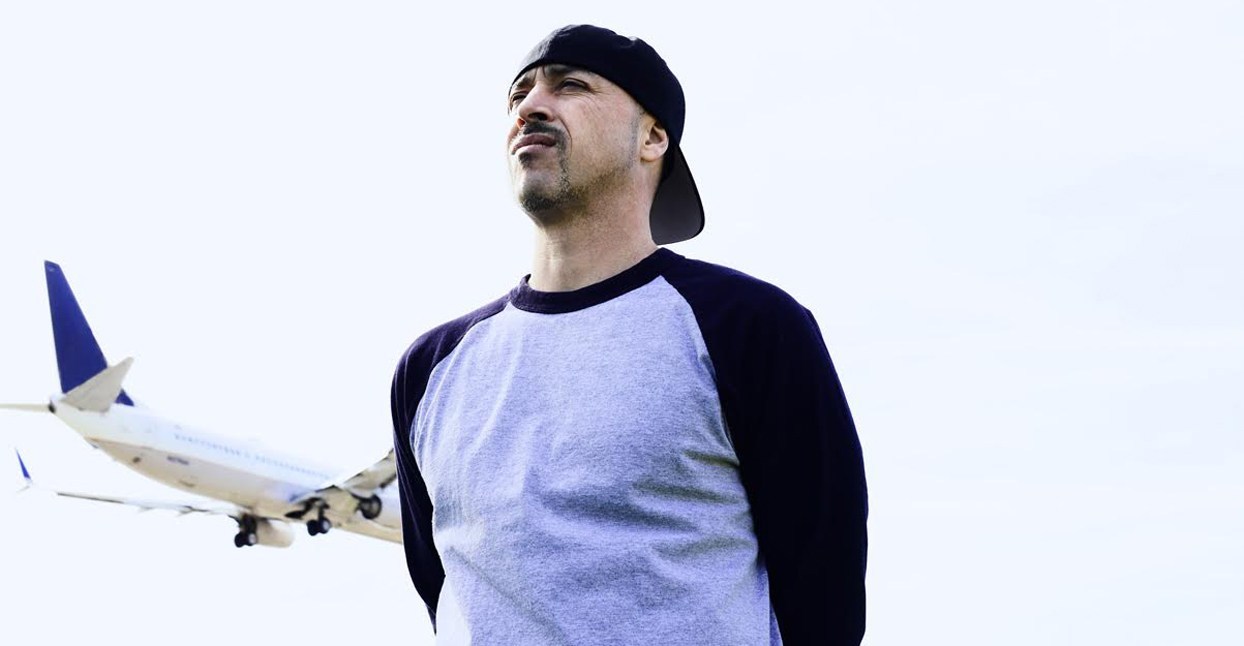 It's easy to dismiss the platitudes of contemporary life coaches who preach about spirituality and the power of visualization, while simultaneously touting their Instagram brand partnerships. But when someone whose life has been as turbulent as Zachary Hose's starts talking about self-actualization, skepticism has a way of vanishing.
Merch for this release:
Vinyl LP, Compact Disc (CD), 7" Vinyl, Cassette
"You really do manifest shit," Hose says over drinks at a bar in Signal Hill, a small city in Los Angeles County bordered on all sides by Long Beach. "If you stay positive and visualize things, you'll stay excited about it and it happens."
After a series of felonious, drug-addled years on the cartel-run blocks of his hometown in southeast Tucson—as well as several years inside Arizona's heavily segregated Winslow prison—Hose now works as a mechanic for SpaceX. But at night, he's Zackey Force Funk, recording lurid, half-rapped, half-sung gangster narratives over everything from synth-heavy funk to psychedelic electro (see his Exorcise Tape with Tobacco, under the name Demon Queen). And with the release of July's Bodyrock Shotgun, he's made the best album of his career.
"The vinyl [for Bodyrock Shotgun] sold out in six days," he says. "[But] I have to spend all of my vacation time doing shows instead of relaxing. I can't remember the last time I relaxed… I go a million miles an hour."
Case in point: instead of using his only day off to rest before a six-day work week, Hose is sipping beers and sharing his life story. He talks about the time he saw a crowd of "cliqued-up veteranos" sing along to "Press Play," the XL Middleton-produced standout from his 2014 album, Money Green Viper. To date, "Press Play" has sold out on vinyl four times over, and currently boasts over a million plays on YouTube. Compared to sales and streaming numbers in more commercially salable genres, these figures might seem insignificant. For an artist in L.A.'s vibrant—albeit insular—modern funk scene, the numbers are staggering.
"The music industry might blow you up, but you'll never get respect," Hose says. "But I have gangsters come up to me, shake my hand, and say, 'Thank you for making 'Press Play,' dawg.' I'm making this shit for them."
Merch for this release:
Vinyl LP, Compact Disc (CD), 7" Vinyl, Cassette
Released on XL Middleton's MoFunk Records, Bodyrock Shotgun is a fully-realized modern funk classic, and songs like the title track and "Satis-Fakshun" rival "Press Play" both in exuberance and infectious instrumentation. Working with a cadre of the modern funk scene's best musicians, including Middleton and Brian Ellis, who plays keys for Egyptian Lover (one of Hose's formative influences), Hose's music has never sounded better. The album was made almost entirely using analog equipment, and its songs revolve around thick, syrupy basslines, glinting synths, and punchy drums. Occasionally, there's a wailing guitar solo, or the robotic warble of a talk box ("Money Weighs a Ton"). At times, they sound as if they were pulled directly from dust-covered vinyl pressed in the '80s.  
"From the engineers to the mixers to the producers to the artists—I got lucky," Hose says. "I almost feel like they were trying to compete to see who had the best song on the album. Thank god for the modern funk scene."
As he did for previous albums, Hose recorded his vocals at home on the same cheap microphone he's used for over a decade. He can afford both better equipment and studio time, but he's shy about the facial contortions he makes when moving between his sensuous, suggestive Prince-like whisper and the helium, Mickey Mouse-like squeak that makes him sound both gleeful and slightly unhinged. Though Hose typically spends hours mixing single words to achieve the best sound, for Bodyrock Shotgun, he turned many of his vocals over to Middleton and company.
"It was hard for me," he says before letting out a relieved exhale. "But if you notice, it came out a lot differently… It worked."
Merch for this release:
Vinyl LP, Compact Disc (CD), 7" Vinyl, Cassette
Hose's songwriting has also never been stronger. In the past, he's written about the joys and ills of narcotics, guns, and trysts with lascivious women, but on Bodyrock, his writing achieves a rare combination of catchiness, narrative concision, and world-building specificity. Moreover, between the lyrics and the instrumentation, it's as if Hose has finally found the midpoint between classic funk and G-funk. He couldn't be happier about operating in that interstice or making music for the community that shaped him.
"I made this record because I want my fanbase to be 100 percent gangster-ass cholos. That makes more sense to me than Hollywood," he explains. "I want my shit to be played at all of the lowrider shows, forever."
Now that Bodyrock Shotgun is out and is connecting with his desired fanbase, Hose is finally thinking about slowing things down. He has one more year on his contract at SpaceX. When it's through, he may take a much-needed break to record more frequently and potentially begin a new career as a songwriter.  
"I have so much good music that's coming to me, I'm writing so many good songs, and I either don't have time to record them, or I know I can't pull them off," he explains. "I really can't sing. I only have style. So I want to start giving that stuff to other people."
As if all of that weren't enough, Hose is also writing a memoir that will chronicle everything from his time in prison and the daily travails of working for SpaceX while juggling a music career. He believes the wisdom he's acquired over the years could help readers from all walks of life. He's probably right.
"I learned so much going through all of [the] shit [I've experienced]," he says. "If anything bad happens, I know how to deal with it on an emotional and spiritual level."