FEATURES
Yuno Steps Outside the Bedroom to Become a Household Name
By Casey Jarman · June 14, 2018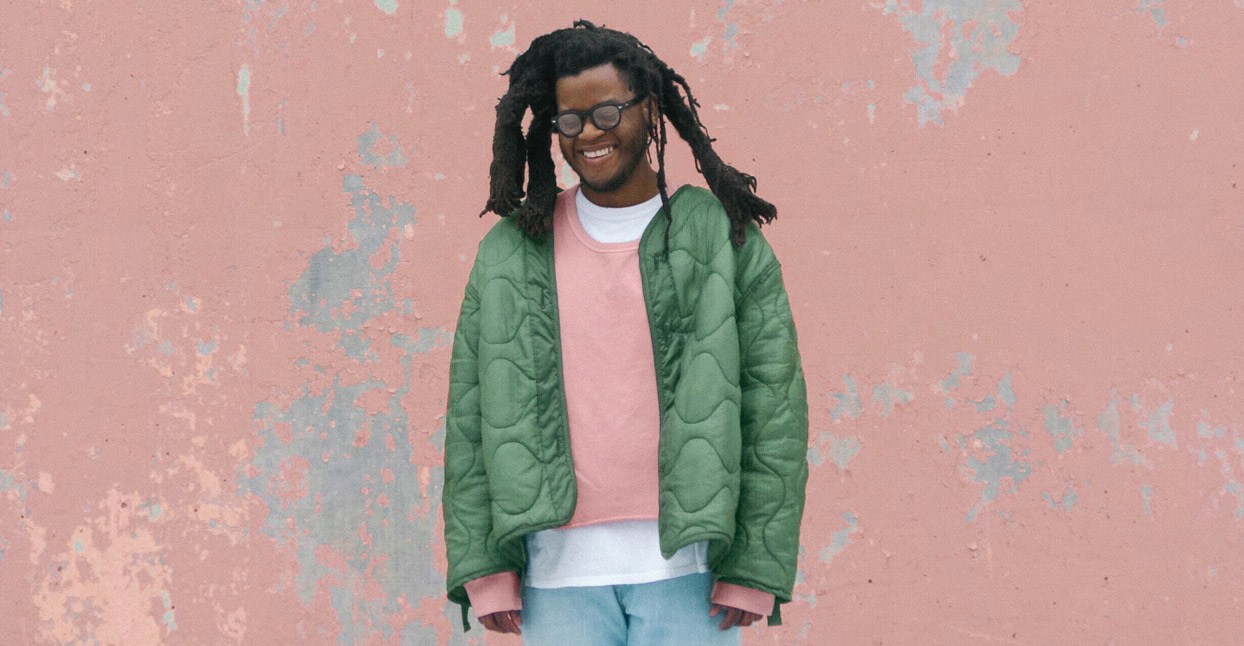 If a predominant fever dream of the internet age is the legend of the kid who makes music in his bedroom becoming a rock star overnight, Yuno Moodie is the next best thing. He's a 27-year-old homebody who has been crafting melodic, layered psychedelic pop in his bedroom at his parents house in Jacksonville, Florida for a decade—with scattered acclaim and some modest successes along the way—who finally found his big break. Earlier this year, Moodie (who records music under his first name, Yuno) landed a deal with the influential Seattle indie label, Sub Pop. Not overnight stardom, perhaps, but a pretty life-changing development nonetheless.
Until signing with Sub Pop, Yuno could only be heard or seen on the internet, and the small community of musicians he kept in contact with were exclusively online friends. When his new label arranged for Moodie to open nationwide dates with Twin Shadow earlier this year, he hadn't set foot on a stage since high school. He'd only been to a couple of shows in his life. Moodie wasn't sure quite how to go about performing his songs live, but he knew he needed a band. He messaged a Jacksonville-based drummer who had once reached out to him about his music. "The first time we ever met in person was for band practice," he says. "Same thing with my other bandmate. It was like 'Oh, wow, I'm actually leaving my house, and it's for band practice.'"
Merch for this release:
Vinyl LP, Compact Disc (CD), Cassette, T-Shirt/Apparel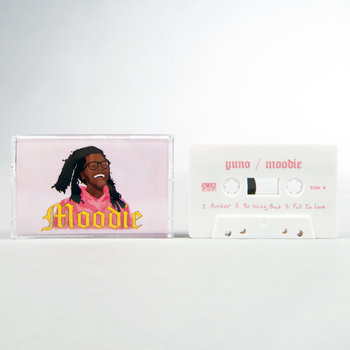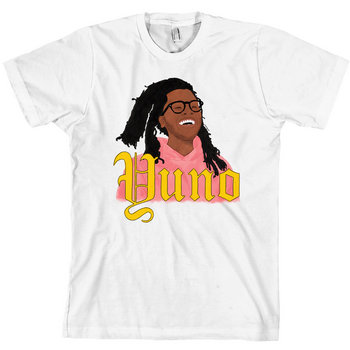 The five-city tour was exciting and occasionally terrifying, he says. "I would get especially nervous right before I got on stage. I'd be fine the whole day sometimes, like 'This is a piece of cake,' and then right as it became real I'd think, 'Oh no, this is going to be terrible.'"
Visual art, not music, was Moodie's first love. He'd draw pictures in class and turn them in for extra credit. He discovered his love for video while making a short film about pirates for a school project—and, incidentally, a rap song to go with it. His cousin recorded a beat for him to rap to. His friends loved the song, so he kept up the rapping. "And then I learned how to make beats," he says. "And I realized that I could add guitar and make actual songs that weren't just funny raps. That's how I got into music. But I was always interested in drawing and photography and making videos. That's one of my favorite things about music: I can combine all these things together. It's cool to do those things myself and make my vision come to life."
The key word there is "myself." It's a word Moodie uses a lot, both in and out of his music. As long as he has pursued a career in music, he's done it as a solitary pursuit. He doesn't speak ill of his native Jacksonville, but it's clear that he doesn't feel fully at home there, either—Moodie doesn't even drive in a city like Jacksonville where you need a car to get around. He's planning a move to New York City in the near future, and he sees himself becoming a more social person there.
Moodie is a strange fit in Jacksonville. He's the son of Jamaican immigrants (via the United Kingdom) and he's been vegan since high school. Growing up, his favorite color was pink. He wore pink clothes—which caused him some grief until a more popular classmate followed suit—and painted his bedroom pink at home. His music tastes were diverse and unapologetic, ranging from boy band pop to punk bands like Rancid and AFI. It was skateboarding culture—the refuge of outsiders everywhere—that finally brought fashion, music, and visual art together for Moodie. Skate videos encouraged him to create his own esoteric style, and they turned him on to a lot of new music to boot. As Moodie grew up, making music in his bedroom became his favorite tool for self-expression. And there's an innocence in the way he talks about writing his songs, even now.
"I really get excited when I make a sound or a melody that I like, or when I'm happy with the way a song comes together," he says. "Or when I have some feelings that I really want to get out and I can put them in a song. It's really helpful in a lot of ways: it's fun, it's theraputic, I feel alive. I like having it as my own thing."
After high school, he began releasing his solo tracks under the name "unouomedude" (pronounced "You know you owe me, dude"). The songs ranged from sparkling synth-pop experiments to Grizzly Bear-esque choral dream-folk. But unlike most young artist's musical baby pictures, Moodie's early music is melodically, musically, and lyrically interesting almost without exception. His drive, Moodie says, is to create sounds he's never heard before. If a song-in-progress begins to sound familiar to him, he leaves it behind and starts something new. That strategy leads him to some sonically fascinating—and utterly genre-defying—places. And even on his early work, he was toying with themes that would become familiar territory: a sense of claustrophobia and longing; a desire for self-sufficiency. On his 2010 track "Buildings," he sings "Buildings surrounding me / People they stare at me / This city falls asleep / And in my hand this place will be."
Merch for this release:
Vinyl LP, Compact Disc (CD), Cassette, T-Shirt/Apparel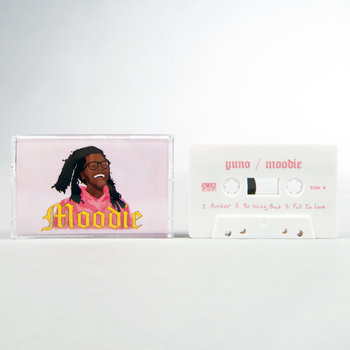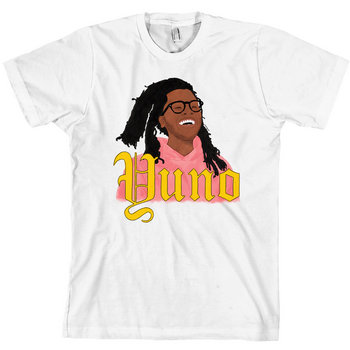 In 2012, after switching his nom de plume to Yuno, Moodie released a single called "Sunlight," a song The Guardian praised wildly while teasingly labeling it "the feel sad song of the summer…surf pop goes miserablist." The single gathered press from all corners of the internet (and landed Yuno on the radar of Ishmael Butler, the Digable Planets/Shabazz Palaces cofounder who does A&R for Sub Pop) and helped Yuno raise money for a planned debut full-length via Kickstarter. The Kickstarter was successful, and even though that album has yet to come to pass, Moodie says the last six years of relatively quiet output have been invaluable in teaching him how to record his own music. And on his new EP for Sub Pop, Moodie, the progress is crystal clear in the fidelity and vision of the songs.
The six tracks on Moodie vary greatly in form and function. "Why For" is a heavenly slice of drum machine alt-rock reminiscent of White Pony-era Deftones: a mutual break-up song with delivery that's part hip-hop and part Robert Smith. "Fall in Love" is floaty, almost ambient with a playful Sade-style delivery and a pleasantly rumbling bass line. "No Going Back" is all big-beat pop sugar in the vain of Unknown Mortal Orchestra, with timeless, summery hooks that it's not difficult to imagine being delivered by The Jackson 5.
These are the first songs that Moodie has ever had properly mixed or mastered, he says. And so far, the working relationship with Sub Pop has been a dream. "I was nervous at first," he says. "But after I started sending in songs, I never got a 'You need to do this' or 'We want to hear a song more like that.' I chose the track order, I made the album art. They've definitely been cool about letting me do my own thing. It's been pretty much just like it's always been. But I also have a team to help me push these songs and get them out there. It's a great step forward."
One gets the impression that Moodie is taking all of this in stride. When we spoke, he was cooking rice and peas on his parents' stove (he explained that he likes to make vegan versions of his family's Jamaican recipes; jerk jackfruit is one favorite). He was still trying to adjust to being back home after the tour with Twin Shadow: "It's strange just being in a venue in the first place, and then I'm on stage at the microphone, playing these songs that I made for my own entertainment in my bedroom in front of people."
He talks about his plans in careful steps. Moving to New York City. Working with an outside producer in a limited capacity. Learning to improvise on stage, so that he can bring some of that joyful bedroom feeling on the road with him. He's not looking to change things up on a large scale. "I'd rather stick with the formula that has been working for me so far and just gradually grow it," he says. The truth is that Moodie has been growing creatively at a steady clip for years. But until this year there's been an abstract nature to Moodie's fledgling music career. He's talked with fans and press online, done a few interviews over the phone, even had some luck with licensing his songs to TV shows. But it's clear that tour, and signing with Sub Pop, are making it feel real. "In high school I was listening to a lot of bands like The Shins, Fleet Foxes, Iron and Wine, Flight of the Conchords," he says. "I have a Sub Pop T-shirt. Now it's like, 'Woah, that's my label.' I always dreamt of it happening, but I never really expected it to happen."