FEATURES
Young Paris: Love, Africa, Power
By Isabela Raygoza · October 14, 2016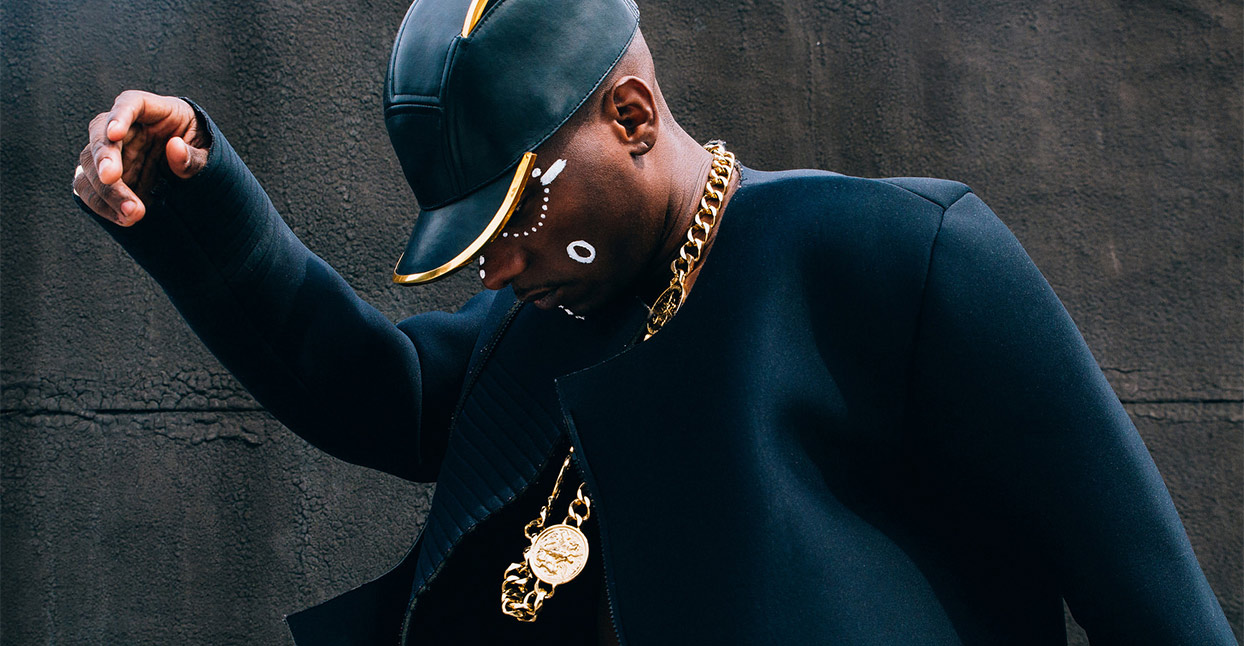 Onstage, Young Paris and his live band channel the traditional essence of the rural Congo while, at the same time, tapping into big-city cool. The musical energy of the New York-raised, Paris-born Congolese rapper is powerful. It was on full display August at Central Park's Summerstage, an OkayAfrica showcase where he played alongside Angolan beatmaker Batida and Congo's Afro-rockers Mbongwana Star.
Clad in all white, sporting a gold grill and white dots of face paint, Young Paris appeared onstage flanked between two of his African-dancing sisters, who gyrated to the beats of their backing band and DJ. "We're here to embrace Africans everywhere," the 28-year-old emcee said as the smoke from burning sage rose above the corners of the platform. "You can be anywhere in the wild, but you're here."
Delivering a presentation of his debut album, African Vogue, the recently-signed Roc Nation artist ignited the evening with the gritty, glitchy "New Black," an Afrobeat-infused electro banger that ushers in a new kind of Black pride movement. "It's about the way that Africans strut, and our influence in the world," he explains backstage. "And African Vogue goes hand in hand with my ideology. It's my way of saying Africans are representatives of the highest forms of expression."
The thundering "Kaké" followed, a hip-swiveling jam that boasts hypnotic clanking and wailing sirens. The high-energy song was enough to inspire a massive chant exchange between crowd and performer ("When I say 'eh!' You say 'ah!'" "Eh!" "Ah!" "Eh!" "Ah!"). "'Kaké' literally means thunder or lightning, so [Africans] say this because the lightning goes kaké," he hisses the word loudly. "So it goes back to our traditional ways, things we do culturally. I just put it into contemporary music."
Born Milandou Badila, Young Paris was born in Paris, France, one of 10 children. His African-American mother is a dancer, and his Congolese father was the co-founder of the first National Ballet in Congo. "When people think of ballet, they think of tutus and ballet slippers. But ballet is essentially a drum and dance troupe. And because my parents were both artists, I grew up with a strong, traditional-yet-contemporary outlook on life," he says. "Congo is culturally known as an expressive dance culture, and a very strong part of our culture is dance and music." The Badila family moved to New York during Young Paris' youth, often returning to visit Congo during the holidays.
At the age of 14, he became fascinated with the idea of becoming "the best dancer in the world"—especially after watching You Got Served. "I ended up taking dance seriously and professionally, and along with my parents, we started teaching at colleges around the East Coast, doing African dancing and hip-hop," he says. At 18 years old, he began writing music, dubbing himself Young Paris. A few years later, he started dropping singles, like 2011's turntable-centric "Euro Swag" and the striking "Kaké" in 2014. Later that year, he released the genre-mashup Rap | Electronic EP. In 2015, Arcade Fire's Will Butler discovered Young Paris's explosive sound when Butler began delving into Afrobeat DJ sets. As a result, the rising star was invited to open up for the Canadian band at Montreal's Kanpe Kanaval. A few months later, he was onstage at Paris' Afropunk Festival.
With the release of African Vogue, which dropped in the spring of this year, Young Paris brings an intrepid sense of pride and solidarity to all African-diasporic people whose identities have been robbed through centuries of historical oppression. On "Get Ready," he raps about coming up stronger as a race, while "Destined" reps melanin pride. "Only in America do Africans really have this strong identity gap when it comes to Africa, because of slavery," he points out, comparing the African experience in America to the African experience in Europe. "Slavery was the biggest theft of all time for our human race."
In both regions, though, white authorities' traditional control of many institutional paths to education has lead to an erasure of African history. "Even if you look at the globe on a map," he elaborates, "Africa is half of its actual size! These are different ways to trick the mind. And the further you go into history, you start to notice that art, music, history, and science gets darker and darker and darker. Then you realize where this darkness comes from: Africa."
Throughout our conversation, he references a documentary called Hidden Colors: The Untold History of People of Aboriginal, Moor, and African Descent. "It touches on Africa's influence around the world," he says. "Essentially, you're talking about the founders of civilization known to man [which starts in Africa]. When you do a little more research, you tap into Ethiopia, Sudan and Egypt's [historical influence]. It's then that you really start to understand and recognize how densely important it was for [white colonists and slave traders] to preserve their history, and how situations like war and racism have overshadowed Africa's real influence on the world. Another part of me being an African artist is to highlight how important it is to be an African."
His approach to these messages is not conventionally hard-hitting; his work often has a great liveliness and playfulness about it. The club-ready "Sage Love" and "Your Wine" are highly flirtatious and adventurous, suitable for any fling or romance, whether on the dancefloor or in private. "I like to use this contemporary format to give people another perspective on life. I think Kanye's message on his first album [The College Dropout] is really dope. It has all these dance tracks with powerful messages. You're actually enjoying yourself, but you're listening. That's part of my strategy," he attests.
He also admires the legendary sax player and activist Fela Kuti. "Fela was the Nigerian Michael Jackson," he muses, his eyes bright. He's a big inspiration behind the song 'Kaké,' because he's making this big Afro-jazz music, but at the same time, he's saying all of this political stuff. About 80 percent of his crowd were white people; they're the ones who mostly bought his tickets, and he was out there making them dance!" He continues: "His boldness of being African, no matter where he traveled—he mastered elite education in London; he was super intelligent. He took it back to the source of being an African, and that's why he's a huge inspiration. He was a big inspiration on my father as well."
Four years ago, Young Paris' father passed away; the white paint on his face he often wears is a tribute to his father's legacy. "It's my way of carrying our tradition. White represents the spirit and those we've lost. He gave me this pattern when I was a child." he explains. When his father led a ballet troupe, he used different face-paint patterns that represented something unique to each individual in the tribe; each child had their own. "This was part of our dialect, and we wore different colors for different reasons. In Africa, we've always unified ourselves as tribes, and we're doing the same thing over here," he says. "I try to bridge that gap, because African-Americans for the most part want to be associated with Africa, but they don't understand that bridge, or how to really create that relationship. So doing it through music, culture, and fashion is another way."
The fashion side comes into play with Melanin Monday, a weekly series Young Paris created to showcase the beauty and excellence of African-diasporic people and their styles. "It's just another way to unify the world," he says. "I'm always about creating relationships and seeing how to get people together from different dynamics. All of us have a little bit of melanin, or a lot of melanin, so it's about using this science and putting it into pop culture so people can actually learn something and make themselves feel cool about embracing the sun." He also recently launched melinated.com, a site where Black people from around the world can participate in discussions with one another and check out content that embraces dark skin and African-diasporic cultures.
"I feel like Africa is rising," he says proudly. "This is a time for all people of color to put their music and culture in the limelight. The world is opening up to more cultures aside from the European perspective and popular music. It is time."
—Isabela Raygoza