FEATURES
On "Cocoa Sugar," Young Fathers Continue To Ask The Right Questions
By Adam Badí Donoval · March 09, 2018
Ten years ago, Kayus Bankole, Graham "G" Hastings, and Alloysious Massaquoi began making music together in a basement in Scotland. They were all in their early teens, but they named their band Young Fathers, because all three members were named after their fathers. "We are individual people," Bankole says. "We have different tastes and we argue all the time. People might say that's a bad thing, but I genuinely feel it's positive. It's what makes us special. We are able to celebrate our differences and not make that a hindrance." While their journey has taken many unexpected turns since then, this unique relationship is still at the core of everything they do.
Merch for this release:
Compact Disc (CD), Vinyl LP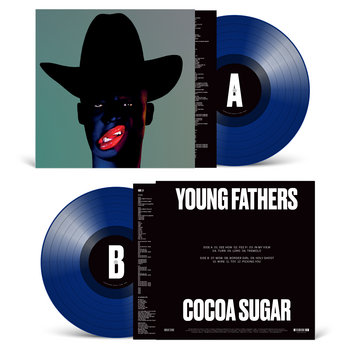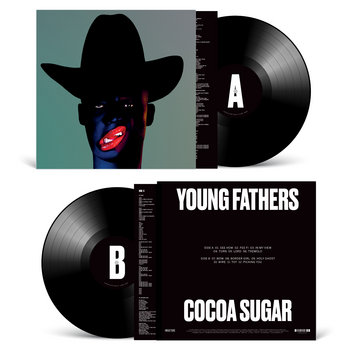 It all started on Bandcamp, actually. It was November 2011, and Young Fathers had just recorded their first mixtape, aptly titled Tape One. The three friends recorded the project in their basement studio in Leith over a period of seven days and released it very soon afterwards. Feeling extremely proud of what they had created, and confused about next steps, they uploaded the mixtape to Bandcamp, where they released it as a free download and limited edition cassette with individually spray-painted sleeves. "This was the first thing which we really grabbed by the reins," Bankole recalls. "We were tired of people telling us that we need to wait an X amount of time to release something, or that it needs to sound like this or like that." Its successor, Tape Two, arrived less than three months later in early 2012.
Getting some traction online, the two releases were soon picked up by Los Angeles label Anticon and released officially in 2013 (the two tapes were also recently jointly re-issued by Big Dada on LP, CD, and cassette). Still, despite the notoriety, Young Fathers didn't grow complacent. They released their critically acclaimed debut album DEAD one year later, in 2014, even beating the likes of Damon Albarn and FKA twigs to the U.K. music award, Mercury Prize. DEAD crystallized Young Fathers' vision, where hip-hop, African influences, and pop meet indie, punk, and electronic music: something nameless and fluid. Their sophomore record, White Men Are Black Men Too, arrived soon after; it was equally unpredictable and perhaps even harder to define. Now, three years on, Young Fathers are releasing their third LP titled Cocoa Sugar.
Since their beginnings, Young Fathers haven't paid particular attention to technical prowess or complexity, in either music or vocal delivery. From Tape One onwards, the focus was on rawness, frankness, and emotional impact—on poetry. As Bankole puts it, the creative process was always driven by "a strong a sense of urgency and a sense of passion." The lyrics were often short phrases repeated in mantra-like chants. The music was simple, yet effective: prodding energetic beats, piercing synth lines, and layers of voices. While this is still the case on Cocoa Sugar, the album also seems more considered and mature.
Merch for this release:
Compact Disc (CD), Vinyl LP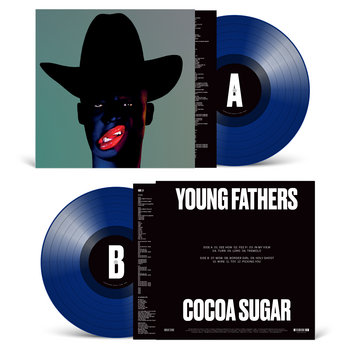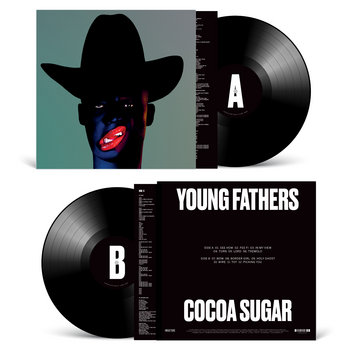 "The inspiration for this record was boredom, and trying to do something we've never done before," Bankole says. "We didn't know what the end result would be, and that was the excitement which drove us forward. 'See How,' the first song on the album, encapsulates that feeling. It's a battle we have amongst and within ourselves, externally and internally as musicians, and we wanted to be more direct about that."
"I wish I could live the life more less known, so typical, overcritical," Young Fathers sing midway through the opening track; they sound as frank as ever, but the song soon flowers into an uplifting, anthemic piece. "See how it goes," they repeat, full of anticipation and hope for what is to come.
The recording sessions for Cocoa Sugar netted almost 40 tracks, and whittling them down to an album's worth of material was a new challenge in itself—especially for a band who is used to using all of their recordings on previous albums. "We're Generation Microwave, man. We want everything right this instant. Couple of minutes and then ding, you're done, you have all the pleasure and deliciousness. And it's not like it's only the kids who feel this way, but we're fully aware that we're part of this generation."
The spirit and environment in which Young Fathers create is completely unique. "It's a glorious mess, and I've never been able to conceptualize it," says Bankole. In the studio itself, everything's on and plugged in, the trio are ready to go. "There's not a lot of talking. We've set it up to capture it then and there, otherwise we would miss it, and there's no such thing as recapturing," the band wrote in an email. "Regardless of all our differences, we're still able to come together and be one, in the sense of a record, a song, or a performance. To do this, there is a lot of ego that we have to leave behind the door. We can't be precious about who wrote what. We've created this environment, where it's not for you when you come into the studio, but it's for us, for we. There is no longer I. To simplify it, we all just want a great song."
Cocoa Sugar feels like a team effort in the truest sense. Lead single "In My View" is an excellent development of the group's lo-fi pop. More mellow and introspective than the band's previous work, it focuses on how things are never what they seem to be. "Wow," a restless track with cascading vocals, is the album's most intense song. But "Lord" is the album's standout; it's almost a gospel tune, with riveting choral vocals opening the piece before they're demolished by stifling bass and detuned synthesizers. Sparse yet powerful, its dichotomous character—beauty countered by something jarring—attempts to capture the onslaught of anxiety.
Listening to "Lord," the band says, "you might let out some demons and feel better, or you might get addicted to the feeling and just want to wallow in it for eternity." Or, as Bankole puts it, "It's just us asking ourselves—how do we actually fucking portray that emotion that we're constantly in? The exact moment when you don't know and something in you quenches up a wee bit. This is our attempt."
Merch for this release:
Compact Disc (CD), Vinyl LP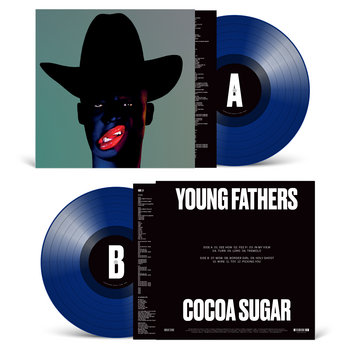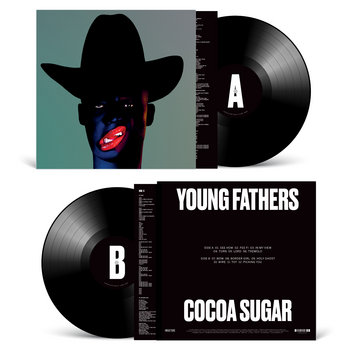 Cocoa Sugar, like Young Fathers' previous output, isn't straightforward in its message. Rather than giving answers, Young Fathers once again decided to raise important questions about race, reality, and equality. Beginning with the striking artwork—created by Julia Noni and Tom Hingston—Cocoa Sugar is meant to prompt conversation. "There is an element of madness in the artwork for sure, the fact that the eyes aren't perfectly aligned, the wonkiness of the mouth. It kind of gives you this false sense of security. You think you get it, but then you notice something new."
But Young Fathers don't pretend to know the answers to the questions they're raising, not for a second. "I keep reminding the guys that it's OK not to know," Bankole says. "With this album and these songs, I really like the question marks. They're saying, 'Please talk to me, tell me how you feel.'"
And it's perhaps this attitude that makes Young Fathers unique: they want to—and are—willing to start a genuine dialogue. This new record itself—initially named Cocoa Sugar just because it sounded good—takes on many new meanings. "Cocoa Sugar is the mixture of the bitter and the sweet, and there's no indication of whether the bitter is better or whether the sweet is better," Bankole says. "It's all good, and even better when it's mixed together." But the most important question for listeners remains the same: What does Cocoa Sugar mean to us?