FEATURES
New York Rapper YL Has a Smooth Flow & Fly Fashion
By Jordan Commandeur · January 19, 2022
Because it is the genre's birthplace, there's always going to be a contingent of the New York City hip-hop scene who are hell-bent on keeping the its classic sound alive. In some respects, this is a good thing: it's this faction that's largely responsible for keeping the boom-bap torch burning during the ascent of genres like hyphy and trap. Not only that, it's these die-hards who pass along the mores and methodologies of the Golden Era to the next generation—which was exactly the case with Lower Manhattan rapper YL.
"My brother was very savvy with computers and downloading music for free," he says. "So he was putting me on to Nas, Jay-Z, Big L, Big Pun—all while I was, like, 11, 12 years old. My brother was a fountain of knowledge for me growing up." Though it was his older brother who turned him onto hip-hop as a youth, it was the crew he joined in high school that pushed him to become an MC. The clique was initially called Regularrr—the three "Rs" meant to imply that they were anything but regular. Eventually, they shortened the name to RRR, turning it into an acronym for "Real Recognize Real." As YL tells it, "RRR was just like some homie shit, not necessarily a music collective. It started off with my boy MID, who is like the original, real founder of RRR. He was the first one to rap, and I was actually, like, the camera guy. I had a camcorder, and I would be making mini-episodes of just day-to-day kind of stuff. And then shortly down the line, one of my homies told me to start rapping. It was kinda natural, because I was already around it, and I had my homie's studio that I could pull up to and just record."
.
00:10 / 00:58
Merch for this release:
Compact Disc (CD)
YL cycled through a few variations of the name he eventually landed on—WHY-L, Thee WHY-L, and Thee YL—releasing a number of recordings under these early monikers that showcase his potential. He hadn't quite perfected his voice on projects like RidinBack and L.I.I.T.—he was still audibly experimenting with different flows—but the promise is there. In 2015, he released Lo.Ceaser, a collaboration with Starker, a New York MC who had been inducted into RRR earlier that same year.  The duo had instant chemistry: Starks's gruff, aggressive timbre is the perfect counterpoint to YL's lackadaisical flow. The cover of Lo.Ceasar also introduced YL's trademark look. "When you think of Y, you think of the North Face Nuptse jacket. That's the shit that I rock on a lot of my covers," he says. "You're gonna see a lot of people rocking those now, because they reintroduced a lot of colors, but I've been on that shit. Even back in grade school."
In fact YL's fashion sense has lately been generating as much attention as his bars. In 2021, he was featured in advertisements for two notable fashion collaborations: Awake x New Era and New Balance x Aimé Leon Dore. "Both of those were crazy opportunities," he says. "I definitely feel super blessed to be involved with them and be a part of history. Both [New Balance Creative Director] Teddy [Santis] and Angelo [Baque, founder and Creative Director of AwakeNY Clothing] are NYC thoroughbreds, so to be acknowledged and be able to work with them in the same respect is big to me. I get fly for my own health, but to see it receive some mainstream love is a feeling I can't explain."
Vocally, YL is the latest in a long line of New York MCs characterized by their nonchalant bravado. He has a reserved, almost hushed vocal tone, coupled with a precise cadence. And though his lexicon is full of '90s slang, his rhymes never feel dated. "I think my voice just naturally has that butteriness to it," he says. "I like smooth shit: Curren$y, Common, Talib Kweli, Mos Def, Slum Village. That's just the type of shit I'm into."
In 2017, he released Open 24, a 13-track album that gave listeners a view of where his music was headed. While still full of the usual braggadocio, the rhymes on Open 24 are more freewheeling. On album highlight "2 Doors Down" he spits, "I'm from a city that is filthy, but it's my home/ I like Puerto Rican women with the right tone/ Bumping RRR music on their iPhone/ It's beautiful/ I love your attitude, I think it's suiting you/ The kid is musical, complicated like a Rubik's Cube."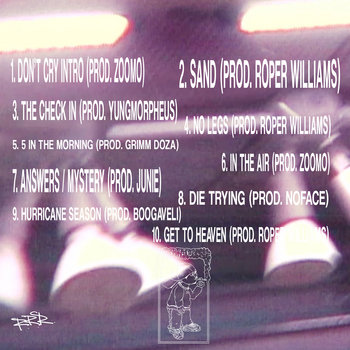 .
00:10 / 00:58
Merch for this release:
Compact Disc (CD)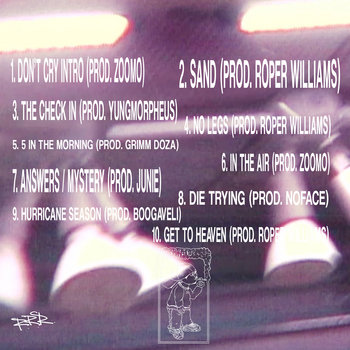 The following year, YL, Starker, and fellow RRR member MID traveled to Japan for a short run of tour dates. While there, they recorded the appropriately named Made in Japan. "Basically, we was out there for like all of July 2018," YL says. "That really happened through Starker, because he had been out there the year prior. He was getting shows out there, and he came back and was like, 'Bro, they got money for us out there.' I didn't realize the impact that Lo.Ceasar had out there—that's really what they were gung-ho about. That was a crazy experience."
Since Open 24, YL has released no fewer than a dozen solo projects. One of the most recent, ADAPTION—which features samples from the Spike Jonze film of the same name—is a good illustration of his current mindstate. "[The album] was definitely inspired by the film," he says. "I had completely forgotten what it was about, and then I watched it again over the summer and was mind blown right off the bat by the intro monologue. The writer, Charlie Kaufman, had a job to adapt a book into a film, and was having a lot of trouble because he didn't want to make it Hollywood and sensationalize things that aren't realistic to him. I thought to myself, 'Wow, that's exactly how I approach my music.' The songs I make rarely have a solid theme or subject. I just write it down as I think."