FEATURES
Xeno & Oaklander's Scent-sual World
By Louis Pattison · June 14, 2016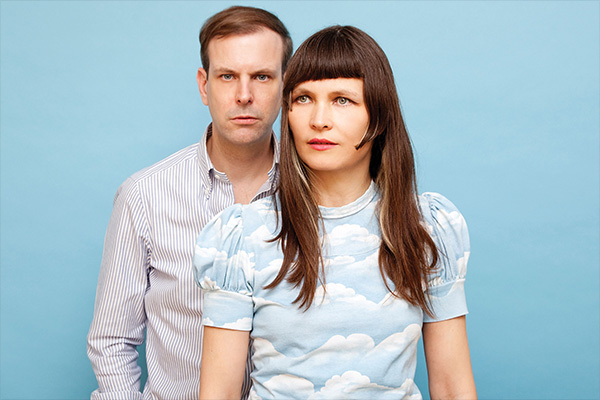 photo by Olivia Locher
"We were interested in what is manmade and what is natural, and how those two elements come together. That's the stuff of poetry, I guess."—Liz Wendelbo
"I'm very interested in the smell of electricity," says Liz Wendelbo, the voice of Xeno & Oaklander, down a line from Budapest. This isn't a metaphor. As well as being a musician and filmmaker, Wendelbo works as an experimental perfumer, making scents which she sells as limited editions from her website and select boutique shops around New York. Currently, she says, she's working on a fragrance that smells, "charred, or like burning," made by the careful mixing of essential oils. "It's a quite witchy process," she says. "A very simple, old-fashioned way of creating perfume that goes all the way back to Egyptians, using Myrrh, and other ingredients that you might gather."
For Wendelbo, the making of perfume is intrinsically related to the music she makes alongside musical partner Sean McBride in Xeno & Oaklander. A minimal electronic group that emerged from the scene around New York's Wierd parties in the mid '00s, the pair's ethereal, strictly analog synthpop has evolved from its gloomy, minor-key beginnings into something heady and romantic. In Xeno & Oaklander's Brooklyn studio, modular synthesis abuts Super-8 filmmaking and fragrance-making, with one discipline leaking into other. Wendelbo explains how each perfume is made from three different oils, "like the structure of music… you have the bass note, the mid note and the upper note." In her mind, she says, Xeno & Oaklander aren't just a band, but "a sort of laboratory — for art, music, all the different senses."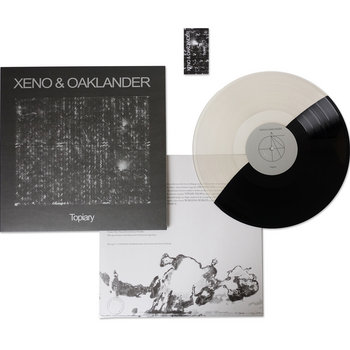 .
00:10 / 00:58
Merch for this release:
Vinyl LP, Compact Disc (CD)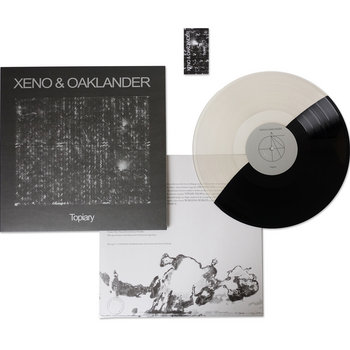 McBride talks about how the olfactory sense is the one closest linked to old or buried memories. "You can smell something, and it'll take you right back to being four years old," he muses. Wendelbo attributes her synesthetic leanings to teenage readings of the 19th Century French poet Arthur Rimbaud. "I've always been fascinated by the way the senses can be stimulated by music," she says. "That was the principle subject of the lyrics on [2014 album] Par Avion: how a scent can make you think of an image, which makes you think of a sound, which in turn makes you think of a scent. But on Topiary, we were interested in what is manmade and what is natural, and how those two elements come together. That's the stuff of poetry, I guess."
The day we speak, Xeno & Oaklander are preparing to play at Leipzig's Wave Gotik Treffen, one of the world's biggest goth festivals, where the dress code ranges from fetishwear to cybergoth to steampunk. Neither Wendelbo nor McBride are the sort to pull on the rubber or fishnets — "We're more neutral," she acknowledges with a chuckle — but Xeno & Oaklander's music does have distinct gothic qualities, being romantic and somewhat bookish, packed with allusions to literature, science and philosophy.

photo by Olivia Locher
The duo's fifth album, Topiary, feels like one long, sustained reverie, a fact McBride attributes to the nature of its genesis. Wendelbo is married to Egan Frantz, the son of Talking Heads' Chris Frantz and Tina Weymouth, who own a studio called The Clubhouse out in rural Connecticut. The Frantzes were heading out of town for the month, so Xeno & Oaklander quit NYC for a recording session in the country. "We went up there basically tabula rasa, and I wrote some of the songs on the Steinway piano in the living room," explains McBride. "It was a perfect, bracketed time of thinking, recording, writing, mixing, everything… it had an enormous impact on continuity." You can hear hints of these new surroundings in the heady, elevated "Worlding Worlds," or "Palms," a "symphony by the sea" that dreamily evokes of moonlit shorelines, "timpanies and mythology."
"Baroque," meanwhile, is a fragrant romance with a chorus that finds Wendelbo singing of, "the alchemy of love/ The chemistry of passion…" Science is another lyrical thread that runs through Topiary, and McBride keenly reels off a list of touchstones for the album — astronomy, bacteriology, X-Rays, crystallography, and the writing of Donna Haraway, author of The Cyborg Manifesto. In Xeno & Oaklander's hands, science and nature aren't opposed, but part of a greater whole. Wendelbo points to the cover of Topiary, an image of protein in a human body viewed through an electron microscope. "While looking at the image it reminded me of a starry night sky," says Wendelbo. "That relates very much to our music, which is very elemental. That's what it is, at its basis: it's fire. It's electricity."
—Louis Pattison