FEATURES
Wrekmeister Harmonies on the Harrowing Inspiration for Their New Record
By Andrew Parks · September 19, 2016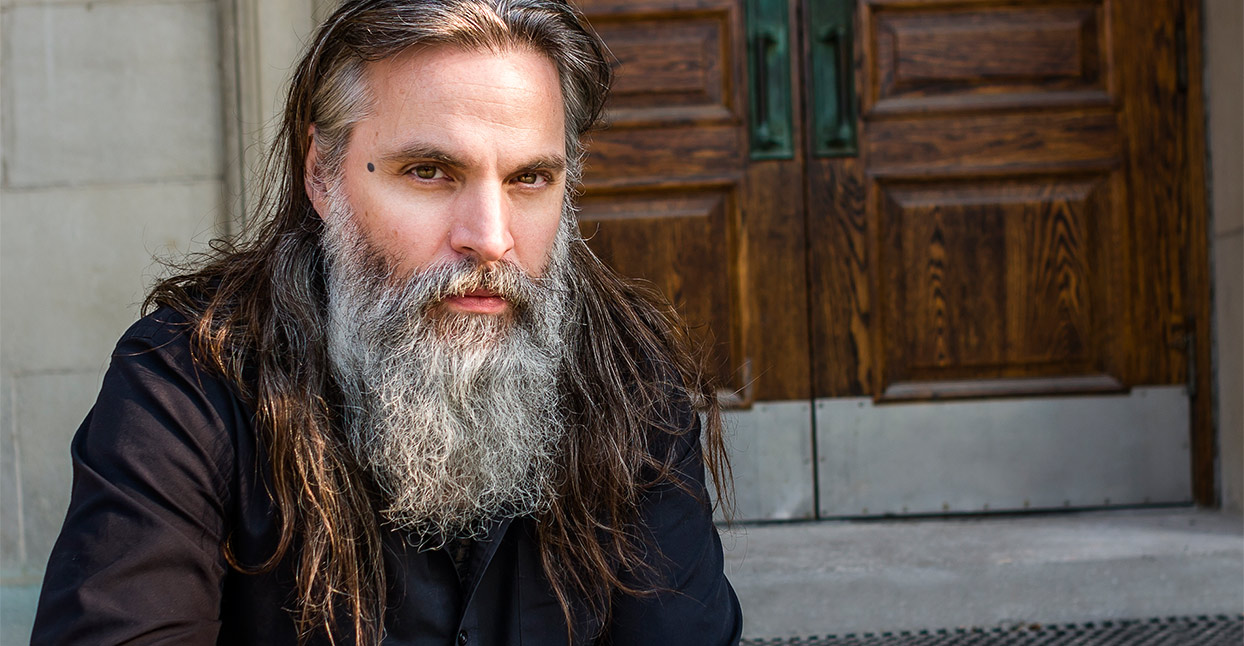 When it comes to writing music, J.R. Robinson doesn't just sit down and see where his thoughts lead him. The Wrekmeister Harmonies frontman tackles weighty topics the way a doctoral candidate would, examining in calm, measured detail everything from cross-continental examples of environmental decay (You've Always Meant So Much to Me) to Truman Capote's infamous face-off with a Manson Family member (Then It All Came Down). All while playing host—conductor, really—to such esteemed guest players as Ryley Walker, David Yow, The Body and Leviathan.
In the case of this summer's Light Falls LP, Robinson's focus is on Primo Levi's If This Is a Man, a harrowing account of the Holocaust from the chemist's year-long imprisonment in Auschwitz. Not much is said over the course of its seven loosely linked songs; it doesn't need to be when members of Godspeed You! Black Emperor (bassist Thierry Amar, pianist/violinist/singer Sophie Trudeau, and drummer Timothy Herzog) are along for the ride.
When Robinson does speak, cutting through the album's controlled chaos, his words range from a restrained cry for closure ("Where Have You Been My Lovely Son?") to an unhinged howl against the inevitable ("Some Were Saved Some Drowned").
"God, evil—they don't exist," says Robinson. "Darkness and light are very real. It's what we do when surrounded by one or the other that counts."
In the notes that accompany the record, Robinson says, "I wanted to sonically convey the idea of slow, creeping change. When I came up with the title I was thinking of how when daylight turns to night time it's a very gradual process. You are lulled into watching this slow, peaceful sunset but then all of a sudden you look up and it's dark." Levi's powerful words had a profound and troubling impact on the musician.
To bring things full circle, we asked the maestro of all things experimental and extreme to link several impactful Levi passages—and an additional selection, supplied by us—back to Wrekmeister Harmonies' own deeply personal material.
.
00:10 / 00:58
J.R. Robinson and Esther Shaw.
"Dawn came on us like a betrayer; it seemed as though the new sun rose as an ally of our enemies to assist in our destruction."
The [album] title Light Falls comes from this passage. The meaning being that as light falls, so do all things that would offer hope—that the things we know to be inherently 'good' or 'right' are slowly, almost imperceptibly, slipping away into darkness.
I was watching the sun go down tonight in New Orleans, and I thought about how this city somehow survived total devastation over a decade ago and yet it still feels weirdly haunted… The same problems of poverty, crime, and neglected infrastructure persist, but no one seems to really care. But maybe not caring is the key? Maybe it's about realizing that there are only so many moments that make up a life. You try your best to experience and comprehend them as they happen, and be thankful you're just fucking alive.
"No human condition is more miserable than this, nor could it conceivably be so. Nothing belongs to us anymore; they have taken away our clothes, our shoes, even our hair; if we speak, they will not listen to us, and if they listen, they will not understand."
Taking Levi's very personal and profound loss of self and applying it to a more universal condition that could be relevant to anyone who is suffering. I was thinking in particular of the crushing deprivation of the sense of self, and disconnection from reality, of anyone who endures the trauma of mental illness. I tried to convey this in "Light Falls III – Light Sick," where I envisioned that—after constant, painful, and mundane repetition—there would be a lucid moment of lurching, almost seasick-like clarity, revealing how great a distance has been covered over the suffering endured.
I'm not embodying a character but channeling my own observations of the world, the things I've suffered, witnessing the suffering of others. How in the midst of suffering there can be true recognition… Hope can be tricky, alluring, and a favorable outcome is never guaranteed.
"It is everyone's duty to reflect on what happened. Everybody must know, or remember, that when Hitler and Mussolini spoke in public, they were believed, applauded, admired, adored like gods… The ideas they proclaimed were not always the same and were, in general, aberrant or silly or cruel. And yet they were acclaimed with hosannas and followed to the death by millions of the faithful."
This passage came to mind while putting together "The Gathering." The echoes of this statement can definitely be applied to our current political environment in America. Is it no wonder that the face of contemporary fascism is represented by a casino operator/reality television personality who resonates very powerfully with the white, middle-aged, underemployed demographic.
I was also inspired by Levi's involvement in Italy's anti-fascist resistance movement at the beginning of World War II. I imagined them 'gathering' in the mountains in secrecy, planning a revolt that would ultimately be doomed.
We're definitely living through a strange reverberation of history, an echo of collapsing civil and cultural ideals. [Given the current election cycle] it's not overreacting to think the world will become much more dangerous and volatile than the one we currently live in.
.
00:10 / 00:58
"Here we received the first blows: and it was so new and senseless that we felt no pain, neither in body nor in spirit. Only a profound amazement: how can one hit a man without anger?"
I've struggled with feelings of anger and have acted violently. It's something that I deeply regret and try to remain mindful of never repeating.
I've witnessed people being shot, a close friend being stabbed, other acts of completely unhinged violence over my years of living… But trying to wrap my head around what it must have been like to bear witness/be subjected to complete dehumanization by another—the attempted erasing of your entire ethnic group… The pain of that realization must have been almost too much, which makes Levi's almost scientific-like observations so astounding.
—Andrew Parks