FEATURES
Wolves in the Throne Room Return to Black Metal on "Thrice Woven"
By J. Bennett · Photos by Chona Kasinger · October 05, 2017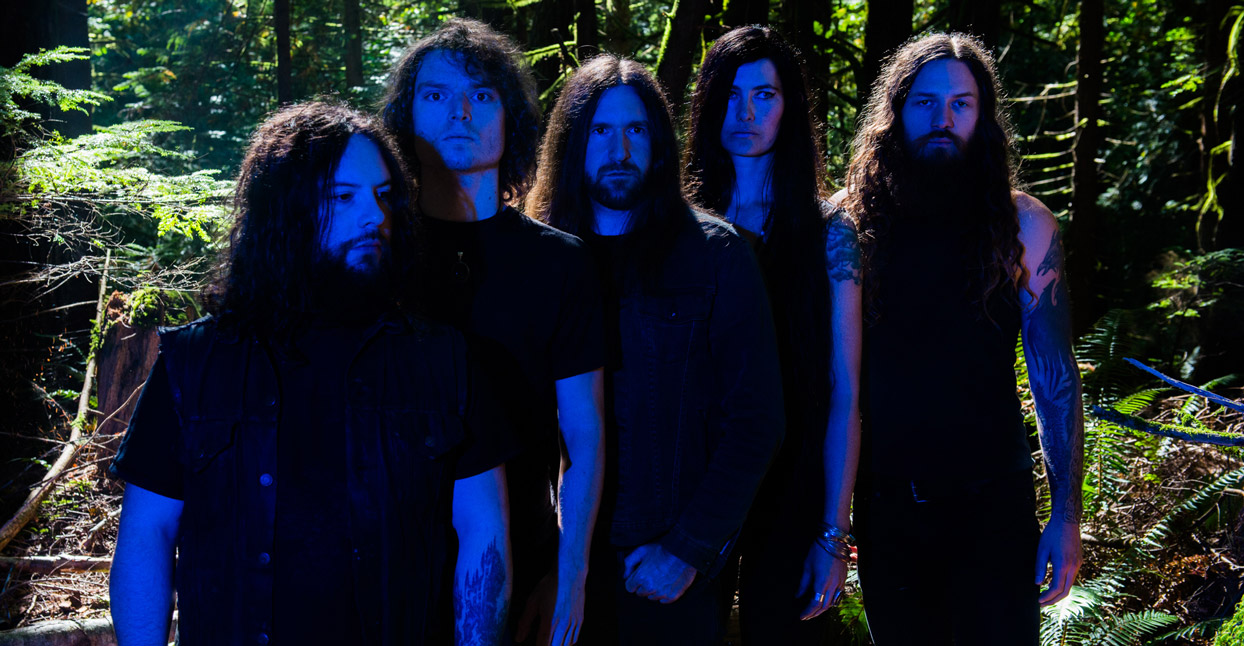 "Making this record almost killed me." That's Wolves In The Throne Room drummer and co-founder Aaron Weaver talking about the band's latest album, Thrice Woven. He's exaggerating, of course, but he soon elaborates: "When we make a record, we're going all in. It's being locked in a dark room during the brutal, cold, wet wintertime with the woodstove going, just digging into it. The other stuff in your life just kinda fades away when you're going that deep. You forget the rest of your life exists."
That's pretty much the way Weaver and his younger brother, Nathan—the band's vocalist, guitarist and other co-founder—have been making Wolves In The Throne Room records since the band's inception in 2002. The process has resulted in six albums and an EP's worth of hypnotic black metal that's been widely referred to as "Cascadian black metal"—a nod to the Cascade mountain range that looms over the band's home near Olympia, Washington. For Aaron, the connection between the landscape and the music is crucial. "The music just comes up out of the earth for me. Call it an energy source; call it an inspiration—that's what our music's about. It's about this place, this home we love so much. We wouldn't be able to make this kind of record anywhere else."
.
00:10 / 00:58
What kind of record is Thrice Woven, then? "Majestic" is a word that comes to mind.  "Magnificent" is another. It's not difficult to convince yourself that you can hear the emerald forests of the Pacific Northwest presiding over the melodic tremolo guitars of 10-minute epic "Angrboda" or Nathan's feral howls on 11½ -minute closer "Fires Roar In The Palace Of The Moon." Elsewhere, special guests Steve Von Till of Neurosis and Swedish singer Anna von Hausswolff lend their unique vocal talents to "The Old Ones Are With Us" and "Born From The Serpent's Eye," respectively (Hausswolff also appears on the ambient interlude "Mother Owl, Father Ocean").
"Anna is incredible," Aaron enthuses. "She's really well-known in Europe but hasn't really made it over to the States yet, so she's someone to watch. As for Steve, what can you say? It's nothing but a deep honor and privilege that he spoke on our record in this way. To us, Steve Von Till is a hero and an elder and a mentor and a teacher."
With its distinct medieval feel, Thrice Woven sounds like an episode of Game Of Thrones—or Vikings—high on corpse paint and funeral pyres. As it turns out, that's not too far from the way Aaron thinks of it. "The themes of this record are a lot of Norse mythology, a lot of old stories from the Northern Lands—stories about Odin and Loki and Thor and Ragnarök and Fenris Wolf," he explains. "This record also takes place in a very specific location—on a body of salt water with the ocean on one side and a range of volcanoes on the other side. That's the world that we saw when we wrote this record. When I hear the music and close my eyes, I'm right there, smelling the salt water and feeling the heat coming off of fire on the beach."
To properly capture the ambience of their natural surroundings, the Weaver brothers recorded most of Thrice Woven at their home studio, Owl Lodge, with producer Randall Dunn. (Dunn, who's worked on all of the band's albums dating back to 2007's Two Hunters, was responsible for bringing Anna von Hausswolff into the project.) But first, they recorded the drums in a single day at Studio Litho, a Seattle recording facility owned by Pearl Jam guitarist Stone Gossard. "Pearl Jam practice there, so it's got this cool old-school Seattle grunge thing going on," Aaron explains. "Nathan and I grew up in the Pacific Northwest, so that energy is something we definitely know from high school."
.
00:10 / 00:58
Even in the heart of the city, nature prevailed at Litho. "The south wall of the studio is covered in some kind of flowering vine, and on that day it was just covered in thousands in bees," Aaron explains. "So the building was almost vibrating with the sound of these bees."
At some point during the recording process, the Weaver brothers asked their longtime session and live guitarist Kody Keyworth to become a full-fledged member of Wolves In The Throne Room. "It's almost like we didn't even make a choice," Aaron says of the decision to invite Keyworth into the fold after more than six years of session and live service. "Energetically, it just felt right—like he was one of us, a brother all of a sudden. Some old boundary that used to be there, where we're the band and he's the session guy—that boundary just dissolved. And it feels really good to be in this new place with him."
To outside observers, it might seem like Thrice Woven is Wolves In The Throne Room's return to black metal after 2014's synth-based Celestite. But Aaron doesn't see it that way. "We knew from the beginning that Celestite was us taking a deep breath, cleansing ourselves and cleaning out some old shit so we could be ready to do another metal record," he says. "That's always been the intention."
Whether playing metal or not, Aaron views Wolves In The Throne Room as his personal path to self-awareness. "For me, life as an artist and a musician is about going deeper and deeper into myself, especially the dark places—the places that feel really tender or like they're off limits," he observes. "Over the course of our records, I've been able to go further into those places."
"Wolves In The Throne Room is this space in my life where I do my prayer, where I delve deeply into my dreams," he concludes. "It's a really private place, a place that really only this band can get to. It's always been the same, but my understanding of it changes."
—J. Bennett