FEATURES
As Witch Prophet, Ayo Leilani Has Magical Healing Powers
By Briana Younger · April 19, 2017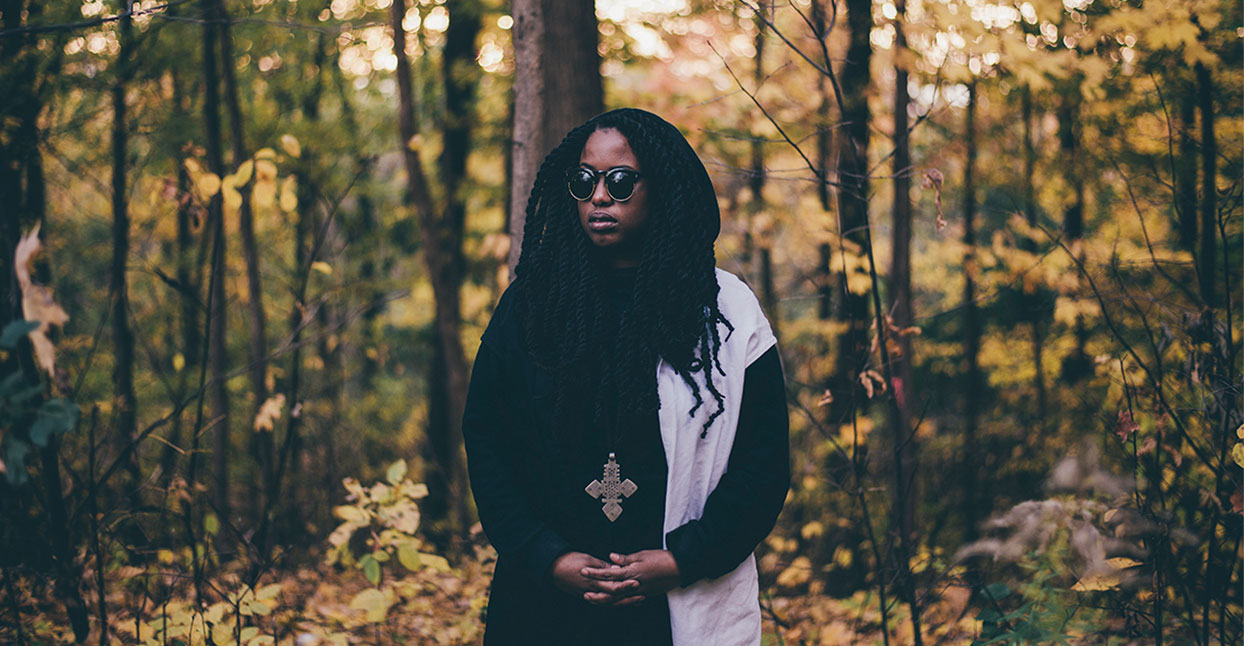 Habesha. Queer. Mother. Witch. Musician. These elements help define Witch Prophet, a singer-songwriter from Toronto, Canada, whose dreamy blend of R&B is equal parts KING and Control era Janet Jackson. Born Ayo Leilani, she says her stage name was gifted to her by a friend and fellow performer because of the spiritual advice she'd offer.
It's more than just a nickname, though. In the literal sense, Witch Prophet believes herself to be an actual witch, not so much a prophet.
"I like that those two words usually don't go together," she says. "It's like the good and bad, the angel and devil sort of idea. I am definitely a practicing witch in terms of using crystals, visualizing what I want and manifesting things through my desire and focus."
.
00:10 / 00:58
That she lands on the darker side of the dichotomy is no coincidence. Much of Leilani's life has been spent going against the norms of her culture, intentionally and unintentionally. Born in Kenya but raised and based in Toronto, she is Ethiopian and Eritrean; her upbringing and family were rooted in Habesha tradition. That meant religion was a cornerstone, family and marriage were sacred. As for career options—well, musician certainly wasn't high on the list.
"It's probably the worst thing you could be," Leilani says with a laugh. "All of my cousins and everything have turned out to be nurses or they work in engineering. I'm the only one who does any sort of music."
Some of those cousins were the first people she ever played music with. At gatherings, the younger members of her family would go off and practice skits and songs to perform for the adults later. They called themselves "The Cousins Band" she recalls warmly, and even though she was relegated to ad-libbed "oohs" and "ahhs" back then, she remains the lone member of their band.
As Witch Prophet, Leilani's music sounds like a page pulled from the book of neo-soul. It's smooth and sensual; her delivery teeters between spoken-word poetics and atmospheric crooning. As Above Top Secret—a trio comprised of Leilani, Mas Aya (Brandon Valdivia), and partner and producer Sun Sun—the songs are underscored by space-age futurism with a slight lean towards hip-hop. But Leilani resists hip-hop as a catch-all description—mostly because it's inaccurate, but she's also found such labeling can limit her opportunities.
"Don't just stick me there because you see a Black girl doing something on beats," Leilani says. "Don't stick me there because that's not necessarily what I'm doing. I mostly find that people get lazy being like, 'You're an urban artist,' and it's like what are you saying? I'm Black? … Let me get on some folk festivals or something. I have songs that can be folky. Let me sing. Let me be on the singer-songwriter stage. I don't always have to have that time slot as the hip-hop act."
.
00:10 / 00:58
In addition to pursuing a musical career, Leilani became a mother at 18. She credits her son with saving her life. "I was a rowdy and lost and a frustrated teenager who was struggling with issues of identity and sexuality and my place in the world," she says. "But when I got pregnant, it was really like, 'Oh my god, I have to snap out of it.'"
Her sexual identity could've been divisive within her family, but she used her parents' divorce as evidence that, sometimes, the values we're taught don't always stand up. She remembers feeling like the revelation of her true self would "ruin the family dynamic," but she found out she can "go pretty far without breaking things." Leilani considers herself lucky in this regard. Though her parents were accepting once she did 'come out,' they are the exception, not the rule. She says that despite Habesha being a generally loving and affectionate culture, open conversations about sexuality, religion and mental health can be taboo.
"I've had some Habesha, mostly lesbian and bisexual women, write me and say, 'Thank you, you're the only visible queer Habesha person I know,'" she says. And while her music is usually broad and void of gender identifiers ("so that anyone can feel it"), there are rare moments where she doesn't leave anything to chance. Glimpses of her truth become fully revealed.
"I do have songs like 'Pearly Gates' that talk about religion," Leilani says. "I grew up in a very religious family—the different things that we were taught and how I have to question my life as a queer person, and having a child out of wedlock and wondering what Heaven is or what this world is and what happens afterwards." She does believe in God, though: "I don't want to believe I'm going to live in a fiery pit because I love someone who's the same gender as me. I don't want to believe it, and I don't believe it."
Leilani's strong belief system compels her to keep creating for herself and her son. A full-time artist and creative, she says he inspires her to do what makes her happy without cease. "Plan B means you're not putting your all in Plan A, which gives an opportunity for failure," Leilani asserts. And even with help that comes from energies and vibrations, she doesn't lay her faith completely to rest in magic or religion.
"What you put out is what you get back—it's real," she says. So is candle magic, so is crystals. All those things are real, but so is work. I think the balance of those two worlds is what I'm trying to achieve the most through my music and through my being."
—Briana Younger