FEATURES
Scoring the Sound of Insomnia With Will Mason's Happy Place
By JR Moores · October 28, 2016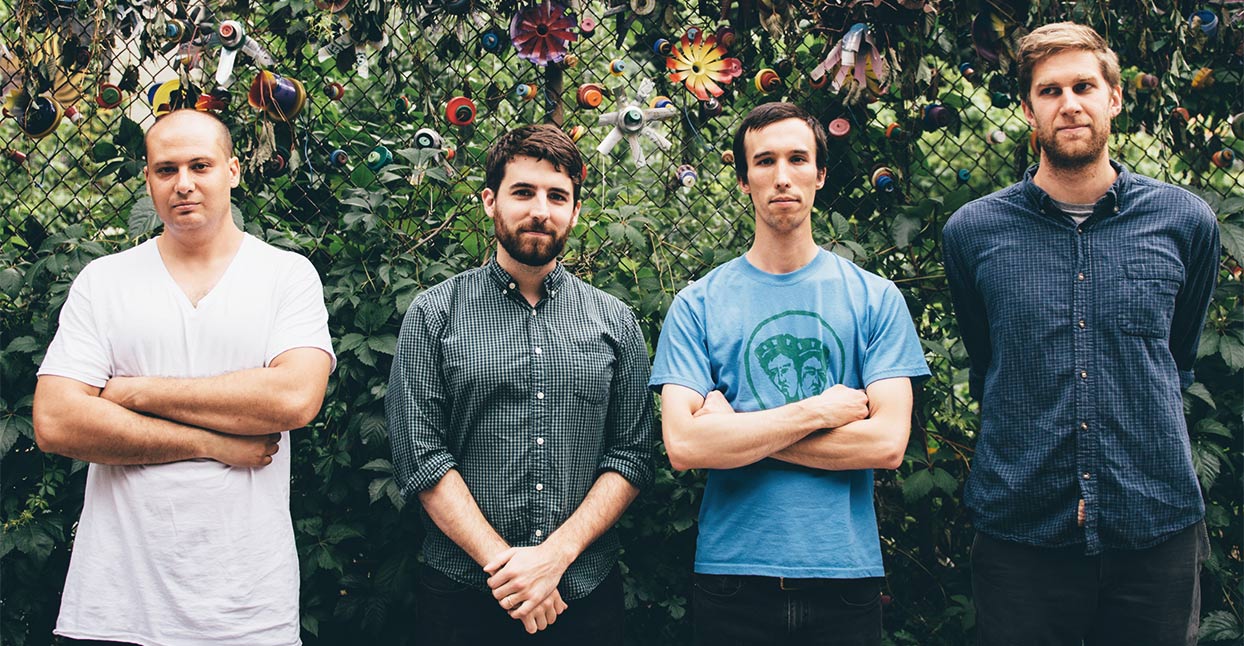 For most of his life, the drummer, composer, and music scholar Will Mason had considered himself to be a "champion sleeper." Then all of a sudden, in 2014, he found himself unable to sleep more than four hours per night. Other than graduate studies, which he admits can be a source of some anxiety, there was no obvious catalyst for Mason's condition. "Nothing noticeably changed or caused my insomnia," he remembers, "one day it just was. That's part of what made it interesting creative material—this 'in medias res' onset of sleep loss. Insomnia seems to be something that affects a lot of people. Either the modern subject is becoming worse at sleeping, or else we're becoming better at complaining about it."
He is definitely not alone. There have been reports that insomnia and the use of sleeping pills are on the rapid rise, no thanks to our fluctuating modern work hours and the artificial light that glares from our omnipresent screens. Rather than just suffering in bed and growing increasingly irritated by his inability to sleep, Mason chose to make productive use of his insomnia by composing Happy Place's new Northfield album in the early hours of the morning. He found that getting up and setting to work in his "cramped and dark kitchen" was one "semi-effective way to fall back asleep, in part because it removed the stress of feeling like I was wasting wakeful moments trying to force myself to sleep."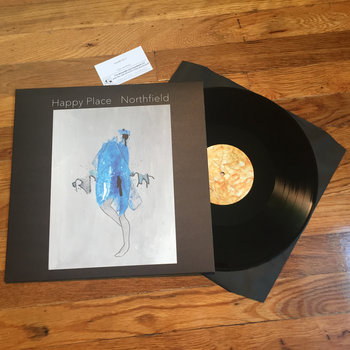 .
00:10 / 00:58
Merch for this release:
Vinyl LP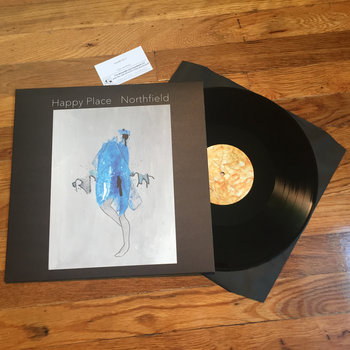 Mason is not the only musician to have channeled habitual sleeplessness into his art. Two years ago, the actor and musician Matt Berry released an album of Music For Insomniacs inspired by his own sleep-thwarting neuroses. A year earlier, the conceptual artist Dinos Chapman unveiled an album of wonky electronica composed in the small hours when snoozing proved elusive. Others have designed music specifically to help people nod off: there's Max Richter's eight-hour Sleep, for example, and Moby's recent Long Ambients 1, which featured four hours of "really quiet music" for "when I do yoga, sleep, meditate, or panic." Reported by Rolling Stone and similar news outlets some three months after it was released as a free download, Long Ambients is either the least-celebrated Moby album for decades, or such a successful sedative that those who first heard it instantly fell asleep for a quarter of a year.
Unlike Matt Berry, Max Richter, or Moby, Northfield does not offer soothing ambience. Written to be performed and recorded by Mason's Happy Place outfit, whose line-up boasts a pair of drummers and two guitarists, the music is jittery, manic, and restless. You can forget any hope for tranquility here. It's difficult to think of any prior recording that so accurately recreates in sonic terms both the uncomfortable physical act of tossing and turning awake in bed, as well as the scrambled and panicky thought processes that come with being incapable of turning off your mind in order to succumb to the sandman.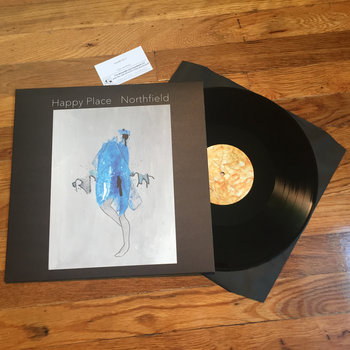 .
00:10 / 00:58
Merch for this release:
Vinyl LP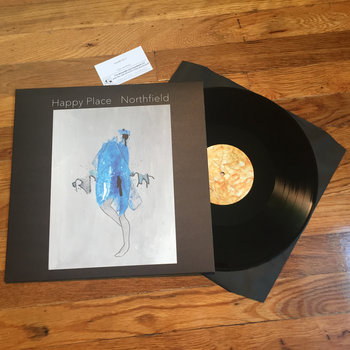 Happy Place's music embraces the lively, complex time signatures of jazz, and is influenced by experimental post-metal, noise-rock, and art-rock artists such as The Locust, Lightning Bolt, Liturgy and Zs. Because Mason is determined to circumvent recognizable "tropes," Happy Place have a sound that is wholly their own. Northfield brims with unconventional polyrhythmic and homorhythmic patterns that are inspired by the percussion of other cultures, such as the Balinese gamelan, Brazilian maracatu, and Haitian rara music. In certain sections, Mason and his co-drummer Austin Vaughn perform separate interlocking beats; elsewhere, they play in unison, as if part of one giant drum kit. Equally ambitious are Andrew Smiley and Will Chapin's intricate guitar parts; the players employ microtonal bends, detunings, and use screwdrivers on their strings, among other exotically virtuosic techniques.
Four months in, when the insomnia was the worst, Mason began to hallucinate. He saw typically motionless objects appear to move. "Seeing a refrigerator wobble, for instance, your brain quickly realizes that it's misinterpreting sense data and the hallucination disappears. But the phenomenon is still really disconcerting." He funneled this experience into his scores by exploring and celebrating these altered, elevated, and trance-like states of consciousness.
Though Northfield was written under intense mental strain and is physically demanding, even painful at times, to recreate, Mason has found it "a ton of fun" to play live. He says it's cathartic, "but, let's be honest, any opportunity to play a drum set at full volume is cathartic. And the band is killer. I'm incredibly lucky to work with them. It's complicated music, and we still need to read sheet music for a few sections, but I think after two years we're finally at the point where we've internalized everything. Right now with Happy Place, I spend most of my time worried about how to play 60 minutes of loud music without letting the tempo drag. It's liberating."
While this adroit brand of noise rock may draw freely on jazz, the quartet have found it impossible to secure a place on any jazz bill. "Jazz clubs won't even book my jazz acts," says Mason, "let alone something like Happy Place. But New York City is great, because it's a very aesthetically heterogeneous scene, and polyglot music like mine is welcomed into a lot of [other] spaces."
His previous album, which was recorded by The Will Mason Ensemble, had been written in a cabin in the woods in northern Maine. By contrast, the hustle and bustle of life in New York exacerbated Mason's sleeplessness, contributing to Northfield's deliberately frantic sound. "NYC has provided amazing opportunities for both my academic and music careers," he says, "but I am emphatically not a city person. I like quiet, I like being in nature, and I don't love being surrounded by millions of people all the time. I also believe that where music gets written leaves audible traces, and Northfield is, in many ways, a New York City album."
Nevertheless, Mason did create some quieter music during his bout of insomnia. To be unveiled sometime next year, these "slow and whispery" pieces were scored for cello, percussion, and electronics, forming what Mason calls "the photographic negative of Happy Place … much more improvisatory in nature, but still quite dark and cold." As mellow as they may turn out to be, coming from Mason's mind, you can bet they'll be as equally wary of standardized tropes as Happy Place. Based around "tiny fragments of music, some graphic notation, and Fluxus-style directives," the project will involve the live processing of instruments and is partly inspired by Georg Friedrich Hass' third string quartet, which was written to be performed in complete darkness.
Mason's insomnia has not disappeared completely, although his life has become easier. He now exercises more regularly, practices mindfulness, and uses sleeping pills when necessary. What's important is that he didn't let his sleep disorder defeat or dishearten him too badly, exploiting it instead as his muse. "Those late-night hours were fertile periods for me even if they were agonizing," he recalls, "and a great way to compound anxiety about sleep loss is to begin to view the choice as one between being rested or doing your most interesting creative work." And that certainly beats just lying there.
—JR Moores