FEATURES
Where New Music Grows
By Lorne Behrman · June 16, 2015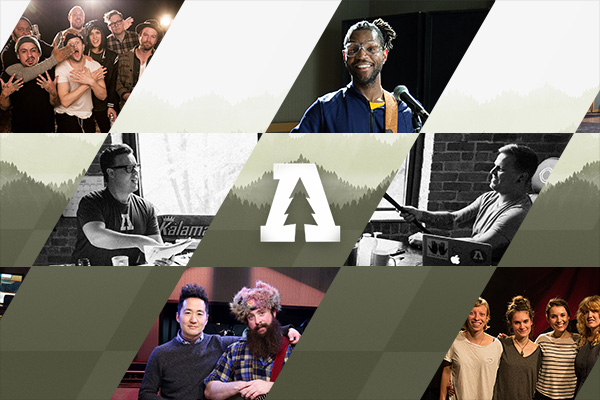 "We stuck to our guns. We're here for the long run, and now we have bands as family around the country."
In just five years, the Chicago-based boutique music company Audiotree has emerged as a galvanizing force in the indie rock world with its unique, in-studio concert series, Audiotree Live. Currently, subscribers to the session total over 2 million, and recordings from this series have garnered prime TV and film placements. Audiotree Live recently debuted on Bandcamp with an upload of brand new sessions. Going forward, 10–15 freshly recorded Audiotree Live sessions will be available on Bandcamp each month, and back catalog will be added, too.
Audiotree sessions capture the feel of an intimate rehearsal, replete with pristine audio and crisp video. While recording budgets might be shrinking, Audiotree Live offers both emerging and established indie bands powerful assets to build their fan base and monetize their creativity.
"Our tagline is 'We Grow Music,'" says Audiotree President and Cofounder Michael Johnston. "What that means to us is that we help bands grow by giving them resources, like videos and pro recordings, at no cost to them. Frequently, bands use their videos to get on bigger tours, play bigger venues, and attract more fans. Also, through revenue generated by these recordings, we help put money in musicians' pockets."
Recently, music from Audiotree Live sessions appeared on HBO's hit series GIRLS. Last year, Bandcamp favorite Shakey Graves saw his Audiotree Live version of "Roll the Bones" appear on the soundtrack to The Inbetweeners 2.
The company was founded in 2010 by Adam Thurston, Director of Operations, and Michael Johnston, President. They currently have 12 employees. To date, Audiotree has produced 550 live sessions from bands across genres. Bands are handpicked and eligible for a live session if they tour consistently, officially release records, and have either management or booking representation. Audiotree Live sessions take place in Chicago at the company's in-house studio.
Adam Thurston and Michael Johnston
With Audiotree Live, there are no touch-ups, overdubs, or even post-tracking mixing sessions. Bands come to the studio, set up, get their tones, and go. "Some bands do get nervous," Thurston reveals. "So when they get here, we immediately make them feel comfortable by helping them load in equipment, feeding them lunch, and just hanging out with them." Johnston adds, "We also have a super pro audio engineer who has been working in the audio-engineering world well before Pro Tools. He's very laid-back and gets great sounds. A lot of bands tell us they were happy with the sessions because they could hear all the instruments. Bands always play better when they can hear themselves."
The accompanying Audiotree Live videos are shot from the center where the drummer sets up, providing the viewer with the perspective of standing in the middle of your favorite band's rehearsal.
Outside of the company's live music program, Audiotree has launched a management wing to work with some of the artists who have appeared on Audiotree Live. Audiotree is also an active supporter of Foundations of Music, an organization that partners with disadvantaged schools to establish music programs during school hours. "When we started Audiotree, we wanted to give back to the kids because music programs in school shaped what Adam and I do today," Johnston reveals.
Thurston and Johnston have been friends since second grade, though they went their separate ways after high school. Thurston pursued business, while Johnston eventually pursued audio engineering. Audiotree was first conceived as a record label with the live, in-studio sessions functioning as something of a rigorous audition process. But recording and hanging out with bands quickly became Johnston and Thurston's main passion. Once they started putting these audition sessions on both their website and YouTube, their inboxes were flooded with inquiries. In 2011, their premier year, they produced 150 sessions and the Audiotree Live series became the focus of their enterprising spirits.
"I think we created a model that didn't exist," Johnston says. "We've gotten to work with bands that inspired us to be in the music industry ten years ago. We often hear from bands that playing on Audiotree launched their career. That feels really good. We stuck to our guns. We're here for the long run, and now we have bands as family around the country."