FEATURES
Jazz Giant Wadada Leo Smith on Four Recent Collaborations
By Robert Ham · April 24, 2017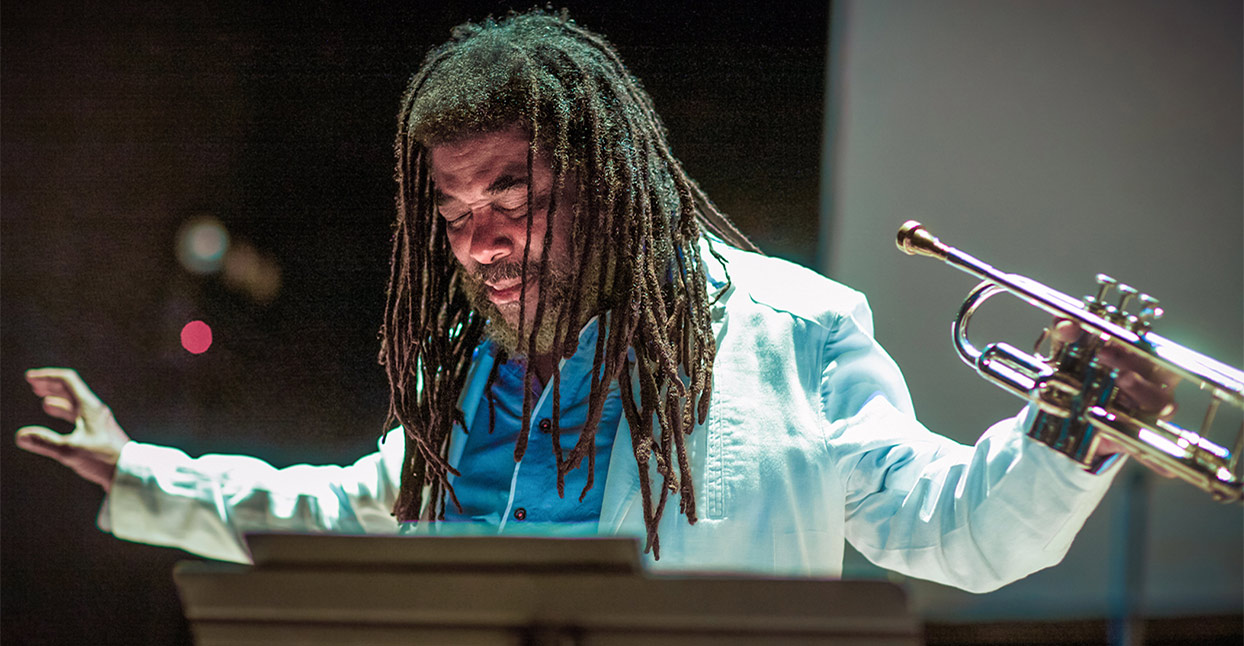 The greatest testament to trumpeter Wadada Leo Smith's ability to improvise and adapt to creative situations is to look at the list of artists he's collaborated with since he arrived in the Chicago jazz scene in the mid '60s. Along the way, he has worked with the likes of drummer Jack DeJohnette, accordionist and composer Pauline Oliveros, British electronic duo Spring Heel Jack, and, to great acclaim, pianist Vijay Iyer.
Smith is able to move between such varied worlds because he's a sharp listener, and a player who's able to utilize silence as much as the quick, clear, stabbing notes and frayed tones he pulls from his instrument. That openness and calm comes across most strongly in his own compositions—beautiful, sweeping post-modern jazz works that tend to use symbolic scores derived from a self-created systemic musical language he dubbed 'Ankhrasmation.' On the page, it looks like beautiful abstract art.
His willingness to collaborate and create, especially over the last decade or so, has resulted in a wealth of studio works and live recordings that feature his improvising. We caught up with Smith from his home in Connecticut, after his regular acupuncture appointment, to get his thoughts on four of his recent albums.
Merch for this release:
Compact Disc (CD)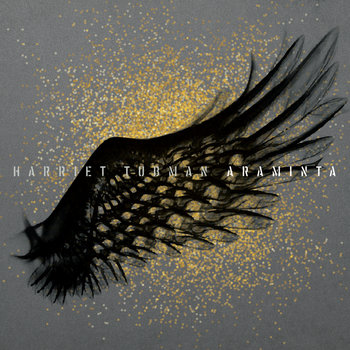 I've known those guys for a very long time. [Guitarist] Brandon Ross has been in many of my ensembles over the past 20-25 years. He asked if I would do this project with them, and it started something like 3 ½ years ago. We did some recording then, and then again last year, and they mixed the record out of that. A lot of it was improvised, but one piece—"President Obama's Speech At The Selma Bridge"—was my composition. The piece itself is almost a notebook sketch of another piece, The Chicago Symphony, which is much larger. The speech is important because it was a commemoration of something that happened 50 years ago, but it also addresses the idea that this movement is not over. And it's a long way from being over. There's a need for America to make an adjustment and balance the larger community through inclusion. Being an artist, it's not hard to speak the same language as another set of people. I've understood that all my life basically. So, with Harriet Tubman, the mix was clear and basically organic. I didn't have to find my way in. I understood how to unlock the door.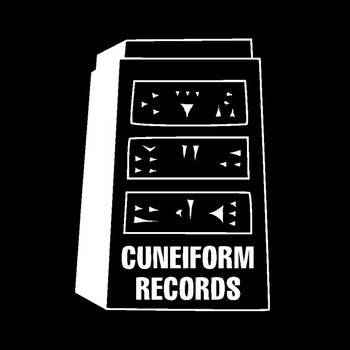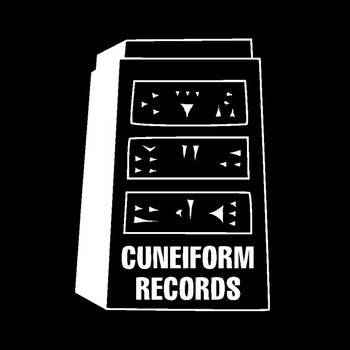 Merch for this release:
Compact Disc (CD)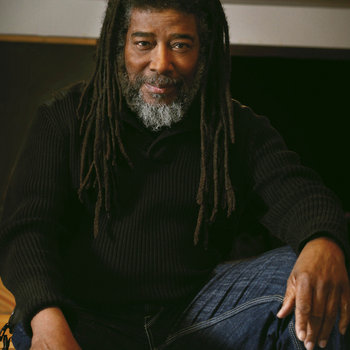 The project lasted over three years before it was actually recorded and hit the world stage. Each of the pieces came from my research. When I got inspired to do this, I started out with a list of about 20 parks. Over the next six months, I started doing research and crossing off different parks because, as you know, 20 national parks would make a CD set of about six. Right now, I have enough multi-set CDs. Once I got down to six parks, the clear connection through each section and trying to engage the psychological possibility of what all this means of a specific park, all that goes into play. After reflecting over a period of time, I go back to my notebooks and my notebooks had material from the very moment when I decided I was going to do National Parks. What I consider is that Earth is a national park, and if you notice on the album, I introduce three other parks that aren't part of the National Parks domain. I did that because I wanted to open the debate as to what is a national park. All those parks would be also protected. Earth is a common ground for all of us. And it should be looked at as that, and we should work to make it as that and not as playground for wealthy people, powerful corporations, and the elite in our society, which is people in Congress.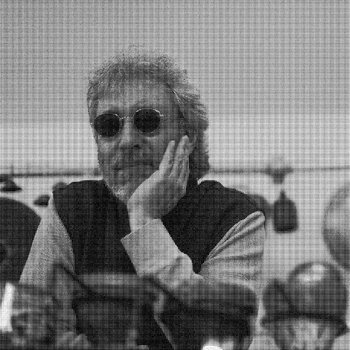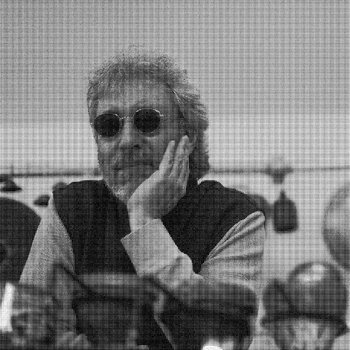 That project goes a long way back, probably seven or eight years or so. All of it was done live, and then constructed and edited and put out. Essentially that was a co-production, it wasn't just on Adam's label. That made a difference, which meant that we split the bill on everything.
Adam and I both lived in California at the same time. Working with hand drummers always creates unique challenges as a player because their language is essentially based around patterns. Which is much a different than a drum set is, although having some similar qualities. And there's also the benefit of having a few extra percussion sounds to work with.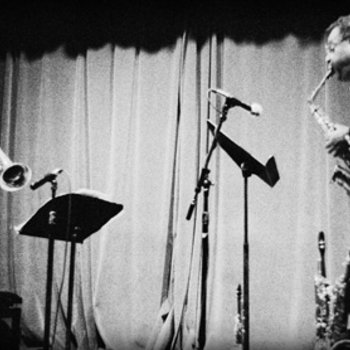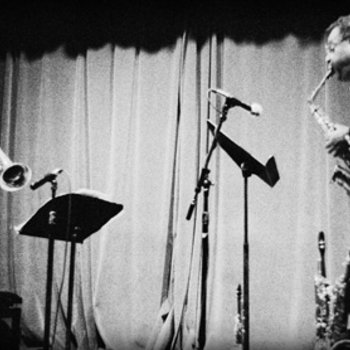 If I had to list my greatest musical partners, the best would be Anthony Braxton. Our lives have kind of moved in similar directions, and have been intertwined in ways that have been unique. I don't mean that we pick up the phone and call each other every month or every year. That doesn't happen. What makes us colleagues is the idea that music is constructed through language. We both have moved away from this same kind of idea of free music. We've moved to what we call systemic music. The very early systemic artists would be Scott Joplin, Bessie Smith, Ma Rainey, and Jelly Roll Morton. Anthony and I see this language as being the most significant way in which to make art. Therefore, we seek to create a new strain of music worlds by acknowledging that this systemic area that we're in is the next greatest area of exploration. That's what makes our performances together, in duet fashion or whatever fashion it might be, as being one of the greatest partnerships that exists. The pieces on Saturn, all of them were new works that we simply talked over in the venue 30 minutes before we went to play them. It wasn't work that was rehearsed. We don't need to rehearse. All we need to do is look at the score and then go in and create it. There are other collaborations that are close to that, the [Jack] DeJohnette duets and the Vijay Iyer duets and [John] Lindberg duets. Those things are closer to that level but I'd have to say that due to the many years and the close encounters that Anthony and I have had, it makes that collaboration probably the apex. Finding a collaborator like that is rare, very rare.
—Robert Ham