FEATURES
Gallhammer's Vivian Slaughter Explores Electronics as Viviankrist
By Noah Berlatsky · February 14, 2018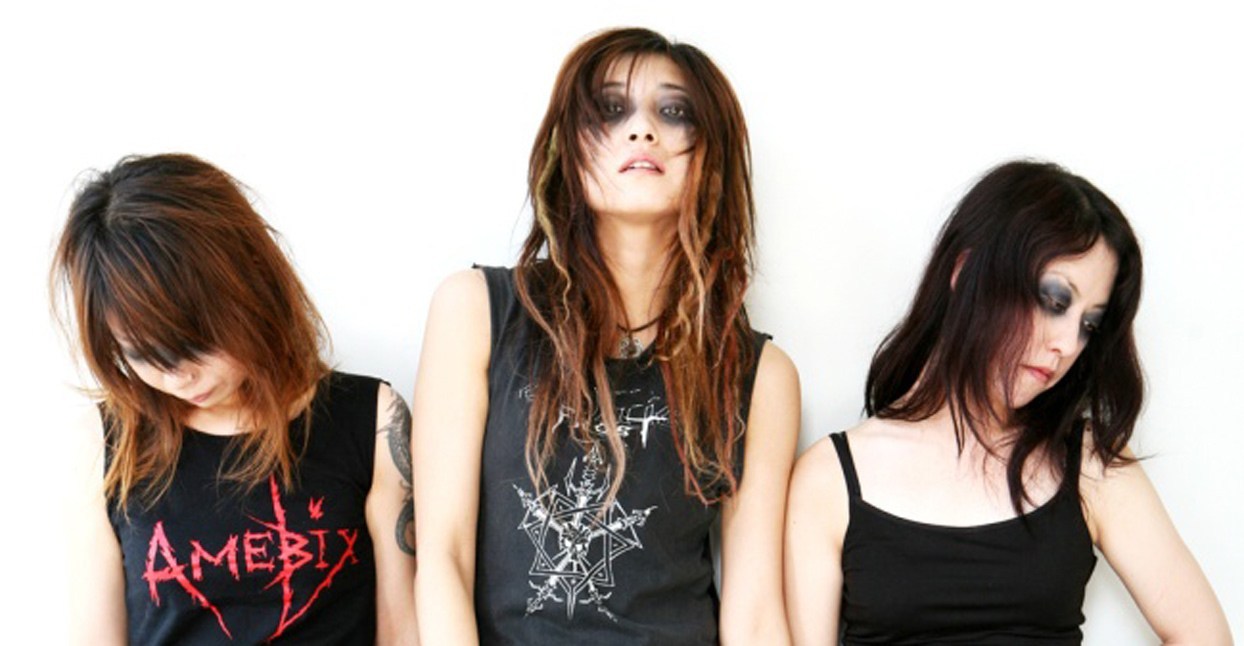 Gallhammer, a gnarly trio from Japan (reduced to a duo on their last album), created a fearsomely bleak amalgamation of black metal, doom metal, and crust punk that resonated throughout the underground, winning them fans the world over. But the title of their last record, The End, confirmed that after a decade, the worst was finally, sadly, over. Gallhammer was done. Eri Isaka, aka Vivian Slaughter, Gallhammer's bassist and vocalist, thought The End might be the end for her as a musician as well. "I made absolutely nothing after 2011," she says. "Gallhammer went on a loooong vacation." She adds, "I'm actually very surprised that I started to make music again."
She's mostly abandoned the bass these days. Instead, she started working with two keyboards, a Korg MS-10 and a microKORG, which her husband, Sven Erik Kristiansen (aka Maniac, of Mayhem), had lying around. She recorded the EP Cold Sun in three days, and released it on Bandcamp last summer under the name Viviankrist—a reference to an older, pre-Gallhammer solo project.
Cold Sun seems like an obvious nod to Oslo, where Isaka has lived for the past seven years. Isaka says it wasn't a deliberate reference, "but Scandinavian wild nature is so powerful it's no wonder if I got affected by it." She was more consciously influenced by electronic artists from "Kraftwerk to Prurient," and lists a wide range of a few—Aphex Twin, Autechre, Laibach, DAF, Silver Apples, and especially Klaus Schulze. Tracks like "Sea of a Cold Sun" sound like Schulze's crystalline ambient soundscapes with some of Gallhammer's static-feedback crust spackled on.
Merch for this release:
Cassette
That first release opened the creative floodgates for Isaka; since then, she's been releasing an album or two a month. One of the most adventurous is a collaboration with Goth Girl. The Canadian harsh noise wall artist wrote to Isaka the day after Cold Sun came out, suggesting they work together. Goth Girl sent her a track through Dropbox, and she overdubbed her contributions. The result, released in September, is 10 and a half minutes of what sounds like massive chunks of metal being dropped into a well, scraping painfully against the sides and occasionally awakening angry demons.
Isaka has also released a couple of EPs with Gallhammer drummer Lisa Reaper, who has started her own electronic solo project called risaripa. The albums are titled Tokyo and Oslo, after the duo's respective homes. Tracks like "Damp," by risaripa, are very much in the Gallhammer spirit, with a leaden, bash-your-skull-in tempo. Electronic squeals and sirens substitute for vocal growls and snarls.
Other efforts are further afield. The collaboration "T-bane," for example, has a chiptune retro-jauntiness, over which are layered rending protests, as if a tiny mammal is being crushed to death in an arcade.
Isaka singles out "Skog," from the album of the same name, released in November, as one of her favorite things she's done so far. "I want some melodies with some noisy elements in my music, and it happened well on that track," she says. The song has a very un-Gallhammer groove to it; it's almost feel-good, bliss-out music, if you have a high tolerance for feedback.
Isaka's also very fond of the track "Icy Gray" from Keys For Tomorrow, which in her words "has a little nostalgic '90s feel to it." The album as a whole she says covers "ambient, noise, techno—all elements of previous works, I think."
Sundust, Isaka's most recent album, pushes her noise experiments in a bunch of different directions. The 10-minute opening track, "Stardust," starts out with crunching noise and then turns into a series of ear-piercing high squeals. "Cosmic Rider" is perhaps the high point of the EP though. An actual beat is buried under layers of feedback screech and squall, creating a kind of filthy groovy abstract noise techno.
Isaka traveled to Tokyo in December to perform live with risaripa and release her first physical album as Viviankrist, a 10″ split with Tokyo-based blackened ambient project Concierto de la Familia. "I just started this…and everything has happened very quickly," she says. "I'm very happy for this situation and what I'm doing now."