FEATURES
Trust Your Gut
By Max Savage Levenson · October 27, 2015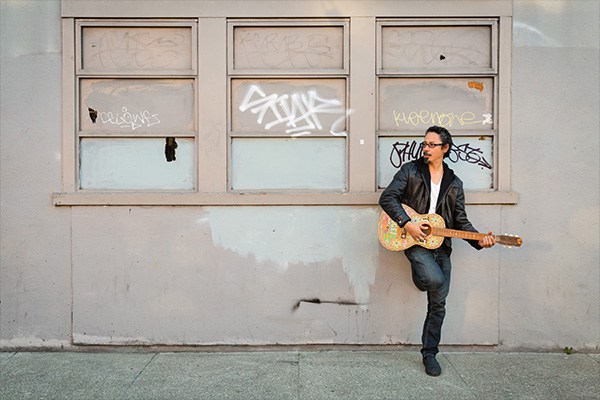 "I'm trying to keep inspiration in the moment. If you play a passage or a part that is too rehearsed, you lose the reason why, the emotional aspect. At that point it's perfunctory, it's done, it's f***ing painting by numbers."
Partway through the recording sessions for Perpetual, the new album by the professional skateboarder and prolific musician Tommy Guerrero, two tracks on his Tascam 8-track tape machine broke, leaving him with only six inputs left to record. But hearing him tell it, on the sunny back patio of a log cabin-turned-breakfast-spot north of Berkeley, with a playful twinkle behind his thick-framed glasses, he doesn't sound terribly upset about the two tracks going "on strike." He's maybe even a bit pleased. Perpetual, Guerrero's eighth full-length, is a celebration of little mistakes and big limitations. Working with only a handful of instruments and recording much of the album to tape in single takes, Guerrero has set out to connect with an unfiltered and unfettered version of himself. By stripping away the overwhelming possibilities provided by digital recording and editing, he has crafted a collection of soundscapes that feel nimble and alive, even as they show their rough edges. Guerrero never sings on the album, and the focus here isn't on verses or choruses, structure or storytelling; but on spinning lyricism out of his guitar and creating sonic atmospheres that swirl around in a vast wash of color.
Many of the track titles on Perpetual reflect nature's universal elements: thunder, horizons, the moon, oceans and the sun. Listening to the gentle drums rolling in like waves and the plodding bass of opening track "Water in Your Hands," for instance, it's easy to hear this music as harkening back to something primordial, goopy, and Jurassic. On "The Fire Remains," a sparse drum machine sketches out wide windows of open, foggy space. And later, the hypnotic bass figure on "Battles of the Forgotten" lurks like a hidden predator in the jungle. Yet these atmospheric touches and beds of sound all lead to one place: Guerrero's guitar.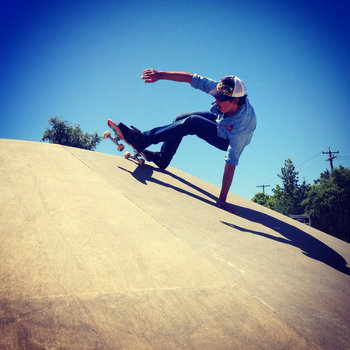 .
00:10 / 00:58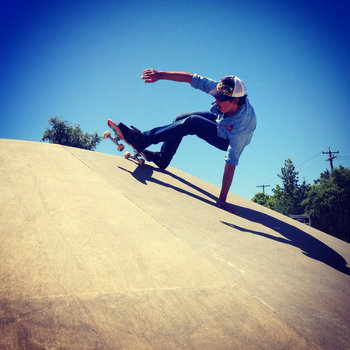 Although Guerrero repeatedly claims that he's not a "real guitar player," and that he's "much more comfortable on bass," he shines throughout Perpetual as a master of vibrant and expressive tone. His riffs and solos, crafted with countless combinations of effects pedals, leap and jab, squiggle and shimmer, existing as a thousand different voices. While the album's rhythm section often rides low to the ground like rich, damp soil, the guitar flies high overhead – an ecstatic bird. On "The Fire Remains," he weaves a curving path around the sizzling snap of the drum machine, while "The Spirit Form" finds him leading the charge with rhythmic, staccato stabs. Although sometimes he provides silken walls of sound that hang weightlessly in the air, like on "Where the Sky Drops Into the Sea," Guerrero often just wants to shred. "There are times when I want to let loose and smash some shit," he told me with a grin. For proof, look no further than the churning detonations of "Thoughts of Tomorrow" or the molten silver riffs on "Atacama."
As a poodle parades by, Guerrero explains that he doesn't approach his guitar work as improvisation, but instead that he's intentionally avoiding belaboring his tunes. "I'm trying to keep inspiration in the moment," he says. "If you play a passage or a part that is too rehearsed, you lose the reason why, the emotional aspect. At that point it's perfunctory, it's done, it's fucking painting by numbers." The catch, however, is that as he prepares to perform these songs live, Guerrero has to relearn the combination of effects pedals that give his guitars such a wide range in tone and color, bouncing from his signature gnarled, angular solos to the radiant chimes on the album's closing track, "Sun Beams Like Stilts."
Yet live versions of these songs will inevitably differ from their album counterparts. The 16 tracks on Perpetual aren't set in stone; they're captured moments. What makes the album such a refreshing listen is that it never worries about perfection or sounding immaculate. In a time where "thinking with your gut" doesn't necessarily come across as a good thing, Tommy Guerrero throws pretense to the wind. Even as it reaches out toward the horizon, embracing expansive swaths of sound, Perpetual's message is acutely focused: trust your heart, and don't get stuck in the muck.