FEATURES
Tommy '86 Takes Us Behind the Scenes of His Sci-Fi Epic
By Andrew Parks · December 14, 2016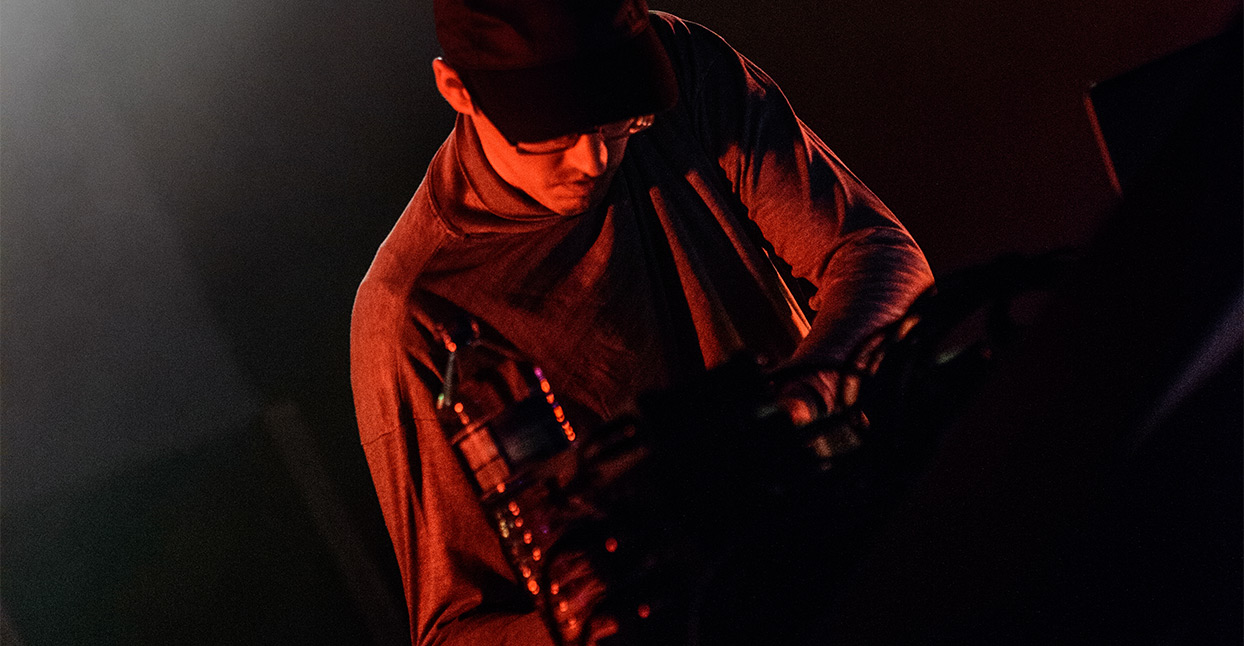 As Blood Music continues to break new ground in a synthwave scene, it's easy to forget the Finnish label's roots in left-field metal like Strapping Young Lad, Sigh, and Emperor's own Ihsahn. And yet its leading artists—elusive producers like Perturbator, GosT, and Dan Terminus—fit that narrative perfectly, being music that's both heavy and heady.
One exception is Tommy '86, a French house fan who grew up cranking Daft Punk, Mr. Fingers, and Marshall Jefferson along with a slew of retroactive sounds that peaked well before the '90s, from new-wave to synth-pop to Italo-disco. The darker turn his distorted tracks took on last month's Transhumanism LP had little to do with a long-dormant love of all things harder, faster, stronger. It's more of a post-Blade Runner production, fueled by fear of an uncertain future, pre-apocalyptic science projects, and paranoid androids.
Or as he explained in an email interview, "A variety of visuals came to mind when I was making the record—a world without flora and fauna, lifeless landscapes, a futuristic city populated by replicants, humanity enslaved, a supercomputer out of control, mind transfer units…If there was a deluxe edition with a small booklet, I think there would be enough to fill it!"
Some liner notes certainly wouldn't hurt, considering how high concept the album is—something about a "living nightmare" run by robots? And the "L.V.T.H.N. Project"? We asked him to describe it all in detail.
Merch for this release:
Compact Disc (CD), Cassette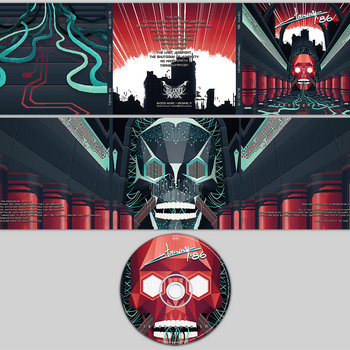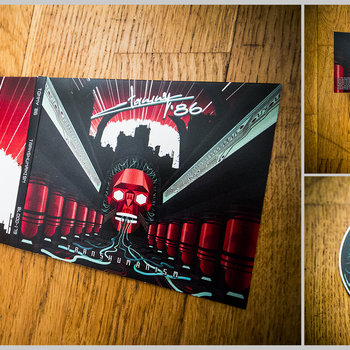 What's the first concept record that resonated with you on a deeper level, and why?
Daft Punk's Human After All. The first time I listened to it, I was a bit disappointed with how cold, repetitive, and lifeless it is. But therein lies the concept—it's just music for robots! I had to listen many times to really appreciate it. Human After All is the total opposite of their previous album Discovery. It is a bit like what I did with Transhumanism.
The record's plot is pretty open-ended. What are some key moments in the storyline that are reflected in the songs themselves?
There are three key moments in the album. The first concerns L.V.T.H.N. itself. It controls Citymulation and its "people," which are replicants. The computer enslaved the last living human beings to build both the city and new replicants. Other humans are used for improving the artificial intelligence of L.V.T.H.N. by transferring their minds to the computer. This is reflected in the tracks "L.V.T.H.N Central Unit" and "Command and Control."
The second moment is when the AI overtakes human intelligence. From there, L.V.T.H.N. spins out of control. No one can stop it. At this time, the AI starts to improve itself and thinks there is nothing humans can offer. This is reflected in the track "A.I. Takeover."
The last moment concerns human extinction, and is reflected in the track "The Shutdown of Humanity." Enslaved humans are now useless and killed by the machines. Other human beings used for the mind-transfer process are brain dead. The track "No Man's Earth" can be considered the true end of the story: machines win!
Did the songs and the story evolve in tandem? Or did you come up with the storyline before making the actual music?
Yes and no. I composed some tracks when I didn't have any ideas about the story. Then I progressively set the scene; I imagined a futuristic city, a supercomputer, the mind transfer concept, etc. As the ideas came, I composed new tracks that were dependant on the flow of the story.
Transhumanism is set in 2332. Is that supposed to make us feel better about the dystopian future we appear to already be living in?
[Laughs] I don't know! It's difficult to tell if this disaster scenario will come in the near or distant future. Maybe it already started and we just don't know!
Merch for this release:
Compact Disc (CD), Cassette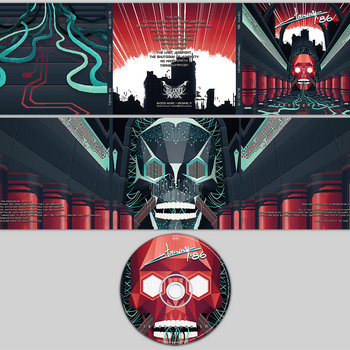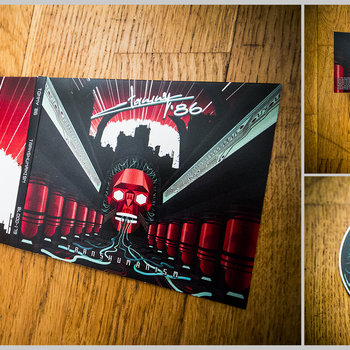 There's a growing level of anxiety around artificial intelligence right now, from self-driving cars to a recent internet breach involving smart devices throughout the U.S. What are your greatest fears related to robots and AI?
Today, AI [devices] are made to help us, to make our lives easier. Security is sometimes overlooked, though. These objects rarely get updates, but are connected to the Internet all the time, making them an ideal target for hackers. It's the same thing for self-driving cars. Imagine what tomorrow would be like if robots were part of our daily life. If robots are as [poorly secured] as our connected objects, we will have problems…
What is one cyberpunk film or novel that captured this subject particularly well and why?
Hmmm…. I would be hard for me to give a specific movie or novel. I have not seen or read a lot of cyberpunk works. However, it's hard to not think about Skynet in the first Terminator movie. For me, it's the movie that captures this subject well: this intelligent software virus which turns against humanity has the same "thoughts", as it were, as L.V.T.H.N.'s artificial intelligence.
When did you first discover science fiction, and what are a few examples of it you have read or watched many times over the years?
Like many people, I discovered science-fiction in my youth. The first science-fiction movie I ever saw was Star Wars IV: A New Hope. I watched it more than 20 times. It was, and still is, my favorite science-fiction movie of all time. There was also the Back to the Future trilogy, E.T., Alien, and many other films I've forgotten since then.
Tell us a little more about the L.V.T.H.N. Project, and how it's supposed to emulate the inner workings of the human brain—for better or for worse.
The L.V.T.H.N. can be compared to the Human Brain Project—scientific research aiming to create a supercomputer that emulates a human brain. Any comparisons with reality stop here. For the album, I thought that the L.V.T.H.N. artificial intelligence could be improved by transferring the mind of a human. This is what is represented in the album artwork. By contrast with the Human Brain Project, the L.V.T.H.N. project turns into a nightmare, because this computer will try to eliminate any form of intelligence other than its own.
Merch for this release:
Compact Disc (CD), Cassette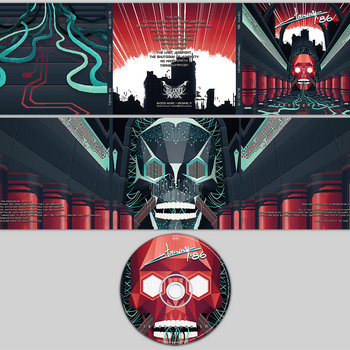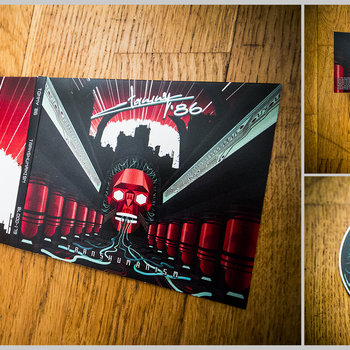 Your previous work was a much lighter listen; what changed?
I'm always to trying to renew myself, to evolve my style. For my third album, I wanted something much darker and aggressive than before. I made a clean sweep of the past and worked very hard over one year to achieve this. I don't know how my next albums will sound, but it's clear that I'll stay in the dark side of the synthwave for a while.
There's a noticeable amount of distortion on this record. What's the first song or album that showed you how effective noise could be when applied to dance music?
A GosT track, from his S/T EP released in early 2014. I discovered him when he was part of Sferro's label Girlfriend Records, which was also my label before I joined Blood Music. Listening to S/T [blew my mind]. I was really surprised how great a track with distortion can be! I also heard some heavy metal influences. With S/T, I discovered something new—something radically different than Miami beaches, palm trees, and DeLoreans.
What are a few of your more surprising musical influences?
I am mainly influenced by electronic music from the '70s and the '80s, especially Jean-Michel Jarre and Kraftwerk. I could also quote College, Sferro, John Carpenter, Goblin, and Tangerine Dream. For me, those years had the best music!
One last question: Is Tommy '86 named after Tommy Lee?
Nope! Tommy comes from the main character of GTA: Vice City! And '86 is simply my birth year! I know the name isn't very original, but I didn't have a lot of great ideas when I started the Tommy '86 project. And I never thought of changing it! People know me with this name; it's best to keep it!
—Andrew Parks