FEATURES
Together Again, Naturally: Sleater-Kinney
By Amy Plitt · January 20, 2015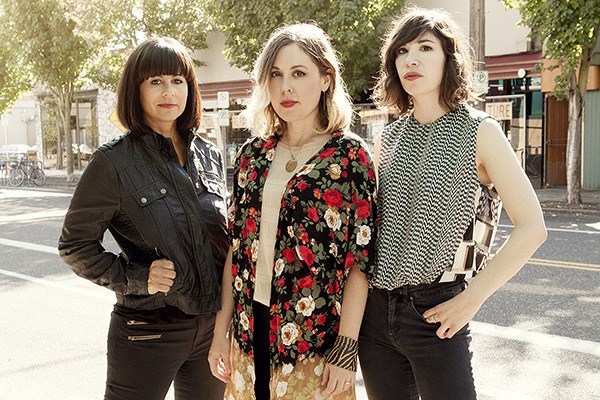 Photo by Brigitte Sire
"We felt this sense that if we don't make a really good record, it would be really hard to justify being a band again."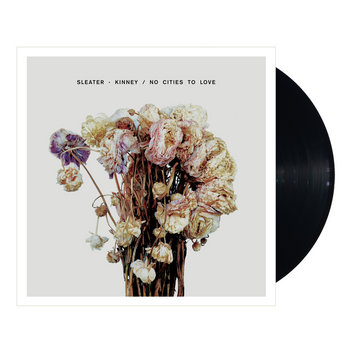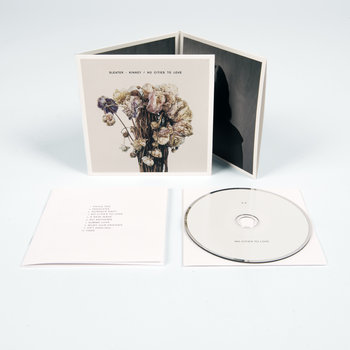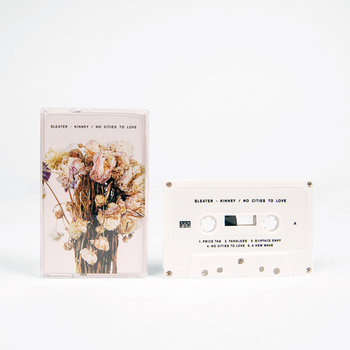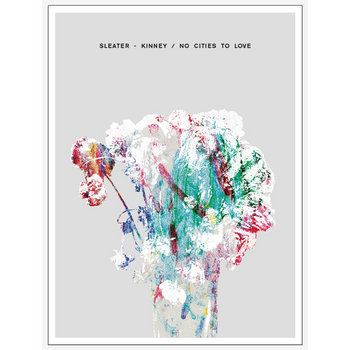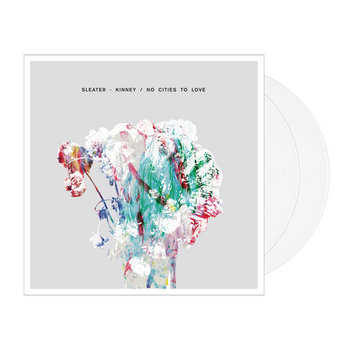 .
00:10 / 00:58
Merch for this release:
Vinyl LP, Compact Disc (CD), Cassette, T-Shirt/Apparel, Poster/Print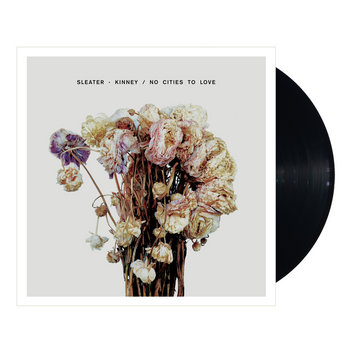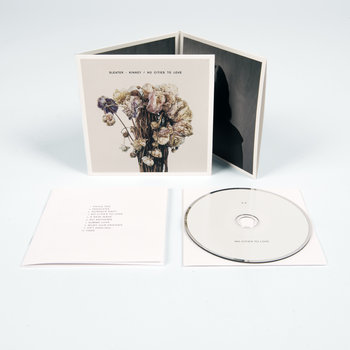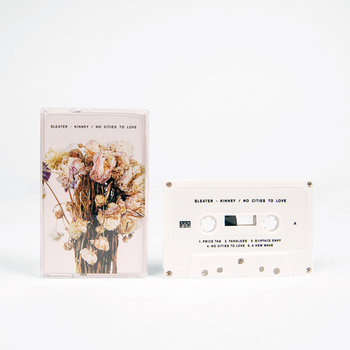 This year's most exciting rock-n-roll reunion—yes, it's only January, but I'm calling it now—is also, miraculously, something that was kept a secret until only a few months ago. Indie-rock legends and riot grrrl icons Sleater-Kinney have just released a new album, No Cities to Love, the first record from the band in a decade. They'll also embark on a massive tour, the first since announcing an "indefinite hiatus" in 2006.
The announcement of a new Sleater-Kinney record—with Corin Tucker and Carrie Brownstein trading guitar licks and vocals, and drummer Janet Weiss providing the thundering backbeat— was met with extremely positive interest. So it's understandable that the band would want to create without the added pressure of scrutiny. "We just wanted to take that space for ourselves and we weren't ready to share that until we were super pleased with it," Tucker explains. "We felt this sense that if we don't make a really good record, it would be really hard to justify being a band again."
.
00:10 / 00:58
Of all the bands that came out of riot grrrl's early-'90s heyday, Sleater-Kinney is certainly one of the most beloved. Brownstein and Tucker both played in grrrl groups—Excuse 17 and Heavens to Betsy—before forming Sleater-Kinney in 1994. The band's self-titled 1995 debut followed the mold of peers like Bratmobile and Bikini Kill with raw, angry lyrics that railed against oppression (from "A Real Man": All girls should have / A real man / Should I buy it? / I don't wanna). Tucker's voice had the power to induce goose bumps even then, and Sleater-Kinney glimmered with the prospect of greatness to come.
A string of critically acclaimed albums followed—Call the Doctor, Dig Me Out (the first with Weiss on drums), The Hot Rock, All Hands On the Bad One, and One Beat—each one, in some way, an evolution from what came before. All Hands, released in 2001, featured the band's most pop-friendly song, "You're No Rock n' Roll Fun." One Beat, out in 2002, wore anxiety and anger about the post-9/11 America on its sleeve. The Woods, which was released to near-universal acclaim in 2005, was the band's least "punk" record, with some downright jammy tunes (including the 11-minute opus "Let's Call It Love"). But even as their sound matured, the essence of Sleater-Kinney—the energy and interplay between the three women—was always there.
Following their 2006 split, each member pursued her own projects: Weiss played in Stephen Malkmus's band, the Jicks, while still drumming for Quasi, the band she formed with ex-husband Sam Coomes in the '90s. Tucker spent a few years raising her son (with director Lance Bangs) before bringing her massive voice to the Corin Tucker Band, and releasing albums in 2010 and 2012. And after a brief stint working for an ad agency, Brownstein immersed herself in the world of comedy: She and Saturday Night Live alum Fred Armisen created Portlandia, the satirical IFC series that lovingly skewers her Pacific Northwest hometown.
As the careers of the trio went in separate directions, they remained connected in other ways, giving fans the hope that a reunion might happen some day. Tucker made a cameo appearance in Portlandia's first season, and Weiss has worked behind the scenes on the show as a location scout. The three members joined Pearl Jam on stage in 2013 to perform Neil Young's chestnut "Rockin' In the Free World." And, most tantalizingly, Weiss and Brownstein formed the band Wild Flag in 2010 (along with guitar goddess Mary Timony and keyboardist Rebecca Cole), releasing one near-perfect album in 2011 before disbanding.
Photo by Brigitte Sire
It was around that time that the three women began to consider the idea of reuniting. "Carrie and I were actually just hanging out," says Tucker of the initial discussions. "We were talking about performing and playing music, and I said, 'Yeah, I wonder if we're going to do Sleater-Kinney stuff again.' We hadn't really talked about it in a long time, so the conversation went from there." Once Weiss was on board, in early 2012, the trio began working on material that would eventually become No Cities to Love.
The band brought longtime producer John Goodmanson back into the fold (he previously worked on Dig Me Out, All Hands on the Bad One, and One Beat), recording No Cities in bits and pieces—a track in Portland, another while in San Francisco—over the course of the past two years. "We would make time when we could," says Tucker. "That would be like, an evening in my living room or in my basement, or in Carrie's basement. We just found opportunities to keep working on it, which is sort of how we've always written."
The first inkling that something was up came in October, when Sub-Pop Records released Start Together, a massive box set containing re-mastered versions of the band's albums. A 7" for "Bury Our Friends," the first single off No Cities, was slipped into the vinyl versions, marked with the date 1/20/15; the news of a full-blown album and tour quickly followed. "After being away for so long we wondered, 'oh, is anyone going to care?'" says Tucker. "We hoped that people would be excited, but we didn't know."
They didn't need to worry—and fans don't, either. No Cities is a fine return to form; it's compact and charges hard, but its 33 minutes are packed with excellent track after excellent track. It also feels like an undeniably personal record: the album opener, "Price Tag," details post-recession anxiety and the decline of the middle class, a point of view informed by Tucker's experiences as a mom. On "Hey Darling," Brownstein alludes to her own anxiety issues, which came to a head after The Woods was released. ("Sometimes the heat of the crowd / Feels a little too close / Sometimes the shout of the room / Makes me feel so alone.") Listening to No Cities you wouldn't know that Brownstein, Tucker, and Weiss took a near-decade-long hiatus from the band; it's as fresh and vital as anything out there.
Now that No Cities is finished, the band is gearing up for a months-long tour that will take them across the United States, to Europe and Canada, and back to the U.S. again. But as far as the future of the band, Tucker is—unsurprisingly—playing things close to the vest. "We'll cross that bridge when we come to it," she says. "I kind of feel like living in the moment."
Amy Plitt is a writer and editor who has written for Condé Nast Traveler, Rolling Stone, the A.V. Club, and Time Out New York, among others. She lives in Brooklyn.