FEATURES
Those Pretty Wrongs Go To "Holiday Camp"
By Jim Allen · April 11, 2023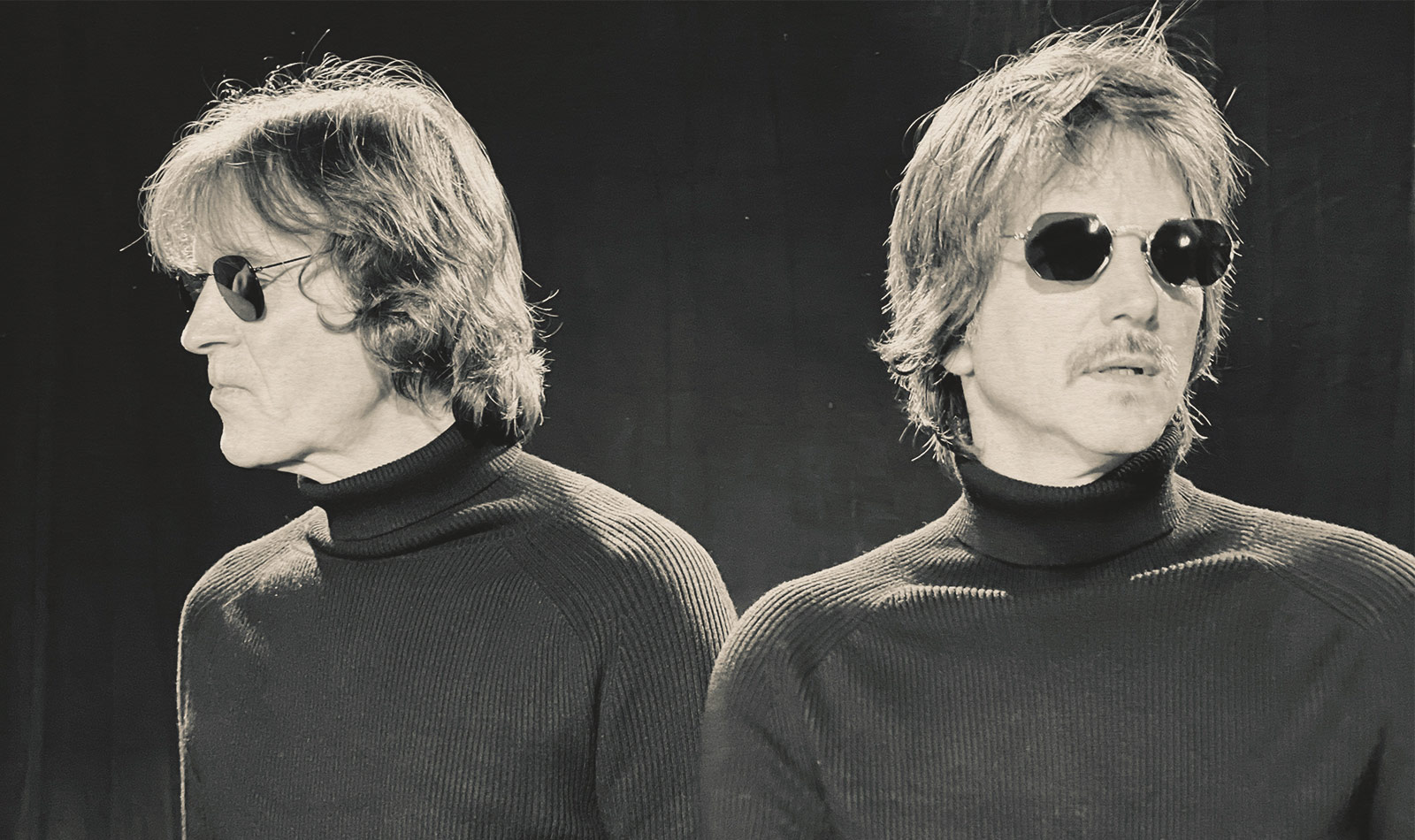 "It's bizarre writing songs," says Those Pretty Wrongs singer/drummer Jody Stephens. You start to understand what he means when you learn that inspirational fodder for the duo's third album, Holiday Camp, included everything from The Shins and The Byrds to Jimmy Stewart and the COVID shutdown.
Still, the creation of Holiday Camp was a lot less complicated than the making of his first band's third album: power pop godheads Big Star's notoriously fraught-but-brilliant 1974 swan song, Third. They were a duo, too, by that time, and Stephens' rare lead vocal and songwriting spotlight on teardrop magnet "For You" foreshadowed his future role alongside Those Pretty Wrongs partner Luther Russell.
Stephens recently achieved septuagenarian status, but there's remarkably little difference between the voice of the 22-year-old crooning his heart out on "For You" and the fully matured rock 'n' roll veteran airing the inside of his mind on Holiday Camp. Russell, a former member of the Replacements-ish Bootheels (with a pre-Wallflowers Jakob Dylan) and roots rockers The Freewheelers as well as a longstanding solo artist, basically handles everything other than lead vocals and drums in TPW.
The pair first met back in 1991, but they didn't collaborate until over two decades later for the release of the Big Star documentary Nothing Can Hurt Me. "They asked me if I would sing some songs for a screening of the documentary," recalls Stephens. "I said, 'Sure,' so I enlisted Luther. That went really well. Then Luther said, 'Why don't we start writing some songs together?'"
Russell has songwriting in his blood. His grandfather Bob Russell was a renowned lyricist who provided the words for classics like Duke Ellington's "Don't Get Around Much Anymore" and The Hollies' "He Ain't Heavy, He's My Brother." His great-uncle Bud Green co-wrote jazz and pop standards including "Alabamy Bound" and "Sentimental Journey." With Russell handling most of the music and Stephens concentrating on lyrics, Those Pretty Wrongs (named for a line from a Shakespeare sonnet) released a self-titled debut album in 2016, followed by Zed for Zulu three years later.
Like those records, Holiday Camp sits in the sweet spot between folk rock and power pop. But there's more emotional intensity behind the tunes this time around, even when they're celebrating sunny subjects.
Along with every other musician on the planet, Stephens and Russell had a new landscape to contend with when the world went into pandemic pause mode. In a classic lemons-to-lemonade transmogrification, they found a way for it to fuel their songwriting during the making of Holiday Camp. "Maybe we're all a bit more introspective in the past three years given COVID," says Stephens. "More sensitive to our surroundings and the actions of people and just lives in general. You kind of grow a little bit. Luther and I have certainly gotten more familiar with each other."
A lot of the sounds the duo soaked up during that time fed into the process too. Stephens was especially entranced with The Shins. "There's something about 'Phantom Limb' [from The Shins' 2007 Wincing the Night Away] that becomes a little portal opener to spark ideas," he enthuses. "That gave me more poetic license… Sometimes if you read a lyric line, it may not make complete sense but somehow you feel it emotionally."
The band's Byrds influences are unveiled in the gentle lapping of the guitars and the way the vocal harmonies breathe with the chord changes on tunes like the joyful "New September Song" and the foreboding "Scream." "That's what we both came up on," confirms Stephens, "me more in a contemporary fashion."
Stephens' devotion to classic films helped inspire "Scream" on a lyrical level. "There's a Jimmy Stewart movie called You Can't Take It with You," he says. In that movie, Jimmy Stewart and Jean Arthur are sitting at a table in a nightclub. He says something like, 'It makes me want to scream.' And then he starts into this whole scene—he's sitting down, and he says, 'I can feel it in my toes. Oh, it's coming past my knees. Oh my God, it's in my throat,' and he grabs his throat. And then Jean Arthur screams because she's afraid he's gonna scream."
The production of "Always the Rainbow" was informed by a much more obscure source. Wilco multi-instrumentalist Pat Sansone played Stephens an album by unknown 1970s Memphis art rockers Companion. Impressed by their graceful analog synth touches, Stephens drafted Sansone to evoke the promise of the rainbow in the song with a warm Moog line.
All three Those Pretty Wrongs albums were recorded at Memphis's Ardent Studios, whose legend Big Star helped to cement, and where Stephens has been employed in various capacities since 1987. Both the studio and Stephens' former band are in this music's bloodline.
"It brings everything," he says of his history with Ardent. "I think everything you hear on Those Pretty Wrongs sessions, Ardent certainly determined the sonic direction." The Big Star experience is central to that history. "The first time I sat down to play with Chris [Bell, Big Star singer/guitarist] and Andy [Hummell, bassist] at Ardent," he says, "I was still in high school. There's this bond that's made when three or four guys form a band and you work together and you get that kind of support."
With cuts like the drumless, acoustic "Ride Along"—which reminisces about the start of Stephens' relationship with his wife of 36 years—and the pealing, blissful "I Will Remember," it's possible to draw a line across the decades from the Big Star days to Holiday Camp. But Those Pretty Wrongs still undeniably stake out their own territory.
"People have cited similarities," says Stephens, "but so far we haven't been guilty of carbon-copying." Does he tire of the comparison? "I really love having been in that band," he says graciously, "and any time Andy Hummel, Chris Bell, and Alex Chilton can enter the conversation, I'm pretty happy."
"I'm not a master of all types of drumming," says Stephens self-effacingly. "I kind of do what I do. I have one style of drumming, it's kind of part of my DNA now. Luther has this brilliant mind for chords and how they fit together. To borrow a description somebody made of Alex's playing, Alex can take a vanilla chord and make it colorful—Luther can do the same thing."
The sound of Big Star also has a very literal presence in Those Pretty Wrongs' music via Chris Bell's guitars. "I own Chris's Yamaha acoustic that he used on # 1 Record," says Stephens. "We used that on all three records. And Chris's Cherry Red 330 Gibson, Chris's nephew owns that guitar, and he's graciously loaned it to us each time. When Luther plugs it in, he says, 'Wow, it's playing itself,' in terms of defining what these parts are and the energy. There's some sort of continuity thing with using those guitars."
Stephens is a boomer and lifelong Memphian. Russell's a Gen X'er who's L.A. all the way. But Holiday Camp is the sound of their common ground, a conversation between old friends. "All in all, we make a really good pair," says Stephens. "You wouldn't hear this music anywhere near the same if Luther or I had done it alone. All the colors and emotions you hear on those recordings—they're the two of us."