FEATURES
Thollem Brings a Punk Rock Work Ethic to Experimental Piano Music
By Brad Cohan · April 11, 2018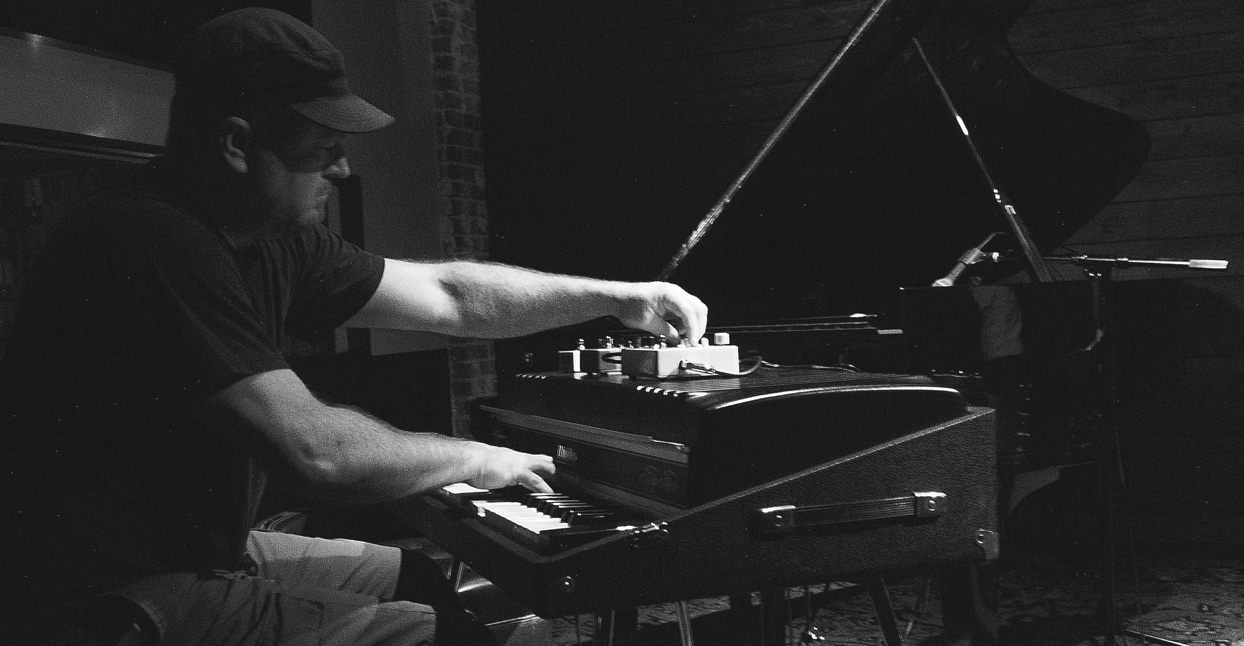 Freewheeling acoustic and electric piano improviser Thollem is a road-tripping warrior who lives out the Minutemen's DIY punk ethos of "jam econo." For the last decade or so, Thollem—in tandem with his life/creative partner ACVilla—has embarked on a never-ending tour, racking up both thousands of miles on his van and a hall of fame-caliber list of collaborators culled from the avant-garde jazz, experimental, and indie rock worlds.
Thollem is a bruising virtuoso who has deconstructed free music, classical, blues, electronic music, prog, noise, and everything in between. His music can be playfully eccentric or ear-splitting and abrasive—occasionally at the same time. Though his solo efforts are impressive on their own, his list of collaborators is stunning: Wilco's Nels Cline, Yeah Yeah Yeahs drummer and improviser Brian Chase, Unwound's Sara Lund, Deerhoof's John Dieterich, avant-garde jazz bassist/composer William Parker, cornetist Rob Mazurek, the late minimalist composer Pauline Oliveros, and punk legends like Mike Watt and Jad Fair, just to name a few.
The 50-year-old pianist has been without a steady address for well over a decade, playing live and recording under "Thollem" and "Thollem Electric" with his partners-in-improvisation. Thollem relishes his inscrutability. "It delights me to think I convey a mysterious persona, mostly because mystery is synonymous with beauty in many ways," he says. "I go by Thollem, for the most part, because I can. I'm sure I'll change my name again before it's all said and done. It's an effective way to remind myself that I am choosing who I am, every moment of my life."
Originally from the San Francisco Bay Area, Thollem grew up in a household surrounded by music, raised by a single mother who was instrumental in sending him on his unique path. "My mother was an amazingly dedicated piano teacher, who also was an overwhelming influence on my life," he recalls. "She forced me to practice until I was 12, which is when I realized that I had something to say through sound."
In the Bay Area, Thollem was exposed to an eclectic array of musics, from West Coast punk rock to salsa to Japanese taiko to gamelan to free jazz to symphonies. Though he was already dabbling in free improvisation, it wasn't until college that he fully embraced its sonic possibilities. "Free improvisation was something I just always did growing up," he says. "It wasn't until my first semester at San José State University when I was first really exposed to Cecil Taylor and Derek Bailey through Dwight Cannon, who was a great teacher at SJSU." His career got a boost when saxophonist Rent Romus invited him to release an album on Edgetone Records; it's been full-throttle ever since.
A mad scientist at the piano, Thollem credits everyone from John Cage and Alicia de Larrocha to Black Flag with his development as an improviser. But it's his collaborative kindred spirits who help him realize his vision. "I really value the collaborative process, both as an idea generator as well as a way to be intimate with people without getting too involved for my own good," he says. "Because I'm on the road all the time, I take advantage of this by working/playing with as many different people as possible, from all walks of life. Every instance is an opportunity to rediscover the human organization of sound, energy transfer, and personal dynamics."
All that and more is manifested on Thollem's comprehensive Bandcamp page. While Thollem has recorded for labels like New Atlantis, Edgetone, Personal Archives, ESP-Disk', Post-Consumer, Relative Pitch,and more, he's methodically condensed his sprawling output into neatly categorized compilations—call them "Thollem Best-of"s—that serve as the perfect introduction to his monolithic body of work and political activism.
Represented are choice cuts plucked from his batch of solo piano sets that showcase his maelstrom of contorted notes and abstract passages while, conversely, the bulk of Solo Electric Compilation focuses on glitch-heavy and drone-y sci-fi noisecapes that serve as the soundtrack to Who are U.S., an audio/visual experience that documented Thollem and ACVilla's 48-state swing through America leading up to the 2016 election. Estamos Project Compilation brings together composers and improvisers across the Mexico/U.S. border.
Then there's the Duos with Drummers Compilation which features tracks selected from Dub Narcotic Session, a primal acoustic punk-jazz freak-out that paired Thollem with Brian Chase of the Yeah Yeah Yeahs. "Brian is, of course, famous as the drummer for YYYs," he says, "but he's also very respected in the adventurous musical community as an explorer of sound, often in improvised approaches."
Thollem has also partnered with Sara Lund of hugely influential post-hardcore outfit, Unwound. As Conformity Contortion, the duo have recorded two albums (2017's Perception Management and 2014's Impulsive Machinations) of electric piano-fueled, cosmic mayhem. Think Sun Ra meets PacWest noise-punk. "Sam Coomes introduced Sara and I," he says. "I was working on a project playing electric in duos with drummers, searching for a new way for me to explore beat-oriented music with overdriven keyboards. When I met Sara, everything just was amazing from the start. She's such a great drummer, perfect for this approach."
Another well-known collaborator of Thollem's who shares the same affinity for brutal physicality and subtle patterns and textures through free improvisation is Nels Cline. Their rapport is captured on the Thollem / Cline Trio Compilation, a set of marathon spiritual music on which the two are joined by William Parker, drummer Michael Wimberly, and Pauline Oliveros. "Besides Nels's incredible array and barrage of sonic possibilities, I feel we have a working/playing relationship which is ideal for me on a personal level," says Thollem. "I think we have in many ways experienced similar paths and perhaps have a unique understanding of each other."
Thollem is gearing up for a busy 2018 with a flurry of new projects and releases. On tap is an album on ESP-Disk' with drummer Tim DuRoche and bassist Andre St. James titled Live in Our Time, a duo album with percussionist Gino Robair on the Setola di Maiale label, and a trio album with Chase and guitarist Todd Clouser along with his new solo/synth project Hot Pursuit Of Happiness and film scoring venture With The Films Of.
Cline himself is in awe of Thollem's unabashed creativity, ubiquitous presence, and relentless work ethic. "Thollem is an indefatigable instigator, a magnetic improvising force bringing wide-ranging expression and invention to everything his restless, nomadic existence comes into contact with," Cline says. "And whether playing his virtuosic piano or writing quirky-yet-classic songs and playing all manner of electric keyboards, his maverick essence is magically evident. The man is everywhere!"
-Brad Cohan