FEATURES
The Wandering Sound of Berlin-Based Collective Drosssel
By Lucy Dean Stockton · December 02, 2019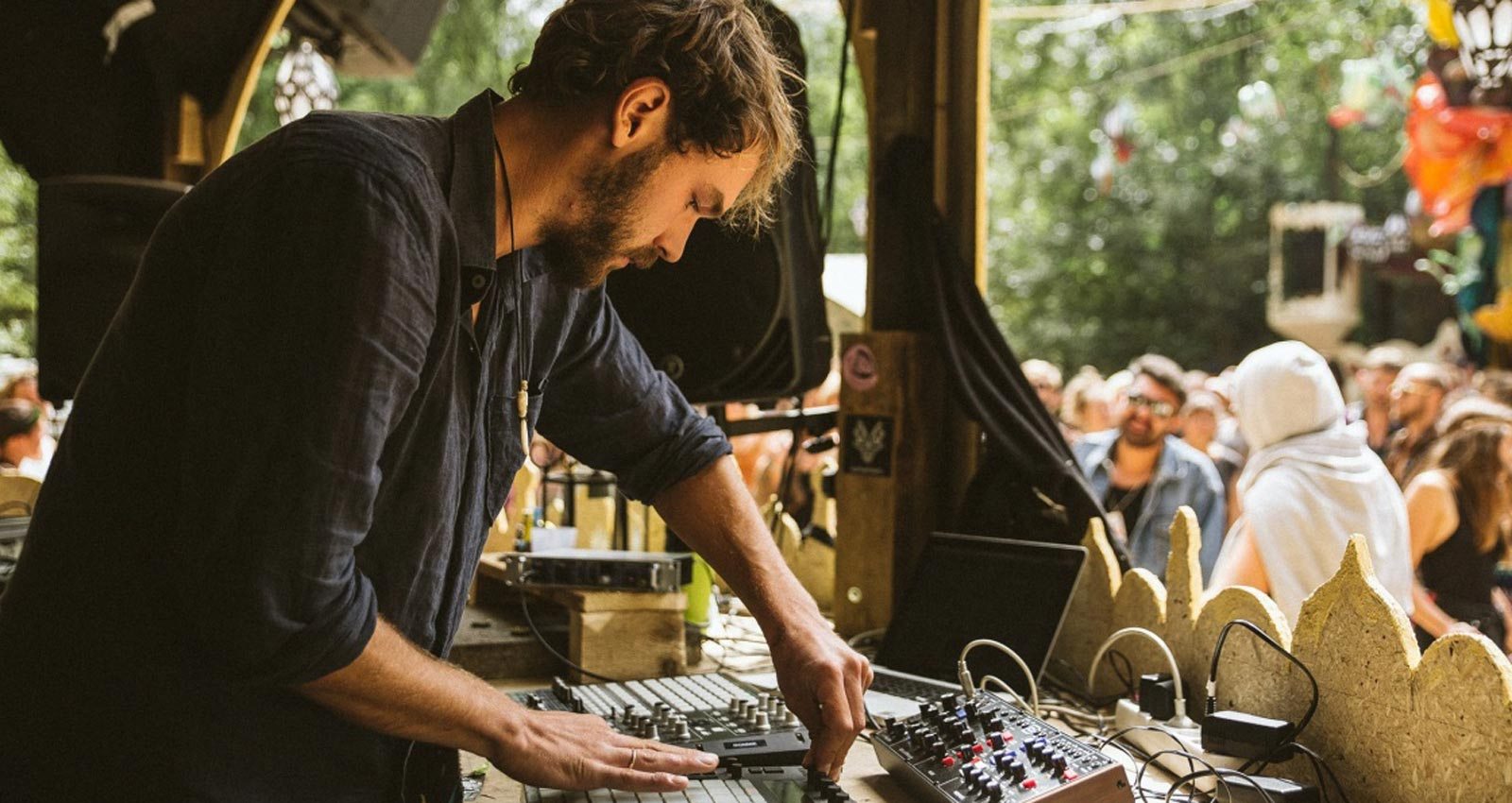 Drosssel, a Berlin-based music collective and label, has a simple request for their listeners: slow down. Since 2016, they've been collaborating with their friends and fellow artists around the world to produce original albums and innovative reworks that achieve what Drosssel's lead organizer, Daniel Händel, describes as "the joy of deceleration."
After having worked as an independent DJ under the name Daensen and at the record label Anselcom for a decade, Händel had been longing to create his own experimental space for downtempo electronica. Wanting more work in "the slower areas of electronic music," he and his friend Matti (Mattmosphere) formed a collective and named it 'Drosssel' which translates to 'throttle,' the device that slows down a moving vehicle or an engine by controlling the flow of fuel. The artists clustered around Drosssel release a variety of surreal reworks, slow covers, ambient noise music, or modern pop. On VAcation, 15 musicians contribute pieces that are buoyant, spectral, and rich: Anna SchuSchu's "The Softest Urgency" is a slow-building, synthesizer-based love ballad while AFAR's "In the Bathroom" evokes a spooky nightclub scene with a pulsing beat and a ghostly voice. Many of the artists that work with Drosssel are independently well-known; they join the project when they have a sound that fits, contributing to compilations or releasing their own albums through the label. This includes the organizers Händel and Matti, as well as artists AFAR, Arutani, Haunted Water, Kajuku, Kusht, mf jaeger, Paul Traeumer, y e l a g u a, and 2 Girls 1 Club, among others.
To date, their compilation albums—usually a collection of their most recent releases from any of the artists they work with—have been their biggest projects, and are released in installments named numerically 'Löffelchen' (a spoonful of sugar) or 'VAgabunden' (vagabond) after the wandering, serendipitous energy they try to evoke in their sound. The sound of a Drosssel mixtape can vary widely but there are some unifying themes: shadowy reverberation, crystalline voices, electronic filters laid over traditional folk songs, and the promise of diversity. The tone of their more recent releases has shifted towards the ambient sounds associated with dimly lit nightclub spaces—heavy on the bass and synthetic effects. Earlier releases featured remixes of classic songs and an extensive repertoire of work that fit more closely in the 'Electronic Folklore' genre.
Händel is quick to emphasize how key collaboration is to the collective. "Sometimes, we'll find artists we love and ask them to work with us, and sometimes artists will come to us on their own," adding that everyone does their part in "bringing new ideas to the table, doing artwork for our releases, and making remixes." "We are a bunch of friends," he says, "almost like a family by choice." Their recording and release process is as relaxed as their sound—the studio is based out of Händel's home in Berlin, a city that has a reputation for being friendly to artists. Thanks to the city's size, its relative affordability, and its government's forward-thinking policies, artists from all over the world can acquire specialized artist visas and work alongside their peers in any medium. When Drosssel organizes their own events, they try to employ a "fresh approach," hosting performances in movie theatres, restaurants, and public parks, and combining live music with poetry.
.
00:10 / 00:58
"The creative energy of this city is definitely a part [of what we do], but in this internet age, just sharing our vision of music has helped us to connect easily with artists around the globe," says Händel. As a result, their releases contain everything from the harmonies of retro Italian pop like on Lukas Endhardt's "Solo Tu," to a remix of Middle Eastern string overtures from Turkish band Moğollar in "Kaleidoscopic Dream," to South Asian sitar interludes on Jota Karloza's "Bird." By striving "to shape what the downtempo genre is becoming," they've found significant success online—especially with their breakout hit, a remix of the 60's-era Brazilian band Os Tincoa's song "Deixa a Gira Girar." The Drosssel-produced rework accrued 30 million listens on Youtube alone.
Drosssel's ethos is present in every part of the collective's culture as they grow "slowly but lovingly" and work to build "a safe place for artists to experiment together with no set boundaries." After all, they describe themselves as "a collective love affair." Their project is part of a larger mission to show the world "that there's more to music labels than just business." The organizers, and all of Drosssel's members, are consistently busy playing live events and producing music. They've recently begun pressing vinyl records, and "see [them]selves growing with each challenge." Working with the expectation that all of the artists involved will always have shifting interests and sounds, maintaining that this "ever-changing taste is central to [their] label," because "everything is open and encouraged to." Moving forward, Händel insists that, "we always change," but for an endeavor that toes the line between business and friendship, "what stays the same is the feeling, and the love."