FEATURES
With The Twilite Tone, Anthony Khan's 30-Year Career Recieves A Thrilling Reset
By Blake Gillespie · Illustration by Olly Watson · October 21, 2020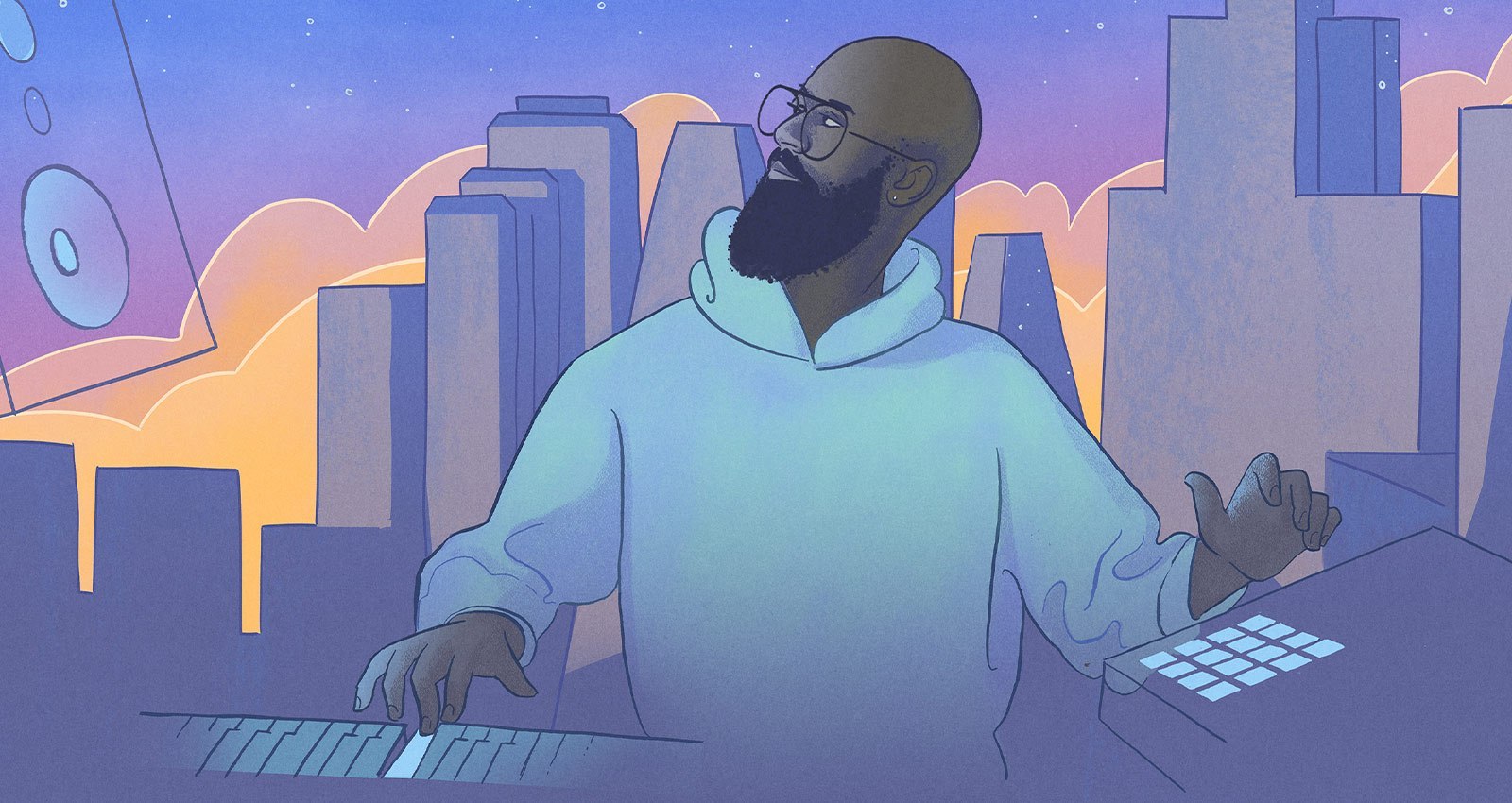 Anthony Khan, aka The Twilite Tone, never could have guessed that his debut album, The Clearing, would end up being serendipitously bonded to the year 2020. The album, full of soulful instrumental hip-hop, is built around the idea of "experiencing a reset"—an idea that certainly seemed a lot more abstract when Tone completed it two years ago.
Then again, Khan also helped produce Gorillaz's Humanz, Damon Albarn's own bleak vision of a future in 2015, when Donald Trump was considered a longshot, punchline candidate. Albarn's concept for Humanz was imagining a future in which Trump won the election.
.
00:10 / 00:58
Merch for this release:
Vinyl LP
"Trump wasn't even being seriously considered," Khan says, on the phone from a recording studio in Atlanta. "It took us a year to produce that album. As we are working on it, it was like a snowball effect."
So perhaps, for his debut album, Khan was hoping to bring light into the world, rather than imagining the worst possible outcome. Much like the moral quandaries that provided storylines for The Twilight Zone—the show that gave Khan his artist name—Khan accepts that there's a karmic balance to things that exist at the "pit of man's fears and the summit of his knowledge," and that sometimes, to quote Rod Serling, we can find ourselves "in the dimension of imagination."
"I have to be careful what I name my album and what the themes and mantras are," Khan says, only half joking. "I have to be very careful."
All that said, The Clearing is not a "pandemic album." And though it was completed two years ago, Khan has been making music since the early '90s, when he served as a producer on Common's debut album Can I Borrow A Dollar? After that came collaborations with Kanye West, one of which, "Mercy," netted him a Grammy nomination. That led to production gigs for Pusha T, Big Sean, John Legend, and My Brightest Diamond. With those kinds of connections, you might assume Khan would be a shoo-in for a lucrative major-label deal.
Which brings us back to the concept behind The Clearing: The notion that clutter and relics that no longer define a person must be cleared away in order to move forward. Khan understood that, in order to be his truest self, he needed to align himself with individuals who reflected his vision for his art.
.
00:10 / 00:58
Merch for this release:
Vinyl LP
Khan had been exploring the idea of self-improvement since the late '90s; long before the Kanye collaborations, Khan was a renowned DJ with a string of gigs and residencies all over the world. His setlist consisted of the Top 40 hits of that era. It felt phony.
"I had an epiphany that said, 'This is not me,'" he remembers. "I'm not a drug dealer. I've never been to prison. I don't really frequent strip clubs. I'm not in love with a stripper. I don't have a P.O.; I don't have a C.O. I have a P.O. Box."
So he gave it up. Instead, he started taking gigs that allowed him the freedom to explore house, electronic, and funk—forms nearer to his heart. He became known for fearless sets that roamed far beyond any one genre. He might play Vangelis followed by James Brown, then Larry Heard. It was a foray into what he calls being 'trans-genre": seeking commonality, rather than accepting the division.
Accordingly, The Clearing absorbs the breadth of Khan's record collection into a succinct and clear vision, filtered through the Akai MPC and Korg synthesizers. It's also chock full of Easter Eggs, like his use of the police voice from Grandmaster Flash's "The Message;" he even works in Super Beagle's "Dust A Sound Boy," a callback to his work on "Mercy." But just as quickly as that Super Beagle flip appears, Khan casts it aside in favor of meditative synths and samples. He's drawing everything he's ever collected in his deep crates, from new age to soulful house. He crafts a battlefield where low end wages war on ethereal synths—things get particularly menacing on "Do It Properly." Then, "I Still Need Love" arrives as a kind of peace pipe, blending L.A. Posse's sensual synths from LL Cool J's classic "I Need Love" with boom-bap drums and snaps.
The Clearing not only represents the sum of a Khan's knowledge, it's also, at long last, a reflection of his authentic self—a debut album over 30 years into his career. And his thoughtful discoveries, his introspection, and his decision to discard the hustle in favor of meaningful pursuits have a particular resonance right now. "I think we all called for this time," he says. "We wanted a reset. We all wanted a space. We wanted a clearing."