FEATURES
Faith & Funk: The Staples Jr. Singers' '70s Soul-Gospel
By Jim Allen · May 06, 2022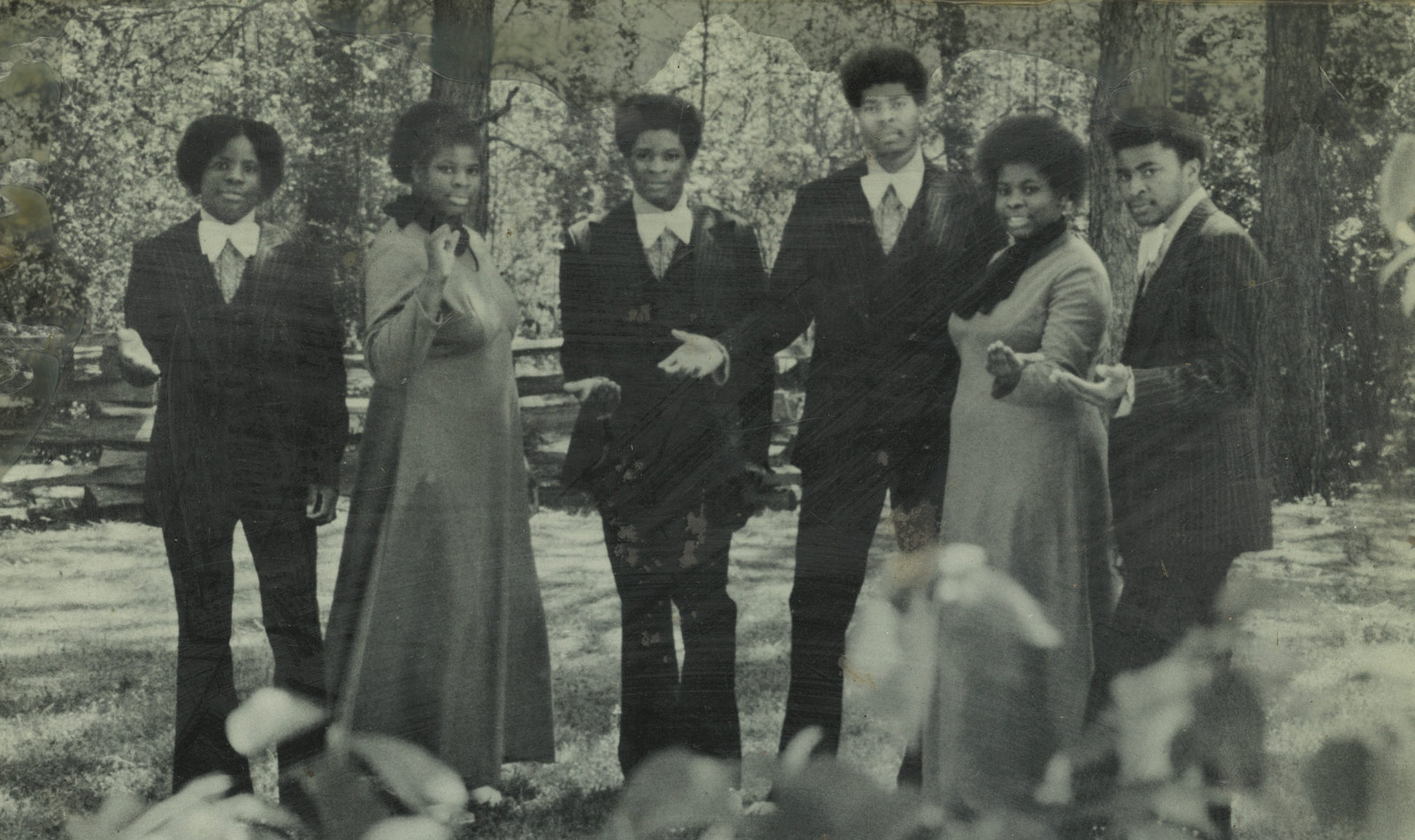 "I prayed every night for this to happen," says Edward Brown, in a voice equally full of faith and the deep twang of Aberdeen, Mississippi. "I said, 'Lord, let me do something that will touch this whole world and let the world know that I'm trying, I'm working hard trying to do something for you.'"
In 1975, Brown and his siblings sent their message to the world with When Do We Get Paid, the only album ever released by their soul-gospel band The Staples Jr. Singers. A smallish number of souls heard it, but the record eventually became rarer than a popsicle in Death Valley. Its reissue by Luaka Bop brings the Brown family's mission that much closer to completion. 
Merch for this release:
Compact Disc (CD), Vinyl LP, T-Shirt/Shirt, Poster/Print,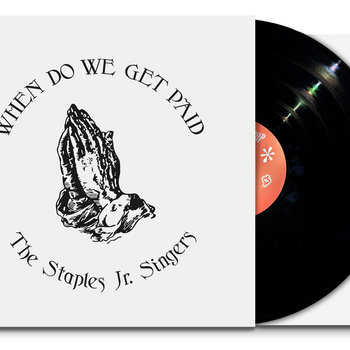 J.B. Brown was the gospel-singing patriarch of the Browns. Before his kids were old enough to see over the dashboard of the family van, they started joining in with him on songs of praise at local churches. Money was tight, but love, music, and faith were in abundance: "My dad was working, and my mama was at home trying to take care of nine kids," remembers Annie Caldwell Brown.
"We had a hard time," adds Edward. "We didn't get everything we needed back then, but God still blessed us. It was some hard times, but still, God took us through all that."
In the early years, their mother introduced the children to gospel groups old and new from all over the country, instilling the music in souls as well as their psyches. There were The Jackson Southernaires and The Spirit of West Point from right there in Mississippi; The Highway Q.C.'s from Chicago; The Mighty Clouds of Harmony all the way from New York; The Gospel Four, Masonic Travelers, and Swan Silvertones from Tennessee; The Swanee Quintet out of Augusta, Georgia; and The Bright Stars out of Flint, Michigan. But it was a family band from Chicago that had the greatest impact on them, all the way down to giving them their name.
By 1967 the still-adolescent Browns had learned enough to form their own band, which would eventually include singers Edward, Annie, and Cleveland; singer/guitarist A.R.C.; and bassist Ronnie. Their fusion of funky R&B grooves and church-going gospel roots coincided with the rising popularity of The Staple Singers's soul-gospel sound and soon, people started referring to the kids from Aberdeen as The Staples Jr. Singers. It stuck.
Ironically, it was the Staples's early, pre-R&B sound that actually influenced the Browns. "We never hardly listened to R&B," says Edward. "We growed up in the church, we was into gospel. R&B didn't really touch me. We had people come and tell us, 'Y'all go and cut me a blues and we'll do this for y'all.' I told them I'd never get rich if I had to go out there and sing a blues. Because I know what my mommy and daddy brought me up for. I wasn't into nothing like that."
Merch for this release:
Compact Disc (CD), Vinyl LP, T-Shirt/Shirt, Poster/Print,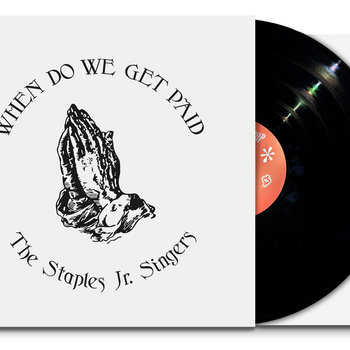 "It was like old-time songs, old gospel," remembers Annie, "where you could feel what they were singing about. And I came up that way, trying to pattern myself after Mavis Staples and Pops Staples. At that time, they were just doing gospel. Later, they did start singing R&B. But the part that most influenced me was the gospel."
If the Browns didn't pick it up at home, they must have breathed that R&B influence in from the air around them, which would have been full of funky grooves in the late '60s and early '70s, especially in a region where so much of that sound was originating. But they took it onboard in a completely organic way.
"We could change our music any way we wanted to go," says Edward. "That's how our style started. We could play whatever we wanted to play. God gave us that gift. Whatever we wanted to do in our mind, we could do it. That was our own groove, we didn't follow nobody. That's just the way we played."
The soft-spoken A.R.C., usually content to let his brother and sister speak up, adds, "The gospel comes from out of the church. The blues comes from out of the church. Whatever we heard, we just add to."
The Staples Jr. Singers became a local fixture. "We used to go from school to school when I was a little girl," says Annie, "and go from church to church and house to house." But before long, they were hitting the road hard, not only around the South but up in Chicago and even as far north as Minnesota. "Sometimes after church on Sunday we'd run two or three programs in one day," recalls Edward.
By 1974, they had cut their first single for independent Mississippi gospel label Brenda Records: "Waiting for the Trumpet to Sound," backed with "We've Got a Race to Run." (The former is included as a bonus track on the Luaka Bop reissue, while the latter features on the 2019 compilation The Time for Peace Is Now.)
For all the Browns's deep roots in gospel tradition, it was clear from the start that theirs was no old-school approach. Besides bearing a soulful underpinning, their songs came not from a hymnal but from the minds and hearts of these Mississippi youths. On one level, what emerged from them was all about faith. "I was telling the world that one day the Lord did it for me," says Edward of "Waiting for the Trumpet to Sound," "he did lay his hands on me, and he told me, 'Go along with me.' And when Gabriel sounds that trumpet, it's over with. So, I said, 'I'm waiting for the trumpet to sound.'"
The Browns's faith was largely shaped by their experiences growing up Black in the South during the struggles of the Civil Rights era. "I was walking down the street one day and I was just coming to the Lord," remembers Annie of writing the 45's B-side. "And that's when 'We've Got a Race to Run' came about. Because people in the world, you mistreat your sister or your brother, but we still got a race to run. Ain't gonna be no black and white or Chinese or Puerto Rican, it's gonna be all one. Back then, I could just say that when we all get to heaven, it's just gonna be one."
When The Browns were young, running that race was still an everyday reality. "There was a Black school and a white school," says Annie, "and you couldn't go into certain places to eat and sit down and enjoy with each other, everything was separated."
"We went to Alabama to sing," recalls Edward, "and before our program started, we went to get some food. We went to this diner and sat there for a while. They sent this lady back to say, 'We not gonna serve y'all.' So then when they ain't gonna serve us, we left, we went to this store and we got some food just as good as the restaurant. We just had to do what we had to do. As long as I had the Lord on my side, I wasn't worried about nothin'."
Merch for this release:
Compact Disc (CD), Vinyl LP, T-Shirt/Shirt, Poster/Print,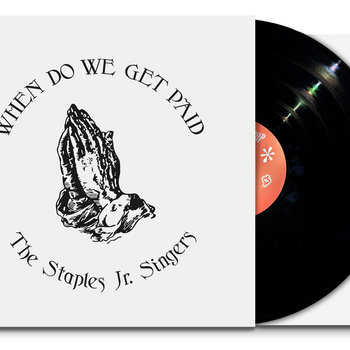 Those experiences informed the songs that make up When Do We Get Paid, cut at Statue Recording Studio in Tupelo in a single day. "There wasn't no coming back the next day to finish our songs," says Edward, "we had our stuff down pat."
Every note is perfectly placed, and the record is as raw as the emotions that went into it. Most of the time, it's just A.R.C.'s faithful but funky guitar finding a Mississippi median somewhere between Pops Staples and James Brown axeman Jimmy Nolen, with Ronnie's bass and Corl Walker's drums hitting the gospel goodfoot, while either Annie or Edward wails over it and the others sing along. It's more lo-fi than anything the era's high-profile gospel or R&B acts were turning out at the time, but it also packs more of a gut punch.
The Staples Jr. lay these tracks down with such authority that it's disorienting to realize you're listening to a bunch of high school kids—or, in Ronnie's case, even younger. Especially when Annie testifies with an almost scary intensity over the tough groove of "I Know You're Going to Miss Me," or Edward spreads his joy with a soulful moan on the syncopated strut of "I Feel Good." "That lets you know I feel good inside [about] what God has done for me," he says of the song. "Even if I didn't have much, I know God blessed me with what he wanted me to have, so I feel good about it."
Earthly trials like economic and racial struggles feel close enough to touch on the slow-burning title track, as A.R.C.'s twanging, bluesy riffs frame Edward's preacherly croon. "I was just asking a question," he explains. "When do we get paid for the work we've done? It wasn't coming from a personal place, like no job or nothing like that. I was talking about our labor and what we're doing down here, that it won't be in vain. It wasn't no selfish thing, I'm just talking about everybody. Whatever you doing, God is gonna pay you."
"Everybody was kind of going through the same things," says Annie, "the same emotions. When they could hardly find jobs, they're trying to provide for their family. Most of all, we knew that God could make a way, and we leaned on him. When do we get paid for the work we've done, out of all the heartaches and pain that we've been through?"
The Staples Jr. Singers never made another album, but they kept to the path for about a decade and a half. Eventually, the family grew, and its members' careers evolved in kind. Annie got married and started The Caldwell Singers with her husband and children. Edward and A.R.C. continued on as The Sensational Brown Singers. Both groups are still active today with multi-generational lineups and deep bonds forged from faith and family.
"Our father and mother taught us to always love one another," says Annie. "Singing with my brother and them, even when the Staples Jr. were not singing no more and I started singing with my children, we feed off each other, because we love each other."
Though the Brown/Caldwell clan's music remained in motion, When Do We Get Paid receded into myth. There weren't a ton of copies pressed to begin with, and these days, the Browns' only copy may be one of the last remaining. But when Luaka Bop included the equally rare "We Got a Race to Run" on their aforementioned collection of underground '70s soul gospel, wheels were set in motion that led to the album's unlikely reissue.
The record arrives at a time when the world needs its message of love and mercy just as much as back then, if not more, and the Brown siblings are here for it. "It wasn't hard back then to sing those songs," says Annie, "because it seemed like everybody was saying the same thing and going through the same stuff. With so many people hating one another, we need to get together."
Edward, Annie, and A.R.C. are also performing their old Staples Jr. tunes together again for the first time since the original band broke up. For older brother Edward, the mission has hardly changed. "I was singing from my heart for the Lord," he says, "we were just out there praising God. That's what we were doing it for. When God saves you and does something good for you, you want to tell the world about it."