FEATURES
The Spiritual House of Osunlade and Yoruba Records
By Andy Thomas · March 15, 2023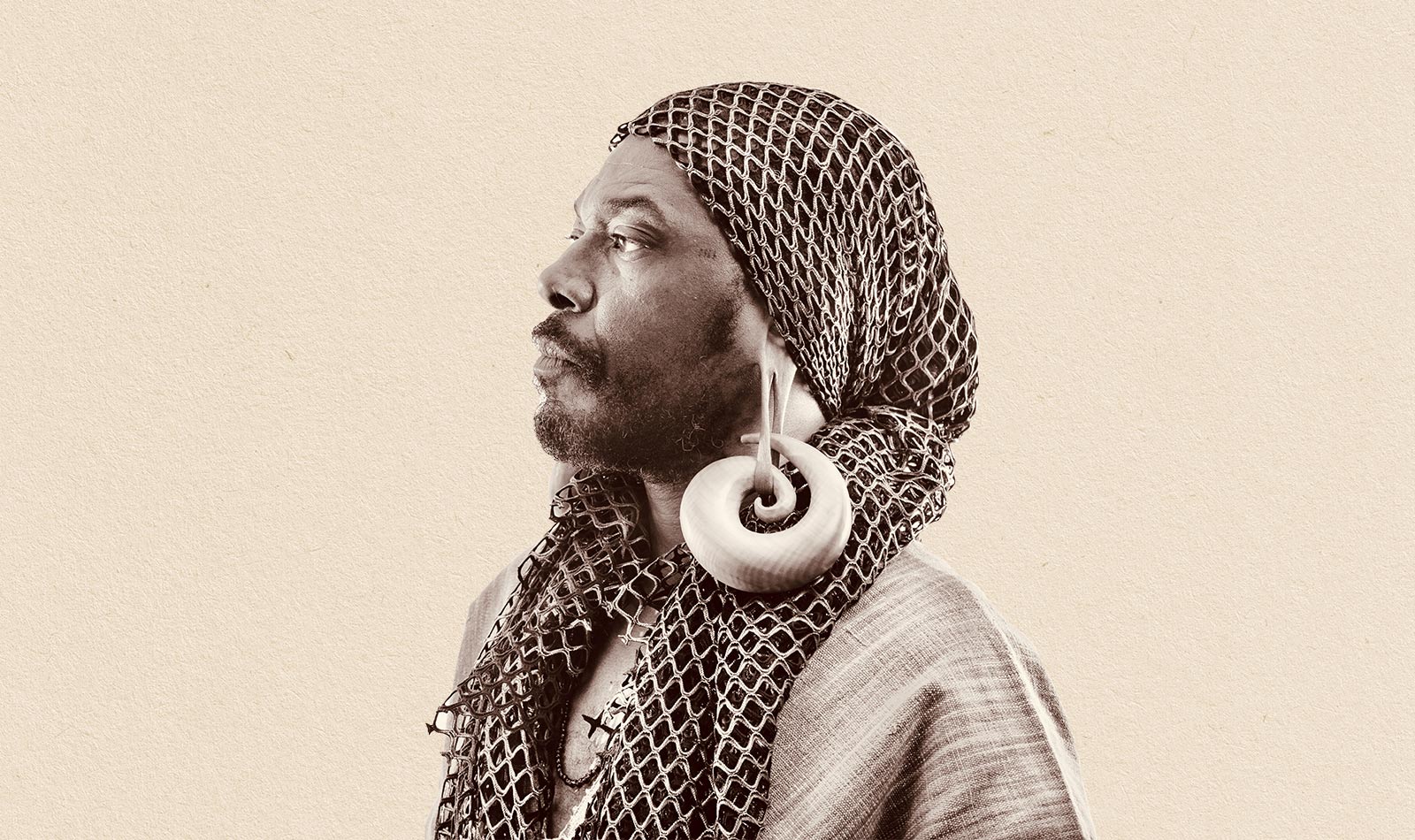 "Ifá is a calling," says Osunlade of the Yoruba faith that has guided his creativity since the late '90s. "Your life, as it were, is no longer. You're now representing the Orisha and are blessed from their protection."  As part of his journey, after his ordination to Ifá in New York, the Missouri-born musician spent a year in solitude. "It's the time to unlearn and see yourself and the world new and is an amazing journey of constant learning," he says. That journey culminated in the future house producer taking on the name Osun—the goddess of the river.
He also founded Yoruba Records which—thanks to Osunlade's own productions as well as a family of artists including the Havana group Sin Palabras and Bronx producer Djinji Brown—remained at the forefront of the spiritual Afro House movement of the '00s. "Before Yoruba, there were really no call-and-response house records," says Osunlade. "Today, it's everywhere and beautiful to see."
Osunlade learned early how records could create a mood. "My first memory musically was playing music for my parents while they played cards with friends," he says. "They'd put me in a chair with a stack of 45's and I'd entertain them. But my family weren't at all musical—I found the piano from watching old Liberace and ragtime players on television. My father was a baseball coach but sports didn't suit me; I was a loner and not one for much activity outside the mind."
Soon, he was playing with various bands, learning to play drums, bass, and guitar as the foundation to becoming a deep house multi-instrumentalist. "Rehearsals were always in my basement, so instruments would stay, which allowed me to experiment in learning what I could alone," he says. Unsurprisingly, Prince was his Midwest hero. "It was the first time whites and blacks would gather together in a loving setting," he recalls, "Prince was the bridge and that gave us hope."
After moving to L.A. in the late '80s, Osunlade got his break in the music industry when he started composing for Sesame Street under the mentorship of singer and dancer Toni Basil. There followed credits on over 20 albums under his birth name Christian Carlos Warren. But the commercial torment of the music business clouded his love of music. To free himself from the pressure, he moved to New York, which ultimately lead him to the spiritual tradition of Ifá, an ancestral belief system based on divination that aims to restore and maintain a positive life balance.
His early years in New York transformed him not only spiritually, but musically. "I didn't start going to clubs until the mid '90s in New York," he says. "I was hearing DJs like Louie Vega, Ron Trent, Joe Claussell—basically everyone who was holding up the scene at that time." Although he had grown up listening to Saturday night house mixes, it was only now that he began connecting to the surrounding culture.
Debuting with Osunlade's 1999 EP Natives Tongues, Yoruba Records became his platform for exploring deep spiritual house that connected the music to his faith. "That is why I named it Yoruba, It had to have the blessing of the Orishas and nature in everything," he says. "Musically, I simply thought there was room for something different."
Releasing a constant stream of records across various genres over the last 20 years, Osunlade has continued to let his faith guide him to whatever spiritually uplifting music he makes next. "Ifá isn't some magical thing that just makes shit better, he says. "It's learning the balance of self."
And Yoruba has continued to expand its global family of artists; its signings in recent years have ranged from the Detroit techno of Kevin Reynolds to the hip house of Mr. Flip. "I have mentored most in my life, and the energy returns," Osunlade says. "It's important for my tribe to walk with me and not behind so sharing knowledge and allowing people to find themselves is important for the evolution of all."
After many years living in Santorini, Puerto Rico, and Berlin, he is now steering Yoruba Records from Los Angeles. "I just want to continue releasing music I believe in, nothing more," he says. As Yoruba Records enters its 23rd year, we celebrate house in its deepest form through a small selection of Osunlade's releases.
---
.
00:10 / 00:58
Yoruba followed his Yoruba debut Natives Tongues with the four-track EP Beats de Los Muertos (Beats of the Dead). A dedication to his ancestors and the Ifa faith that had created balance in his life, the EP began with one of Afro House's defining records, "Cantos A Ochun Et Oya." A percussion-driven track tailor-made for the House Dancers—from Shelter in New York to Djoon in Paris—it would be released on its own 12" in 2001 following Osunlade's debut album for Soul Jazz, Paradigm.
.
00:10 / 00:58
Working under the first of many aliases, Latina Café featured one of the first of his many collaborators, the spoken word artist Elaine Matos. "F14's flying over project buildings and nobody saying any fucking thing," she cries before chanting "Hitler, Bush, Hitler Bush" over a killer jazz house rhythm. The line "Power to Conquer through Self Defence" signaled the intent of Osunlade, who has never shied away from confronting right-wing America head-on.
The Havana group Sin Palabras debuted with the 1998 album House of Drums, on which they fused Cuban Timba with electronic music. On their 2001 collaboration for Yoruba, Osunlade took the group deeper on a spiritual lifestyle Latin house 12" that was distributed by Soul Jazz Records, important supporters of Osunlade during these early years.
.
00:10 / 00:58
Osunlade moved to Santorini in Greece in the mid '00s where he found solace and inspiration. Reaching back to his early days as a soundtrack composer, he created a deftly orchestrated album that demonstrated his dexterity, playing everything from percussion and electric bass to a raft of analog synths and even a water bottle. It paid homage to the culture of the island he called home for 11 years. "On the third day of the Aquarian Moon, I found my soul, drenched in loves bliss and touched by the glow of caldera's view," he sang on the tile track.
.
00:10 / 00:58
After the neo-soul diversion of 2009's Rebirth, Osunlade returned two years later with his first house album in four years. "The whole idea for the album was to do something more electronic as well as include more 'songs'—organic meets technology," he wrote on the liner notes. That electronic side was most evident on "Idiocyncracy" which drew on one of his earliest music loves. "I grew up on Kraftwerk and I loved them," he explains. "If Kraftwerk made a funky song today that would be what it would be for me." Recorded at Oya's House in Santorini, the album was an effortless meeting of the ancient and modern, organic and electronic, reaching its spiritual peak on "Ser Al Santisimo."
.
00:10 / 00:58
In the mid '10s, as Afro House was becoming watered down thanks to a glut of releases, Osunlade moved away from the sound he helped create. But what the producer and multi-instrumentalist didn't abandon was his belief in the healing power of music. On this 2013 album, which began as an ambient experiment but ended up as his cosmic soul jazz opus, he sought to create, "a pure embodiment of love through sound." He did so by employing a dizzying array of analog equipment—including Fender Rhodes, Wurlitzer, Mini Moog, Arp Omni—percussion instruments (Cuica, Chekere, Talking Drum, Surdo) and other studio gadgets, like a toy piano.
.
00:10 / 00:58
One of four albums he recorded during lockdown, Osunlade's Spectrum wasn't released until 2022, when it was hailed as his most overtly electronic album to date. It was preceded by the EP Black Woman Cry, a deep house bomb dedicated to the mothers and sisters holding things together. Recorded over two intense weeks, Spectrum was Osunlade's spiritual release from fear and isolation. "Everyone was trippin' off the pandemic; maybe we need something a little lighter…short songs that get to the point," he said at the time. From the reflective ambient piece "Carousel" and the abstract electronic number "Tru" to the lost in the groove house of "Need U Now," the album demonstrated Osunlade's mastery of textures and moods.