FEATURES
As The Skull Eclipses, Lushlife and Botany Stare Down the End of the World
By Patrick Rapa · March 19, 2018
It usually takes a little nihilist numerology to imagine we're living in the end times, but watching the news lately has been enough. Every generation imagines it'll be the last. Are we staring down avenging angels and mushroom clouds? Or something slower, sadder, and more painful? The Skull Eclipses think every option is on the table, but their best guess is death by a thousand self-inflicted cuts: excess, hate, the rise of fascism, the loss of liberty. The stuff we think about often these days.
Doomy but never gloomy, The Skull Eclipses—the first full-length collaboration by gruff Philly rapper Lushlife and ambient-inclined Austin producer Botany—was dreamt up at the dusk of the Obama presidency and the dawn of the Trump administration, and there's existential dread coursing through every track. The overarching theme, says Raj Haldar, aka Lushlife, is the collapse of the Western world.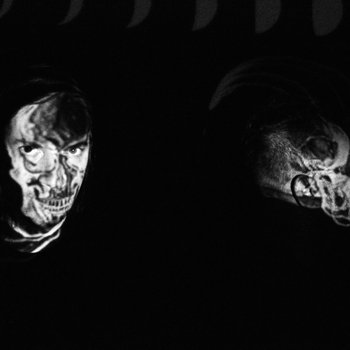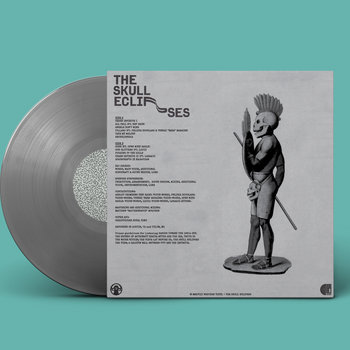 .
00:10 / 00:58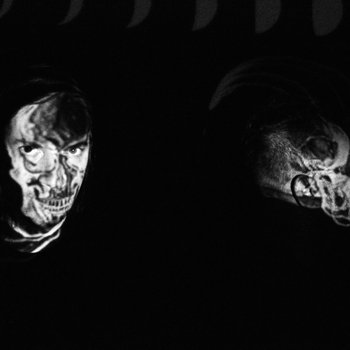 Merch for this release:
Vinyl LP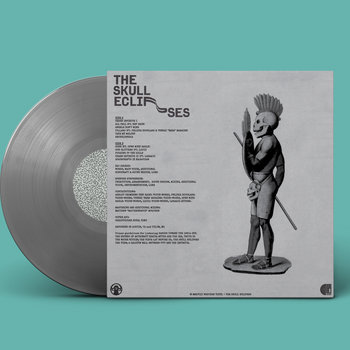 "I wish I were kidding. When I listen back to the record, I can hear us grappling with the not-so-subtle hints that shit was about to pop off, hard."
"We were thinking about the vague resurgence of Cold War machinations, like nationalism and the threat of nuclear war," says Spencer Stephenson, aka Botany. That's just one of the album's grievances; a longer list would include wealth inequality, mass shootings, and murderous cops: "Everything that, when scrutinized, makes the present feel like dystopia—which it is, in certain ways."
Take "All Fall." Over a jittery beat—and between spooky vocal hooks by Ashley Cromeens of Dallas band Def Rain—Haldar describes a person trying to survive while living on shaky ground. He's misunderstood, beaten down, tired of making the same mistakes, and tired of watching everybody else do the same. He dreams of escape, but can't decide between "handfuls of Lexapro" or a "one-way ticket to Mexico." This is "that-boy-needs-therapy rap," he spits, then adds "matter of fact, the boy needs celebrity."
That's the M.O. for much of The Skull Eclipses: Botany lays out a moonscape of staticky bass, ghostly synths, and samples, while Lushlife spins out a rapidly unspooling thread of criticisms—both inwardly- and outwardly-directed. Together they've arrived at a sound that's desperate but defiant, characterized by skittish nerves and boiling blood.
"Take My" is a lo-fi slow jam, while "Gone" is a straight-up adrenaline rush, bolstered by an on-point walk-on by Open Mike Eagle (who also guested on Lushlife's star-studded 2017 mixtape, My Idols Are Dead + My Enemies Are In Power). "Pillars" is a thriller inspired by late '90s jungle and drum & bass. Tendai "Baba" Maraire of Shabazz Palaces adds a verse and Felicia Douglass of Ava Luna provides the escapist chorus: "I'm done with bending over backwards / I'm tired of feeling how the world hurts."
"In one sense, I just want every song to complement the ones around it," says Haldar. "But in another, I'm pretty sure every joint on this album is a single-worthy banger."
"We wanted to incorporate faster breakbeats, and the darker lounge-y vibe of Portishead or Endtroducing…-era DJ Shadow," says Stephenson. "But we wanted to do so impressionistically, not ham-handedly."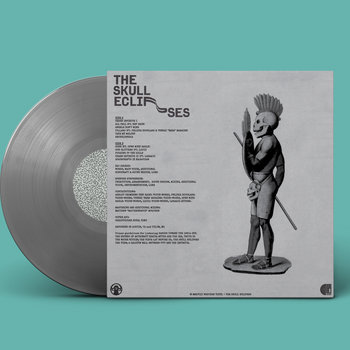 .
00:10 / 00:58
Merch for this release:
Vinyl LP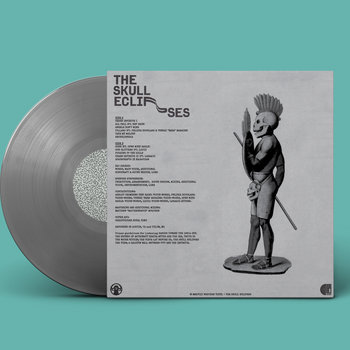 Part of his mission was to shake the notion that ambient music has no edge, that it doesn't click with clear-eyed, concrete rap. "The post-modern beauty of hip-hop is that it can digest all other forms of music."
The two first started trading tracks and talking shop in the waning days of Myspace, after Haldar stumbled onto a Botany track on Pitchfork. "It was pretty immediately and viscerally impressive stuff," Haldar says. "It definitely hit on some of the vibes that his compositions have evolved into—touches of ambient, lo-fi, and library music, but with an undeniable sort of boom-bap patina." He asked Stephenson to remix the Lushlife track "Meridian Sound (Pt. 2)" in 2009, and was blown away by the result. "He turned in something that was so, like, over-the-top good—playing all sorts of live percussion, wooden flute, and stuff. From there, we just found that we had a lot of common ground as human beings and became pretty tight over the years."
The Skull Eclipses first appeared last summer with "Totality Piece," a phantasmic sound collage designed to be played during the solar eclipse. It hinted at the duo's ambient side, but the depth and scope of the collaboration was a surprise. That range of vision is explored in its entirety throughout The Skull Eclipses, a paranoid, emotional rap record that finds room for esoteric melodies and mood swings—not to mention some well-timed name-checks of Jodorowsky, Murakami, Mukherjee, and Barbarella. But the record never strays too far from dissecting the present moment, staring down the fear and dread with unflinching intensity.
Of course, there's no timeline for how and when things will fall apart. Humanity could just keep trudging forward.
Says Haldar: "That's one of the great things about making records—they tend to live on as a testament to a time-and-space. For better or for worse."
-Patrick Rapa