FEATURES
The Search for New Land
By Lorne Behrman · October 02, 2015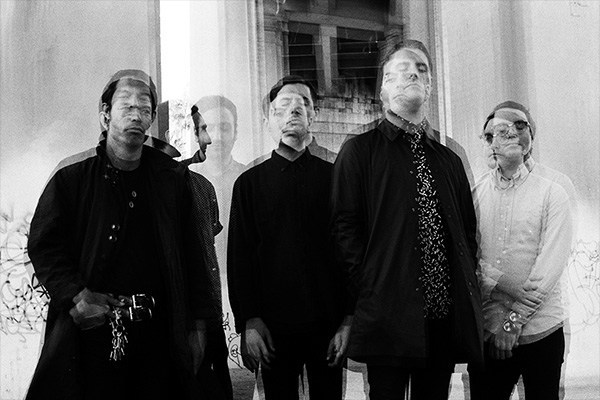 photo by Kristen Coffer
"After Sunbather took off, we put personal pressure on ourselves not to repeat ourselves… It was a conscious decision to change direction and explore different influences, because the focus on shoegaze in our sound has gotten blown out of proportion. We wanted to stand out because of our tight songwriting." — George Clarke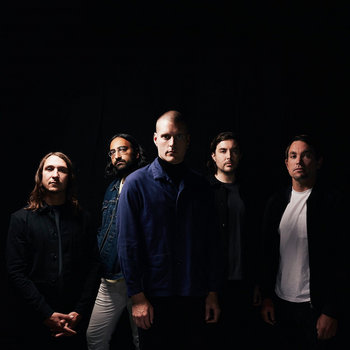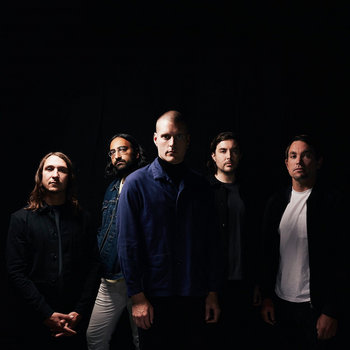 Five years ago, two friends and bandmates from a popular Northern California grindcore band began tinkering with a captivating new strain of metal that fused the charred savagery of black metal with the ethereality of shoegaze. The duo—guitarist Kerry McCoy and vocalist George Clarke—dubbed its project Deafheaven, as an oblique tribute to pioneering dream-pop outfit Slowdive. McCoy and Clarke's infectious concoction rattled the underground metal scene with a demo, and has since threatened to garner much broader exposure with an uplifting sophomore album showcasing palpable hooks alongside visceral riffs. Deafheaven's second album earned critical acclaim from indie outlets, as well as accolades from highly respected metal tastemakers. In addition to Clarke and McCoy, Deafheaven is now rounded out by Shiv Mehra (guitar), Stephan Clark (bass), and Daniel Tracy (drums). For its highly anticipated third album, New Bermuda (ANTI-), Deafheaven boldly returns with an insular and darkly cathartic five-song, white-knuckle ride.
The trek to New Bermuda has been arduous. Along the way, McCoy and Clarke found themselves sacrificing for their uniquely heavy music, scrounging for meals with food stamps, living in severely cramped quarters in the Mission District of San Francisco, and losing bandmates to budgetary constraints. But with the band's previous album, Sun Bather, positioning Deafheaven as the "it band" of the heavy underground music scene, McCoy and Clarke migrated to Los Angeles to bask in sunnier days. Meanwhile, Deafheaven vocalist George Clarke encountered a harsher reality.
"Moving to Los Angeles, I had hoped for a revolving door of benefits; it seemed like something of a paradise city," Clarke reveals. "But I found the reality there daunting. It was like an ocean that dragged you under and swallowed you up before you reached an island. There were a lot of letdowns, unfortunately, so this album is more bitter and has a heightened sense of urgency."
Deafheaven's career has been one of those rare arcs in which a fringe niche band garners critical mainstream acclaim while maintaining its indie credibility. Sunbather received plaudits from NPR, ranking in its Favorite Albums of 2013 list, and topped Rolling Stone's year-end poll, winning Best Metal Album of 2013. The quintet has also earned accolades from Pitchfork and Decibel. The band has toured extensively—nationally and internationally—with shows in Australia, Japan, Asia, Europe, Russia, the UK, and Canada, and they have appeared at festivals such as Bonnaroo, Primavera, Roskilde, Pitchfork, Fun Fun Fun, FYF Fest, SXSW, Basilica Sound Scape 14, Corona Capital, and ATP Iceland.
photo by Kristen Coffer
Hallmarks of Deafheaven's aesthetic include scrubbed-raw vocals tucked deep inside sinister metal passages that hurtle dynamically upward until they seem to disintegrate mercifully, yielding to chiming and stately atmospheric soundscapes. Deafheaven exhibits a knack for letting up on the sensory assault just at the right moment. The effect is akin to the feeling of centeredness and release after a complete meltdown; the band's musicality has a primal appeal.
New Bermuda is an intriguing entry in Deafheaven's canon. It ditches some signature moves, and revisits the musicians' early thrash metal influences while also taking pop-rock songcraft cues from unlikely sources such as Oasis and Wilco. "After Sunbather took off, we put personal pressure on ourselves not to repeat ourselves," Clarke confides. "It was a conscious decision to change direction and explore different influences, because the focus on shoegaze in our sound has gotten blown out of proportion. We wanted to stand out because of our tight songwriting,"
The album's title, New Bermuda, conjures dreams of exotic lands, but the burnished beauty of the album's mix of thrash, compelling pop hooks, and disillusioned lyrics belie the grandiosity of its moniker. "There is a lot of alienation in the lyrics from being in an unfamiliar territory, personal life changes, depression, and trying to make sense of these various feelings of displacement through self-analysis," Clarke admits.
The first opportunity for fans to hear Deafheaven's new material was through the focus track, "Brought To The Water," which the band has been debuting on summer live dates. The track is grinding and graceful. Whereas Deafheaven in the past has reveled in the jarring dynamics of opposing aesthetics—black metal's weight juxtaposed alongside shoegaze's airiness—this time the contrast is less about abrupt shifts and more about thoughtful songwriting. Chorus hooks feel like logical conclusions to roiling verses. "'Brought To Water' really introduces a new chapter for the band. We took out a lot of the shoegaze spaciness and focused on writing concise melodies," Clarke explains.
Other impactful moments are "Come Back," which opens ominously with elegant, mournful melodies preceding relentless, dexterous drumming and chugging guitars. Here, a clever arrangement makes seemingly incongruous mood shifts smooth.
The album's final track, "Gifts From Earth," is one of New Bermuda's most satisfying surprises. The composition evokes the crushing sadness of Metallica's "Fade To Black," while recalling the dark sensuality of Depeche Mode's Black Celebration. It's the closest Deafheaven has come to an alt-rock ballad. "I was apprehensive at first about that one because the pop sensibility was challenging and difficult," Clarke admits.
New Bermuda was tracked to tape and produced by longtime creative ally Jack Shirley (Downfall of Gaia, Whirr). The record is more of a band effort than any previous Deafheaven release, featuring input and instrumental contributions from all five of its members.
At the center, however, Deafheaven will always be George Clarke and Kerry McCoy. Their bond has held strong for 12 years, and only been further cemented by Deafheaven's long strange trip. "The band started purely out of boredom. We jammed together in bands for years, but things were starting to feel stagnant. We had a rehearsal room and an acoustic guitar and began jamming with me drumming with my hands on my legs," Clarke details. "At the time, we had no plans to take this music seriously. It took off by itself and we haven't stopped. It's been about being stubborn and training yourself to be okay not knowing what's coming next and not having a backup plan. It forces you to find ways to persevere."