FEATURES
Virginia Trio The Opioid Era Make Rugged, Conscious Street Rap
By Danny Schwartz · April 30, 2020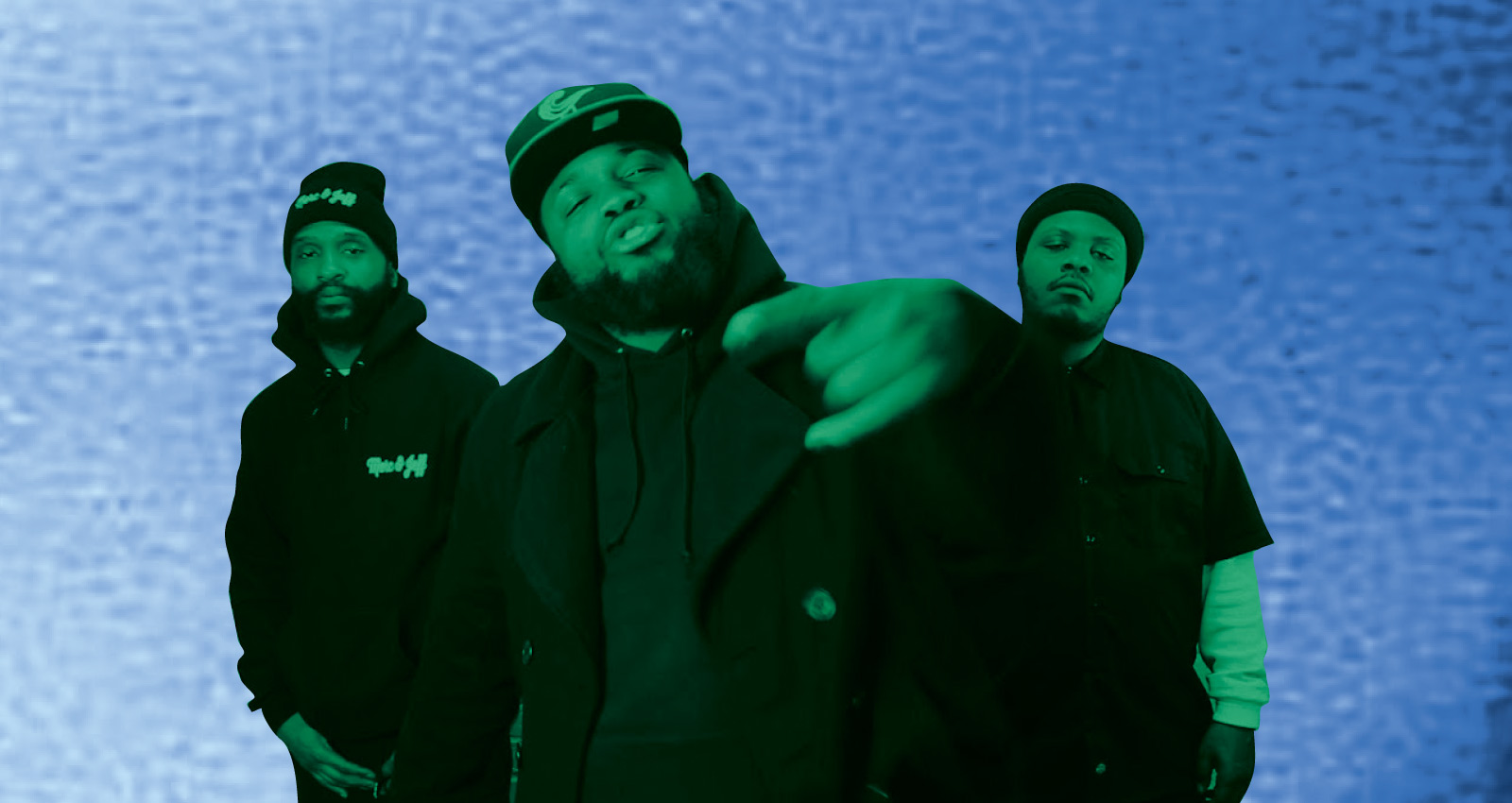 I'm from Virginia, where ain't shit to do but cook. Pusha T uttered these words in 2002, on Clipse's debut album Lord Willin, and all the music he's made since then suggests that there is, indeed, nothing to do on this Earth but produce crack, sell it, and reap the profits. But crack isn't necessarily the defining drug of our current moment in the U.S.—opioids are.
Like Pusha, the rap trio The Opioid Era hail from the Tidewater region of Virginia, the populous constellation of cities in the state's southeastern corner. The group is composed of three locally established veterans: Ambassador Rick, Grunge Gallardo, and King Kong Gotcha. Grunge has characterized the trio's sound as "hard, dark, and illegal." During a phone interview, Rick calls it "detailed darkness." They rap on unvarnished soul samples, ominous piano loops, and smoky, spacious drum breaks; they sound a bit like Buffalo-based rap crew Griselda (with whom they have collaborated), if Griselda ever escaped the western New York permafrost.
Rick, Grunge, and Gotcha are close friends and have known each other for about 15 years, almost as long as they've each worked as solo artists. They didn't form The Opioid Era until 2017. "We were grown [when we met]," Grunge said. "We were over 18. We're not spring chickens, man, we've been rapping a long time. We just sound fresh."
"We was never a collective," explained Gotcha, who grew up DJing and hosted some of Grunge and Rick's first mixtapes. "We was just homies, comrades. We enjoyed each other's craft and we let each other know it. We always stayed in contact."
The Opioid Era are descendants of Pusha T, but their music is far less glamorous than his. While Push's earlier work tended to portray him as a local hero who always found time to party, show off, and count money, Rick, Grunge, and Gotcha treat celebration as moments of respite, rather than as a recurring theme. And while Push suggests that the act of cooking and selling crack itself carries addictive properties, The Opioid Era are far more wary and conscious of the bigger picture, of a country where the number of opioid-related overdoses has increased sixfold since 1999. "We're really living in an epidemic and we see it consistently," Grunge says. "In this part of America, you would be shocked at what's taking place."
Merch for this release:
Compact Disc (CD)
The Opioid Era spell out their worldview using big gestures—one need only to see their name and the didactic, contextual tracks that open multiple projects. The first song on 2019's Pills and Needles repurposes a TV interview in which a health expert explains how street-level heroin and oxycontin produced in a Purdue Pharma lab have similar effects, and that the only real difference between them is their status under the law. Later in the project, Gotcha raps, "I went through bubble wrap just to get my pockets fat/ Sometimes I couldn't provide, somebody had to weigh it flat." This desperate undercurrent runs through The Opioid Era's seven mixtapes. (Their latest, Throwaways, just recently arrived.) They aren't interested in self-mythologizing—they'd rather commit to the kind of realism that allows them to push back against media narratives that paint drug dealers as villains.
This grounded sensibility also allows the trio to express their struggles and hustles as a burden they ultimately share both with family members and one other. "My daddy got bullets in his back from the police/ So he get high when the pain won't give him no sleep." Grunge raps on "Main Vein;" "Tryna get home before my son up," Gotcha raps on "Transparent." This familial element is fundamental to their music and part of the reason they formed The Opioid Era in the first place. "We all got family that we take care of, we gotta try and achieve something and start to build generational wealth. We all got that in common, too," Rick says.
Rick, Grunge, and Gotcha say they frequently get affirming messages from recovering addicts and people whose loved ones have succumbed to addiction. A few days before they spoke to us, a fan reached out to say that The Opioid Era helped them beat their addiction. "That right there, there's nothing that can really top that," Gotcha said. "No album sales, no views on YouTube. When you save somebody's life, there's nothing that can compare to that."