FEATURES
On Their New LP, The Lion's Daughter Merge Synthwave With Sludge Metal
By Brad Sanders · July 25, 2018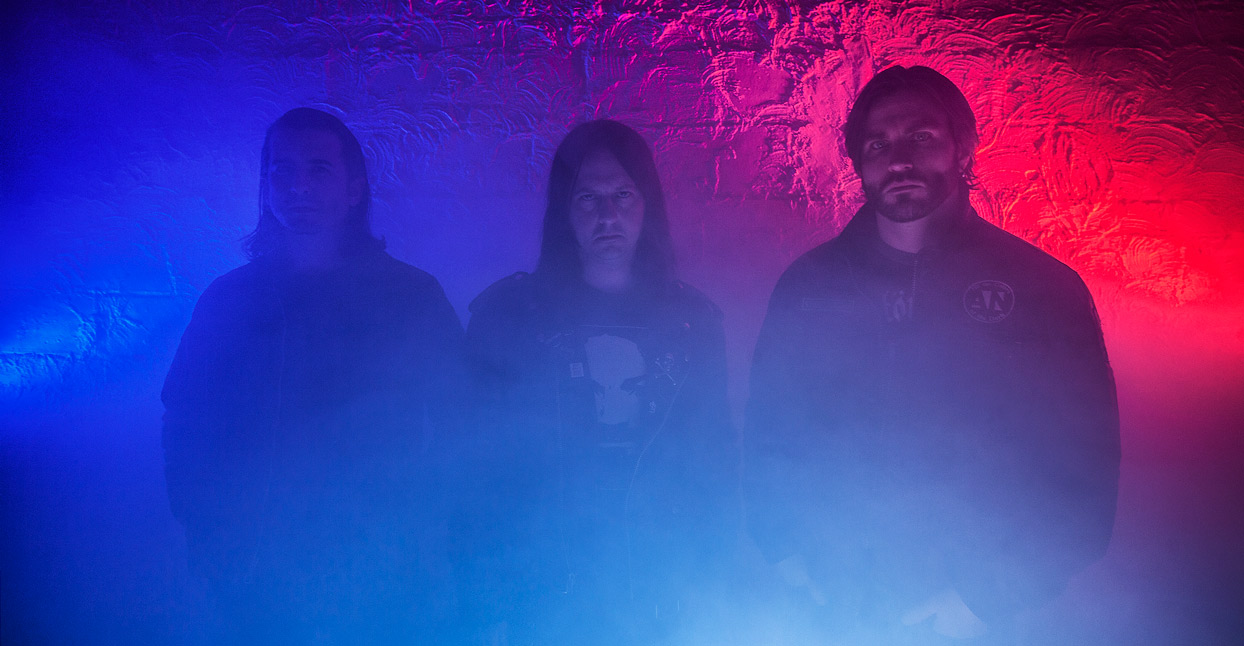 Future Cult, the latest album by St. Louis trio The Lion's Daughter, is the kind of creative left turn that rarely happens at all, let alone a decade into a band's career. For 10 years, and across seven releases, the band was essentially a sludge metal act, if one that often chafed at the genre's codified limitations. But for their new LP, they finally let their lifelong love of classic horror scores by artists like John Carpenter and Goblin penetrate their sound. The result is their best work to date, and the beginning of a promising new era.
"Really, the intention was just to make the music that I wanted to hear," vocalist, guitarist, and now, keyboardist Rick Giordano explains. "I've always loved those classic synth-driven horror movie soundtracks, and I've always loved aggressive music. Plenty of bands had married the two in the past, but not in the way that I was hearing in my head."
The love affair between metal and synthwave has been intensifying over the past several years, with artists on either side of the fence openly declaring their admiration for one another and more and more fans embracing the points of crossover. When it really gets going, Future Cult feels like the fullest synthesis yet of the two parallel scenes. What easily could have played like an opportunistic metal band dabbling in a burgeoning genre sounds completely natural. As it turns out, that's a minor miracle—Giordano is not exactly what you'd call a gearhead when it comes to analog synths.
.
00:10 / 00:58
Merch for this release:
Compact Disc (CD), Vinyl LP, T-Shirt/Apparel
"The truth is, I had absolutely no idea what I was doing," he says. "I had never touched a synthesizer in my life. I'm pretty sure I went through nearly every computer program out there trying to find some decent sounds, and was very confused by all of it. I was playing things via MIDI controller before I finally started purchasing some full synthesizers to experiment with. I finally landed on a Roland JP-8000 and a Moog Sub 37, and that's most of what you're hearing on the record."
The synth parts on Future Cult don't sound like the work of a novice, but they do communicate an exploratory enthusiasm that feels like a direct result of Giordano's lack of prior experience with the instrument. Every burst of electronics he drapes over the backbone laid down by bassist Scott Fogelbach and drummer Erik Ramsier feels like a new discovery, likely because it is. A huge amount of credit is also due to Fogelbach and Ramsier, who effortlessly adapted to the new dimension the synthesizer added to their band. They're brilliant supporting players, and their lockstep rhythms are a huge part of what anchors the record in its metal bona fides.
Like Carpenter, whose movie soundtracks seem to be more terrifying the more minimal they are, the Lion's Daughter's synth riffs are more concerned on atmosphere than virtuosity. Speaking to Kerrang! recently, Giordano described the world the band built for Future Cult as "an apocalyptic vision motivated by fear and dread." That vision comes to life in the disturbing, surrealist photos of alien entities and taxidermied animals that make up the album's artwork, taken by the Belgian art collective Mothmeister.
"We kind of worked backwards this time, and actually had the artwork before we had written any music," Giordano explains. "The songs were made specifically for that world and those characters. I can't give Mothmeister credit enough. Their work is absolutely amazing and this record would not exist in this form without it."
.
00:10 / 00:58
Merch for this release:
Compact Disc (CD), Vinyl LP, T-Shirt/Apparel
While the landscapes Mothmeister helped create for the album are fictional, the "fear and dread" that motivated Giordano's songwriting was very real and very personal: "I've always suffered from anxiety and never really felt quite comfortable or at home in this world. That may be part of why the idea of a desolate landscape with few inhabitants was so appealing and the setting I chose for the album."
That alienation comes through in spades on songs like the dread-inducing "Die Into Us" and the sickening (and incredibly titled) "Grease Infant." Impressively, the synths never come off as campy, as they often do in synthwave projects, but only serve to ratchet up the album's uneasy undertones. There just isn't anything else out there quite like Future Cult, and the Lion's Daughter are the perfect vessel for a sound that merits more exploration.
"I feel that there is a ton of room for experimentation between the two genres, and I'm amazed that as far as I can find no one really seems to be doing it," Giordano says. There will be soon.