FEATURES
The Adventurous Psych-Funk of Badge Époque Ensemble
By Jesse Locke · December 05, 2019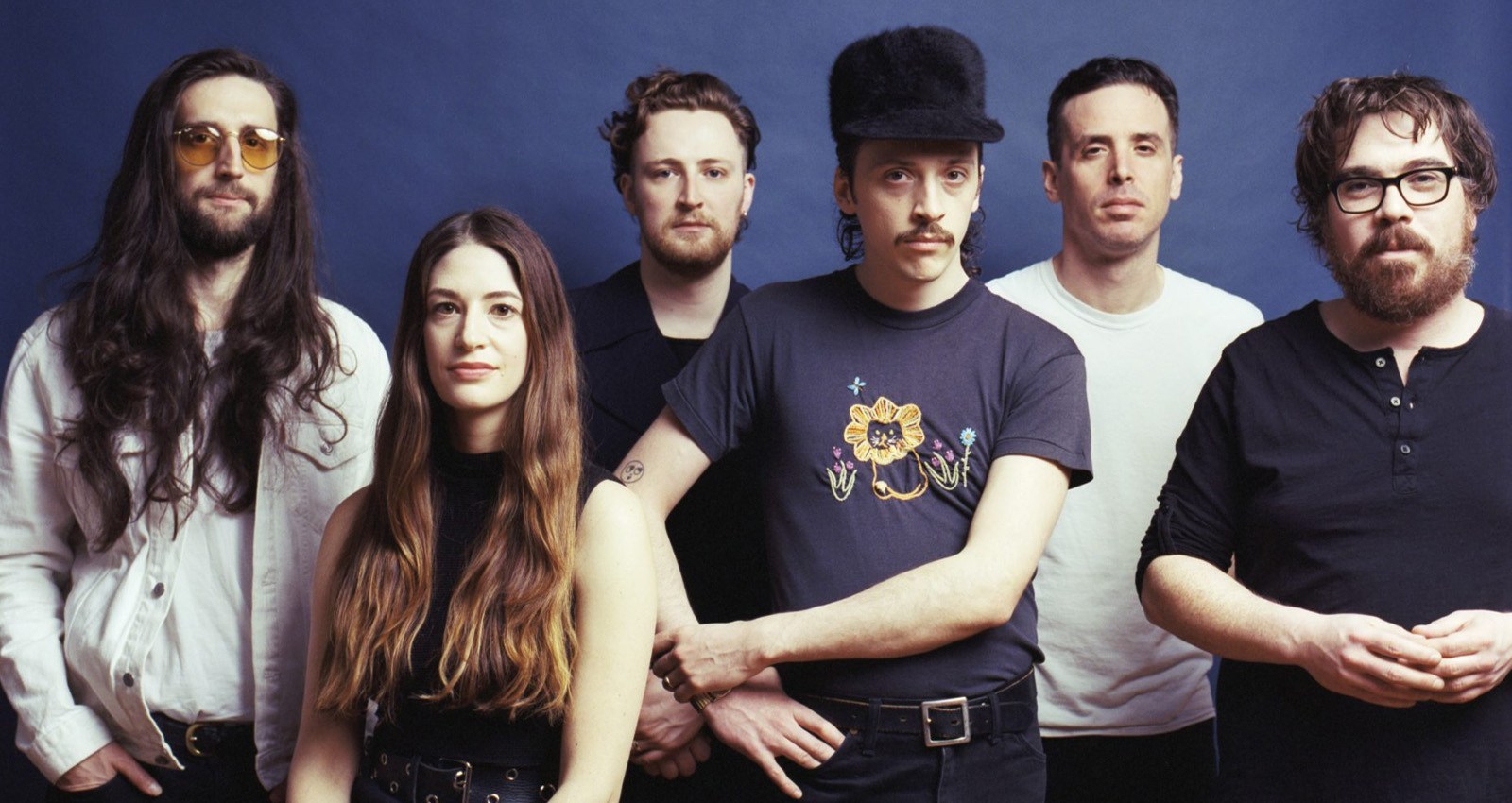 Though keyboardist Maximilian Turnbull is the founder of the Toronto six-piece instrumental group Badge Époque Ensemble he prefers to remain like the largely anonymous producers of '60s and '70s library music (background tracks commissioned by record labels for TV, film, or radio.) Drawing on prog, psych, and funk with flute at its forefront, the band sounds like a dusty dollar bin record with grooves scorching hot enough to melt unsuspecting minds.
.
00:10 / 00:58
Merch for this release:
Vinyl LP
"One part of the project is blurring the lines between source material and original sounds," explains Turnbull. "I'd like people to hear the Ensemble and think 'Oh, it'd be great to flip this music and sample it.' Or make them wonder if the things they're hearing are already sampled from a previous source."
Turnbull has his reasons for craving anonymity. Since his teenage years, he has released music as Slim Twig. That project evolved wildly over five albums—from sample-heavy psychedelia to an eerily orchestrated adaptation of Nabokov's Lolita. It culminated with his stoner-glam opus Thank You For Stickin' With Twig, released by DFA Records in 2015.
At that point, the demands of commercial and critical success had taken their toll, and Turnbull decided to hit pause. "I had this team of a record label, manager, and booking agent, but the pieces weren't fitting," he says. While rediscovering his love of more obscure music, he also found himself in the fortunate position of touring and collaborating with his wife Meg Remy (A.KA. U.S. Girls) as she began to gain widespread popularity.   
"It was a great opportunity because I was able to make money with her project that was active, while taking a few years to go into hibernation and reorient my approach," Turnbull says. "I realized the commonality between library music and private-press psych was unselfconsciousness. That was my clue that being on the biggest label and playing to the biggest audience possible wasn't simpatico to the sounds I'm drawn to naturally."
As a member of The Cosmic Range, Turnbull also backed up U.S. Girls on their 2018 breakthrough album, In A Poem Unlimited. That fed his appetite for improvisation, yet he had his sights set on collaboration with different players from a wide range of styles. Such were the origins of the Ensemble, which brought Turnbull together with flautist Alia O'Brien of the witchy hard rock band Blood Ceremony, Django Reinhardt-style jazz guitarist Chris Bezant, and conga player Ed Squires, of Motown tribute The Big Sound.
.
00:10 / 00:58
Merch for this release:
Vinyl LP
The Ensemble's self-titled debut LP, from June of this year, has a sweltering vibe floating somewhere between electric Miles Davis, Stark Reality, and Madlib. Six months later, they've swiftly followed it up with Nature, Man & Woman, a three-song disco 12-inch with an even more adventurous sound. From the spellbinding congas and clavinet of the 14-minute "Badge Theme" to the icy alien blues of the title track, it concludes with the triumphant "Zealous Child," which plays like an imaginary soundtrack for The Legend of Zelda by way of Van Der Graaf Generator.
Turnbull says that his keyboard locks in with drummer Jay Anderson to create the "scaffolding" of the Ensemble's songs, while the other four members improvise around themes. This propels them beyond their comfort zones, enabling them to construct sonic skyscrapers unlike anything they've produced previously. This sense of adventure and possibility is especially true for guest vocalist Dorothea Paas, who joins the group on "Zealous Child" with an airy performance that is strikingly different from her jazz-inflected bedroom-pop.
"As a singer, I really love being flexible," she says. "Max gave good direction and feedback about how he envisioned the tone, and it felt good to be able to make that happen. I think that's when singing feels the most like a sport, in the most beautiful way possible: being in control of things like vibrato, mood, and resonance, and giving a focused performance while still connecting to the material."
Along with more music with the Ensemble, Turnbull plans to release a beat tape of flute-jazz samples, as well as a sound-collage album helmed by experimental artist Andrew Zukerman that uses his music as the source material. To this end, he views Badge Époque Ensemble as a "conglomerate" with each project staffed to achieve its desired sound. By including all of his creative branches, he jokingly hopes it will one day grow vast enough to be conceived of as its own artistic age.
"Like the library composers, I'm in a fortunate place of being sheltered from the commercial world," Turnbull concludes. "They had budgets to make music, but explicitly stated from the outset that it wasn't for a mass audience. I want what I'm doing now to gain traction among people who like music [that allows] space for reflection. I'm just trying to be imaginative, taking my curiosity as the thread that I'm following."